It's my birthday and I made myself a cake. That's normal, right? I wanted to celebrate with all of you internet friends! While birthdays are cause for celebration, I think that I do my best to celebrate life a little bit every day. I definitely think more days should include carrot cake (and if not in this cake version, then I can also settle for pancake form or steel-cut oatmeal).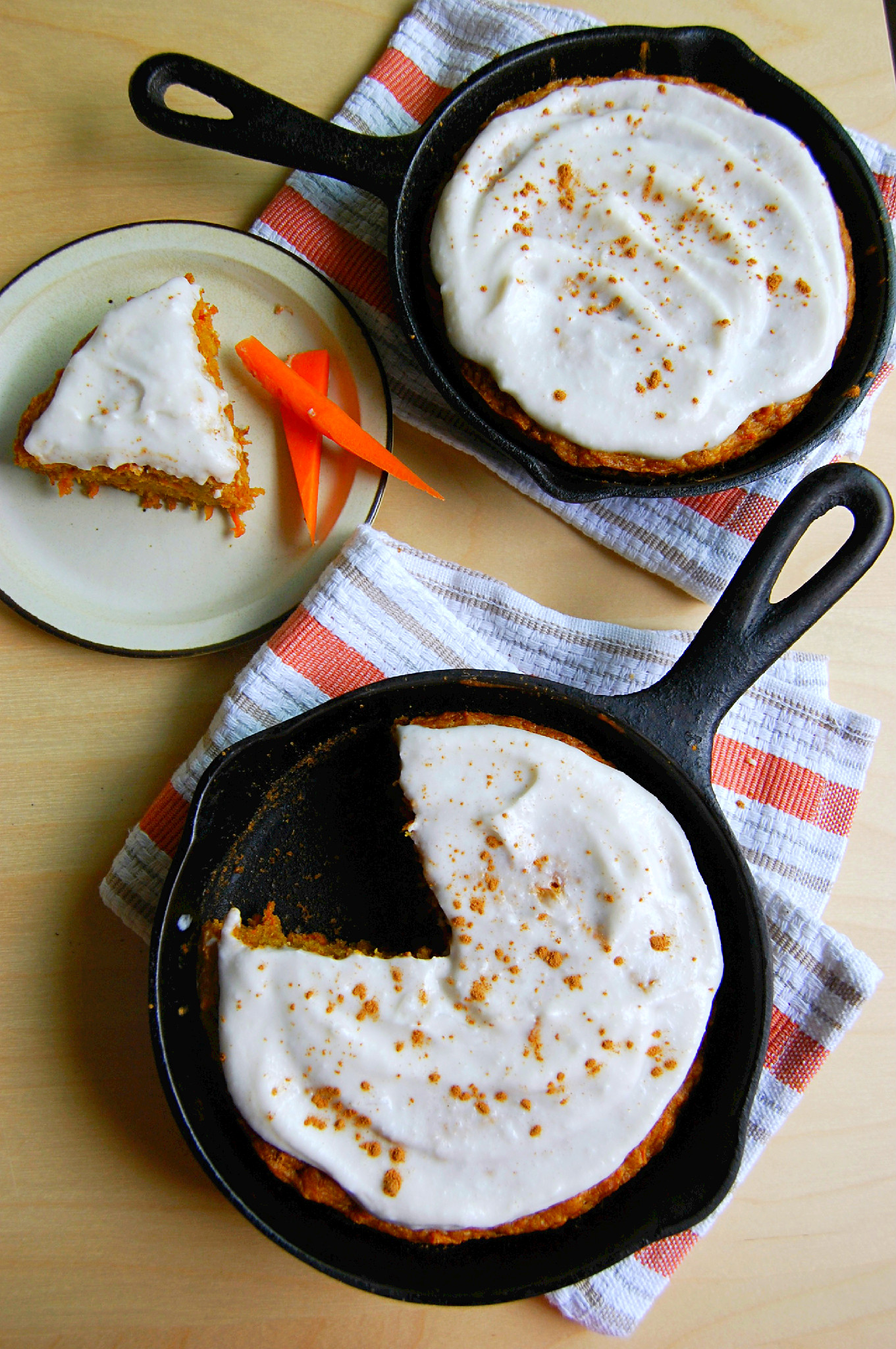 This year has been so good to me that I can't even start to list out my goals for the next – I already climbed the 14er I set my sights on for this summer, I am back in my fitness groove, this little blog is trucking along with more support than ever, and I am really content with where I am at home, work, and with friends.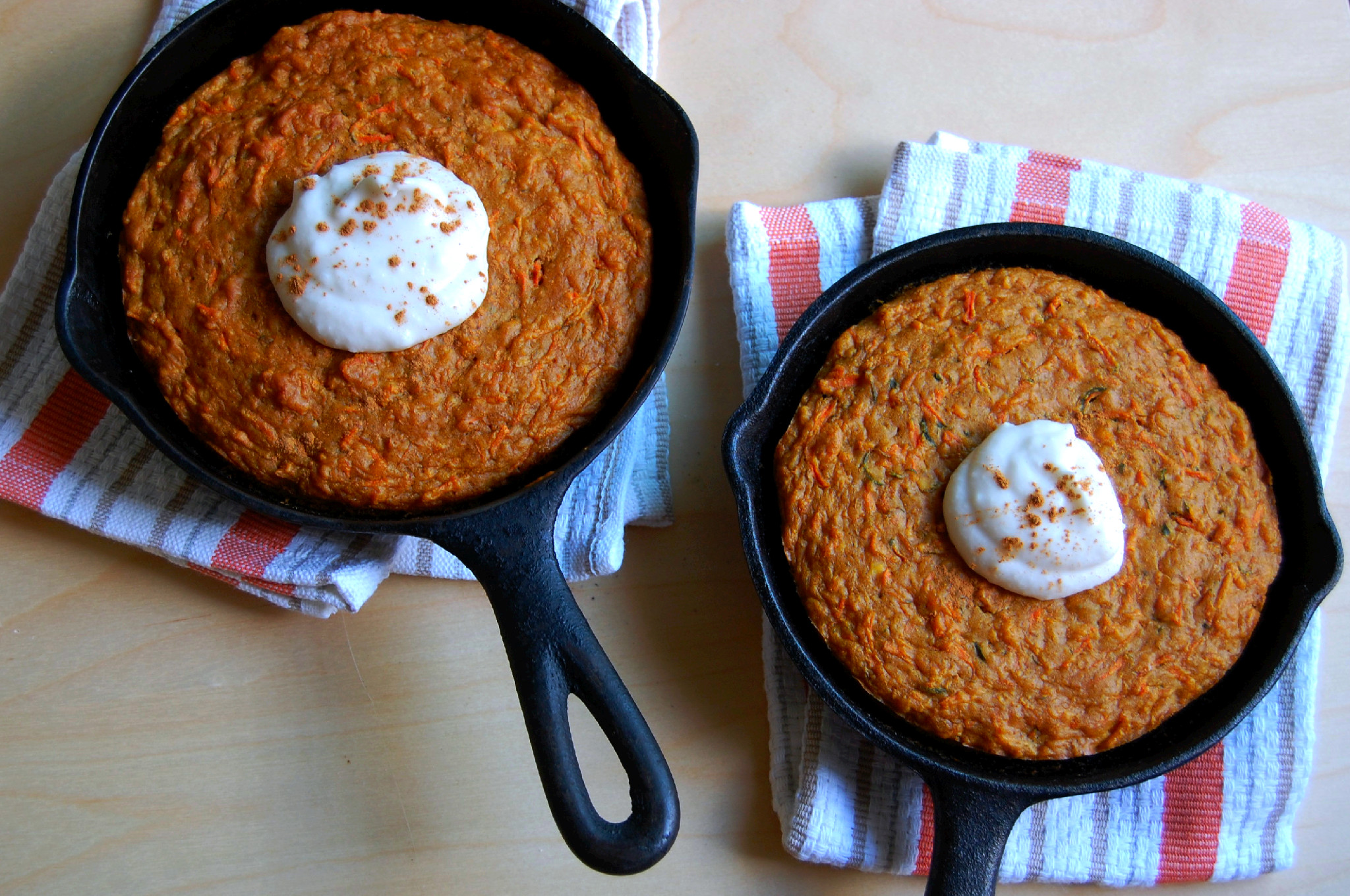 I'm also smiling because my amazing family got me a vegetable spiralizer so I can make veggie noodles, and Noah splurged on a refurbished Blendtec (similar) so we can now drink smoothies every day- and make new recipes for this blog.
Now, for a bigger kitchen so I can upgrade from my little skillet cakes…

Skillet Carrot Cake with Coconut Cream Icing
Author:
Marisa | Uproot Kitchen
Ingredients
Vegan Carrot Cake
1 lb carrots
½ cup coconut sugar
½ cup unsweetened applesauce
½ cup milk (plant-based or regular)
¼ cup melted coconut oil
½ teaspoon vanilla extract
2 cups wheat flour
2 teaspoons cinnamon
½ teaspoon ginger
Pinch of salt
2 teaspoons baking powder
1 teaspoon baking soda
Maple Coconut Cream Icing
1 can full fat coconut milk, refrigerated overnight
1 tablespoon maple syrup
Cinnamon for garnish
Instructions
Refrigerate your can of coconut milk overnight (or skip this step and make my small batch cream cheese frosting recipe, linked below the next photo).
Preheat the oven to 350 degrees.
Using the shredder attachment of a food processor, shred one pound of carrots (you can buy pre-shredded carrots too, and chop finely).
Mix all ingredients for the cake into a bowl until combined.
Separate the batter into 4 small ~6" greased cast iron skillets, filling a bit over halfway, or one 13 x 9 pan, and bake for 20 minutes. Check doneness at this point and bake for another 5 minutes if necessary.
Carefully remove the can of coconut milk from the fridge and open the top (do not invert the can). You will be able to scrape off the coconut cream from the top. Reserve the coconut milk below for another use.
Whip the coconut cream with a whisk for a few minutes until light and fluffy. You can also do this with a hand mixer. Add in maple syrup to taste, and then spread on cooled cakes.
If you want a layer cake, let the cakes cool and then stack one skillet cake onto another. You will get two cakes this way - or go big and you could do 4 layers!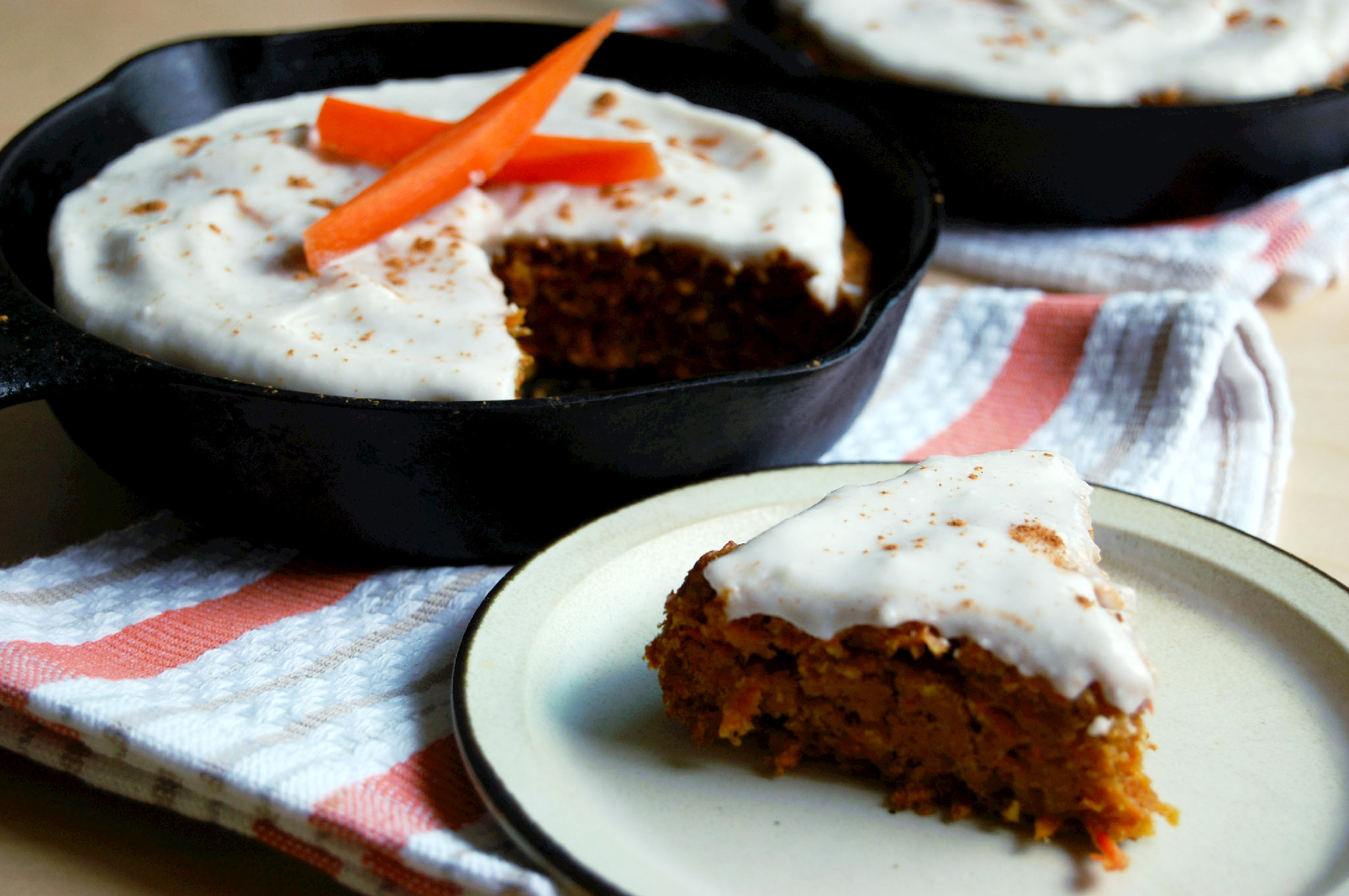 This icing isn't at all traditional, and is instead very light and refreshing. For a more traditional small batch of cream cheese frosting that makes the perfect amount for 4 little skillets, check out my small batch cream cheese frosting recipe.
And for those wondering, not only are these 6.5″ cast iron skillets from Lodge the perfect size for layered mini cakes, they also make fabulous cookie cakes.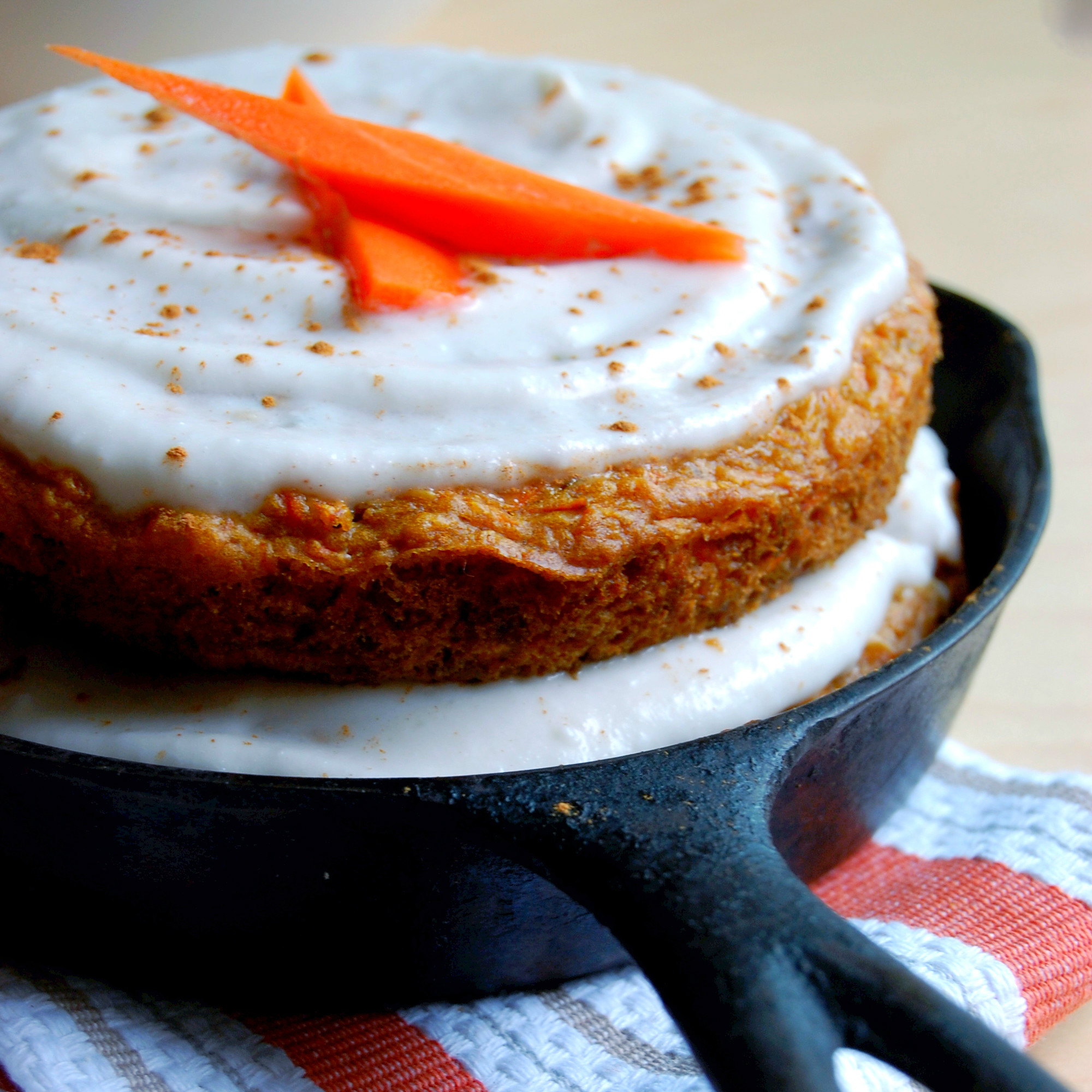 As I write this, I am struggling to get over a stomach bug – so please cross your fingers that I am over it before my dinner at Acorn tonight! I won't let it stop me from enjoying spring vegetable and potato gnocchi and grilled eggplant, or eating some more of this skillet cake when I get home.
Marisa