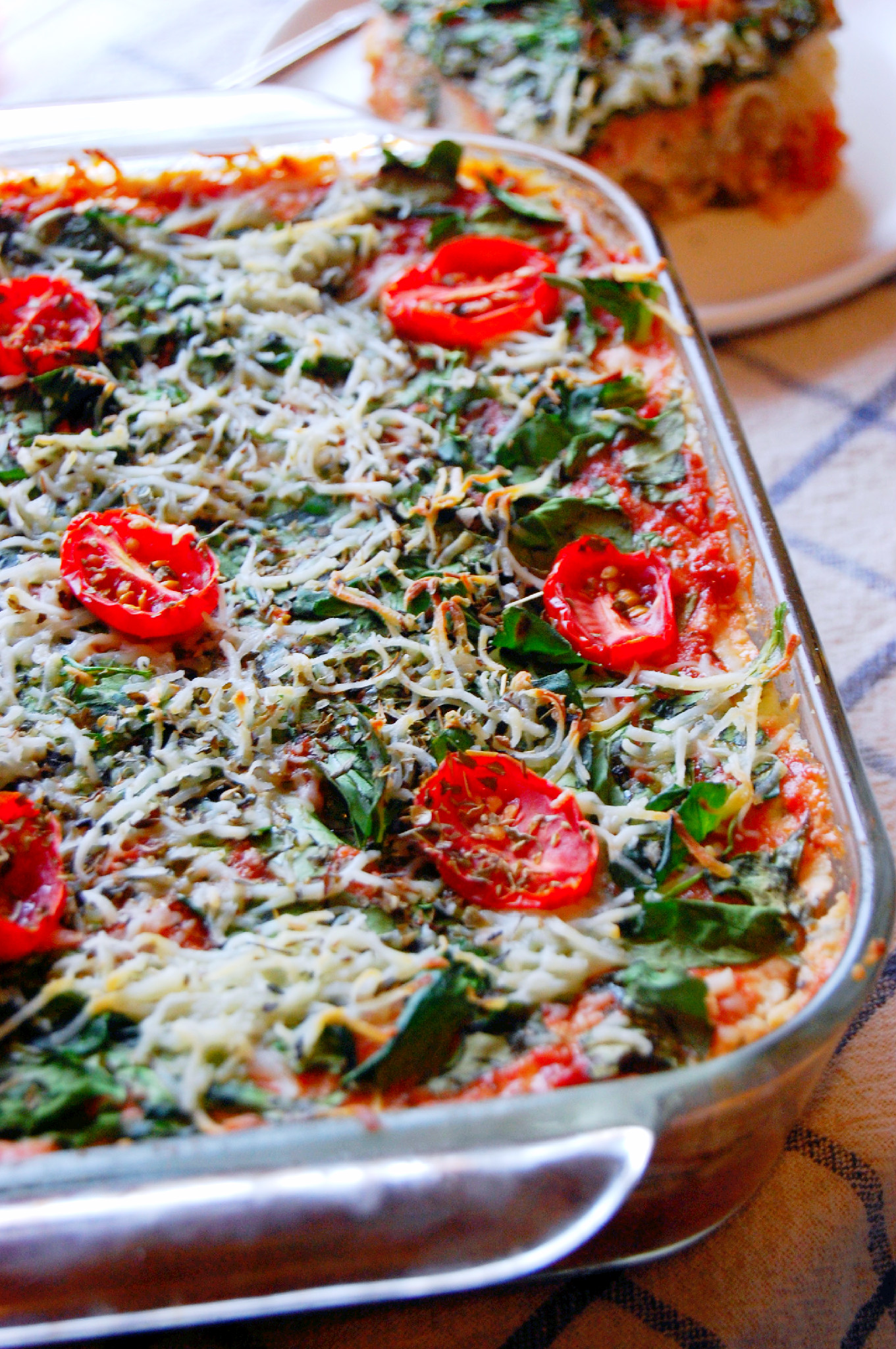 I often buy spaghetti squash when it's on sale, and then let it languish around until I'm roasting something else in the oven. It takes a lot of flavoring to make it an incredible dish, and I usually end up going the stir fry route or just douse it in pesto (links to both of those recipes).
Finally determined to make something different with it, I made this Vegetarian Spaghetti Squash Lasagna – a gluten-free, low-carb, and saucy vegetarian casserole perfect for flavoring up the mild squash. It turned out so well that I knew I had to share it!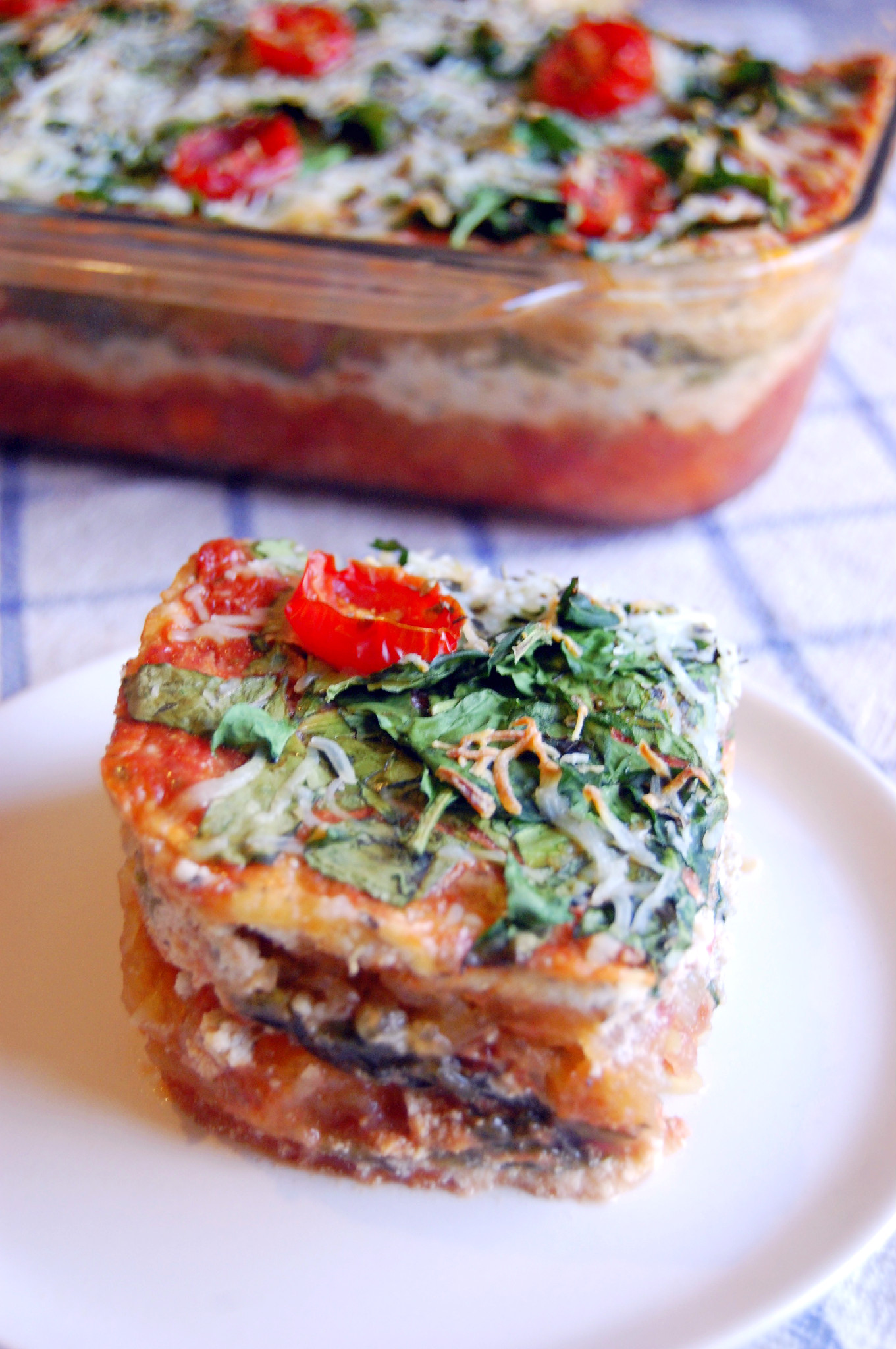 Spaghetti Squash Lasagna Casserole
Author:
Marisa | Uproot Kitchen
Ingredients
1 medium spaghetti squash (about 4 cups cooked)
1 and ½ cups lowfat ricotta cheese
1 large egg
1 teaspoon dried basil
1 teaspoon dried oregano
¼ teaspoon garlic powder
1 and ½ cups thick marinara sauce
4 cups fresh baby spinach
½ cup part-skim Mozzarella cheese
Garnish: grape tomatoes, red pepper flakes
Instructions
Slice spaghetti squash in half, remove the seeds, and bake it flesh side down for 40 minutes at 350 degrees (I have factored this into the prep time quoted).
To make this recipe quickly, use leftover spaghetti squash. Run a fork into the spaghetti squash to create strands, and throw away the skin. Use a paper towel to pat away excess moisture.
Preheat the oven to 350 degrees.
Combine the ricotta with the egg, basil, oregano, and garlic powder.
Begin layering by placing ½ cup of the marinara sauce in the bottom of a greased 8x8 or 9x9 pan. Continue with 2 cups of cooked spaghetti squash, ¾ of a cup of the ricotta mixture, 2 cups of torn fresh spinach, ½ cup marinara sauce, and a ¼ cup mozzarella. Repeat the process once with those same amounts (layering spaghetti squash, ricotta, spinach, pasta sauce, and finally mozzarella).
Garnish with sliced grape tomatoes, any additional chopped spinach or mozzarella, and red pepper flakes.
Bake uncovered for 30 minutes, until bubbling.
Let it sit for 10 minutes before slicing. To serve immediately, use a slotted spoon and allow any excess liquid to drain out of the pan. Leftovers will be even firmer and slice into nice squares.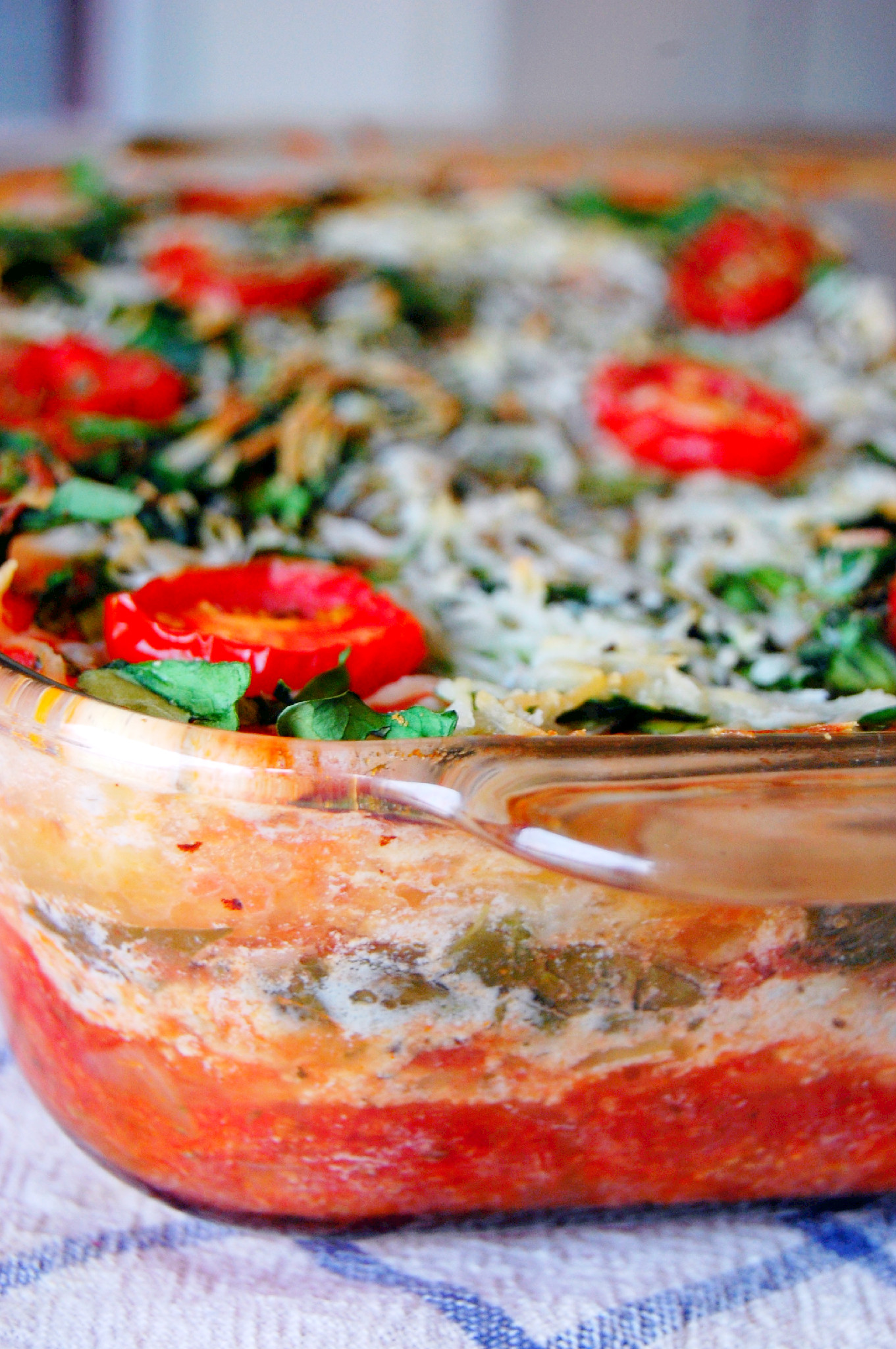 While this lightened-up casserole dish may be far removed from your traditional meat lasagna and the texture isn't identical, I find it satisfies my craving for a saucy pasta dish without the gluten that leaves me feeling heavy the rest of the evening.
I used a half batch of my
homemade tomato sauce
for this recipe, if you want another step from scratch.
Serve this with a big salad and you've got a delicious vegetarian meal for a group, or perfect leftovers for lunches for the week!
Looking for a more traditional lasagna recipe? Try my Turkey Lasagna with Tofu Ricotta – a high protein meal still packed with veggies.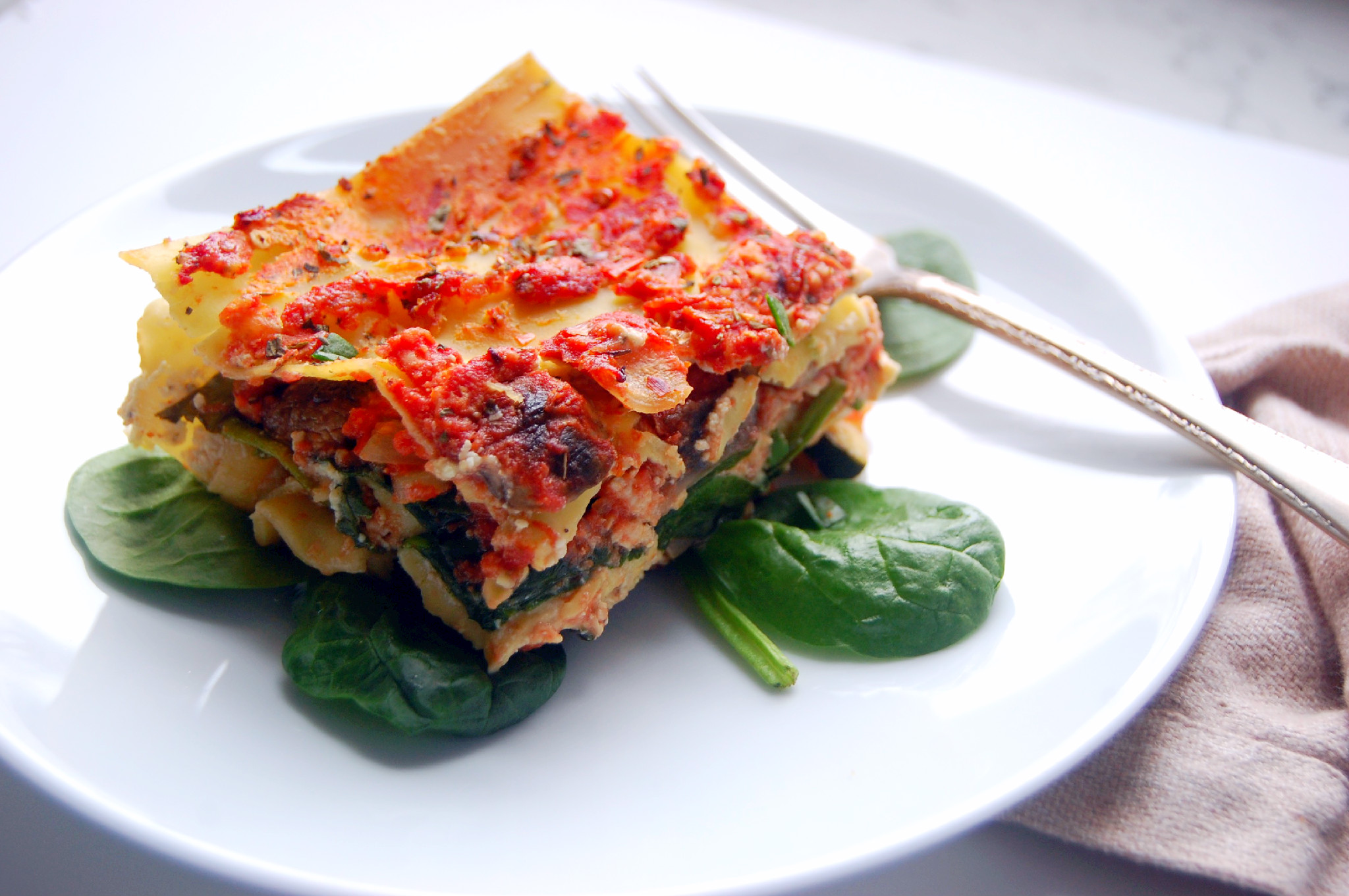 Looking for other simple meal ideas? Check out the links below for my Crockpot Tomato + Vegetable Quinoa Risotto, Homemade Tomato Sauce, Easy Turkey Meatballs, or Foil Packet Salmon.
Marisa