Weekend lounging has been a more frequent occurrence around here lately. I've been helping out down the street at the waffle shop more frequently on the weekend mornings, leaving the afternoons as the time to recharge and prepare for the regular work week ahead.
There won't be so much effort to balance all of this once June rolls around and I leave my full-time position, but in the meantime, it's forcing me to be smart with my afternoons. Read: snack time, naptime, recipe development, and fun with friends has to all fit in there. And after assembling sweet waffles with toppings all morning, there's nothing I crave more than a savory lunch – expertly assembled, just like the waffles.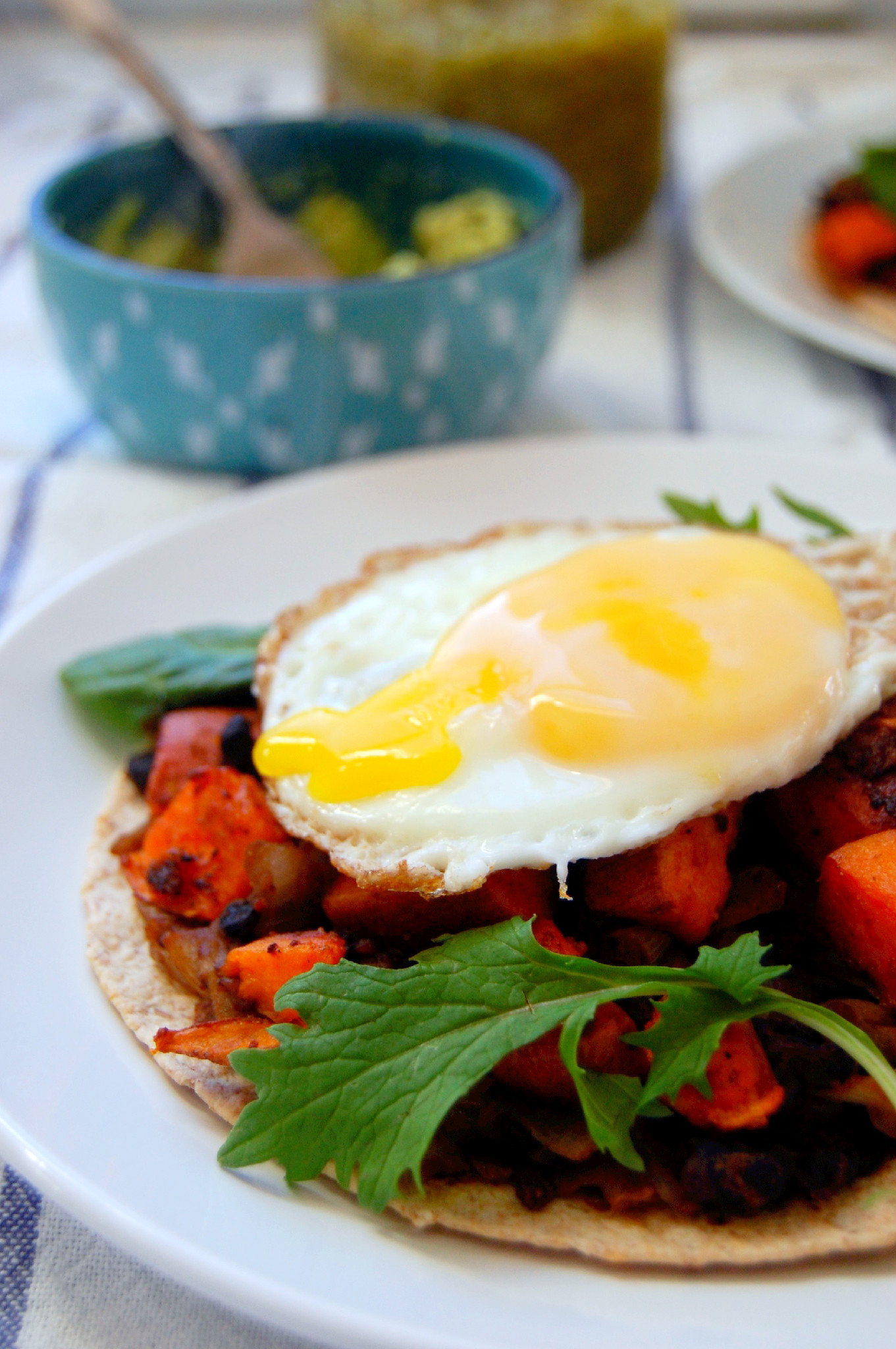 With Cinco de Mayo quickly approaching, I knew I had to share this perfect meal I made recently with a friend. A spin on huevos rancheros, these Huevos Rancheros with Sweet Potatoes and Black Beans are a filling brunch or lunch meal that you can keep in your back pocket for a lazy weekend day or a Mexican-inspired get together.
Similar to your favorite taco bar, you can make the base of these – corn tortilla, seasoned beans, sweet potatoes, and a runny egg – and then let people load up on toppings like avocado, salsas (I'm partial to tomatillo), cilantro, plain Greek yogurt, tomato, lime wedges.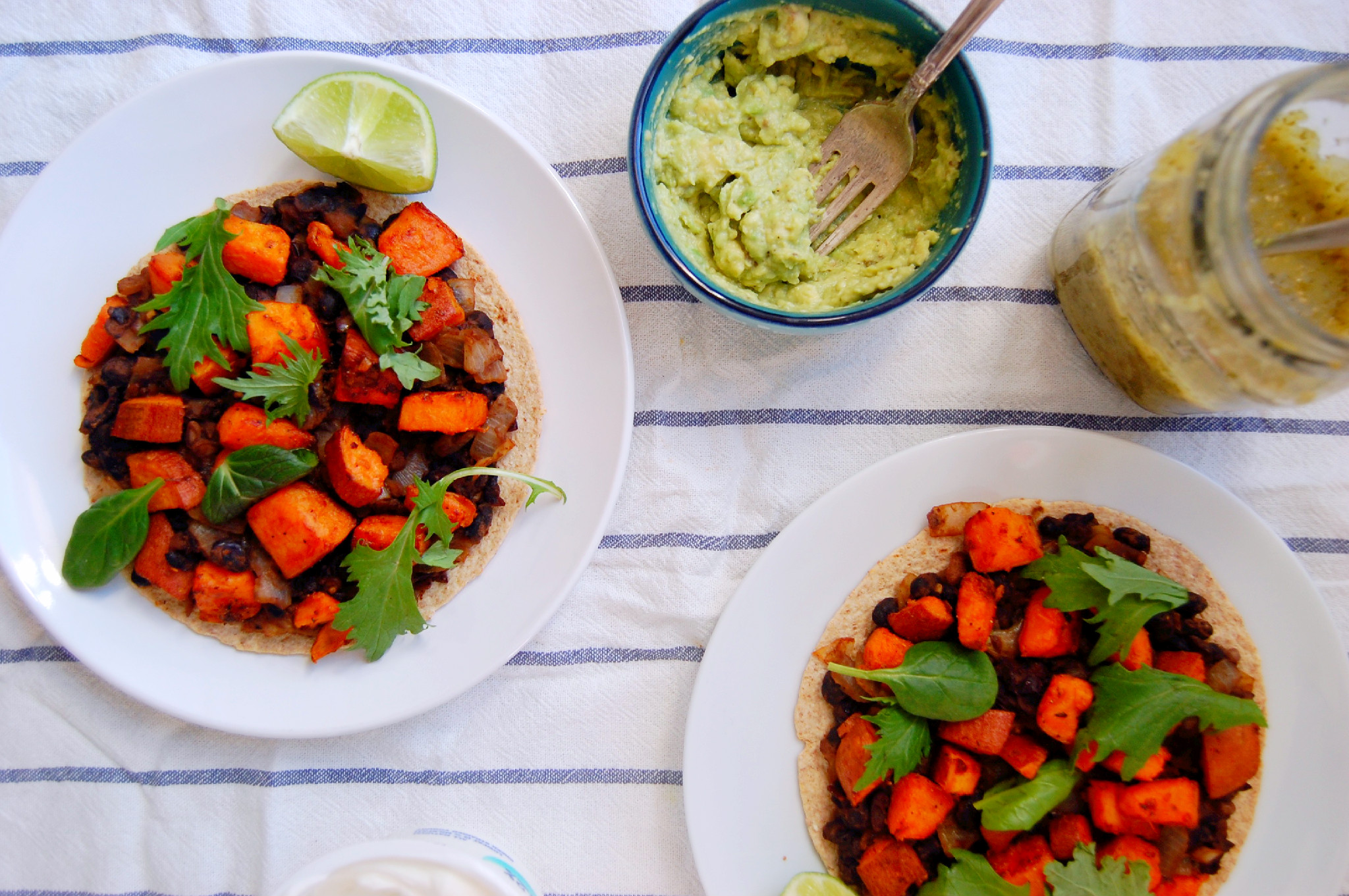 Huevos Rancheros with Sweet Potatoes and Black Beans
Author:
Marisa | Uproot Kitchen
Recipe type:
Breakfast, Brunch
Ingredients
1 small sweet potato
2 tablespoons olive oil, divided
¾ cup vegetable broth, divided
½ of a white onion
1 clove garlic
1 cup black beans
¼ teaspoon chili powder
¼ teaspoon cumin
2 multigrain tortillas
2 eggs
Garnishes: avocado, lime, tomatillo salsa, Greek yogurt, cilantro, spring greens, etc.
Instructions
Preheat the oven to 350 degrees.
Dice your sweet potato and begin cooking it in a pan with 1 tablespoon olive oil for 5-7 minutes until somewhat browned and partially cooked. Add ½ cup vegetable broth to the pan and bring it to a boil, then cover the pan and reduce the heat and allow it to simmer until the sweet potatoes are soft.
Dice the white onion and mince the garlic and start them cooking in a separate pan with olive oil. Add the remaining ¼ cup of vegetable broth to the mixture once translucent (about 5 minutes) as well as the drained and rinsed black beans and chili powder and cumin. Mash everything up a bit together and cook it until the beans are hot.
Assemble 2 multigrain tortillas on a baking pan. Spread the bean mixture on top of the tortillas and place the sweet potatoes on top of that. Place the pan in the oven to crisp the tortilla and warm everything while you fry your eggs- about 5 minutes.
Fry up your eggs to your liking and prepare your toppings, such as mashing avocado.
Remove the loaded tortillas from the oven and plate them, topping each with a fried egg.
Garnish and serve immediately.
Notes
This recipe is easily doubled or tripled for a crowd.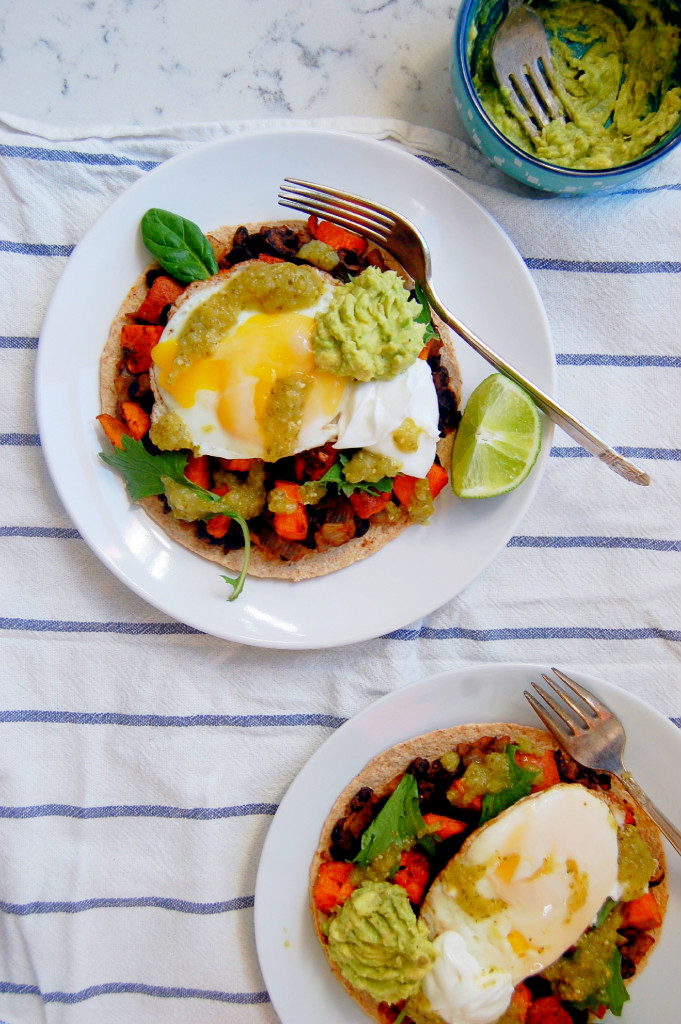 Are you into healthy takes on Mexican food? I love the combination of sweet potatoes, black beans, and a runny egg!
More Mexican themed meal ideas: 
Marisa