I am committing many food blogging sins today: posting steak on what is generally known as "Meatless" Monday, skipping over more Cinco de Mayo recipes in favor of a Mother's Day dinner idea, and adding Greek yogurt to a strip steak meal.
Forgive me, because I couldn't wait any longer to share this Steak + Asparagus Salad with Parsley + Lime Greek Yogurt Dressing.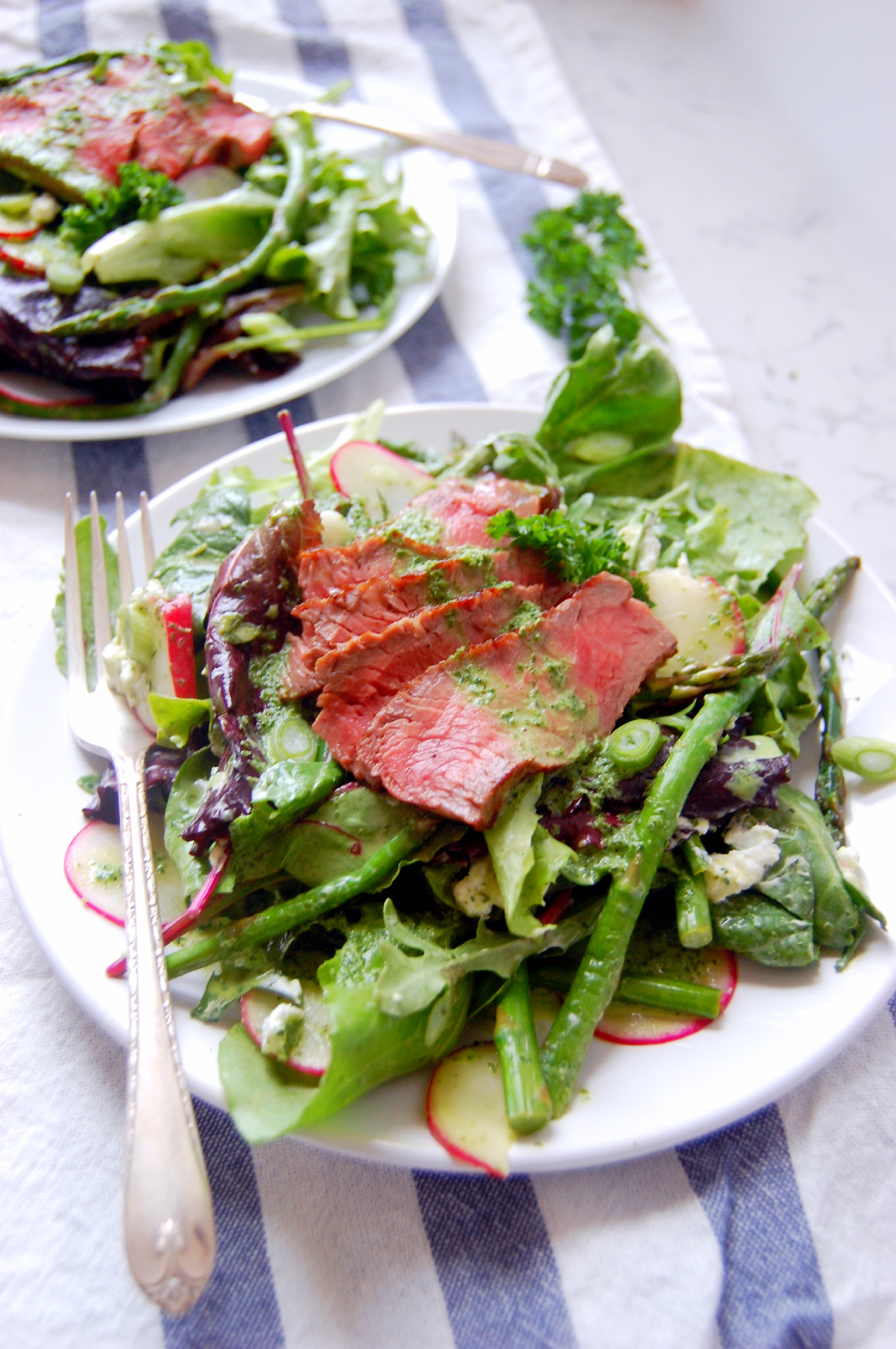 Growing up, our fancy meals at home were the occasional steak dinner. We didn't eat a lot of protein beyond salmon or chicken, so my sister and I were always excited to see steak on her menu. Whether with crispy potatoes and broccoli or some type of salad, my mom was thoughtful to putting flavors together in a special way.
I won't speak to it further, but my nightmare of a memory is also from my mom choking on steak during a dinner with her friends one year!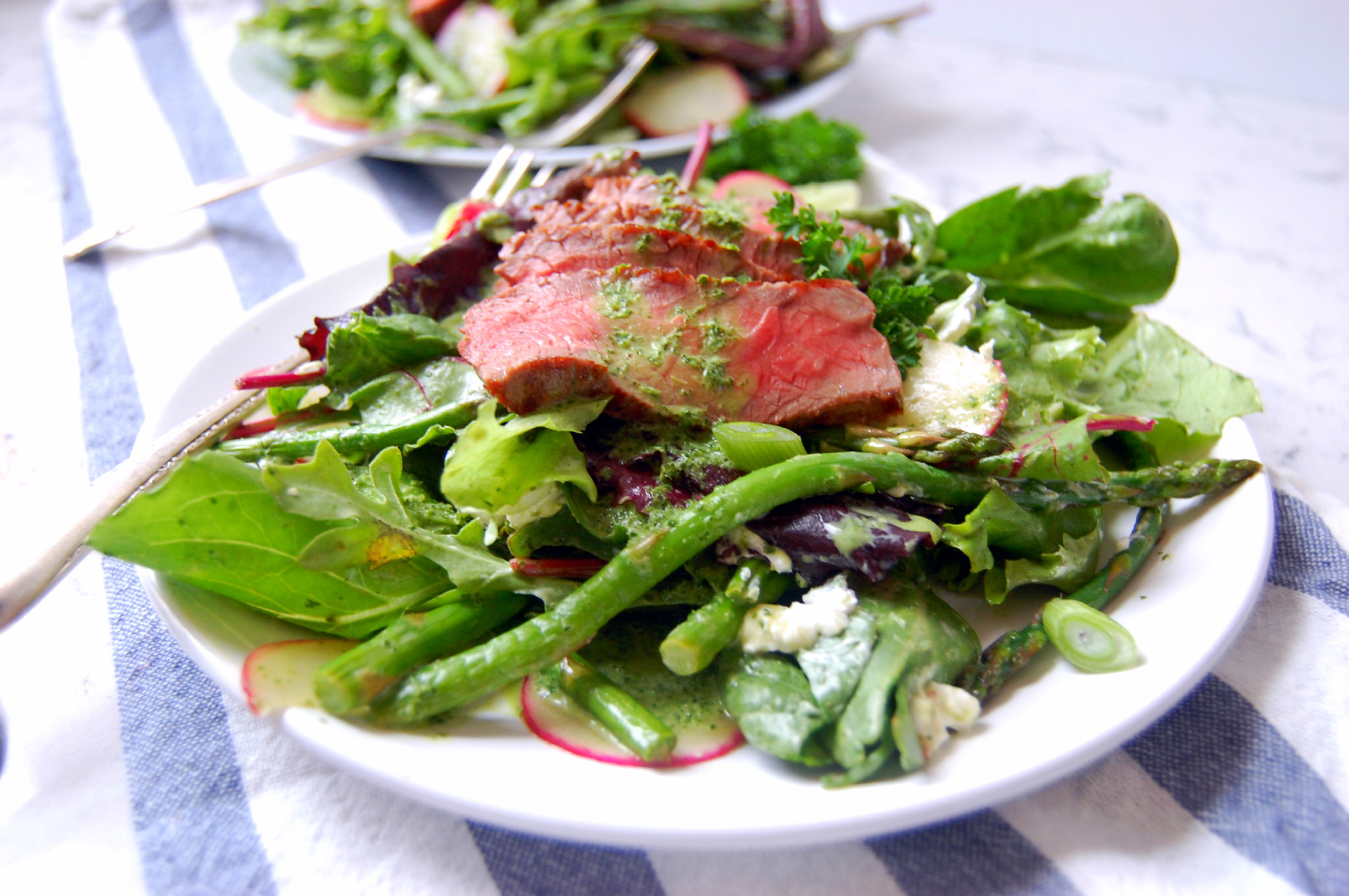 Steak and Asparagus Salad
Author:
Marisa | Uproot Kitchen
Ingredients
½ bunch skinny asparagus (about 3 dozen spears)
1 tablespoon olive oil
10 cups spring mix lettuce
8 large radishes
3 spring onions
¼ cup crumbled goat cheese
¾ of a pound of angus new york strip steak
¼ cup plain Greek yogurt
¼ cup water
1 lime, juiced
1 packed cup parsley
1 teaspoon agave nectar
Instructions
Trim asparagus spears at the bottom. Spread them out on the sides of a cast iron pan with a generous amount of olive oil, leaving space for the steak in the middle of the pan.
Sprinkle the steak with salt and pepper on both sides. Add the steak to the middle of the pan and cook it on medium heat for 10 minutes on one side, and then 5-7 minutes on the other side (You will know it's ready to flip once the steak releases easily from the bottom of the pan - if it sticks, let it cook longer. Mine was thick so adjust cooking time as necessary depending on how rare you like your steak.). Move the asparagus more frequently and remove them from the pan when they are cooked but still slightly crisp.
Remove the steak from the pan and let it rest a few minutes on a cutting board while you prepare the rest of the salad.
Add spring mix to a bowl. Slice radishes and spring onions (white and light green parts) thinly and add them as well. Crumble goat cheese.
To prepare the dressing, blend together Greek yogurt, water, the juice of a lime, parsley, and agave nectar. Toss the salad with about half of the dressing to begin with.
Slice the steak thinly, across the grain. Plate each salad with a few slices of steak on top and drizzle with additional dressing. Serve.
Notes
You may have leftover dressing. Store in the fridge for up to 3 days.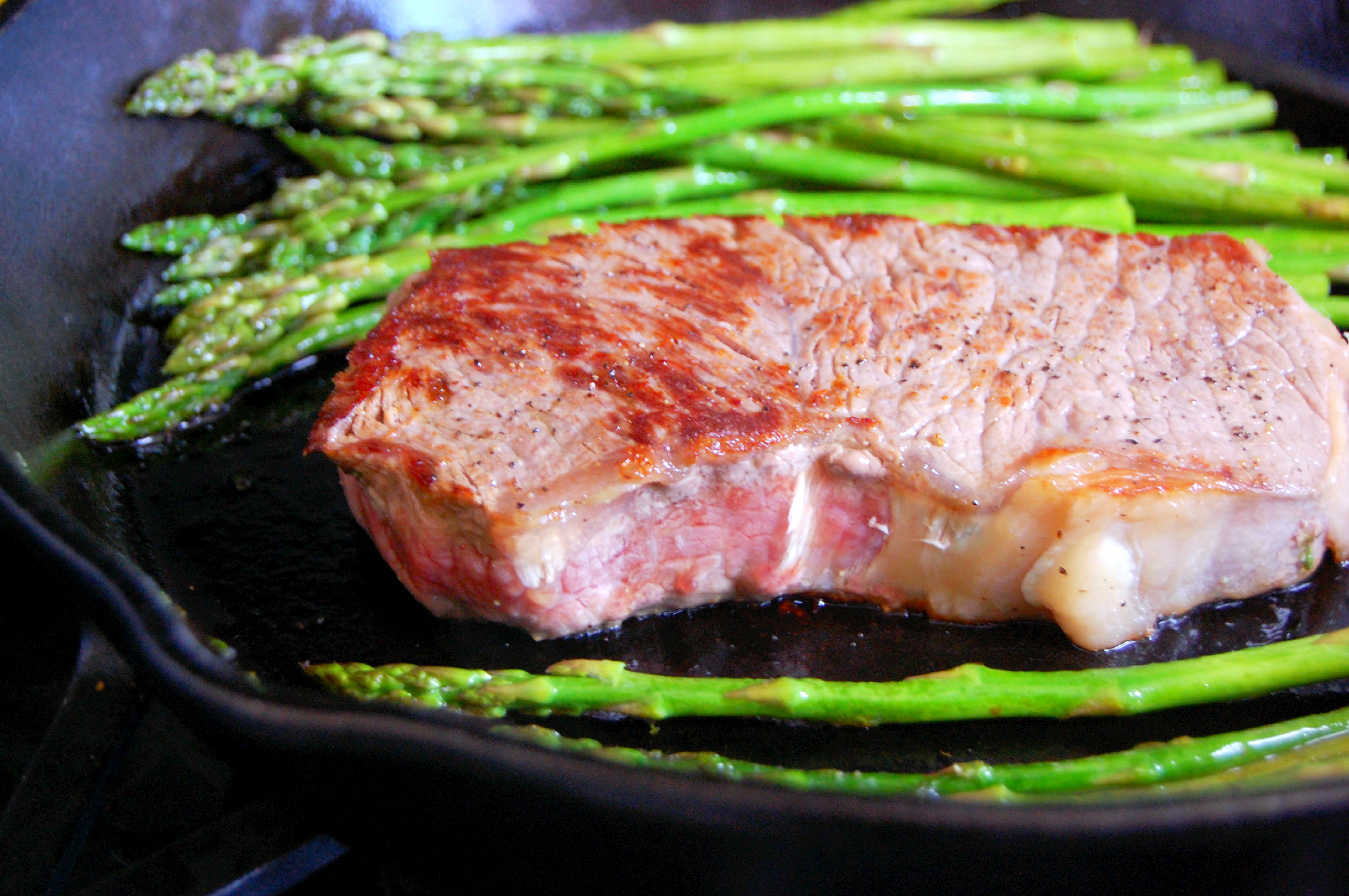 If I were around for Mothers' Day this year, I would plan this Steak and Asparagus Salad on the menu
– as my mom is a fan of salads for dinner and I know she would love these spring flavors.
Asparagus are cooked in the pan right alongside the steak, and then the salad is finished with spring onions, radishes, goat cheese, and a lovely lime parsley Greek yogurt dressing. Try it out for yourself, even if you aren't cooking for your mom this coming weekend.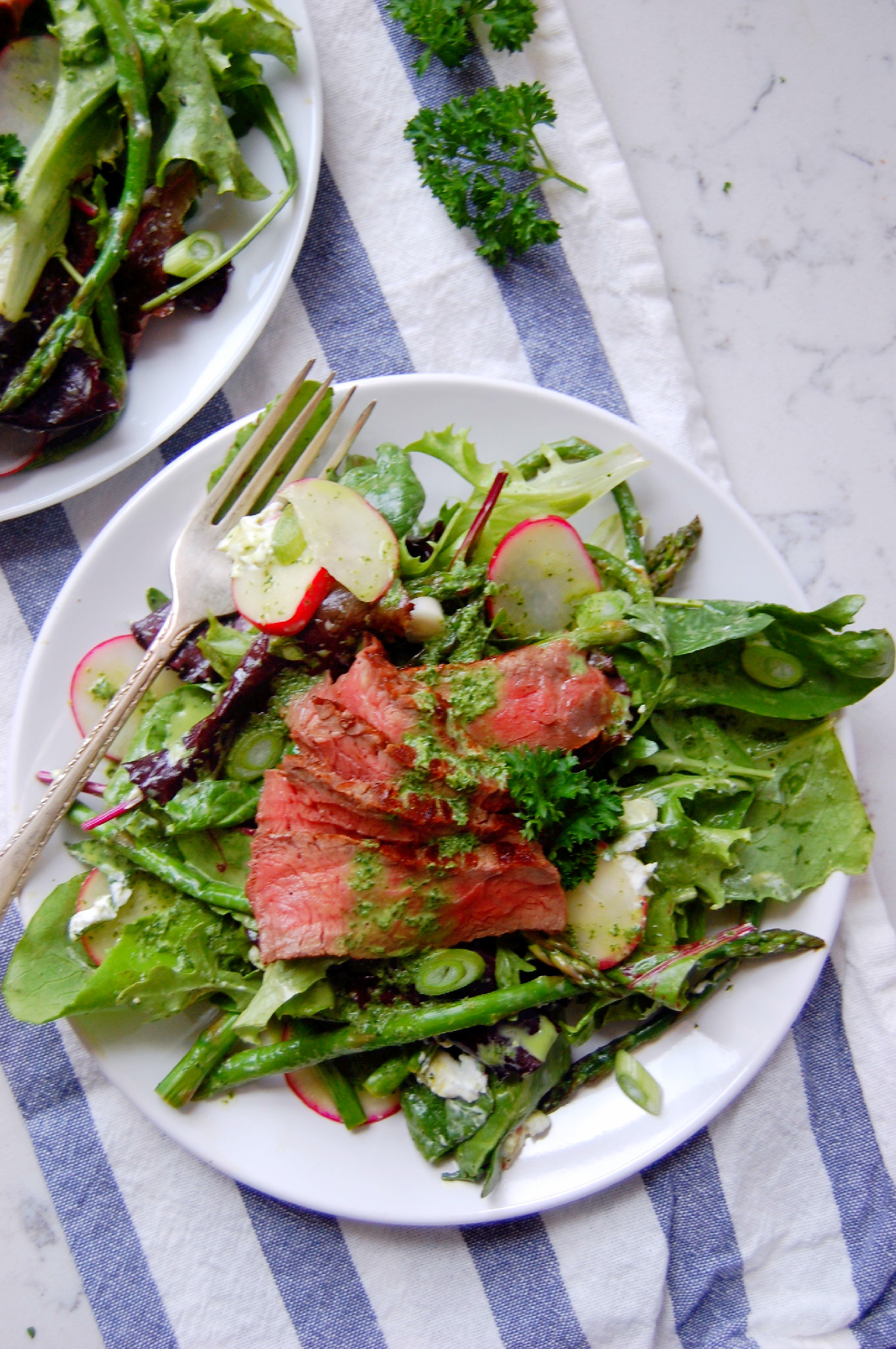 Do you have any plans to celebrate Cinco de Mayo tomorrow, or Mothers' Day this coming weekend? I love when you guys share your menus – let me know what you plan to enjoy!
Marisa