This Roasted Vegetable Bulgur Bowl with Lamb Meatballs is a complete spring dinner dish that comes together easily. The lamb meatballs are studded with sundried tomatoes and feta, complementing the base of roasted vegetables and lemony bulgur wheat and collard greens.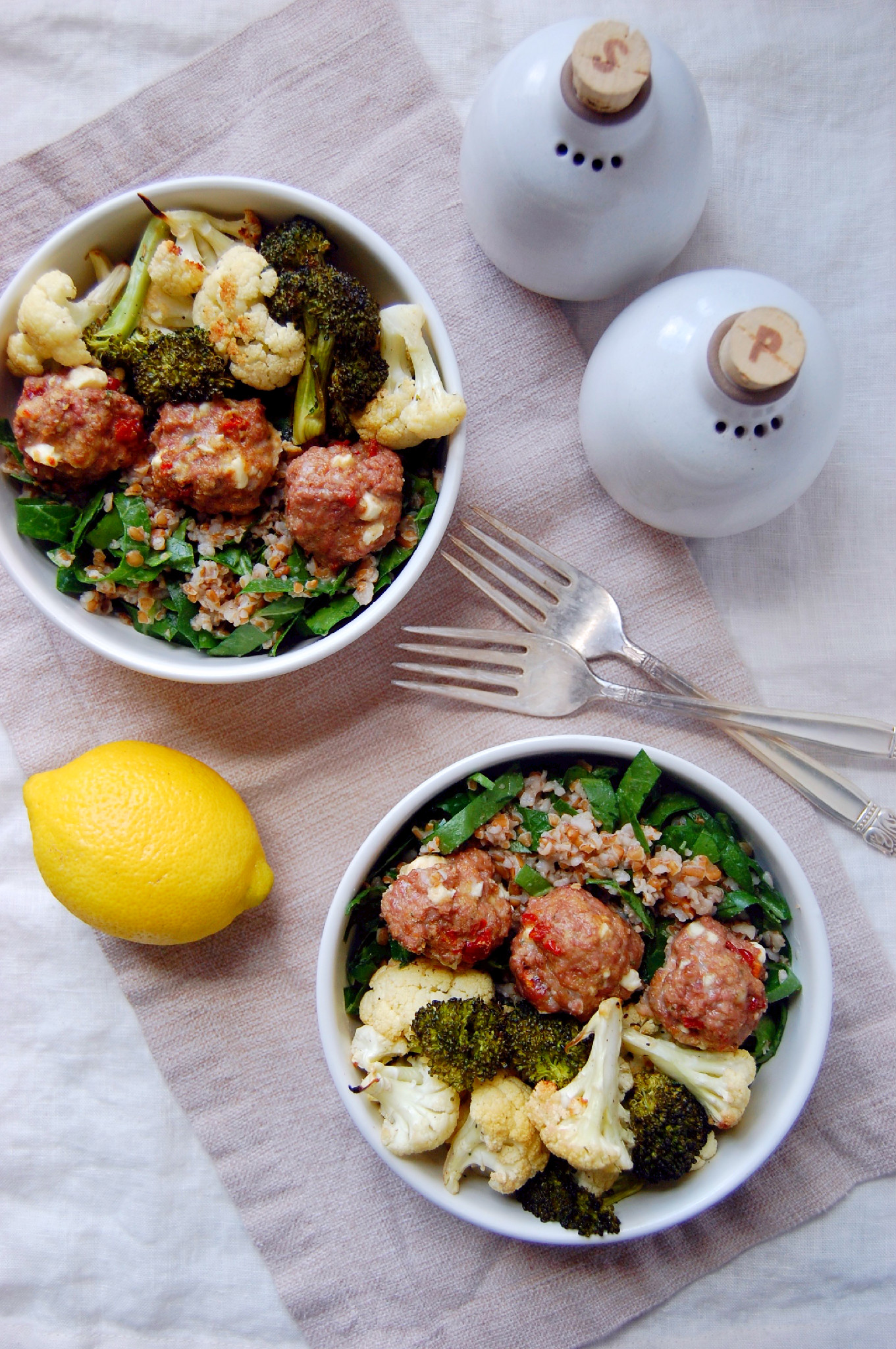 Noah and I enjoyed this meal a few weeks ago with roasted radishes in the mix, and as soon as we sat down to enjoy it, I knew I had to make it again to share it with you. It was a perfect trial run for the meatballs (which can also be made with ground turkey if you prefer!).
While I love being adventurous with food and trying things like acai and banana 'ice cream,' sometimes I just downright crave something comforting and cozy. It's amazing that comfort food to me is now a big bowl of food that I know is good for my soul and my belly.
This Roasted Vegetable Bulgur Bowl with Lamb Meatballs fits the bill exactly: flavorful grains that will stick to your ribs mixed with ribbons of leafy greens, flavorful meatballs jazzed up with feta and sundried tomatoes – all balanced with a boatload of roasted veggies! Ready to dig in?

Roasted Vegetable Bulgur Bowl with Lamb Meatballs
Author:
Marisa | Uproot Kitchen
Ingredients
Roasted Vegetables
1 small head of cauliflower (~5 cups florets)
1 small head of broccoli (~3 cups florets)
1 tablespoon olive oil
¼ teaspoon sea salt
Bulgur Wheat
1 and ½ cups dry bulgur wheat
3 and ½ cups chicken stock
1 bunch collard greens
1 lemon
Lamb Meatballs
1 pound extra lean ground lamb (or turkey)
2 tablespoons feta crumbles
1 tablespoon finely chopped sun-dried tomatoes, drained
1 large egg
¼ cup Italian breadcrumbs
Instructions
Preheat the oven to 400 degrees.
Prep Vegetables: Chop the cauliflower and broccoli into florets. Toss them in olive oil and sea salt and roast them in the oven for 30 minutes on a baking sheet, flipping once halfway through.
Cook Bulgur: Rinse and drain the bulgur wheat in a fine mesh strainer. In a pot on the stove, combine the bulgur and chicken stock (or water) and bring it to a boil. Once boiling, reduce to a simmer and cover the pot. Cook for 15 minutes and then turn off the heat and allow it to continue to absorb liquid (try to avoid lifting the lid, as steam will escape).
Make Meatballs: Combine the ground lamb, feta, finely chopped sun-dried tomatoes, egg and breadcrumbs just until combined. Shape them into meatballs (mine were about 3 tablespoons of the mixture) and place them on a lined baking sheet. Bake them for 15 minutes, until no longer pink in the middle.
While everything is cooking, remove the stems from the collard greens and thinly slice the collard greens into ribbons (as pictured below). Juice a lemon and stir the collard greens and lemon juice into the cooked bulgur wheat. If there is still liquid at the bottom of the pot, give it a good stir and cover the pot once more while you wait for everything to finish cooking.
Plate each bowl with a generous scoop of the bulgur wheat with collards, and then top each bowl with the roasted vegetables and lamb meatballs.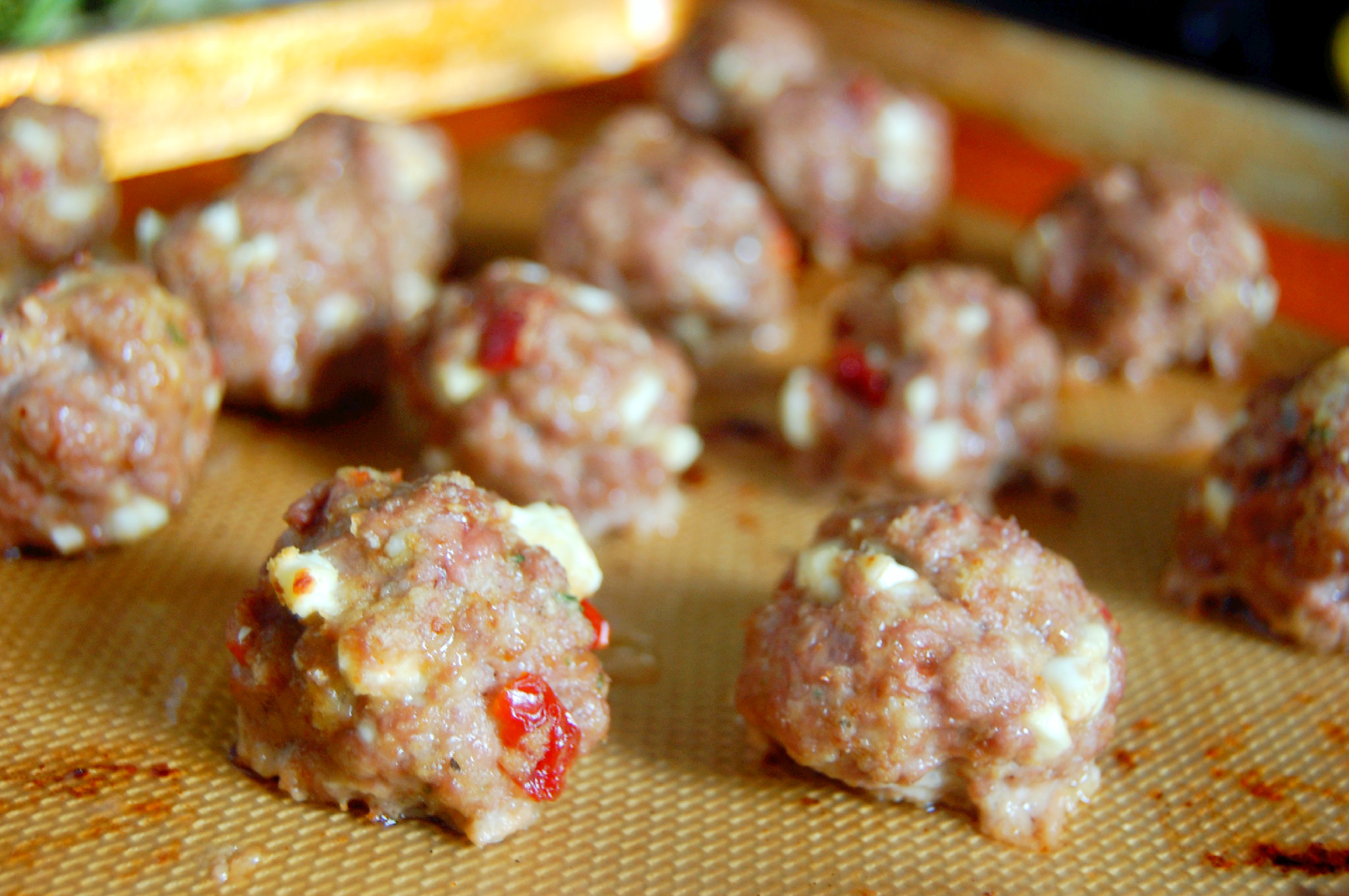 To minimize the time spent making this recipe, you can bake the meatballs (pictured above) while you are roasting your veggies, and all while you let the bulgur cook on the stove (pictured below, before stirring in the collard greens).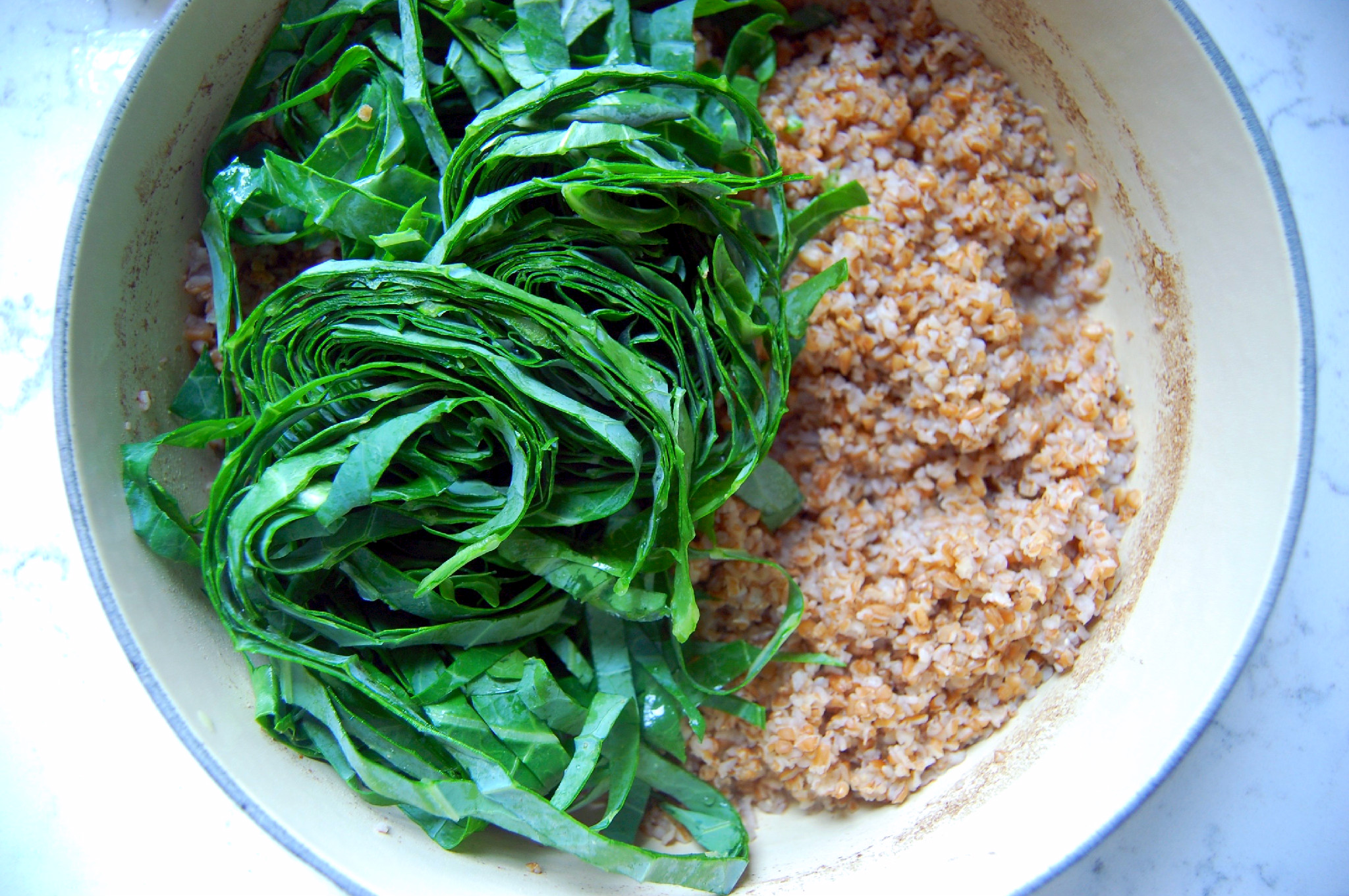 There is nothing better than layering up a bowl of goodness – while these individual recipes take a few steps to pull together, I recommend the combination!
Who's coming over so I can make this again?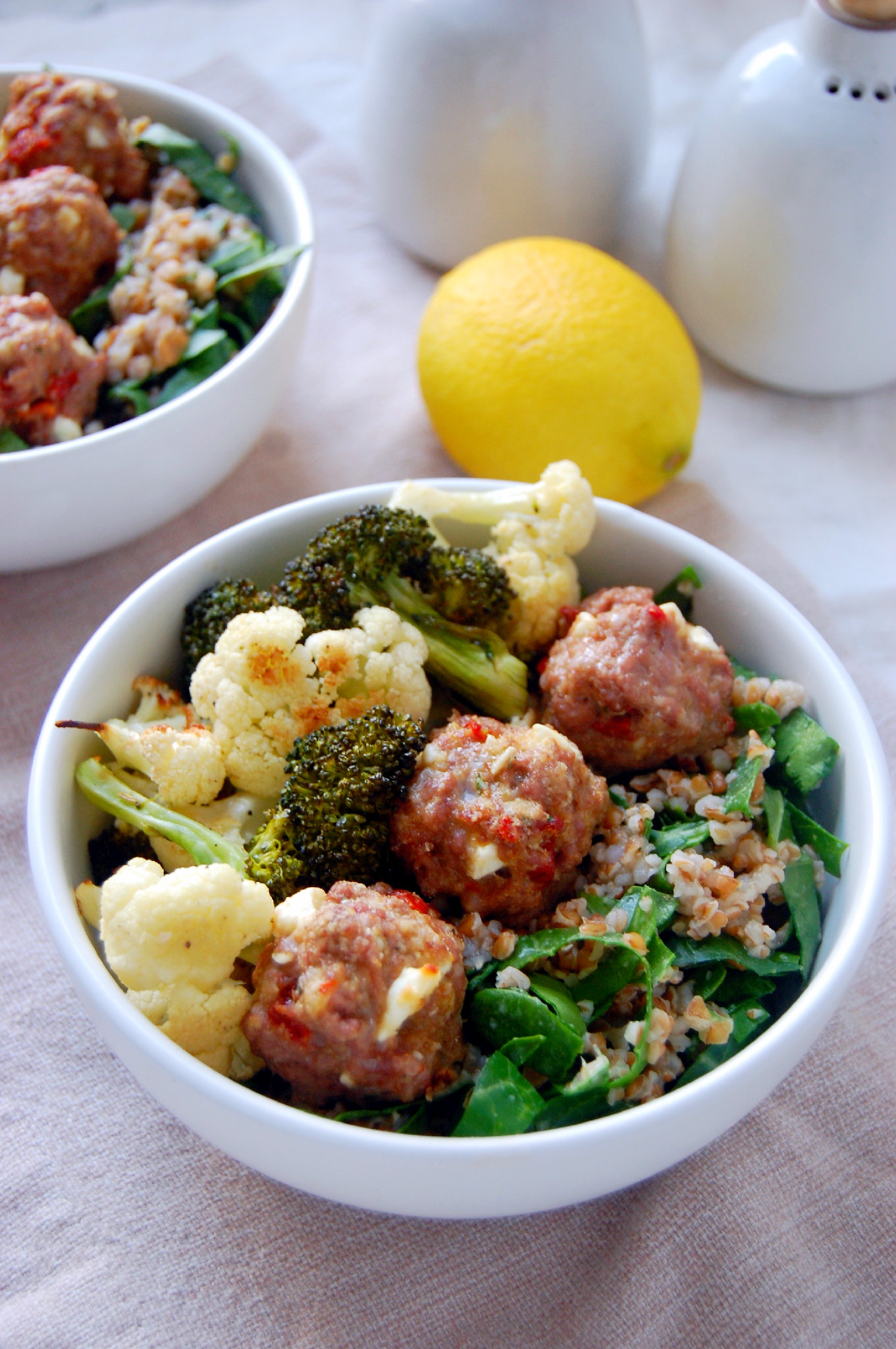 What's on deck for everyone's week?
I am excited to be heading to the Blend Retreat this coming Friday and Saturday, and working the first Old South Pearl Street Farmers' Market of the season on Sunday with Waffle Up.
Marisa