This Mexican Veggie Quinoa Bake is a mix of traditional flavors and my favorite veggies! By cooking the quinoa in the bottom of the dish in enchilada sauce, we have a flavorful base to load up with kale, onion, black beans, zucchini, bell peppers, and spices.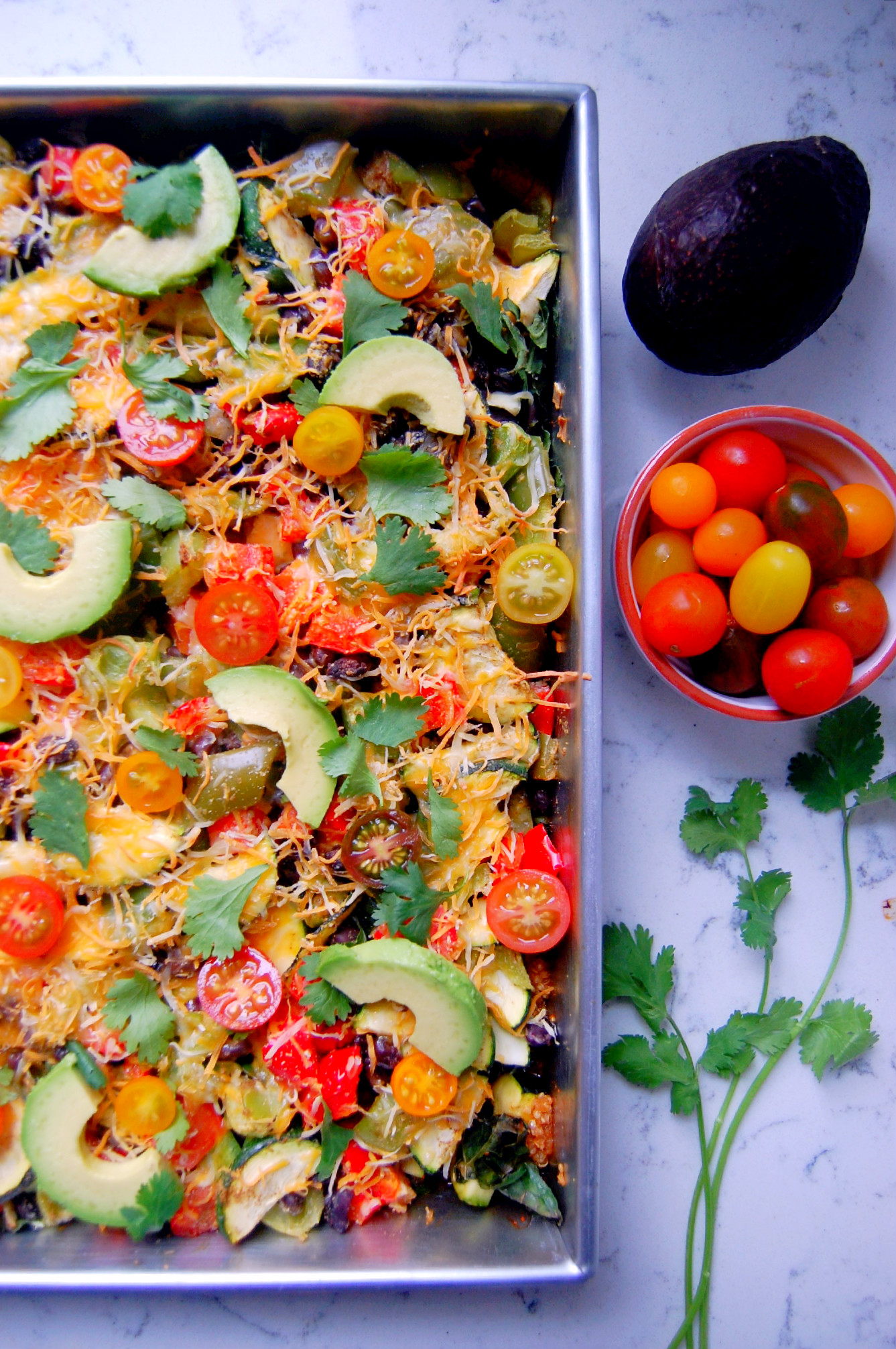 This is by no means textbook Mexican food. By now, it's obvious that I love to healthify my favorite Mexican flavors – or make veggies taste better with tomato, cilantro, avocado, and cheese.
After a busy weekend, there is nothing better than spending the 15 minutes it takes to prep this meal so you can have lunches on hand for the rest of the week.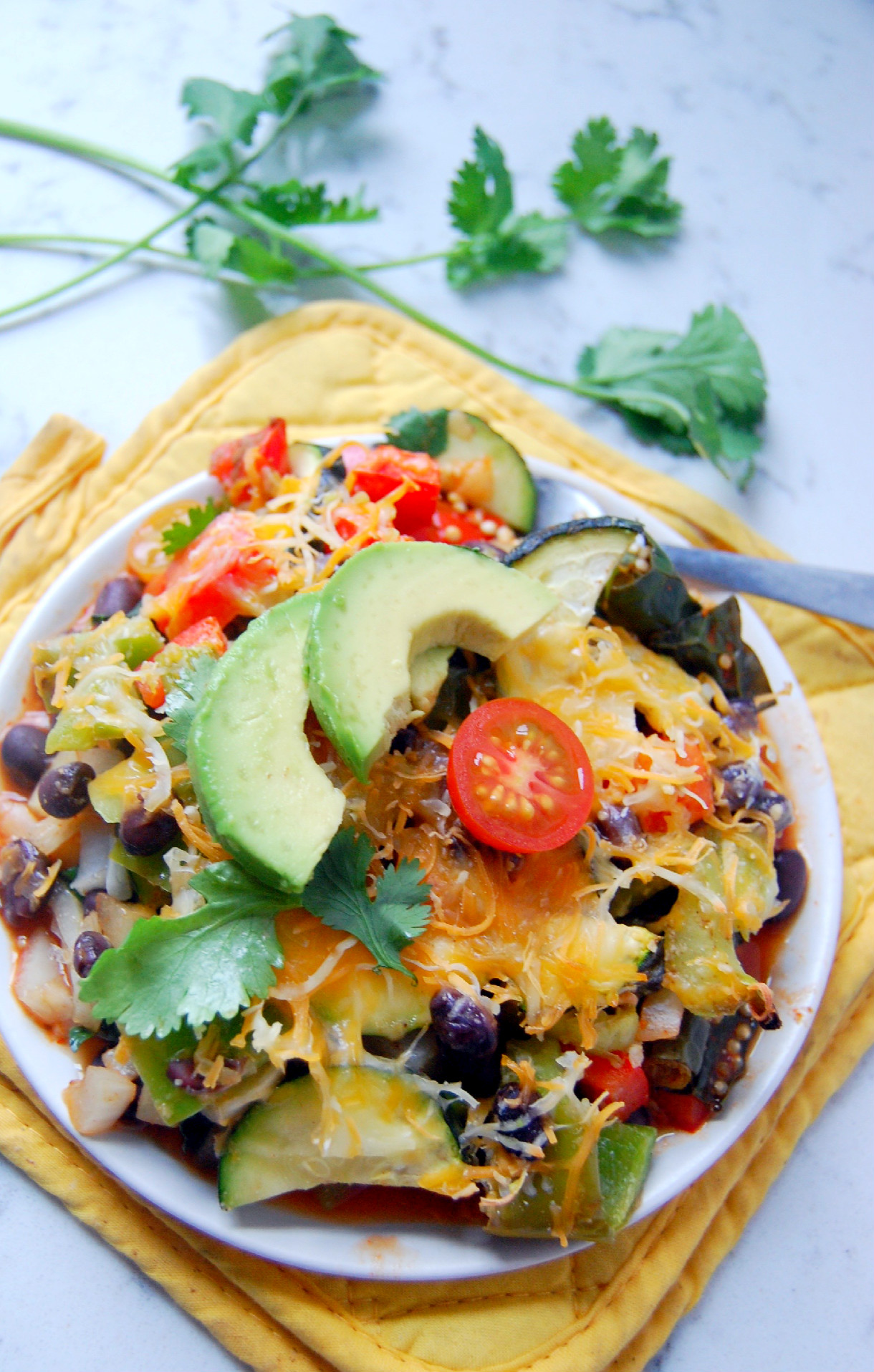 As you guys know, I spent the weekend in Boulder at Blend Retreat, and had a wonderful time meeting my blogging friends, hiking around Chautauqua, eating good food and drinking good coffee, and chatting with some companies I've worked with in the past or hope to work with in the future. Seeing people live out their passions always inspires me, and I came home full of appreciation, once again, for this community I am lucky to be a part of.
On Sunday, I woke up early once again to work at the Old South Pearl Farmers' Market in Denver – the first of the season – with Waffle Up. I loved seeing how busy the market was already in May, and we sold out by noon! It was a whirlwind, and then I came straight home to a wonderful book club meeting of wine, cheese, and chocolate. Can't help but be so happy, but so exhausted.
Now, sitting here on Sunday night working on this post, I wish I had the foresight to once again whip up this Mexican Veggie Quinoa Bake for lunches for the week. I have made this dish 4 times now, playing with the proportions. I know you will all love the ease of this recipe: after throwing everything in a pan, you put it in the oven and let the quinoa bake and the veggies cook all at once!

Mexican Veggie Quinoa Bake
Author:
Marisa | Uproot Kitchen
Ingredients
1 cup dry quinoa, rinsed
1 can (10 ounces) red enchilada sauce
1 and ¼ cup vegetable broth
1 bunch curly kale
½ of a white onion
1 can black beans, drained and rinsed
2 zucchinis
2 bell peppers, any color
1 and ½ teaspoons ground cumin
1 teaspoon garlic powder
1 lime
1 cup Mexican blend shredded cheese
Garnishes: avocado, plain yogurt, cilantro, jalapeno slices
Instructions
Preheat the oven to 350 degrees.
Grease the bottom of a 13x9 pan with cooking spray or oil. Add the dry quinoa, enchilada sauce, and vegetable broth to the bottom of the pan and mix well.
Remove the stalks from the kale and cut the bunch into small pieces. Dice your onion. Press the kale and onion on top of the quinoa mixture to form an even layer.
Rinse and drain the black beans, dice the zucchini into half circle shapes, and dice the bell peppers. Layer the beans, zucchini, and bell pepper on top of the kale.
Sprinkle the spices and squeeze a lime over the whole pan before placing it in the oven.
Bake the pan for 45 minutes to 55 minutes, until the quinoa has absorbed the liquid at the bottom and is fluffy. Top the pan with cheese during the last 5 minutes so it melts.
Serve with avocado, plain yogurt, cilantro, and jalapeno slices.
Notes
To make this gluten-free, ensure you are buying a gluten-free enchilada sauce (or make your own). To make this vegan, simply omit cheese and ensure enchilada sauce is vegan.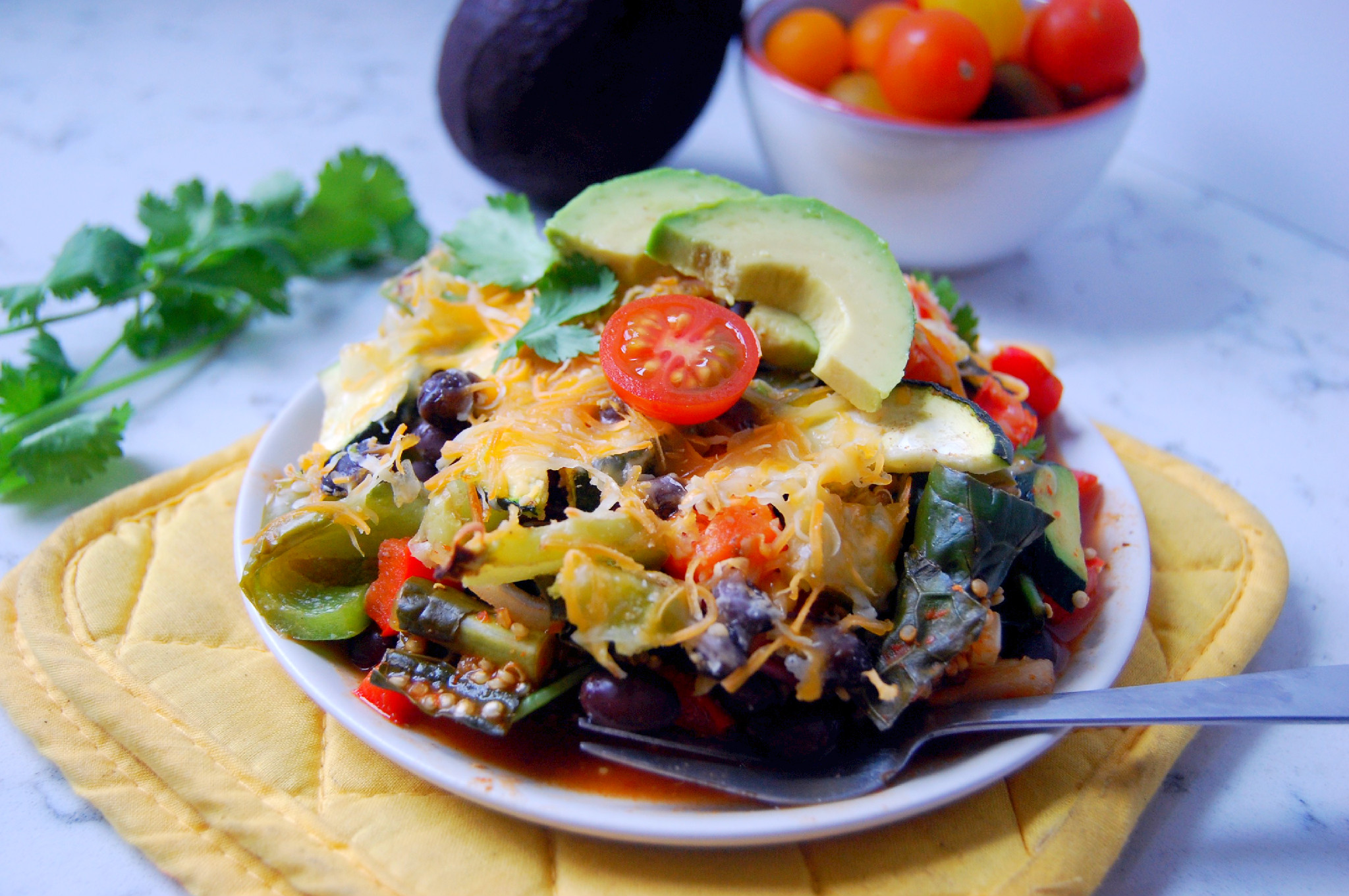 I hope you guys try out this recipe and let me know if you do!
I can't wait to keep this meal in my back pocket when I know I have a busy week ahead
, and the variations are endless depending on what veggies or protein you want to add to it.
Marisa