This light and crunchy Bright Beet Quinoa Salad with Lemon and Ginger is packed with shredded raw vegetables high in fiber, quinoa cooked with ground ginger, and tart lemon juice. A perfect light snack or lunch which can easily be made a bigger meal by topping with a fried egg, crispy chickpeas, or grilled chicken.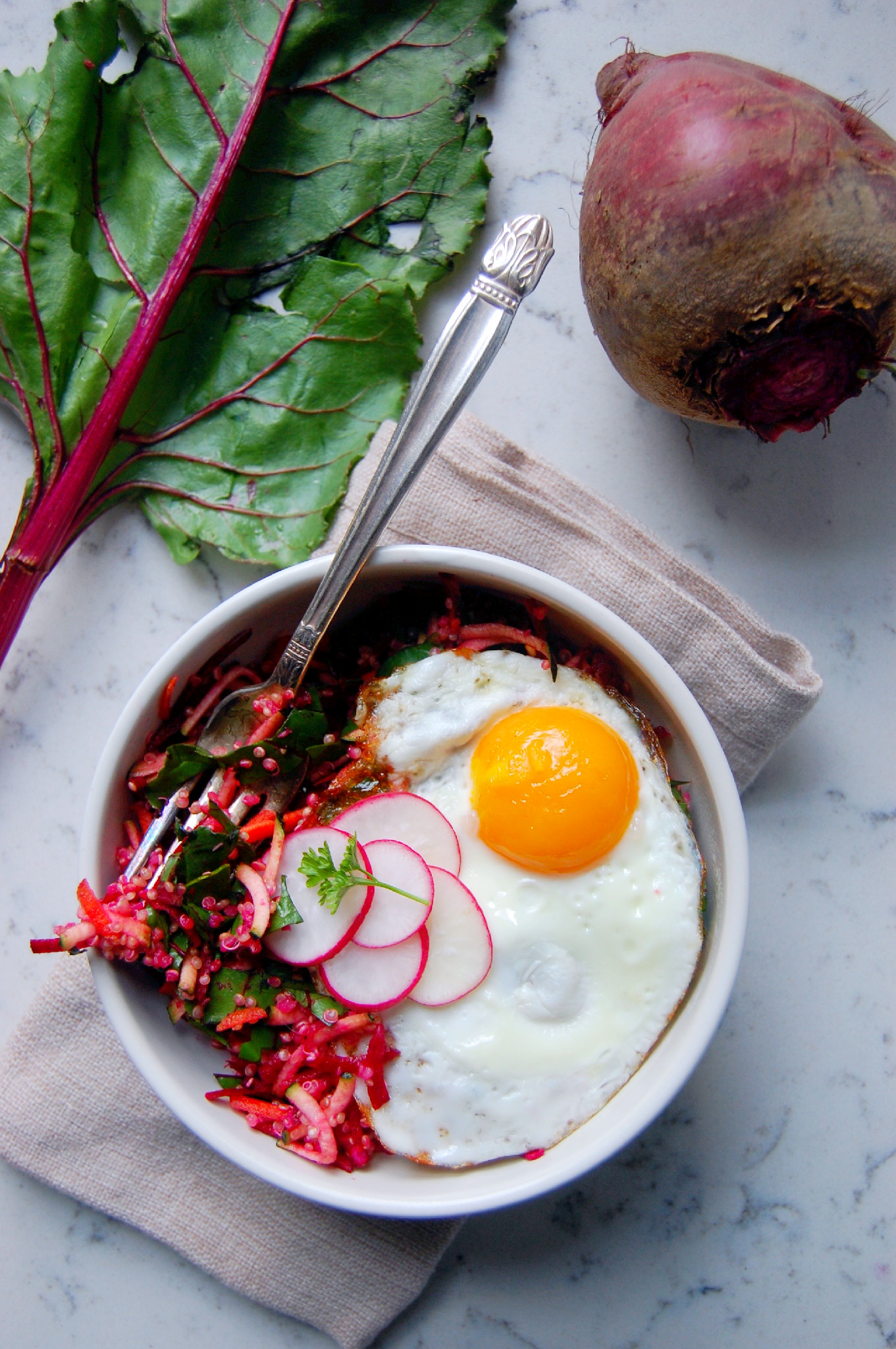 Are you ready to get down with beets? The earthy root vegetable is a favorite of mine and the inspiration behind this raw shredded salad mixed with quinoa.
I am a huge fan of the flavor of beets combined with lemon and ginger, and added a hint of heat by adding red pepper flakes into my gingery quinoa.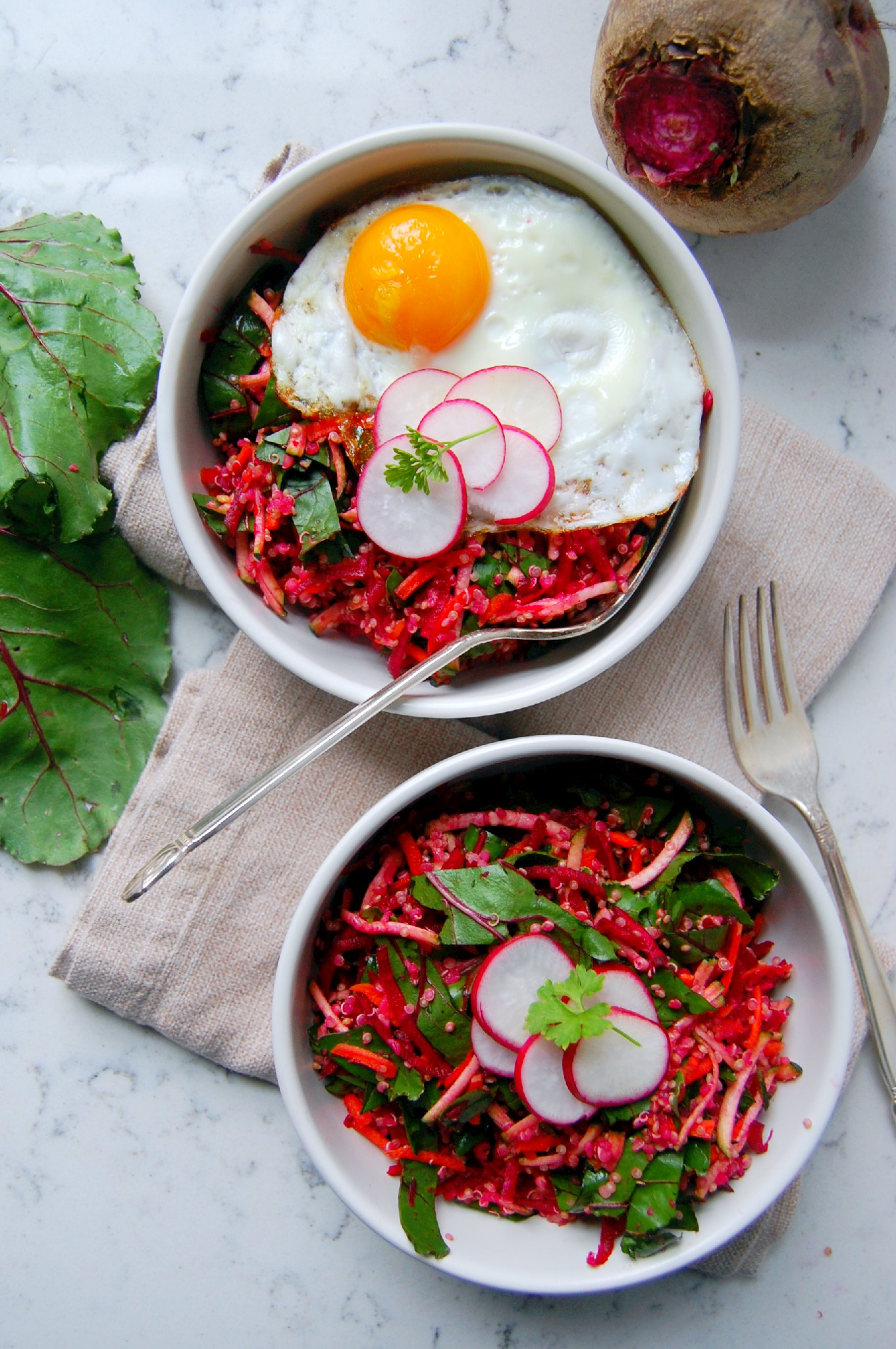 While I can't convince you to love these root veggies as much as I do, there's a reason they are highly touted for their nutrition content. Beets provide antioxidant, anti-inflammatory, and detoxification support, and this recipe uses them in a raw shredded form so that the cooking time doesn't deter you from adding them into your diet. Another bonus? They are low calorie yet filling as they are high in fiber.
I urge you to slice up those greens coming off of the beets as noted in the recipe, as they are also a nutrient-rich leafy green that taste similar to swiss chard. Top this shredded veggie salad with a fried egg, and I'm in dinner heaven.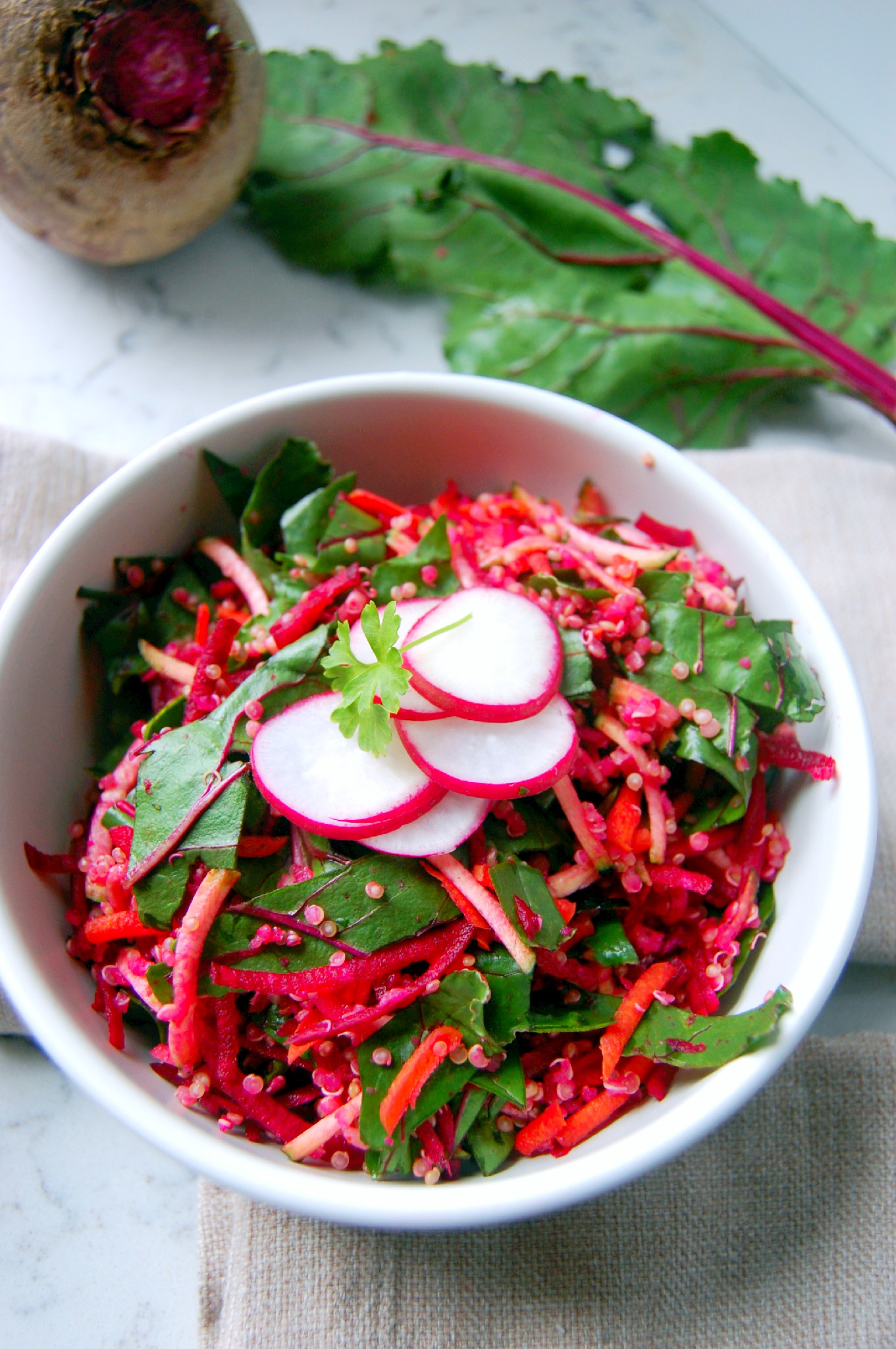 Bright Beet Quinoa Salad with Lemon and Ginger
Author:
Marisa | Uproot Kitchen
Ingredients
1 cup dry quinoa
¼ teaspoon salt
¼ teaspoon ground ginger
¼ teaspoon red pepper flakes
1 extra large beet (3 cups shredded), greens attached
2 medium zucchini (2 cups shredded)
2 large carrots (1.5 cups shredded)
1 lemon
Optional: 4-6 large eggs
Instructions
Combine dry quinoa, salt, ground ginger, and red pepper flakes in a pot on the stove and cover with 2 cups of water. Bring the mixture to a boil, and then reduce the heat and cover the pot. Let it simmer for 15 minutes and then turn off the heat and allow it to continue to steam for 5 minutes, or until fluffy.
Remove the beet greens from the beets and set aside. Peel carrots and beets, and cut all the vegetables into pieces that will fit through a food processor shredder attachment, and shred the raw vegetables (yield of shredded vegetables is noted above. Alternatively, use a vegetable peeler or buy pre-shredded vegetables.
Thinly slice the beet greens from your beets into shreds.
In a bowl, combine cooked quinoa, shredded vegetables, shredded beet greens, and the juice of a lemon.
Serve warm or cold, and top with a fried egg at the time of serving if desired.
I picked up this HUGE bunch of beets for this recipe, and probably looked like the crazy lady carrying them all out of the store. If you find yourself in a similar predicament with this many enormous beets, I also recommend making my Supergreen Power Salad and my Warm Farro Bowl.
That would be… "unbeetable" (insert crying face emoji here..).
Be well,
Marisa