Simple and quick, these 15 Minute Zucchini Noodles with Almond Pesto will satisfy your craving for a pesto pasta with a chunky sauce and lots of zippy flavor from cilantro and lemon.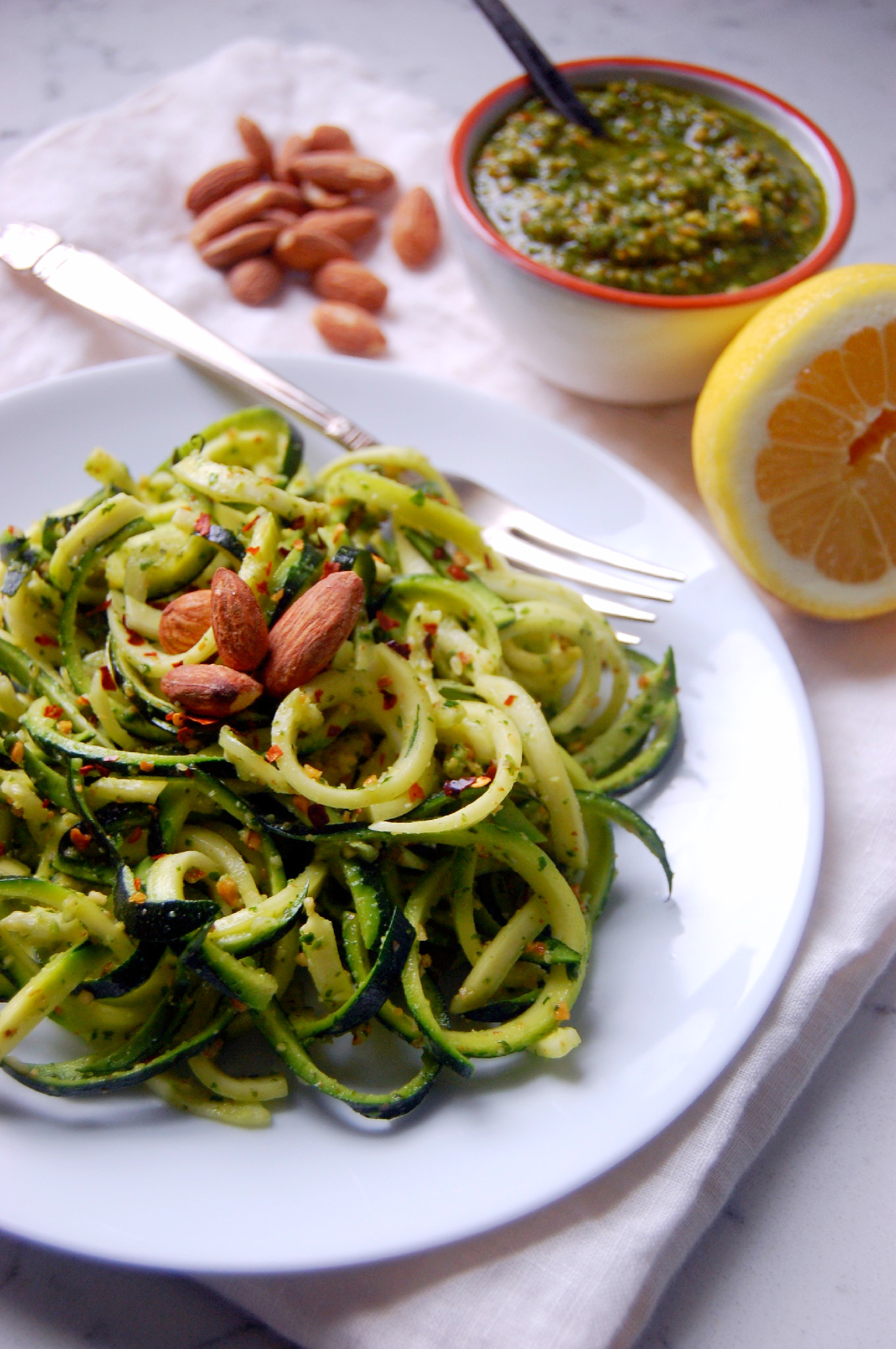 I set out to make a pesto that could be easy and delicious – and ended up with 5 ingredients that I found to be vital. Because the zucchini noodles aren't particularly flavorful on their own, I used half basil and half cilantro alongside the traditional olive oil, nuts, and garlic for this pesto to give it a zippy, bold taste. I didn't even miss the parmesan!
Almonds are known as a healthy snack, but I repurposed the nutrient-rich nut as a substitute for pine nuts (which can be prohibitively expensive and harder to find!). These Blue Diamond Oven Roasted Sea Salt Almonds were easy to throw straight into the food processor with the other ingredients to turn into pesto sauce.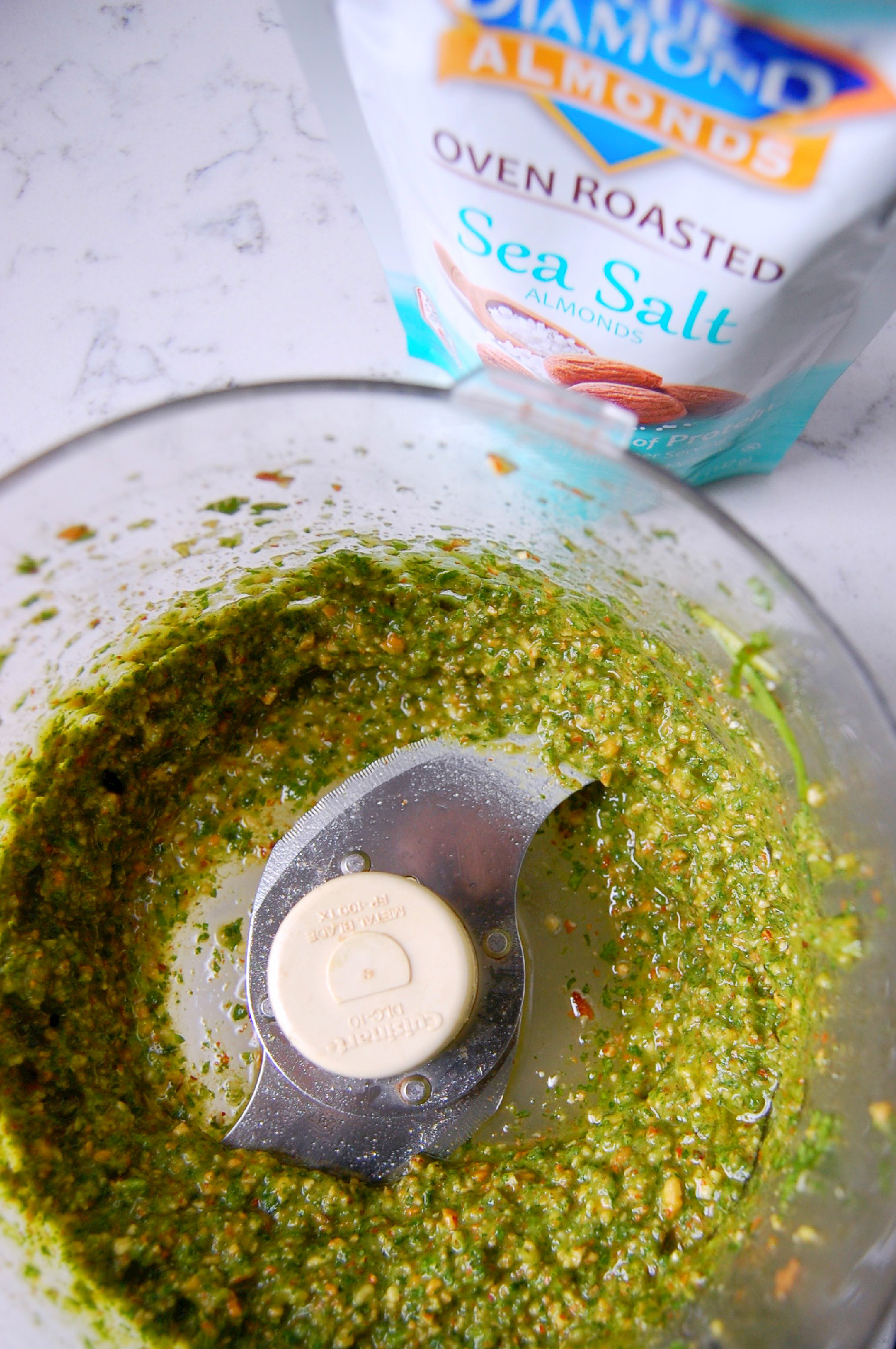 This post is sponsored by Blue Diamond Almonds. I was compensated for my time.
I hope you have already given "zoodles" (zucchini noodles) a chance, or that this is the recipe that gets you to try them. I use this spiralizer to make the noodles, and am eyeing purchasing this one (affiliate links).
I don't cook my zoodles because I like the tiny bit of crunch the soft uncooked noodles have, but you can also sauté them for 2 minutes in a dry warm pan to soften them further before tossing with pesto.
Definitely don't miss sprinkling the top with red pepper flakes to make the dish really sing.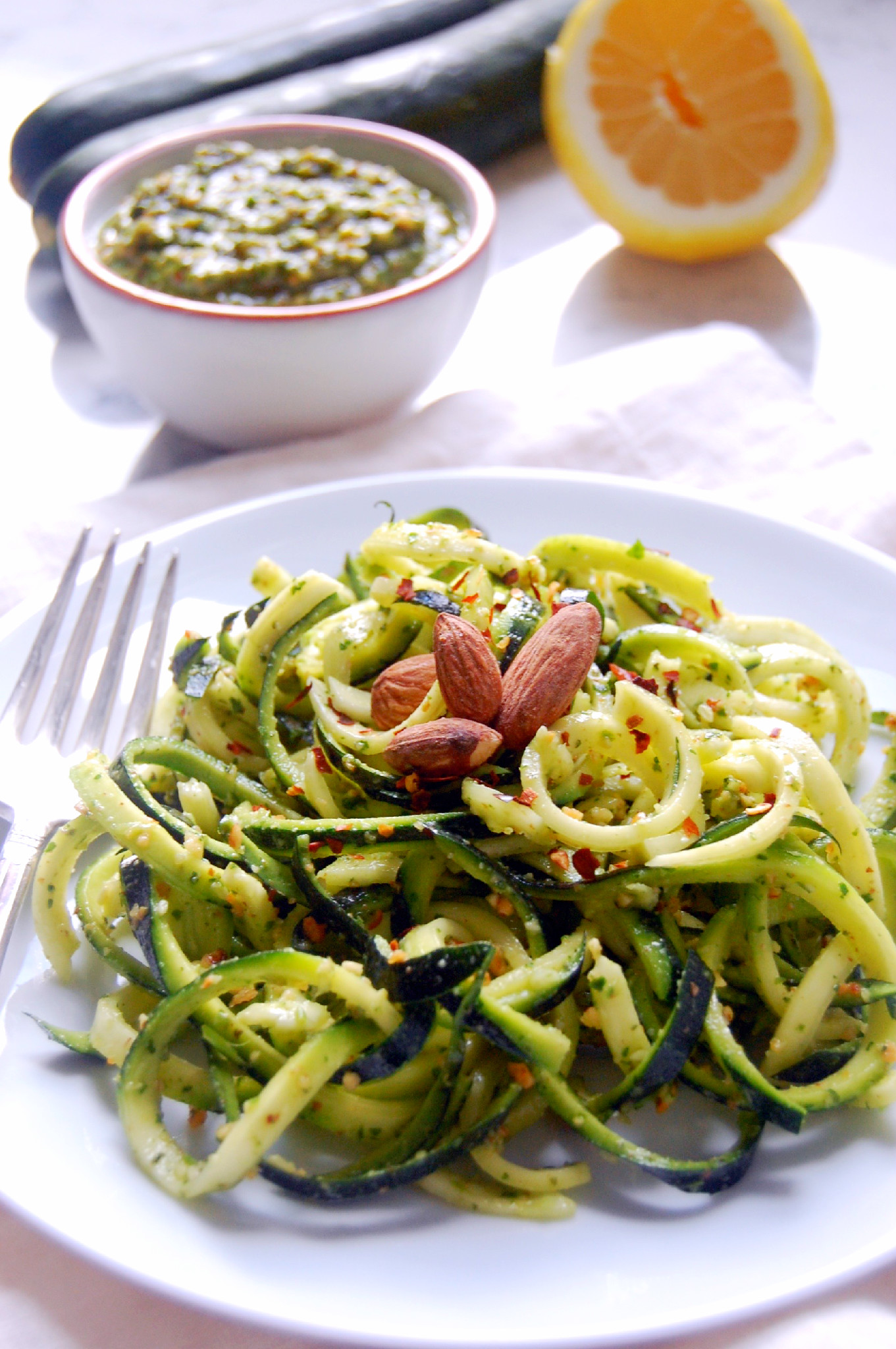 Zucchini Noodles with Almond Pesto
Author:
Marisa | Uproot Kitchen
Ingredients
½ cup Blue Diamond Oven Roasted Sea Salt Almonds
1 packed cup fresh basil
1 packed cup fresh cilantro
3 large cloves of garlic
½ cup olive oil
1 tablespoon lemon juice
Salt and pepper to taste
6-8 medium zucchini
Red pepper flakes to garnish
Instructions
In a food processor or high powered blender, combine almonds, cilantro, basil, garlic, olive oil, lemon juice, and salt and pepper to taste. Add additional olive oil if you desire a thinner sauce.
Using a spiralizer or julienne peeler, cut zucchinis into spaghetti noodles. Prepare one medium sized zucchini per person.
In a bowl, toss almond pesto with raw zucchini noodles and serve with red pepper flakes.
Notes
Do not toss together the pesto and zucchini noodles until serving time, as the sauce will draw out water from the zucchini noodles. Store them separately in the fridge until you are ready to enjoy them.
Nutrition Information
Serving size:
1 heaping tablespoon pesto

A tip for fresh herbs: I chop and freeze extras when I have them to pop out and use in recipes. This would be the perfect opportunity to use herb olive oil cubes – for both the basil and the cilantro!
Marisa