Planning a trip to Glacier National Park in Montana? Here is a list of activities and hikes we did, the food we ate, and the places we set our hiking shoes at night.
Basically, let me share my Glacier National Park To Do List with you! Go book your flights through Missoula or Kalispell and meet me back here with your cup of coffee. Ready?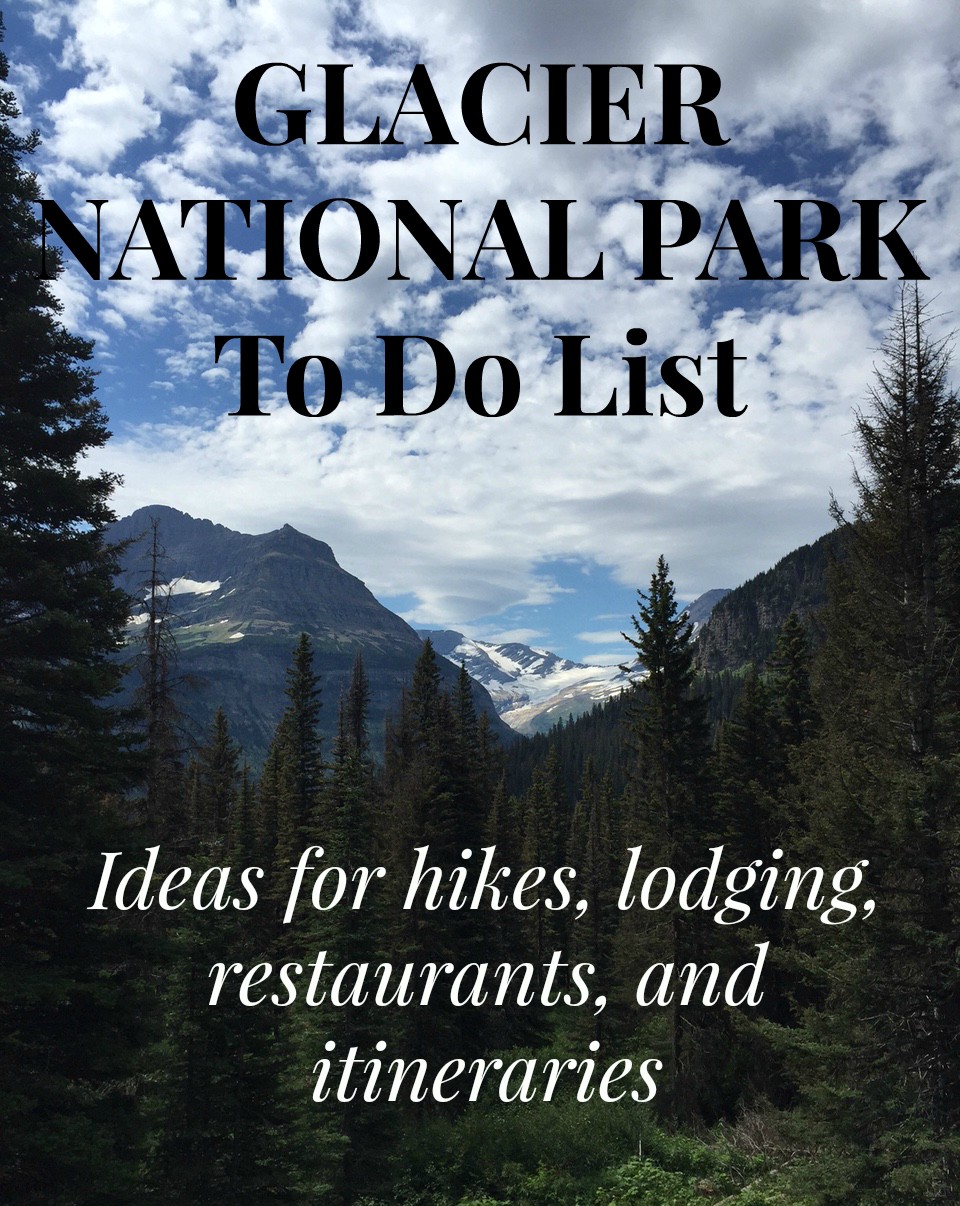 I had a blast in Montana last week in Glacier National Park. I had thought about writing it up on the blog but wasn't sure whether I'd love it as much as other national parks I've been to. Spoiler alert: Everyone needs to come here once in their life, at the minimum. Incredible panoramas, sprawling glaciers, alpine lakes, moose, wildflowers, and trees – oh my. It truly is deserving of its nickname: The Crown of the Continent.
I wrote up this post similar to an itinerary, so you can think about how to get it all done in a few days. We spent 4 days exploring Glacier National Park (not including travel days), and it was the perfect amount of time since we weren't up for long hikes everyday and wanted some R&R too. Check out my recommendations below!
This "Flavor Your Adventure" post is sponsored by Blue Diamond Almonds. See disclaimer at the end of the post.

ACTIVITIES/HIKES IN GLACIER NATIONAL PARK
Clockwise: Avalanche Lake, view from Going-To-The-Sun Road, snacking on dried figs and Blue Diamond Almonds from my hiking belt, Two Medicine Lake boat trip to Twin Falls trail
Starting in West Glacier…
DAY 1: Start your first day with the red buses that ride up Going-To-The-Sun Road (through Xanterra Parks and Resorts). Their Western Alpine Tour (4 hours, $40/person) is a fun way to orient yourself to the park – it begins in cedar and hemlock forests in the Lake McDonald Valley, and takes you up on the Going-to-the-Sun Road so you can stand on top of the Continental Divide at Logan Pass. The bus is a bit slow moving, but the historical information they share is interesting and instead of watching every turn while you drive, you can sit back and enjoy staring at the "Garden Wall." Note: Plan for weather as the views are the best when they can take the roof off the cars and you can poke your head out the top for pictures!

Alternate option: If you prefer to drive the Going-to-the-Sun Road, you can stop up at Logan Pass for the Hidden Lake Overlook hike, a 2.7 mile roundtrip trail starting at the visitor center. The panoramas are worth it!

DAY 2: Park at the Apgar Visitor Center and ride the free shuttle up to Avalanche Creek, to join up with the Trail of the Cedars. This short, paved trail is a great intro hike if you have kids or grandparents along – it's even wheelchair friendly. This is also the kick off to the Avalanche Lake hike, a 4.5 miles roundtrip that is a very popular intro hike that takes you through beautiful forest up to an alpine lake. Bring snacks to have lunch up at the top before taking your time back to the shuttle.

Alternate option: Do the Trail of the Cedars and head down to Lake McDonald Lodge and walk around the lake there, taking in some scenery without a lot of hiking. You could also use this afternoon to head into East Glacier instead after doing Trail of the Cedars.
Moving into East Glacier…
DAY 3: Take the morning easy, and enjoy an early lunch before heading into the car to drive from West Glacier (or wherever you are staying – in our case, this was Whitefish) to East Glacier. Head directly towards Two Medicine Lake and catch the 1 PM or 3 PM shuttle from Glacier Boat Co. across the lake. The shuttle price includes a guided tour up to Twin Falls, a 2 mile roundtrip hike with a boat ride that shaves 6 miles off this roundtrip with cultural/natural history commentary.

Alternate option: If you miss getting on a shuttle (they fill up if you're not there a few minutes beforehand), hike around the lake to the trailhead and do the Twin Falls hikes and return on the shuttle – a total of a little over 5 miles.

DAY 4: Spend the morning driving up Going-To-The-Sun Road from the St Mary Visitor Center entrance, a completely different panorama awaits from this side. Come back down from Logan Pass and stop at the Jackson Glacier overlook. Grab lunch along the way up to Many Glacier, a different part of the park, and hike to Redrock Falls (4 miles roundtrip) or Grinnell Lake (3 miles roundtrip).

Alternate option: Head directly into Many Glacier early in the morning and suit up for the longest hike of your stay – Grinnell Glacier

, 7.5 miles roundtrip if you're taking the shuttle over the lake.
WHAT TO EAT + DRINK IN GLACIER NATIONAL PARK
Clockwise: Bloody Mary at Lodge at Whitefish Lake, Sweet Peaks Ice Cream in Whitefish, a variety of car snacks, and Serrano's Mexican Cafe in East Glacier
For day trips into the park: Food spots are limited to the old, dusty lodges (mediocre food) or convenience spots. Our game plan was to bring food into the park everyday so we had a lunch of snacks: almonds, dried fruit, crackers, fresh fruit, and other snacks. Stock up at a grocery store on your way from the airport – we stopped at Safeway in Whitefish and restocked a bit at Brownies Hostel and Bakery (for peanut butter) in East Glacier.
Whitefish: Loula's Cafe, Sweet Peaks Ice Cream, the Lodge at Whitefish Lake (see lodging recommendations below), Mountain Berry Bowls (acai bowl food truck!), Piggyback BBQ
West Glacier: Eddie's Cafe (huckleberry soft serve), Russell's Fireside Dining Room at Lake McDonald Lodge
East Glacier: Serrano's Mexican in East Glacier Village (get the red snapper fish tacos!), Rock N Roll Bakery in East Glacier Village, Park Cafe in St Mary, Luna's in East Glacier Village (try the salmon burger), Brownies Hostel and Bakery in East Glacier Village
Missoula: Hob Nob for a sit down meal, or the Good Food Store hot bar (similar to Whole Foods) if you need a quick lunch spot on  your way out or into the airport
Pictured: Almond snackin' on the patio, view of Jackson Glacier through the trees
WHERE TO STAY IN GLACIER NATIONAL PARK
To access West Glacier…
The Lodge at Whitefish Lake: Don't overlook staying here, even though it's a 30 minute drive into Glacier National Park. The lodge itself is extremely elegant and upscale, located right on Whitefish Lake – hello, private beach and tiki bar. The rooms were spacious, service excellent (they gifted me a bottle of bubbly on my birthday!), and the food in the restaurant was incredible – though pricey.
To access East Glacier, Two Medicine, and Many Glacier…
Glacier Park Lodge: As long as you avoid sleeping on the pullout beds which they haven't replaced since the early 1900s (story of my life when I travel with my parents), this place is a step out of a history book of East Glacier. Since there are few places around, this is the best spot to jumpstart your day from in East Glacier. Skip eating here and get out early to get into the park before everyone else (bonus: you can get to the sparse restaurants in town for an earlier dinner).
Disclaimer: This "Flavor Your Adventure" post is sponsored by Blue Diamond Almonds. For more snack ideas to "Flavor Your Adventure" this summer, visit Blue Diamond Almonds on Facebook, Twitter and Instagram.
Good luck trip planning and feel free to ask me any questions below. Do you have any end of summer getaways planned?
Marisa