For this Cinnamon Roasted Carrot Farro Salad, chunks of cinnamon roasted carrots are tossed with cooked grains, baby lettuces, pumpkin seeds and raisins for a hearty and filling vegetarian main dish.
There is something magical about finally turning the oven on again for a season of warm bowls of roasted veggies, soups, and baked goods.
Enter these earthy cinnamon roasted carrots, the perfect caramelized bite when paired with chewy grains of farro, crisp baby lettuce, crunchy pumpkin seeds and sweet raisins – all tossed with a simple mixture of honey, lemon juice, olive oil, and vinegar.
… Does your mouth water like mine does just reading that?
Roasted carrots are one of my favorite flavors – deeply earthy, sweet, and soft; and carrots are an extremely budget-friendly fridge staple! This salad is just as good a few days later (multiple batches just went from the container to fork to mouth!) so you can make it for lunches for the week too.

Cinnamon Roasted Carrot and Farro Salad
Author:
Marisa | Uproot Kitchen
Ingredients
¾ cup dry farro
6 medium carrots
1 tablespoon coconut oil
1 teaspoon ground cinnamon
Salt and pepper to taste
3 cups baby lettuce mix
¼ cup raw pumpkin seeds
2 tablespoons raisins
1 teaspoon honey
1 tablespoon lemon juice
2 teaspoons olive oil
½ teaspoon apple cider vinegar
Instructions
Preheat the oven to 375 degrees.
Add dry farro to a pot and cover with 3 cups of broth or salted water. Bring to a boil and cook like pasta for 15-20 minutes. Drain and set aside to cool (should be around 2 cups of cooked farro).
Chop carrots on an angle into about 2 cups of thick coins. Toss them with melted coconut oil, cinnamon, and salt and pepper and roast for 35 minutes on a lined baking sheet. Set aside to cool.
In a large salad bowl, toss together cooked farro, roasted carrots, baby lettuce mix, pumpkin seeds, and raisins.
Whisk together dressing of honey, lemon juice, olive oil, and apple cider vinegar and drizzle over the salad when you are ready to serve.
Notes
This dish can be served hot, room temperature, or cold. Note that the lettuce will wilt if tossed with hot farro or carrots.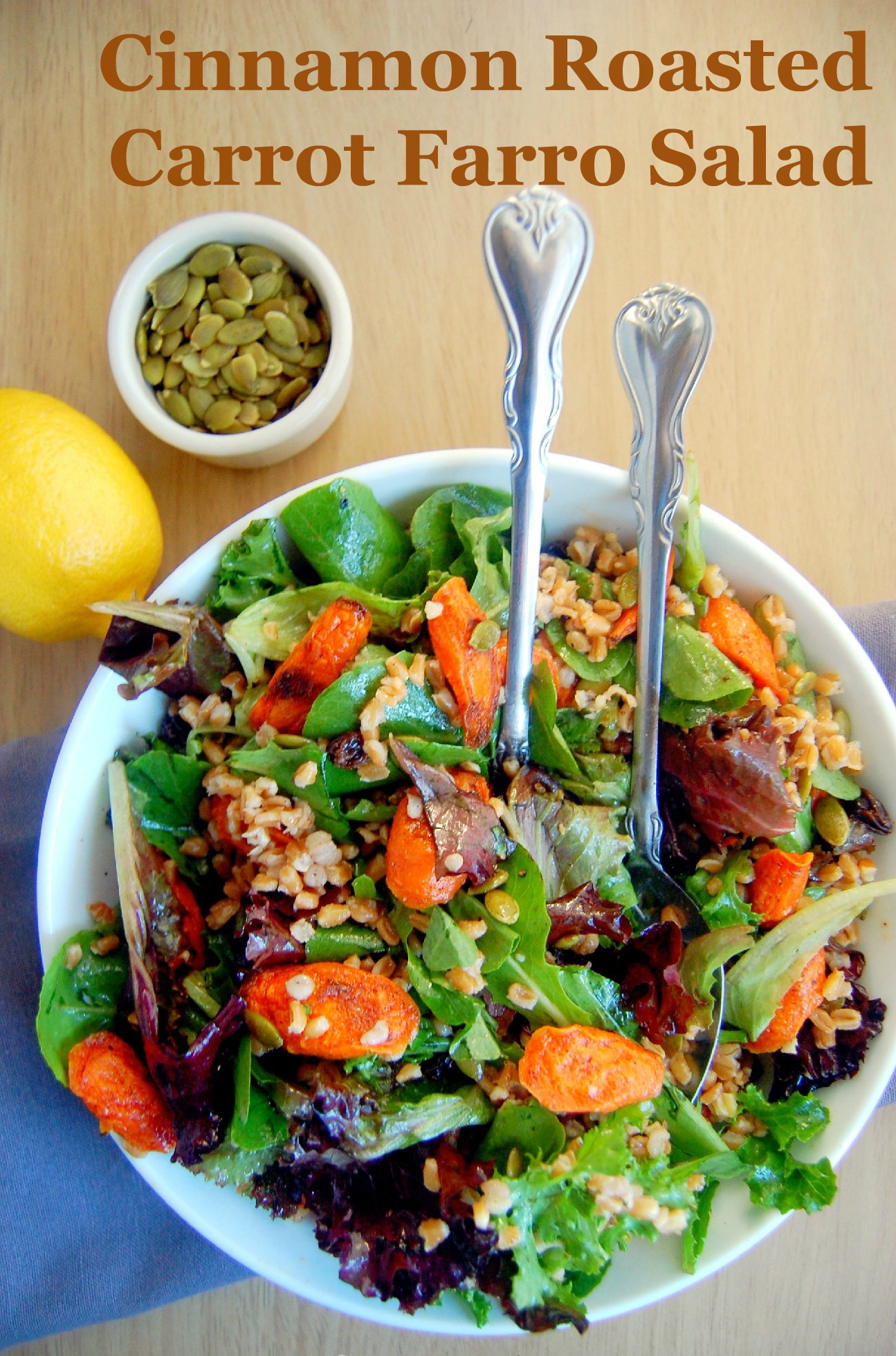 If you can't get your hands on farro, this would be just as good with another whole grain or a small whole wheat pasta shape.
Get creative and find your favorite roasted veggie + grain combination! Some of my favorites are my cauliflower, pomegranate, and pistachio farro salad and my goat cheese and cran-walnut wheatberry salad.
Have you turned your oven on yet? What fall flavors are you craving?
Marisa