These Pumpkin Blondies with Pecans and Chocolate Chips are fudgy, rich, and full of spice. Using whole wheat flour and maple syrup as the sole sweetener, they're a great option for your new go-to fall pumpkin-spiced treat!


Oh, how I have been holding onto this recipe. I promise it was worth it to wait – since it's gone through a few different variations with flours and attempts to not use eggs and then back – and I'm sharing it today in time for pumpkin week!
Just to tame your expectations about pumpkin week, that's a pumpkin recipe both today and Wednesday – which is a lot for me and this orange veggie.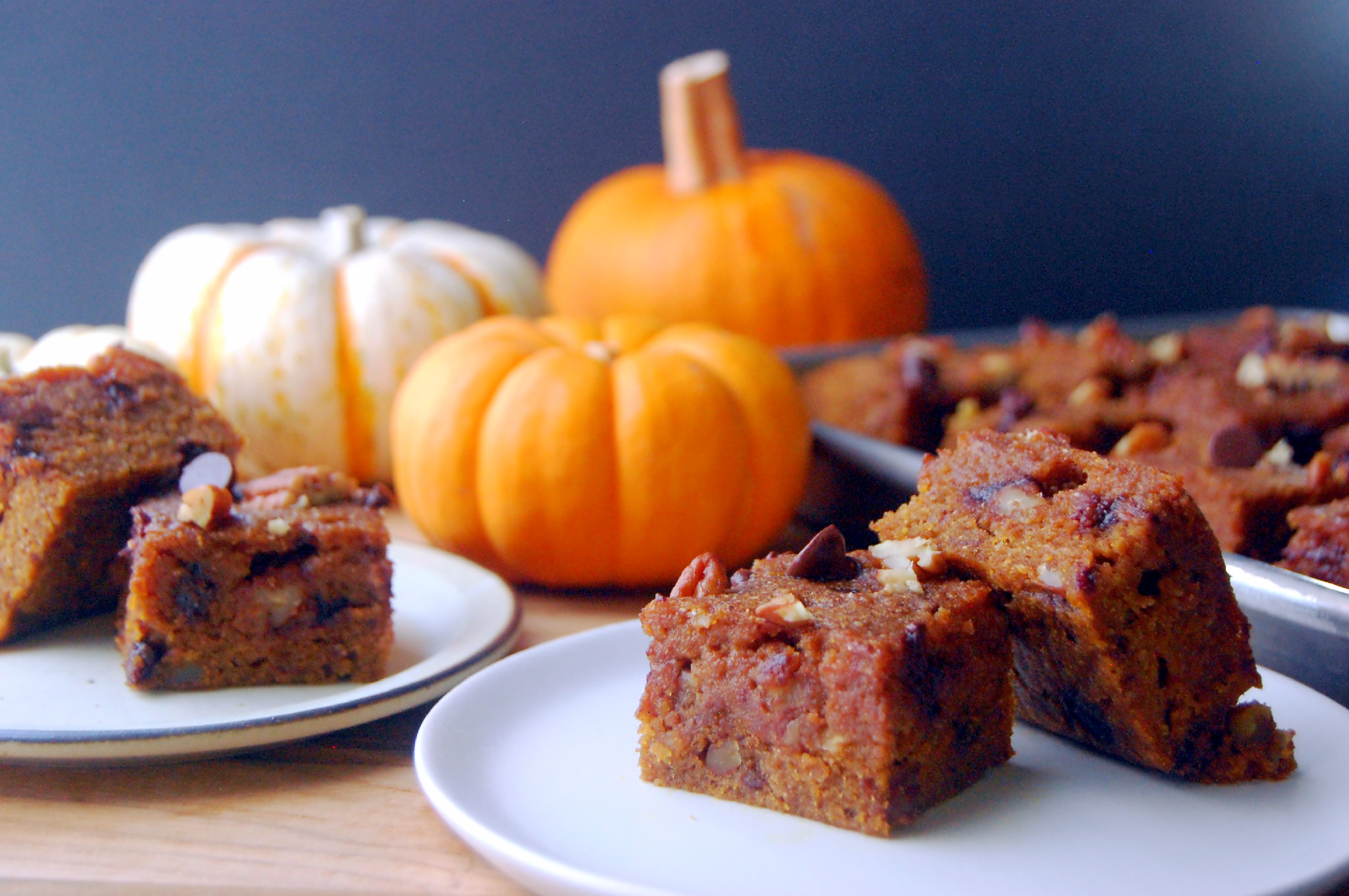 This recipe is coming to you in the afternoon today instead of the morning because time got away from me yesterday studying for my second grad school exam.
But the good news is that I have completed my first grad school course in Health Policy and Management! Since it was only a half-semester course, I took the final today and skipped home (seriously, I'm that giddy) to share this goodness with you all.
Now here's the place where I remind you how awesome this recipe is, right? But honestly – these Pumpkin Blondies with Pecans and Chocolate Chips were beyond delicious. ← Yes, I need a new batch over here. Just the right amount of gooeyness out of the oven like any good blondie, with a fudge-like consistency as they cool. Plenty of pumpkin pie spice and maple syrup instead of other sweeteners means they're full of fall warming flavor.

Pumpkin Blondies with Pecans and Chocolate Chips
Author:
Marisa @ Uproot from Oregon
Ingredients
¾ cup pumpkin puree
½ cup coconut oil, melted
½ cup maple syrup (see notes)
2 large eggs (see notes)
2 teaspoons vanilla extract
1.5 tablespoons pumpkin pie spice
1 cup white whole wheat flour
¼ teaspoon baking powder
¼ teaspoon salt
⅓ cup roughly chopped raw pecans
⅓ cup roughly chopped semisweet chocolate chips
Instructions
Preheat the oven to 350 degrees. Prepare an 8x8 pan by lining it with parchment paper.
In a large bowl, combine pumpkin puree and melted coconut oil. Add in room temperature maple syrup, eggs, vanilla extract and pumpkin pie spice and stir until combined. Be sure all of your ingredients are room temperature in order to avoid the coconut oil becoming hard chunks as you mix.
Add your flour, baking powder, salt, and roughly chopped pecans and chocolate chips to the mixture. The chopping will ensure you have more mix-ins in every bite! Stir until just combined.
Spread the mixture evenly into your pan, and sprinkle additional pecans and chocolate tips on top if desired.
Bake for 35 minutes, and then remove the pan and allow it to cool for 10 minutes before slicing the blondies into 16 squares.
Notes
Be sure your maple syrup and eggs are at room temperature before stirring them into the pumpkin and coconut oil mixture - otherwise, the coconut oil will harden and form chunks in the dough!

Might I recommend enjoying these…
warmed up for 10 seconds in the microwave, with your coffee for a snack? A la mode with ice cream for dessert? Straight out of the fridge, cold, so that they're extra fudge-like?
Marisa