We're back with a second How To post in my Back to Basics January challenge! Not sure what I'm talking about? Go read this post and commit to joining us in cooking at home and refocusing on kitchen skills for the new year!
Today, I'm sharing my favorite 7 tips for how to increase your fruit and veggie intake, because a big part of me wanting to learn to cook more involved figuring out how to add more nutrient density to my diet. It's easy to fall off the bandwagon quickly, especially if you end up making quick meals and not going to the grocery store for a week or two.
National surveys show that only 13% of survey respondents met fruit intake recommendations and 9% met vegetable recommendations (source). According to MyPlate, we should all aim to eat at least 2 cups of fruit a day and at least 3 cups of vegetables a day – increasing based on activity level (source). While 5 cups combined doesn't sound like much, there are many days I realize I haven't met my minimum. I'm still working on this, and I'd love to hear your strategies too!
Finally → Don't forget to check out my Instagram giveaway going on now until Tuesday for a prize pack of Love Grown Foods breakfast products. I partnered with them for this week's giveaway to provide someone an awesome basket of goodies to help make breakfast an easy meal. I love their oatmeal and their granolas.
Be sure to use the #backtobasicsjanuary hashtag for bonus entries in the giveaways going on each week. It could be sharing a photo of a recipe you made at home, a cup of coffee you brewed instead of bought, a batch of chicken stock you made, or food you prepped for the week. We're in this together and I'd love to see your photos!

1. Add green leafy veggies to whatever you're making.
This is one of my simplest "tricks" – packing a soup with spinach at the end so it wilts, adding greens as a layer of a lunch sandwich, or massaging kale with olive oil and a drizzle of vinegar into a simple side salad under lasagna or fish (Ideas: Lemon Garlic Haddock, Turkey Orzo Soup, Cheddar Apple and Arugula Sandwich).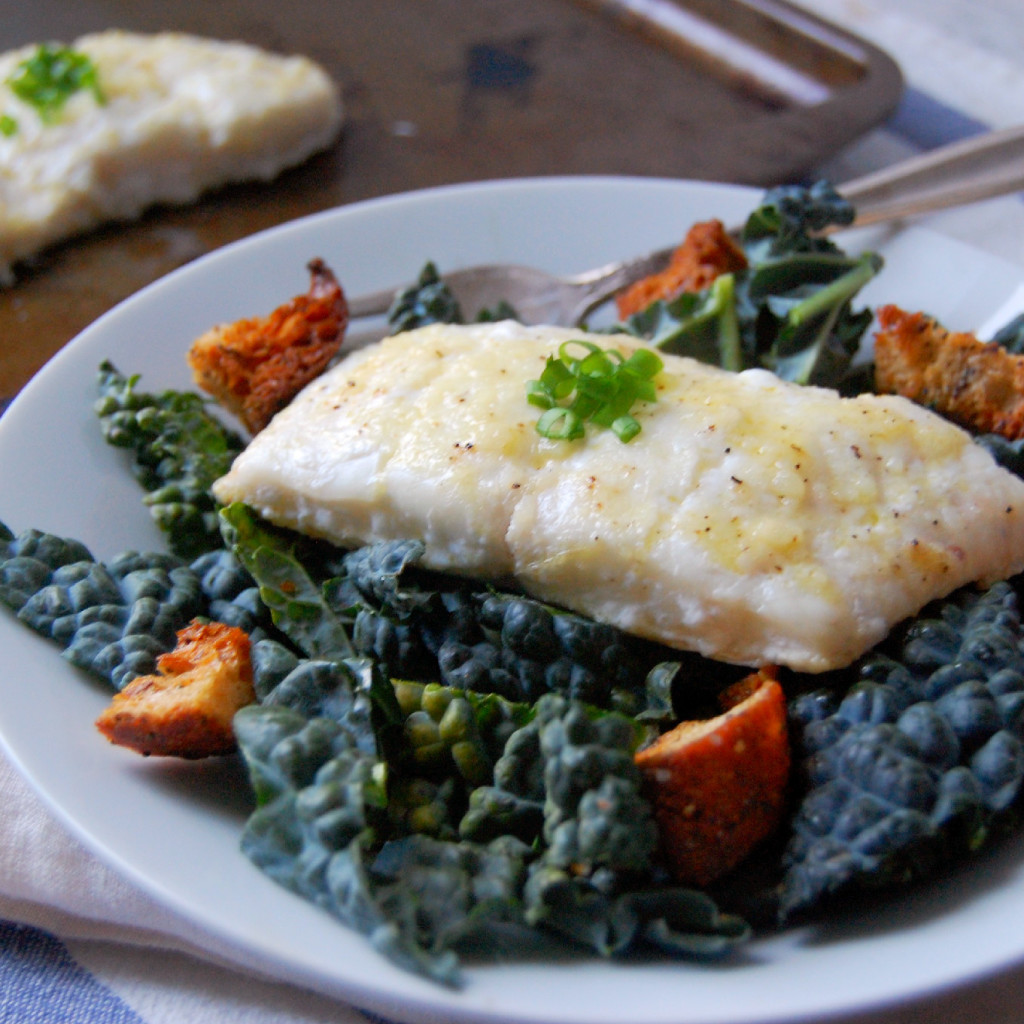 2. Add berries and other fruits as sides to meals or have them as dessert.
Fruit is such a treat when it's ripe! Whether it be summer's strawberries or winter's clementines, or the always cheap banana, they are great contenders for yogurt parfaits, baked goods, sides to a meal or dessert (Ideas: Strawberry Mint Yogurt Parfaits, Blackberry Muffins, Banana "Ice Cream" Bon Bons).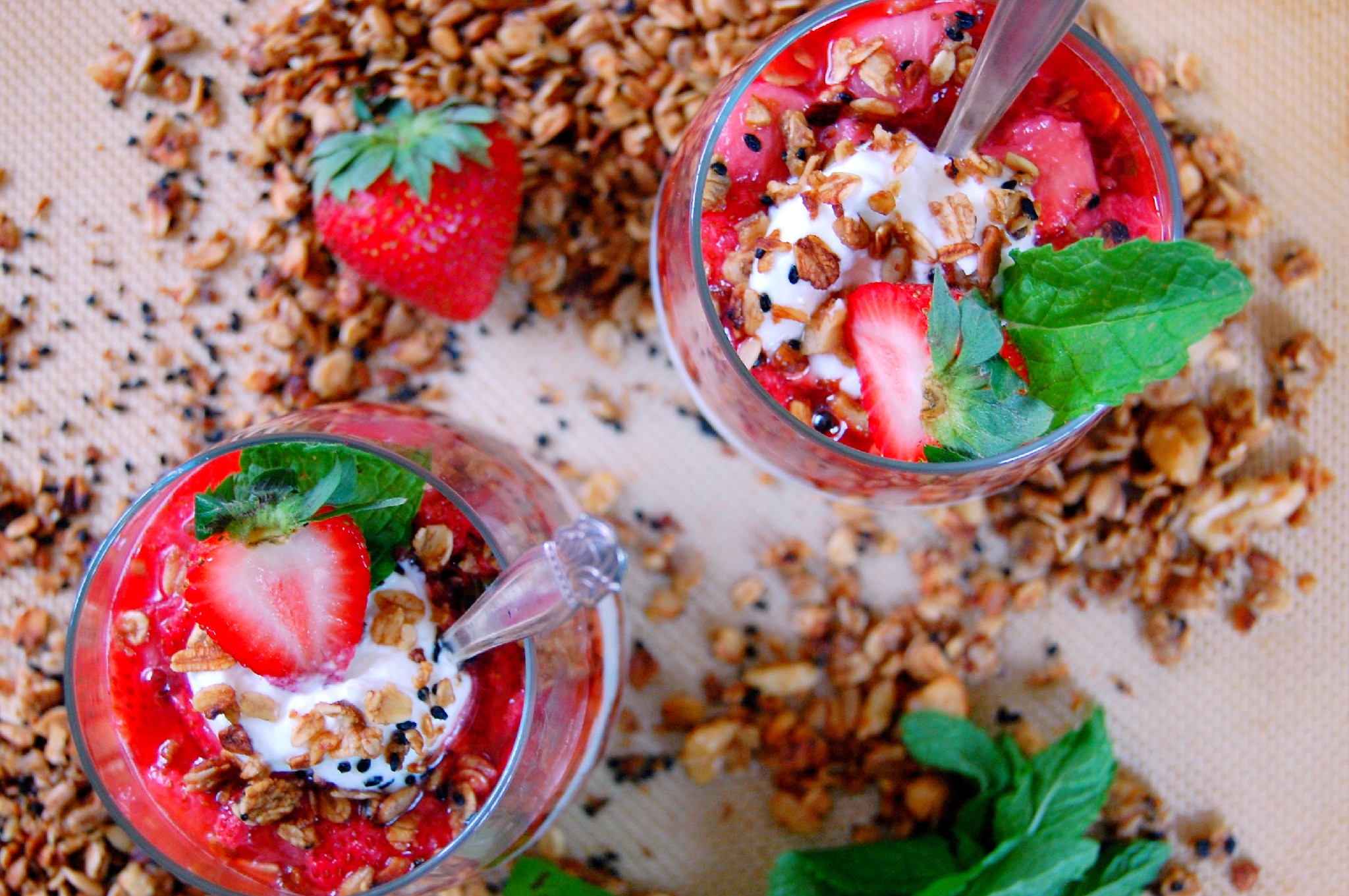 3. Add quinoa or nuts to veggie side dishes or salads to add satisfying protein.
This is actually quite intuitive – we get bored of making veggie dishes or salads because they don't necessarily satisfy us by keeping us full without a bump of protein. Top your salads with a variety of different nuts, chickpeas, or a scoop of quinoa to keep you full and satisfied (Ideas: Supergreen Power Salad, Bright Beet Quinoa Salad, Rainbow Mason Jar Salads).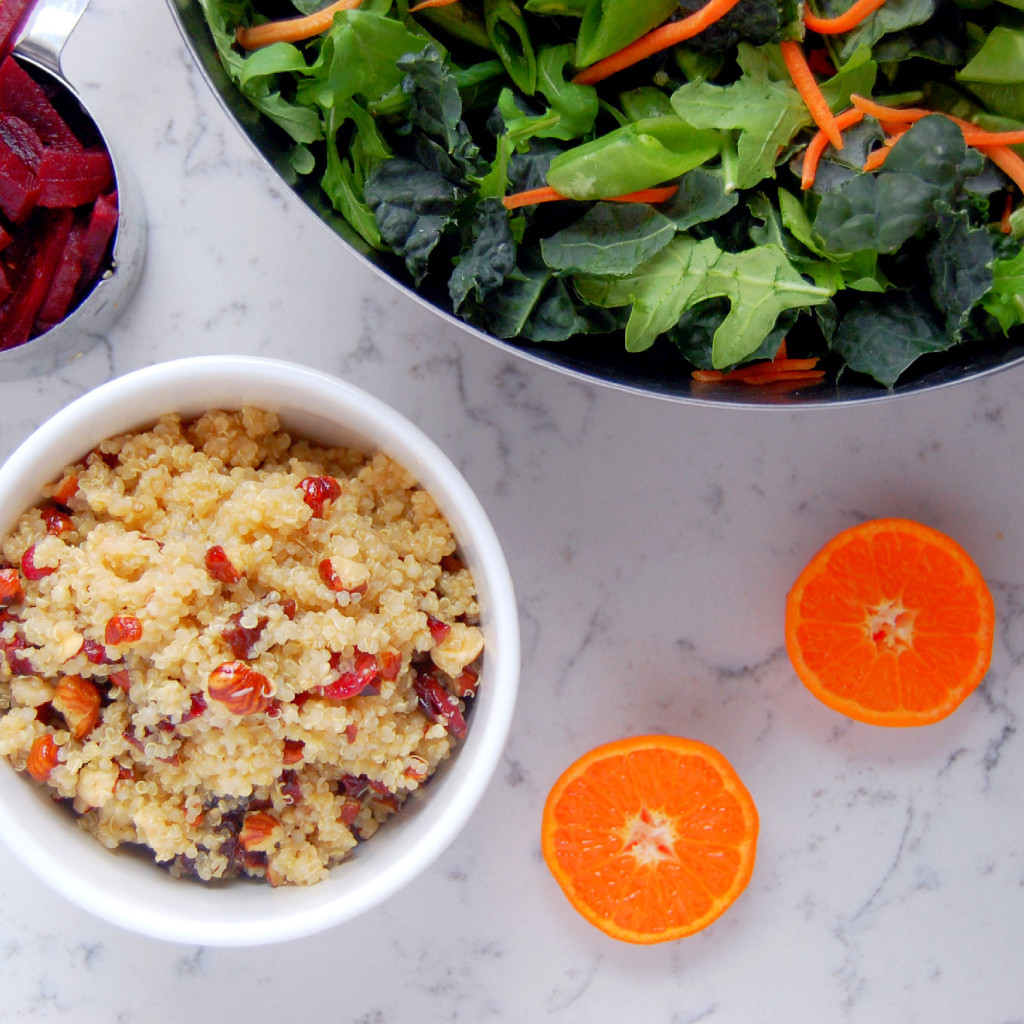 4. Stick 2-3 snacking vegetables in your cart at the grocery store.
Variety is the spice of life! Even if you're not cooking a meal regularly, having a variety of snack vegetables in your fridge ensures that you don't get bored of reaching for the same thing. Snag a hummus or bean dip while you're at it! (Ideas: carrots, celery, red peppers, sugar snap peas, radishes).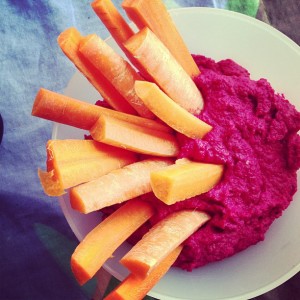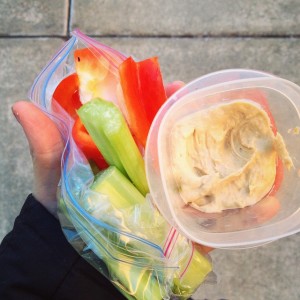 5. Make one snack a day a veggie-based snack.
I easily reach for yogurts, granola bars, or trail mix in the afternoon for a pick me up. Generally, these are sweeter snacks – and by committing to making one snack a day a veggie snack, I can be sure to pack in another serving of veg while also reducing my sugar intake. (Ideas paired with protein: celery + peanut butter, carrots + hummus, red pepper strips + a hard boiled egg).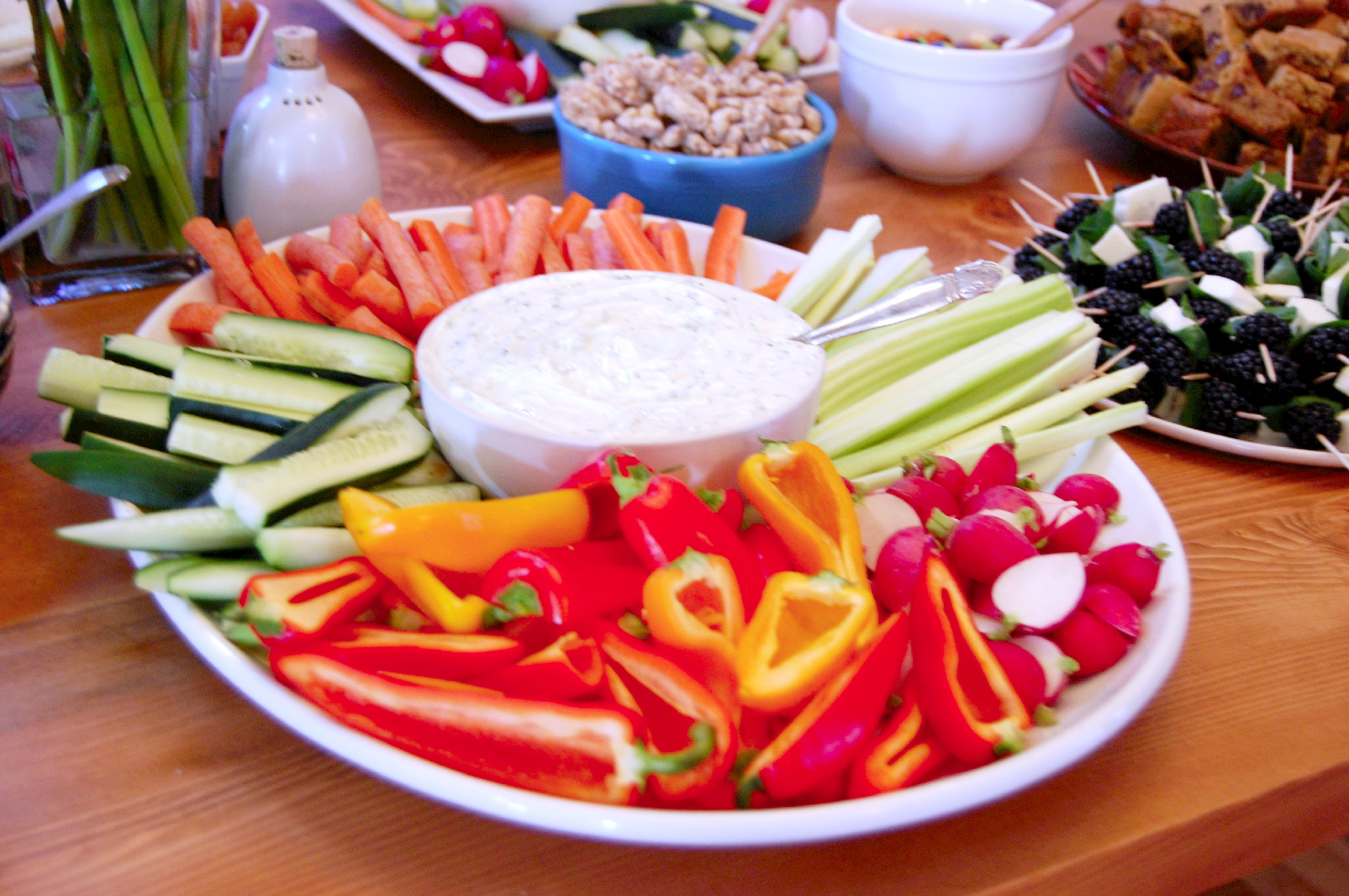 6. Incorporate fruit smoothies into your day, packed with protein for breakfast or as an energizing snack.
I am a big smoothie fan – not just when they're green with spinach (though that gets us to our fruit AND veggie quotas!). Frozen fruit is a cheaper option, most times, and I use bananas to sweeten and thicken my smoothies. (Ideas: Blueberry Pineapple Smoothie, Tropical Kale Smoothie Bowl, Oatmeal Breakfast Smoothie).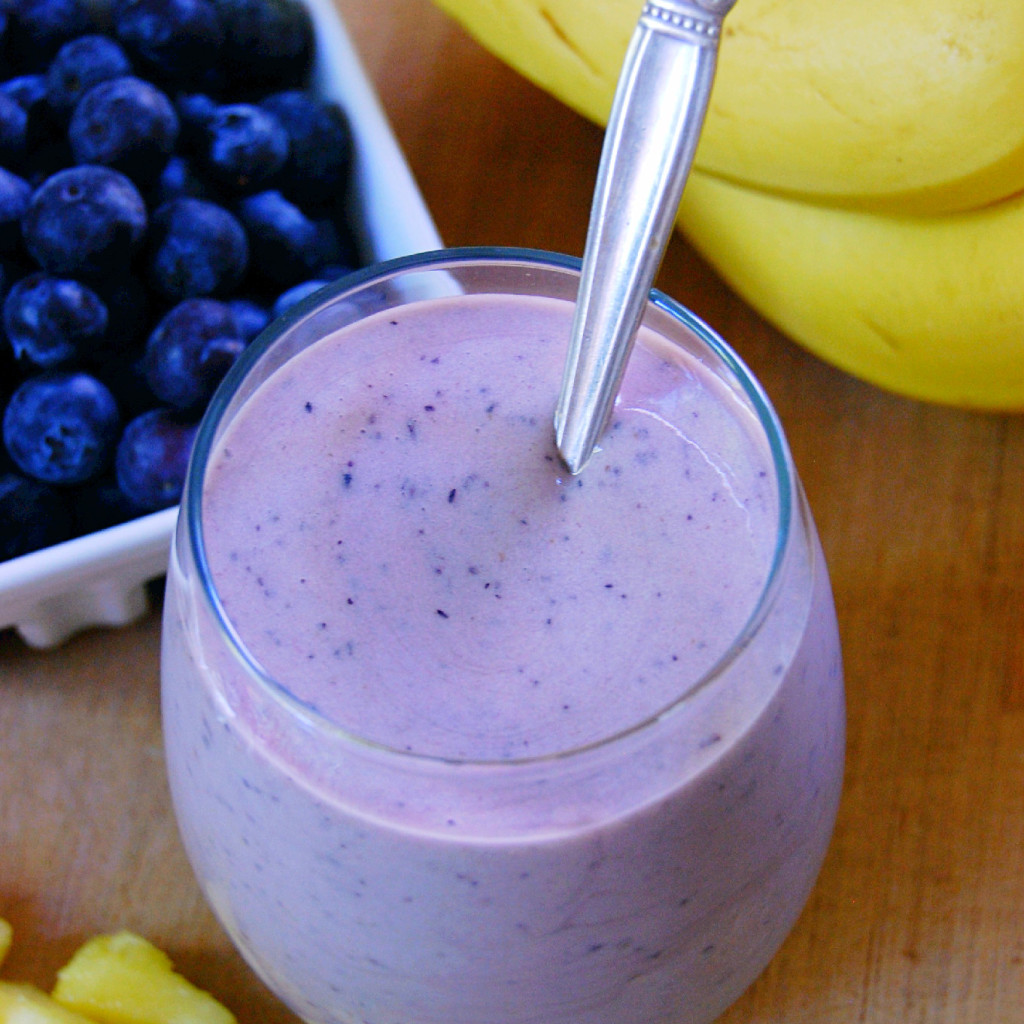 7. Challenge yourself to try making some of your favorite meals into salads.
Making a protein like chicken sausage, steak, or tofu? Roasting veggies in the oven? Opening a can of beans and seasoning it with salt, pepper, oil, and vinegar? Serve it on top of salad greens. (Ideas: Steak and Asparagus Salad, Simple Warm Lentil Salad, Chickpea Salad).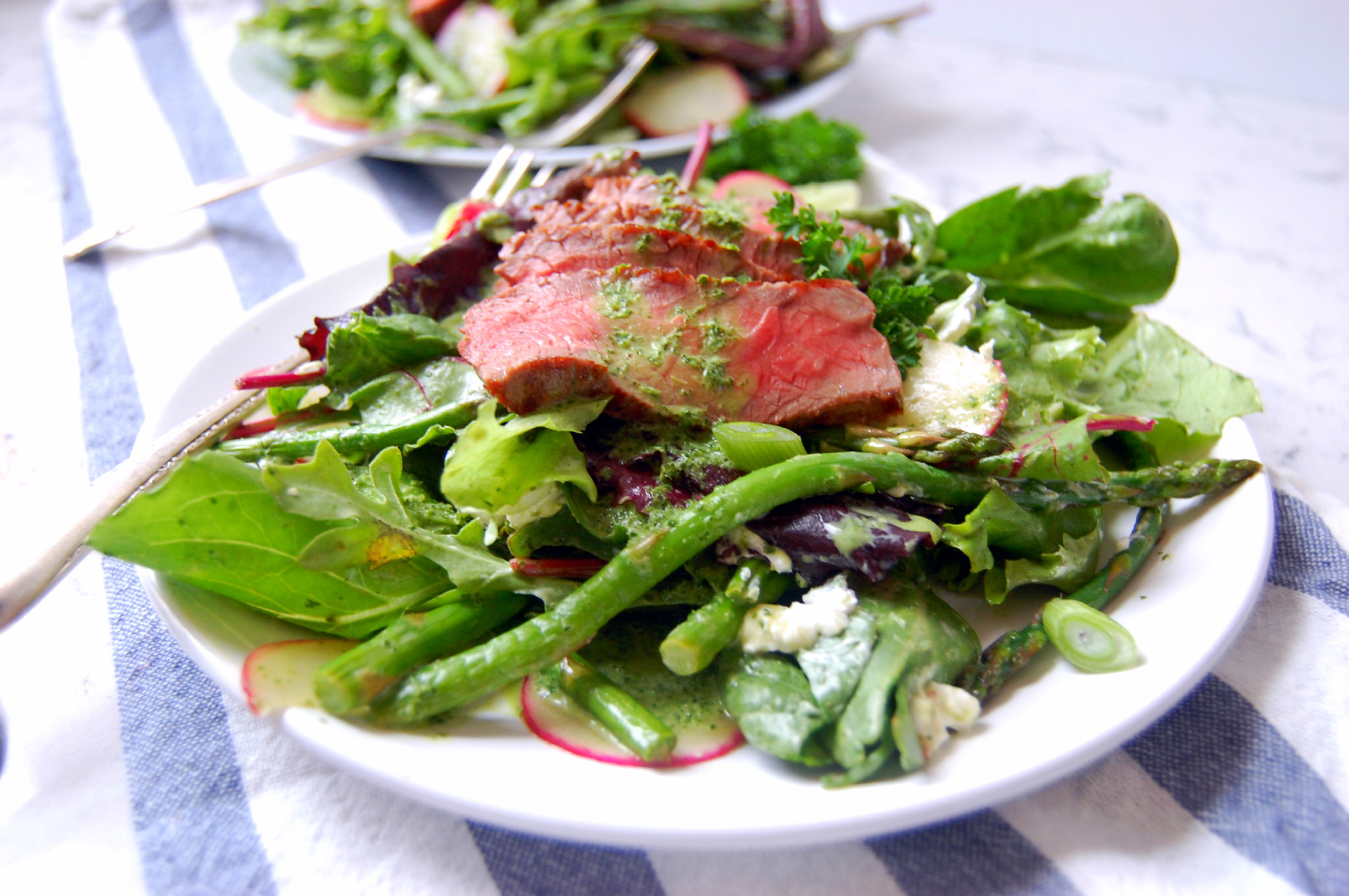 I hope this gives you some ideas for making your days fruit and veggie packed.
Action Item: Pick a couple that you think would be easier to work on (for me, that's making a meal over greens, substituting in a veggie snack, and bulking up whatever else I'm cooking) – and you'll hopefully have great success after a trip to the grocery store to prepare you.
→ Comment below with 1+ success you had this week in line with Back to Basics January Goals! P.S. Use the #backtobasicsjanuary hashtag so I can see what you're up to. ←
My goals for this coming week? Cook simple veggie-packed meals and get a couple more salads into my rotation!
Pssst – Did I mention how awesome this Instagram giveaway is?
Marisa