This Supergreen Tuna Salad with Sesame Peanut Dressing is a healthy and filling meal packed with dark leafy greens, crunchy cabbage, cucumber, red onion, and peanuts, drizzled with a sesame peanut dressing.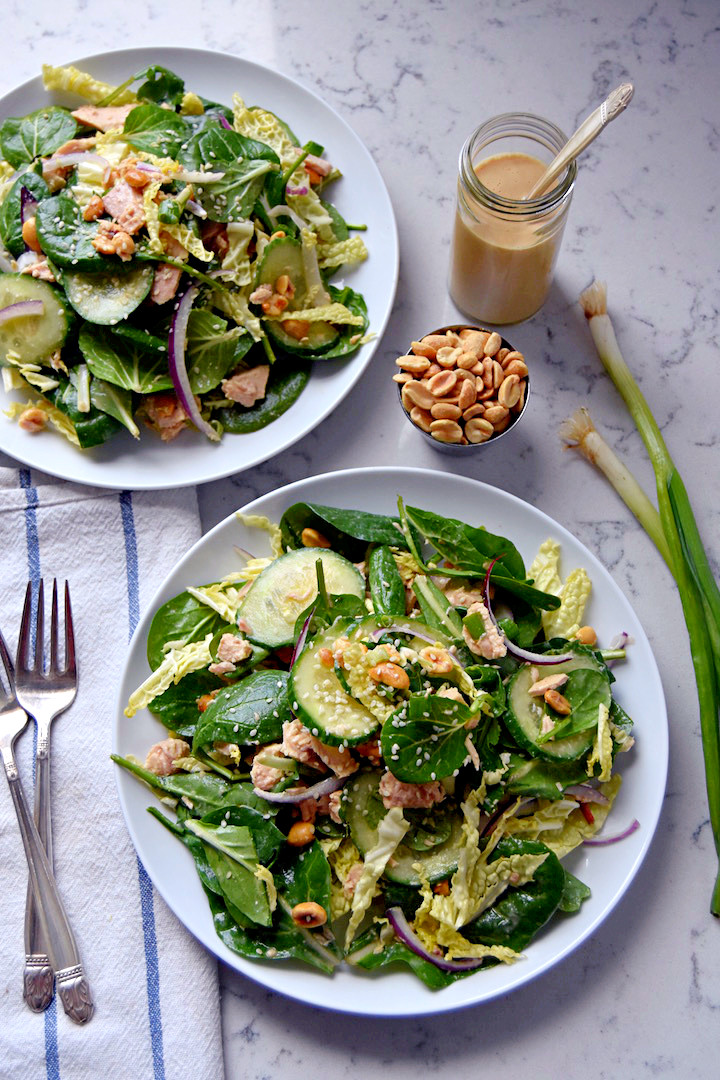 Disclaimer: This post is sponsored by organicgirl as part of an ongoing partnership. I was compensated for my time, and all opinions are my own.
While salads are an easy meal to turn to in the summer, I have a harder time eating a boring lunch time salad in the wintertime. That said, I also have a harder time getting my greens in and it's largely due to the fact that salads have tiptoed out of my diet.
Enter, the jam-packed flavor salad with a drinkable sesame peanut dressing.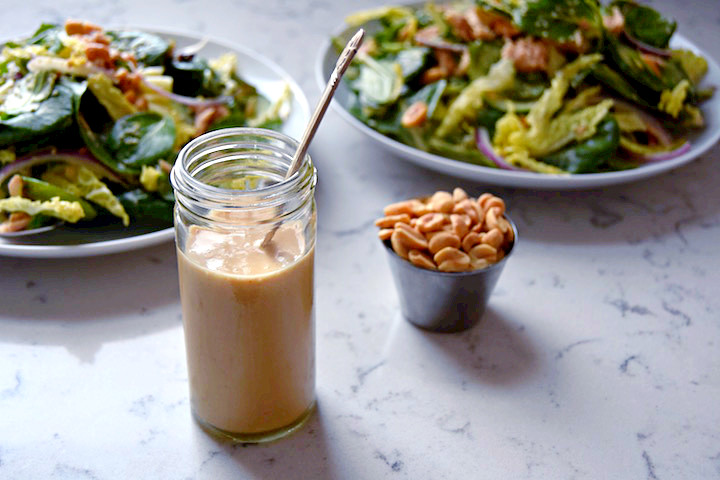 I've introduced you to some of my favorite salads in the past, such as the Supergreen Power Salad, Kale Cobb, and Simple Warm Lentil Salad, among many. This Supergreen Tuna Salad is my new top pick – the creamy peanut butter-based dressing just takes it over the top alongside protein-packed tuna.
I'm trying hard these past few weeks to up the nutrient density in meals, using my own advice (see my 7 tips to increase your veggie intake!) I shared last week, and this salad recipe using organicgirl SUPERGREENS is irresistible! The salad mix combines baby red chard, baby tat soi, baby spinach, baby green swiss chard, and baby arugula mixed together for a nutritious punch.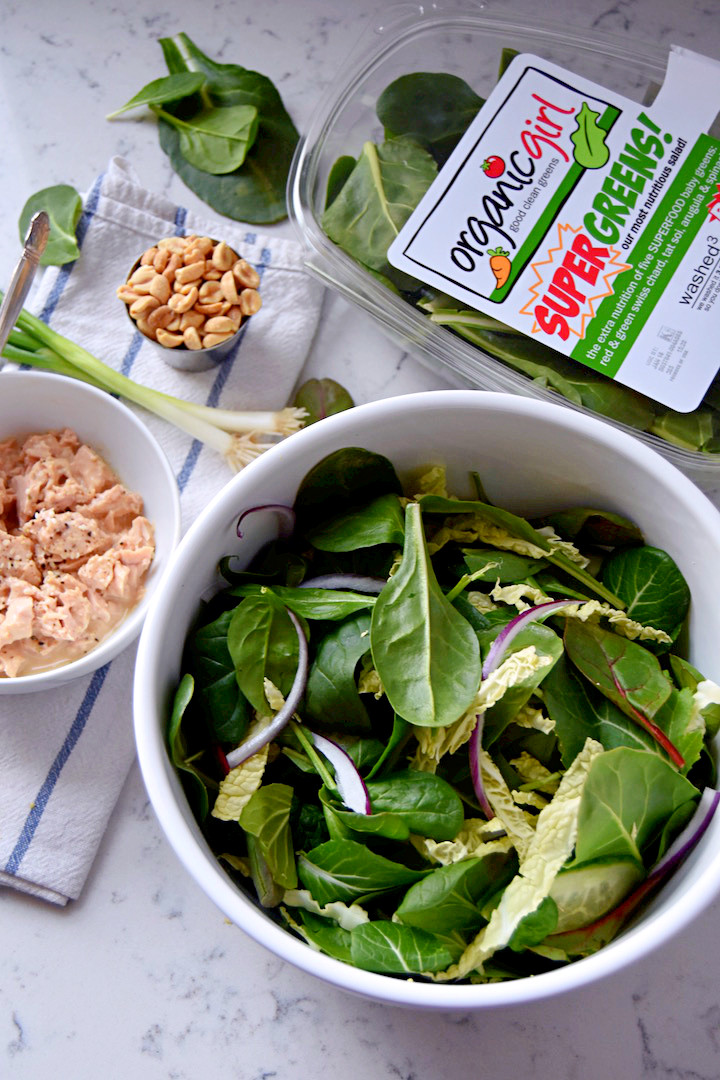 Supergreen Tuna Salad with Sesame Peanut Dressing
Author:
Marisa @ Uproot from Oregon
Ingredients
Sesame Peanut Dressing
¼ cup avocado oil (or other neutral oil)
¼ cup water
1 tablespoon rice wine vinegar
1 and ½ tablespoons peanut butter
1 tablespoon lemon juice
½ teaspoon sesame oil
½ teaspoon tamari or soy sauce
¼ teaspoon maple syrup
Pinch of salt
Supergreen Tuna Salad
1 can (5 ounces) albacore tuna, drained
4 cups organicgirl Supergreens salad greens
2 cups napa cabbage, thinly sliced
½ cup English cucumber, thinly sliced
⅓ cup red onion, thinly sliced
2 green onions, diced
¼ cup roasted unsalted peanuts
Sesame seeds to taste
Instructions
In a blender or food processor, combine ingredients for salad dressing. It makes 6 ounces.
In a bowl, flake the tuna and combine it with a third of the salad dressing (1/4 cup). If the tuna is unsalted, add ¼ teaspoon salt as well. Set aside to marinate for 10 minutes.
In a salad bowl, combine organicgirl Supergreens salad greens, sliced cabbage, sliced cucumber, sliced red onion, green onion, and peanuts.
Toss in tuna that has marinated in the dressing. Adjust level of dressing to taste and divide between 2 plates. Garnish with sesame seeds.
Notes
Recipe is written lightly dressed. Dressing makes extra, enough for 2-4 additional lightly-dressed salads.
Inspired by Vert Kitchen in Denver, CO.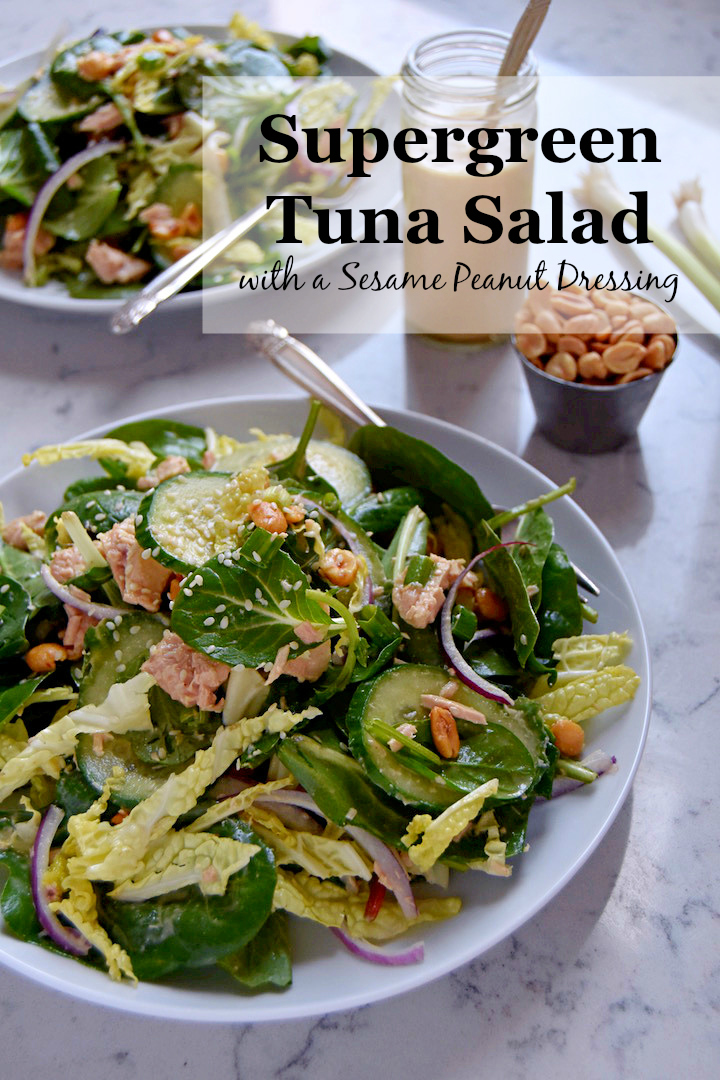 One note for those of you who aren't tuna fans:
I used to be one of you! I find canned tuna to vary in taste, and find that the best tasting options are usually sustainably-caught, wild albacore tuna canned in water. It's a great high-protein pantry staple once you find one you love!
Let me know in the comments how your week is going with #BackToBasicsJanuary – maybe you can add this salad to your lunchtime rotation!
Marisa