We're back with a third How To post in my Back to Basics January challenge! Not sure what I'm talking about? Go read this post and commit to joining us in cooking at home and refocusing on kitchen skills for the new year!
Bulk bins are the real star of the grocery store (after the produce section, of course). You get to choose exactly what you want and how much you want – and it's weighed when you check out. Not only can you save money thanks to their lower price of buying a product without a label, you can also reduce the amount of packaging you bring home from the grocery store.
Today, I'm sharing my list of 10 Pantry Items to Buy in Bulk at the Grocery Store. These are general recommendations and based off of my own bulk bin shopping at my favorite grocery stores. As always, be sure to do some comparisons yourself as your grocery store may have different deals – they may mark up the quinoa in the bulk section or have a great deal in the cereal aisle on a large package of store-brand rolled oats.
Finally → Don't forget to check out my Instagram giveaway going on now until Tuesday for a tall stack of Nancy's Yogurt product coupons! I partnered with them for this week's giveaway to provide the winner a healthy, filling breakfast choice – I have been eating their yogurt since I was a kid (maple flavor then, plain flavor now!) and am partnering with them in 2016.
Be sure to use the #backtobasicsjanuary hashtag for bonus entries in the giveaways going on each week. It could be sharing a photo of a recipe you made at home, a cup of coffee you brewed instead of bought, a batch of chicken stock you made, or food you prepped for the week. We're in this together and I'd love to see your photos!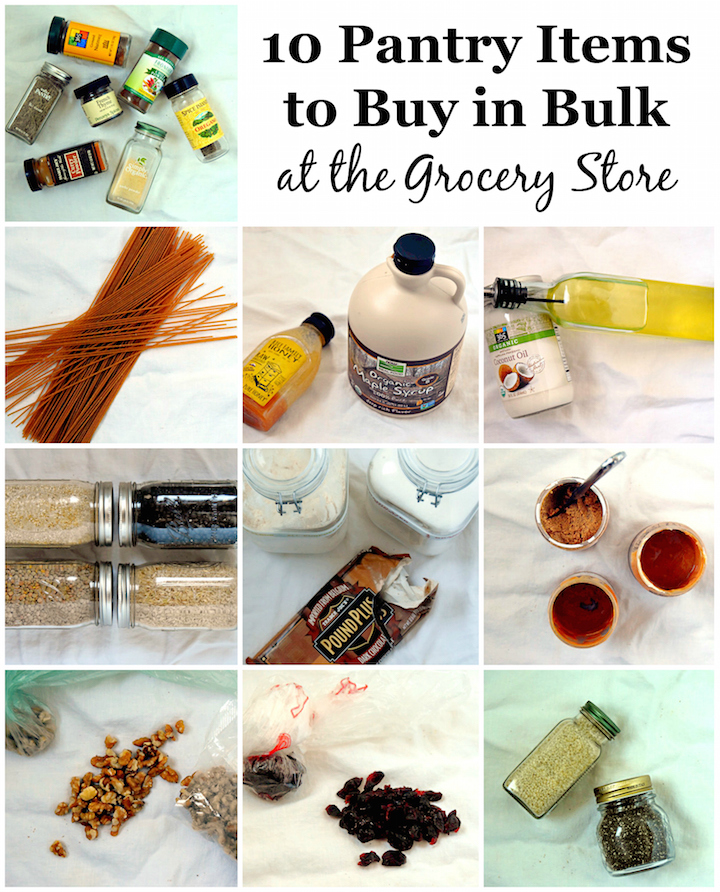 1. Cooking Oil
Larger containers of cooking oil are your friend. I buy olive oil and coconut oil in bulk and refill a small olive oil bottle that sits next to the stove, and refill a smaller coconut oil jar I held onto.
2. Grains + Legumes
Lots of different types of rice, oats, beans, quinoa, lentils, and beyond are at your fingertips in the bulk bins. The prices are lower, and they are a great way to try new grains.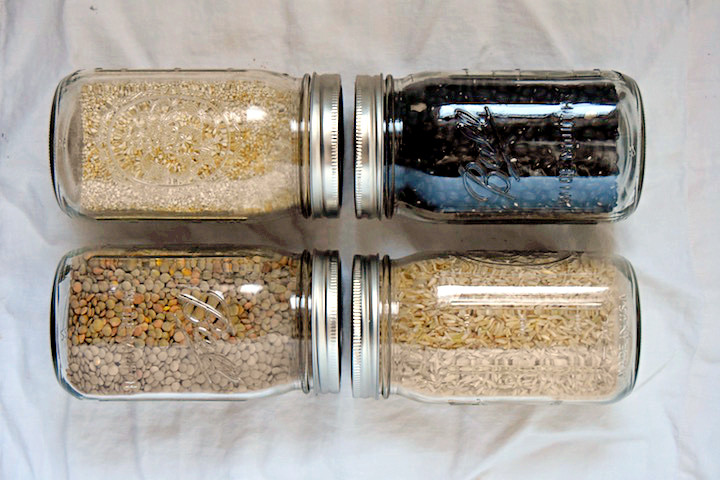 3. Liquid Sweeteners
I use maple syrup and honey everyday, and buy in large amounts. I store the maple syrup in the fridge once opened and the honey in a dark pantry space. Sometimes you can find bulk bin local honey at a great price – so be sure to check for that too if you're a honey fan!
4. Dried Fruit
There is a huge variety of dried fruit in bulk bins at a great price. For items beyond the usual dried fruit, these can get pricey quickly so be sure to note the price before loading up.
5. Spices
One of my favorite bulk bin purchases are spices! For anywhere from 40 cents to 3 dollars, you can refill empty spice containers with freshly ground spices.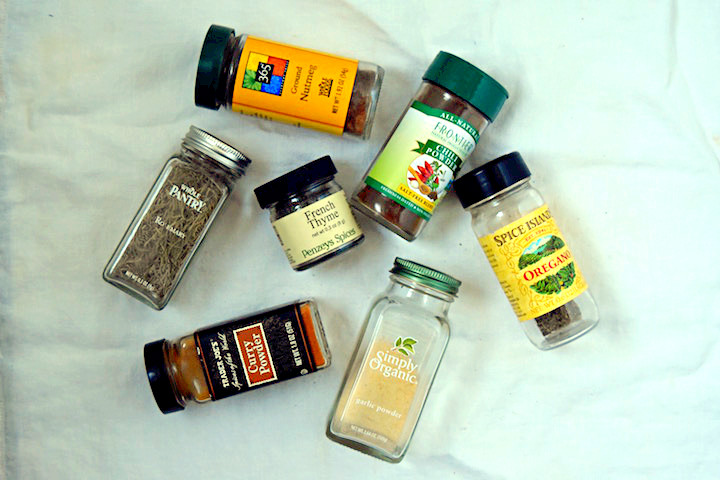 6. Nuts
Generally nuts can be several dollars cheaper in the bulk section than buying bagged. Stock up on your favorites for snacking!
7. Seeds
This depends on the grocery store, but some carry items like pumpkin, sesame, or flax seeds at great prices. Chia seeds and other 'trendy' items are worth comparing to the bagged version before buying bulk.
8. Baking
From flour to sugar to dark chocolate to break off for snacking or cookies, I love that I know I'm getting fresh ingredients. Unless you bake frequently, the bulk bins are a great place to grab small amounts for when the baking bug hits.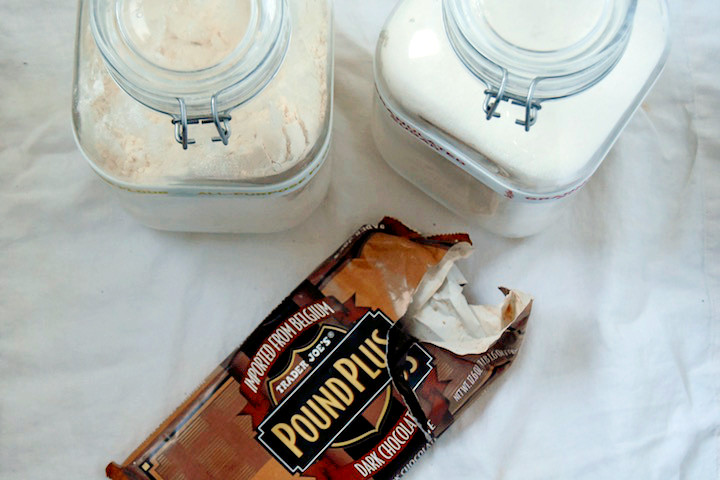 9. Dry Pasta
Some grocery stores stock pasta in bulk – and it can be a great deal unless it's a specialty item. Look for them and check prices!
10. Nut Butters
Several grocery stores now have grind-your-own nut butter stations in the bulk areas. It's a great way to get amazing, fresh almond or peanut butter at a cheaper price, especially if you don't have a food processor, but be weary of fancy flavor additions that might drive the prices up!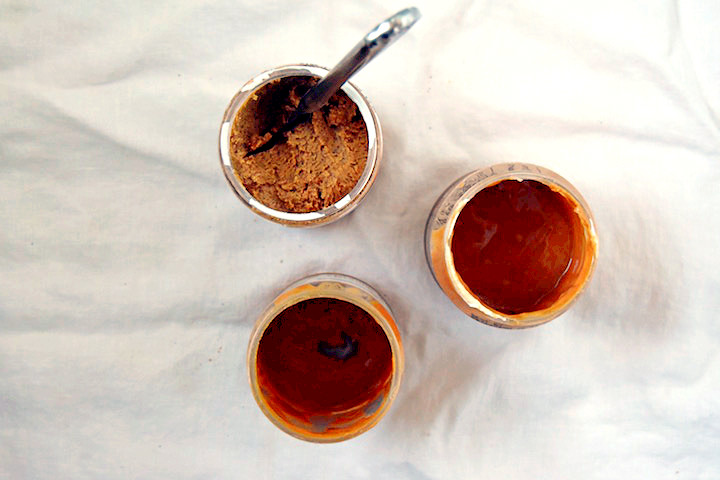 Other Tips for Bulk Bin Shopping
What Not To Buy
Granolas, trail mixes, others snacks and treats are generally a decent deal compared to bagged versions, but not necessarily healthy choices in the bulk section. Instead, I recommend you snag the basic ingredients from the bulk bin and then make your own granola or trail mix as a tasty and customizable alternative.
Think About Packaging
Save jars, spice containers, and packaging from other products to use so you can avoid having a mess of plastic bags in your pantry. Then figure out a labeling system that works for you! Tip: The customer service desk at your grocery store is usually the place to bring any bulk containers you want to refill directly. They will weigh them so you don't pay for the weight of your container.
If You Don't Have Access To Bulk Bins
One of my favorite things to do if I don't have access to a bulk section is to compare the per ounce price on labels in the grocery store. Usually, larger containers of items will have a lower per ounce price, but sometimes items on sale can be cheaper in smaller quantities!
Looking For More Posts Like This?
10 Grocery Staples To Make At Home
Food Prep and Quick Meal Ideas
I hope this gives you some ideas for buying more wholesome ingredients at the grocery store, and what your good deals are.
Action Item: Go explore the bulk bins at your grocery store and check out some of their deals compared to your normal purchases! I'd love to hear your experience.
→ Comment below with 1+ success you had this week in line with Back to Basics January Goals! P.S. Use the #backtobasicsjanuary hashtag so I can see what you're up to. ←
My goals for this coming week? Restock my pantry with healthy options and organize it so everything is easy to see!
Pssst – Did I mention how awesome this Instagram giveaway is?
Marisa