This thick and creamy Ginger Lime Green Smoothie incorporates tropical flavors of pineapple and lime with zesty ginger, fresh spinach and almond milk.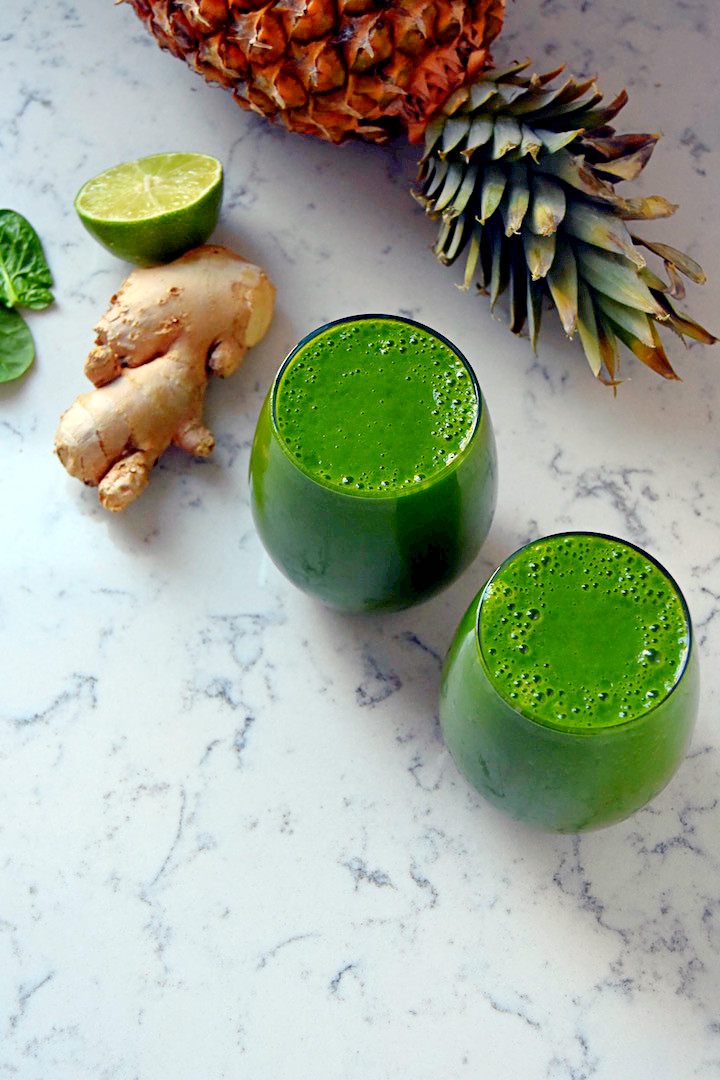 Disclaimer: This post is sponsored by Blue Diamond Almond Breeze Almondmilk as part of an ongoing partnership. I was compensated for my time, and all opinions are my own.
Let's set this week off on a better note than this weekend, shall we? I made my way back to Berkeley to start my second semester of graduate school, hoping for a weekend of productivity, and bam – spent all weekend nursing a cold. Safe to say that I've had a lot of smoothies packed with energizing, rejuvenating ingredients lately ( …and soup).
This smoothie is on the greener side than my normal sipper, and I omitted my favorite frozen banana component in lieu of extra frozen pineapple for Vitamin C. While I love to make big bowls of frozen fruit into liquid magic, sometimes my smoothie snack has other purposes – like today, I need hydration, vitamins, and throat numbing action.
I figure you all might appreciate that too, since it's 2016 and we're all hyped up trying to eat more greens and power our bodies with good food. (Yep, I'm going to ride the new year trend as long as I can!!).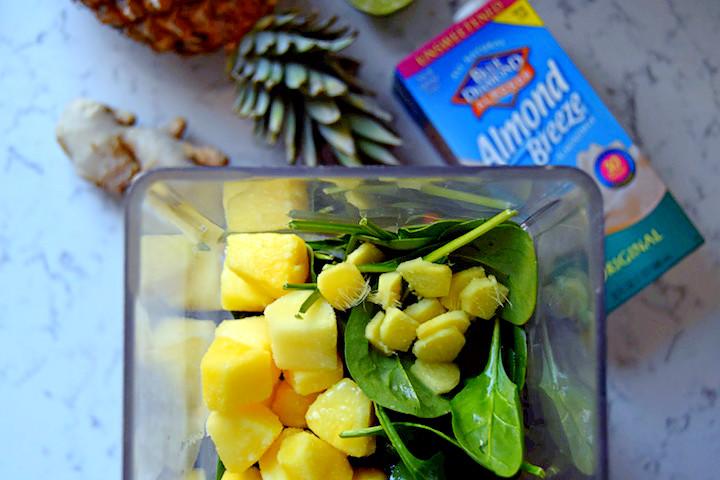 Per usual, you can doctor this drink up with nut butter, chia or flax seeds, oatmeal, and so on, but I kept this smoothie simple:
Frozen pineapple chunks, which get us to that frozen sweet consistency
Almond Breeze Almondmilk, Original – Unsweetened, which is my favorite smoothie base for when I don't need any added sweetener
Cups beyond cups of fresh spinach since we could all use the nutrient highlights of that green stuff
A knob of ginger, for a zesty anti-inflammatory and antioxidant punch
Lime juice for a punch of citrus vitamins and flavor!
I know you'll love the combination of powerful ginger lime flavor with creamy pineapple and almond milk. Spinach just disappears in a smoothie if you're doing it right 🙂

Ginger Lime Green Smoothie
Author:
Marisa | Uproot Kitchen
Ingredients
3 cups frozen pineapple chunks
2 cups Almond Breeze Almondmilk, Original Unsweetened
4 cups fresh spinach, packed
2-inch piece of ginger, peeled and chopped
½ lime, juiced
Instructions
In a high powered blender, combine all ingredients. If you are not using a high-powered blender, I recommend grating the ginger into the blender (see notes) before blending so it fully incorporates.
Adjust sweetness if desired (see notes).
Pour into 2 large glasses and serve immediately.
Notes
Recipe can be halved for one smoothie. For additional sweetness if your pineapple doesn't have much flavor, add ½ frozen banana per serving.
I keep fresh ginger, frozen and peeled, in my freezer. It is then easily grated using a microplane or small-toothed cheese grater.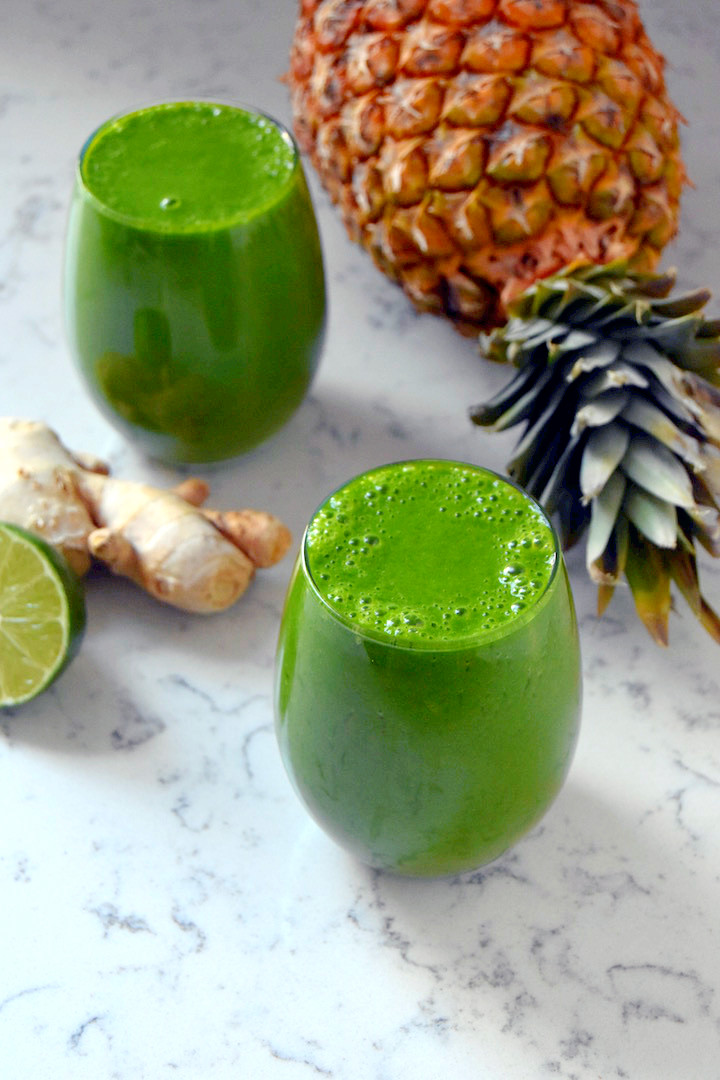 I hope you give this zesty sipper a try! 
Have a great week and keep me posted on your
Back To Basics January
successes!
P.S. While I first made this recipe using frozen pineapple tidbits from Trader Joe's, I found that it was cheaper the second time to chop up my own pineapple and freeze it myself – if you have the time.
P.P.S. Don't forget about the Instagram giveaway running until tomorrow night.
Marisa