This flavorful Honey Mustard Chicken with Couscous combines chicken thighs with the warming flavors of garlic, onion, honey and stoneground mustard to make a simple skillet meal.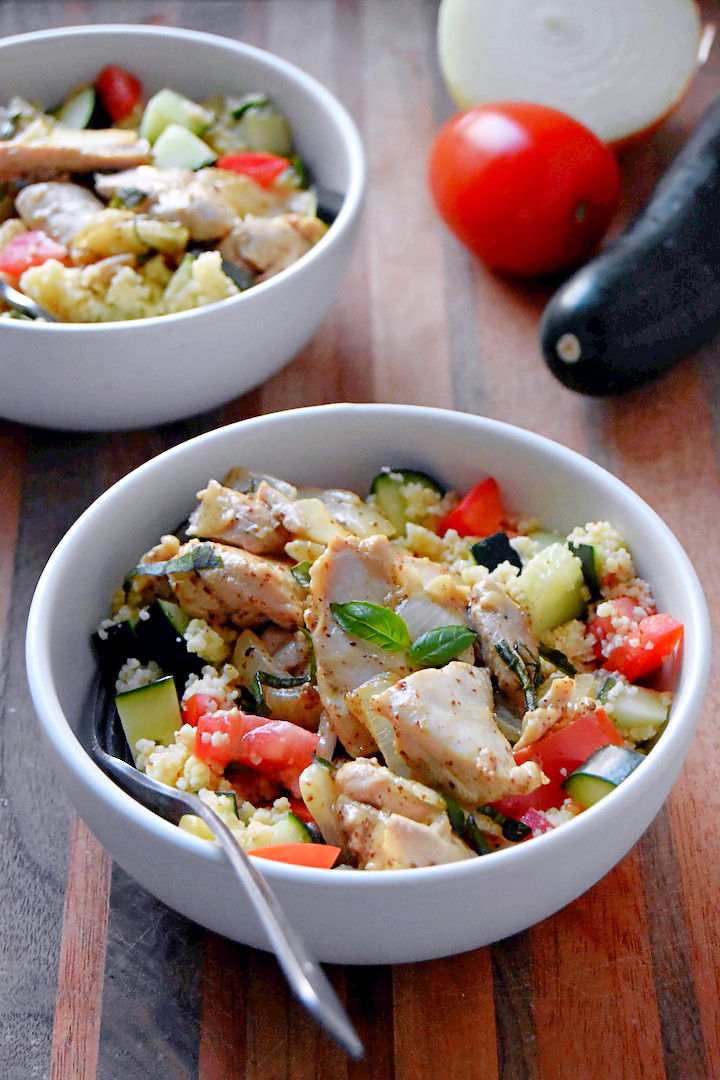 This simple chicken recipe idea caught me by surprise. I don't have as much experience cooking with chicken thighs, but it turns out they have much more flavor than their expensive alternative, the chicken breast. You can either purchase them de-boned, or take a few minutes to prep it yourself to save a few dollars. With just a quick sauté, this will be a winner weeknight dinner for you if you're a honey mustard fan.
I hope you all know the magic of couscous by now? Couscous is a whole grain that just needs to be covered in boiling hot water and covered in order to cook. It's a quick meal lifesaver, and makes this chicken dish one that you can get on the table in 30 minutes or less.
There are 2 lone tomatoes and some cucumber nestled into the couscous because I've been needing the bright flavor and crunch reminiscent of summer, but if you want to go a more seasonal route, you can use roasted sweet potatoes or carrots and some winter greens tossed into the mix.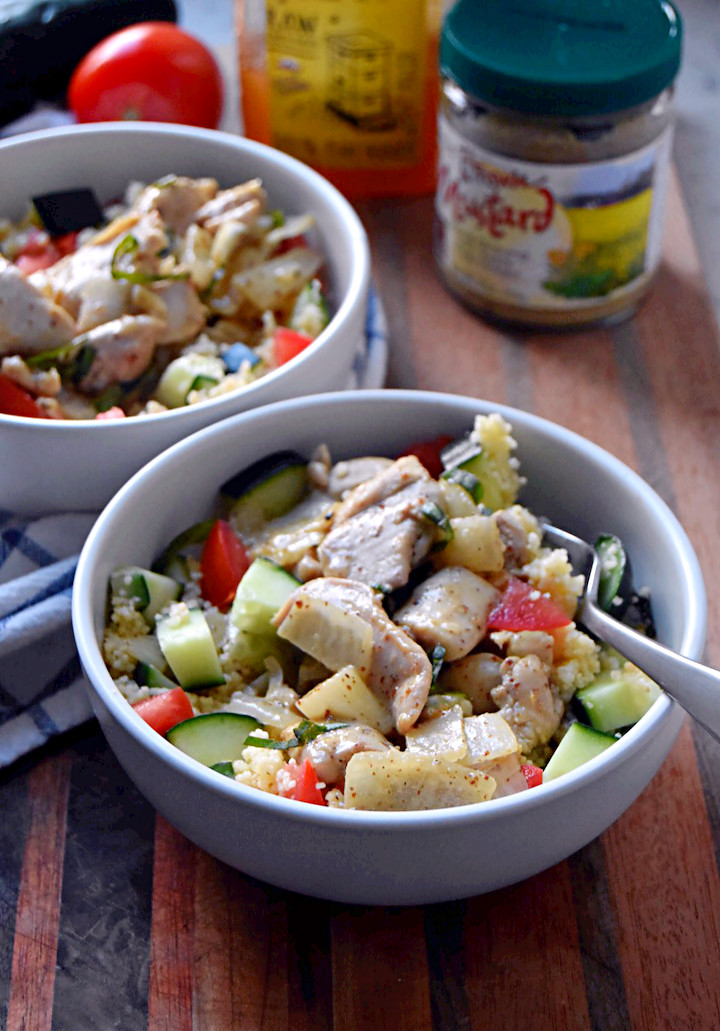 Honey Mustard Chicken with Couscous
Author:
Marisa | Uproot Kitchen
Ingredients
1 pound raw chicken thighs or breasts
2 garlic cloves, diced
½ medium yellow onion
1 teaspoon honey
1 tablespoon stoneground mustard
2 teaspoons apple cider vinegar, divided
¼ teaspoon salt
Pinch of ground pepper
¾ cup dry couscous
2 roma tomatoes
½ of a large cucumber
½ tablespoon olive oil
Instructions
If necessary, remove skin and bone(s) from the chicken thighs.
Dice raw chicken into small pieces and set aside.
Combine 1 tablespoon olive oil, diced garlic and diced onion in a pan over medium heat and sauté for 5 minutes until soft.
Add in diced chicken and cook for 3-4 minutes until beginning to brown on the outside. Add in honey, mustard, 1 teaspoon of the apple cider vinegar, and salt and pepper, and cook for another 6-7 minutes until chicken is cooked through.
In a separate bowl, combine ¾ cup of dry couscous with 1 cup of boiling water and set aside for 5 minutes, covered with a plate.
Dice tomatoes and cucumber. Add them to the couscous along with ½ tablespoon olive oil and the remaining 1 teaspoon apple cider vinegar, and give it all a good toss.
Serve the chicken over the couscous.
While I have the photos plated with the chicken over the couscous, this dish is equally as delicious tossed together and served as a grain salad with chicken. Either way, it makes a great lunch for the next day if you want to double the recipe.
Let me know in the comments: Have you tried cooking with chicken thighs? Next, I want to try baking them with the bone left in.
Marisa