Like I mentioned at the beginning of this January challenge, I use this yearly reset to help me realize what I like to make from scratch, to celebrate home cooking, and allow me to rethink how I eat out + spend hard earned money.
Weeks when I do some food preparation, I have a lot more success meeting the goals that I have set for a cheaper, healthier lifestyle. I'm not drawn to grab a pastry and a coffee each time I head into the library to study, or to have to stop and grab lunch everyday – which adds up quickly. With those ideas in mind, I've written down some of my 4 Top Food Prep Strategies for you to use to brainstorm with.
While I still love treating myself to an afternoon coffee or tea, or meeting a friend for lunch or snack, I want it to be a special moment where I'm happy to be supporting local businesses, spending time out with friends, or enjoying a moment to myself instead of being frustrated with myself for not planning ahead.
Finally → Don't forget to check out my Instagram giveaway starting today for a box full of $150 worth of Justin's nut butters! I partnered with them for this week's giveaway, not only because I'm a big fan, but nut butters are a protein-packed addition to chopped veggies, fruits, breakfasts, and snacks. You can always find me with a packet of their nut butter in my bag for emergencies. Be sure to use the #backtobasicsjanuary hashtag for bonus entries in the giveaway!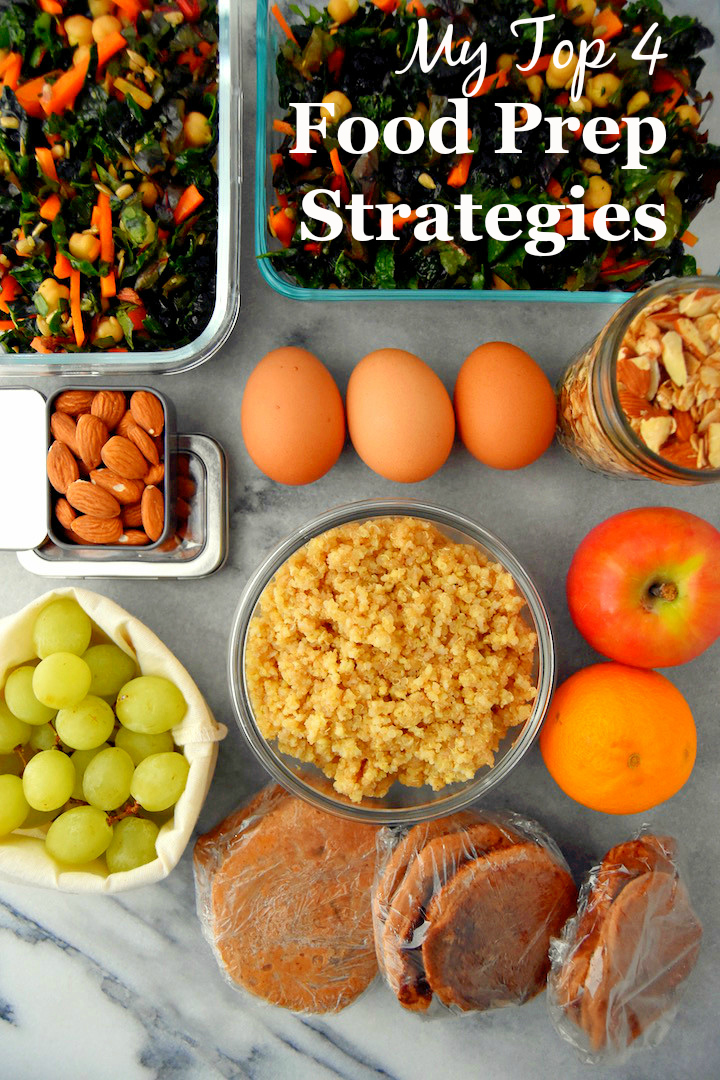 1. Prep Snacks First And Keep Them Handy
From portioning out simple snack mixes to making some of your favorite drinks, these grab-and-go items are the most important food prep you can do! Be sure you have little containers you like, and keep a few visible in the pantry when you're looking for something to grab on your way out the door. Some ideas include:
Hard boil a batch of eggs for the week
Portion out nuts or dried fruit, or combine them for a simple trail mix
Slice up your favorite vegetables and store them in the fridge in bags alongside little containers of guacamole, hummus, or peanut butter
Keep a bowl of fresh fruit on the counter full of grab-and-go options like bananas, clementines, or apples
Make a pitcher of tea or a carafe of coffee, and reheat a cup in the morning to save some time and money buying coffee out
Purchase your favorite store snacks at the grocery store, whether it be an energy bar or the mini packs of nut butters, to have on hand. You'll save money that way instead of picking it up at a convenience store.
Whip up a batch of energy bites if you're looking for a homemade sweet treat (ginger pistachio, chocolate chip, or pecan pie are my favorites)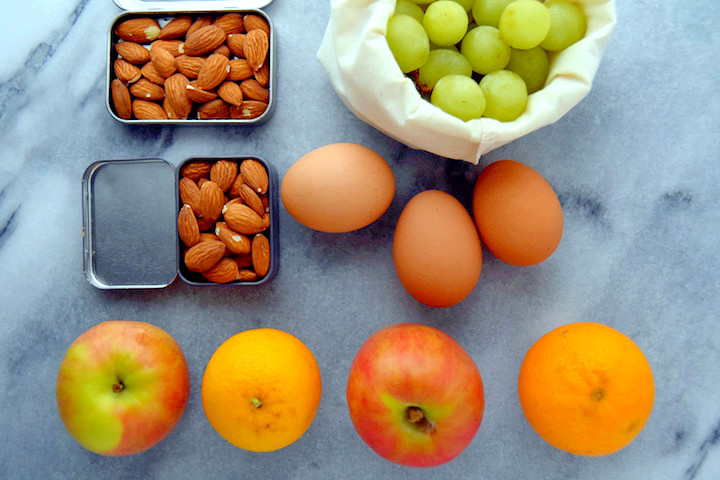 2. Keep Food Prep Simple
I think the biggest problem people have with food prep is boredom – eating the same thing all week isn't fun on day 4. I recommend keeping a variety of sauces and condiments on hand so you can make basics meal preparations that can go multiple flavor directions. Here are some ideas to keep food prep simple and bland:
Bake chicken breasts with olive oil, salt, and pepper or lemon (flavor it each meal with salsa, peanut sauce, pico de gallo, soy sauce, hot sauce, barbecue sauce, etc.)
Toss together chopped onion, sweet peppers, cucumber and a can or two of drained beans for a simple bean salad. Flavor it with olive oil, salt, pepper, and a dash of red wine vinegar and have it as a side, a snack, or on a salad
Bake a tray of turkey meatballs or beef meatballs and store in the freezer for easy pasta nights
Use your slow cooker to make a batch of shredded protein (chicken, beef), soup, or steel-cut oatmeal
Make a batch of mashed chickpea salad to serve with crackers or cucumber
Cook a batch of grains, beans or pulses, like quinoa, rice, farro, lentils, or beans to have with meals
Use your oven to make a ton of roasted vegetables at once (I love broccoli, cauliflower, zucchini, carrots, or sweet potatoes) – chop them and toss any favorite with olive oil, salt and pepper
Chop up your favorite salad ingredients and leave them ready to mix in the fridge with dressing when it's time to serve
3. Don't Be Afraid To Utilize Shortcuts
We can get all wrapped up in planning for simple, healthy meals, and begin to feel overwhelmed – so don't forget to think about ways you can use shortcuts to save yourself time and energy making options for the week. Some of my favorites include:
Stocking up on my favorite premade salsas, hummus, marinades, and sauces for easy flavor additions to meals
Grabbing a stir fry mix already prepared so I can have a simple option to pair with protein during the week
Buying bags of pre-chopped kale and pre-washed lettuce so I can skip those steps
Snagging some pre-portioned individual yogurts, bars, or snack mixes from the bulk bins to keep for on-the-go snacking
Cans of tuna, or or rotisserie chickens, are great time-savers for a simple protein source so I keep those on hand when I need them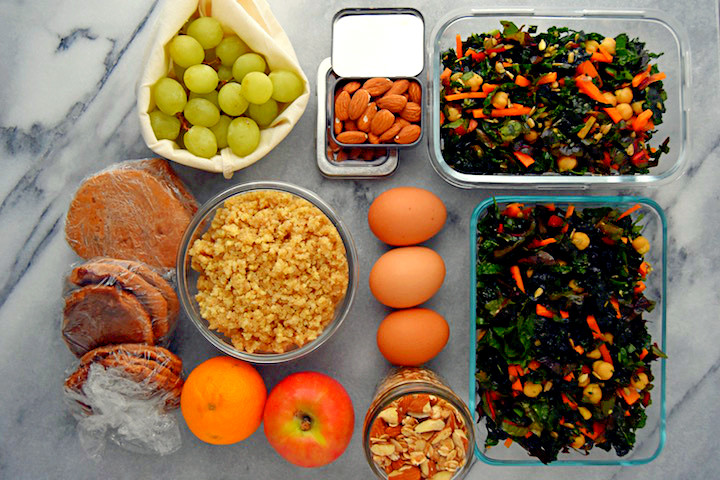 4. Start Small and Write It Down
Don't go into week 1 of food prep with a plan to prepare everything you're going to eat for the next week. That can be overwhelming and frustrating!
Start by setting aside a time to write out your grocery list for 2 basic items you want to food prep, based on some simple recipe ideas you want to make that week (e.g. bake chicken that you can use in a pasta, in a Mexican rice bowl, and on top of salad; cook lentils that you can use in soup, in a grain salad, and to add to tacos). On your grocery list, include those sauces and exciting additions you need to vary up flavors
Set aside 1-2 hours on the weekend to dedicate to grocery shopping and food prep for those 2 items in your kitchen
As you learn your favorite things to prep that you'll eat, keep a list of your go-to items and grocery lists so you can rotate them every couple weeks and keep things fresh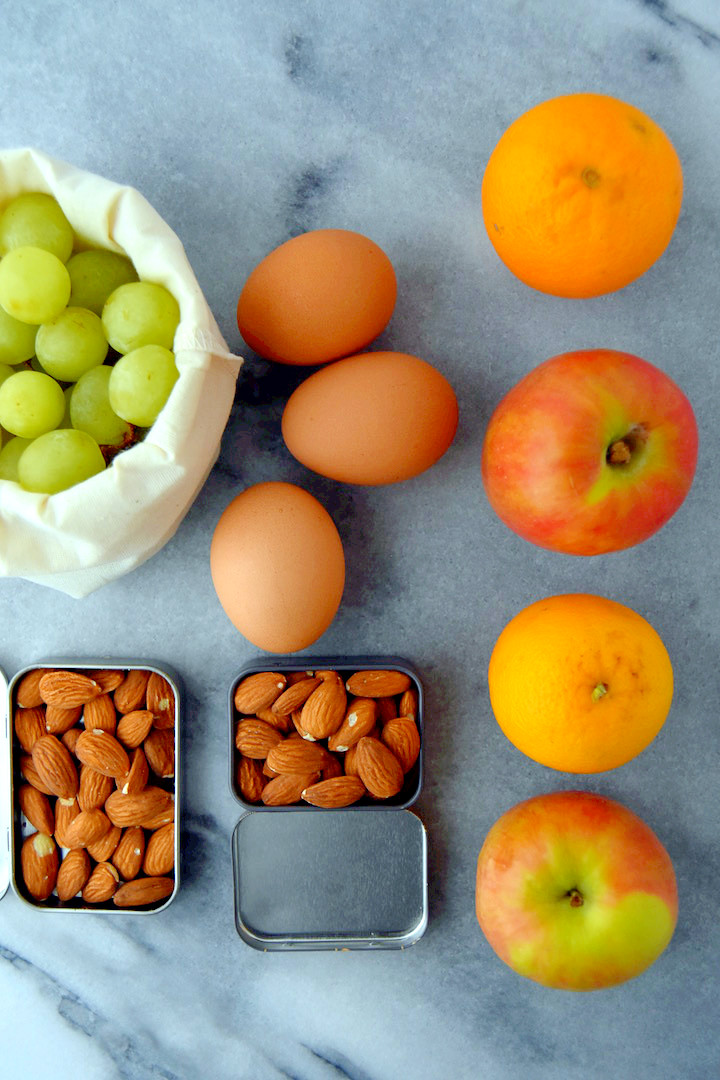 Finally, if you need some quick and simple meal ideas based on food prep, check out the bottom of this post about Food Prep and Quick Meal Ideas from last year's Back To Basics January.
Action Item: Try incorporating one or two items a week, based on what you have time for, and celebrate your success by letting me know and sharing a photo with #BackToBasicsJanuary. Check out my Food Prep and Meal Planning Pinterest board for more inspiration.
Marisa