Today, I'm sharing my January Seasonal Produce List! For the past year or so, I have been doing recipe development by looking at seasonal produce charts and meandering around the farmers' market and local grocery stores for inspiration. Growing seasons echo what our bodies crave – the butternut chili you want to make is a seasonal choice, whereas a slice of watermelon feels out of place until summer – and I love embracing that throughout the year.
Every month this year, I plan to share a seasonal produce list so that you all can have a handy dandy printable to save on your phones, or reference when making a grocery list. My new website is organized so that you can look at my Ingredient Index for a specific ingredient, and find recipes based on what you might have in the fridge. (Look out for February's list soon since it's coming up quickly, as I hope to make these available at the beginning of the month moving forward.)
There are many benefits to seasonal eating, but to sum it up, I like that eating seasonally can help me support local businesses, and produce that has ripened in the right season just tastes the best! Finally, it keeps me creative because I am always introduced to new produce to try cooking at home.
What's in season in January?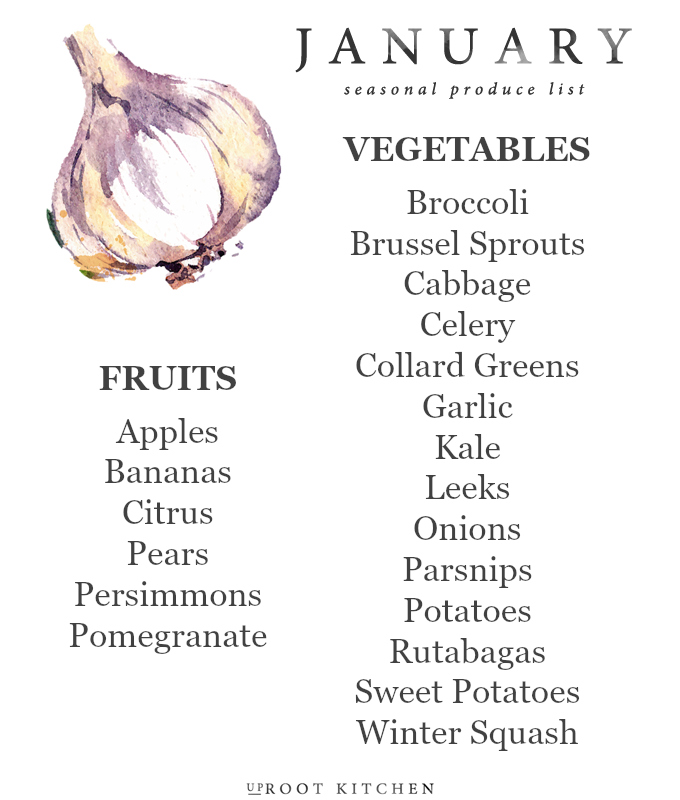 >> Download the January Seasonal Produce List Here <<
Looking for ideas of how to meal plan this month?
Check out the linked fruits and vegetables below for recipe ideas!
FRUITS
VEGETABLES
A FEW FAVORITE RECIPES
Guess it's time for me to get my hat on to brainstorm some parsnip and rutabaga recipes (eyeing this Rutabaga Chipotle Soup). I hope I run into one or the other next Saturday at the farmers' market and I'll report back!
Tell me- do you try to eat with the seasons? Anything you've made lately with these ingredients that you loved?
Marisa