I strive to stick to a budget, especially now that I'm in graduate school and balancing things differently than I did when I worked a 9-5 job. Before thinking about budgeting my trips, I would frequently find myself grabbing a few gourmet items from the grocery store because they looked 'fun' to try, or I wanted to stock up on a good sale → this all just led to me overspending on each trip by $5-20, which adds up.
So what's my budget? I pride myself on knowing I can run in to the grocery store with my normal list for a lot less than before: I aim for $40-50 per week depending on what I'm out of, and I buy about half organic produce and eat vegetarian more days than not (note that this is currently just for me as 1 person). I cook most meals at home on this budget.
If you love browsing the grocery store like I do, you might have similar strategies like I do below to tackle your grocery store. Leave any additional ideas in the comments too! On the other hand, if grocery shopping is just a means to an end (we all gotta eat!), I'm sure you're also curious about how you can keep your grocery budget spending in line.
Here are some of my top 7 tips for sticking to your grocery budget so the process is easy and pain-free!
P.S. I'm launching my last giveaway of Back to Basics January this morning on Instagram – be sure to check out the opportunity to win an $150 shopping spree from NOW Foods to stock your pantry!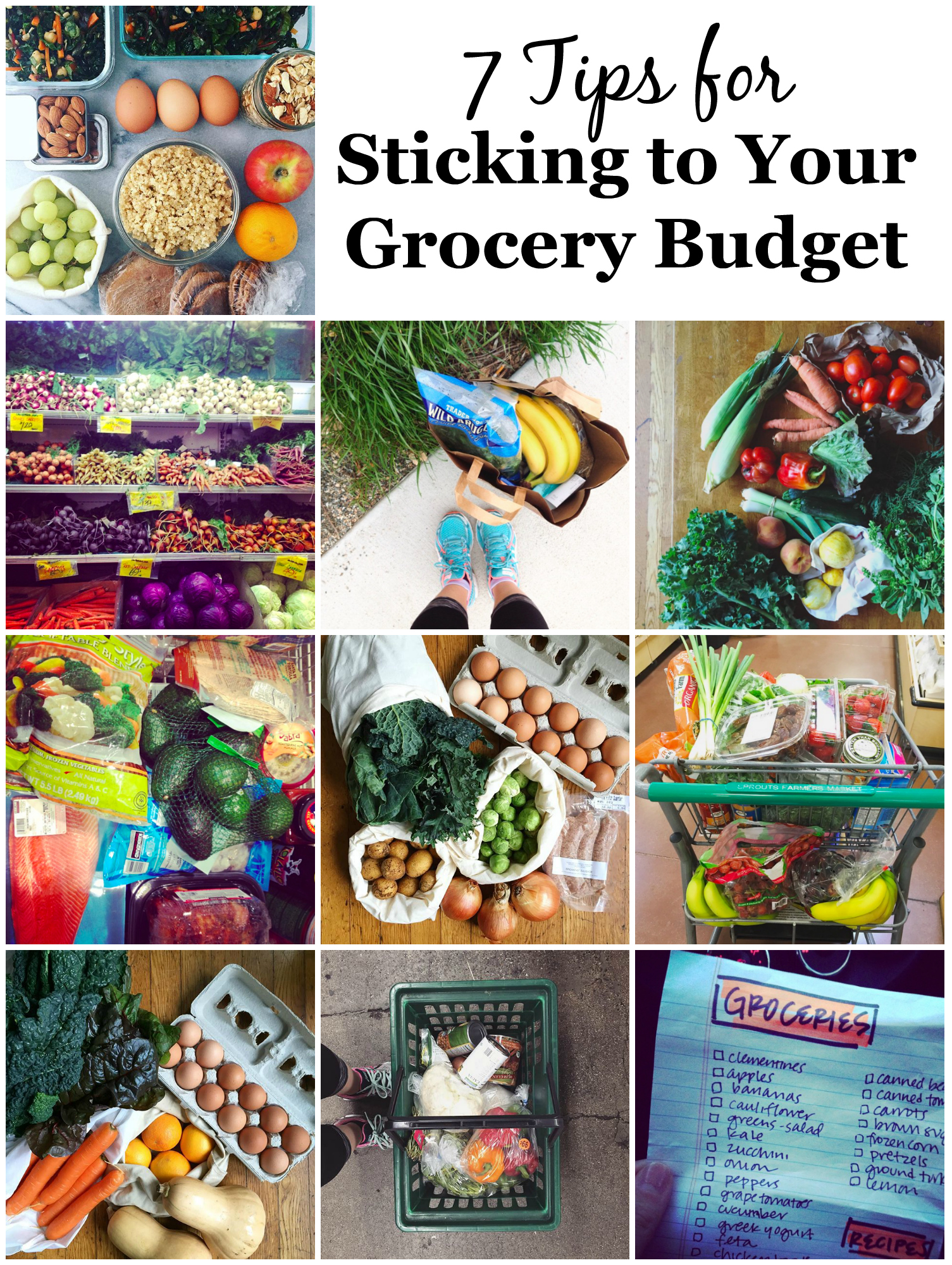 1. Check The Pantry
Take a moment before you head out to the store to check for items you might already have at home – such as pasta, grains, or canned items. When I'm thinking about what I need to supplement for the week, this helps me to avoid double-purchasing since very few of us need (or have the space) to be hoarding 10+ cans of the same item.
2. Meal Plan
This can be a formal or informal step! Formalize it by writing down which recipes you want to make for the week, or consider the general themes of meals you want to eat and what types of fruit/veggies would make good snacks as well. This helps me incorporate those pantry items I may have identified as wanting to use – whether it's deciding I want to make my Mexican Veggie Quinoa Bake with the black beans I want to use, or making a Roasted Vegetable Farro Salad with extra grains in my cupboard. Use my strategies to Food Prep if you need some ideas!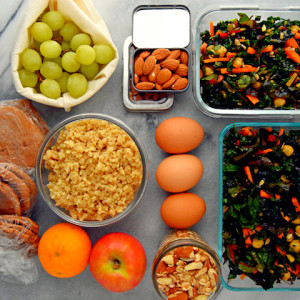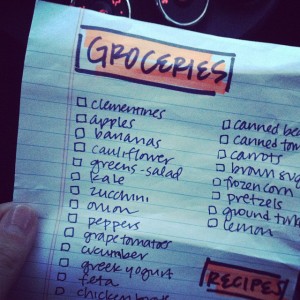 3. Make A List
It sounds lame, but holds true – every time I write down the items I need from the store before I go, I do a better job at sticking to my budget. It lets me stay accountable and focused as I browse the grocery store.
4. Think Seasonal
In-season fruits and vegetables are always going to be your friend if you're trying to stick to a budget, and a benefit is that it's generally local so you don't pay for the transportation costs and money stays in the community. Each month, check my Seasonal Produce List (here's January's!) to get ideas.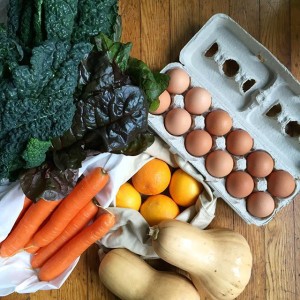 5. Buy in Bulk
If you haven't ventured into the aisle in your grocery store with bulk bins, or ever bought a 5-pound bag of oatmeal, I'm here to tell you it saves you money. I wrote a whole post about 10 Pantry Items to Buy in Bulk at the Grocery Store! When you have some wiggle room in your budget (usually just a few extra dollars!), use it towards stocking up!
6. Shop The Perimeter To Avoid Processed Foods
You've probably heard this before – and it rings true in most grocery stores. The perimeter of the grocery store usually houses the produce department, the fresh meats and fish counter, the bulk bins, and the dairy section. I stick to this lap of the grocery store, popping into the aisles with a plan so I can steer clear of impulse purchases like chips and packaged snacks.
(Optional: wearing running shoes/workout clothes so you can speed by other shoppers ↓)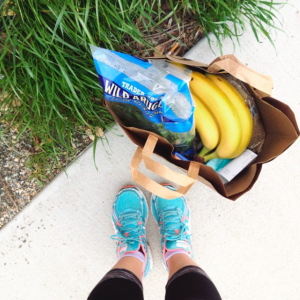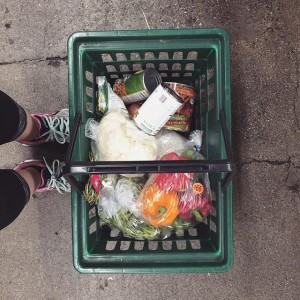 7. Hold Onto Those Receipts
For the first few weeks of keeping a grocery store budget, hold onto your receipts so you can track spending and make sure your goals are attainable. This will also let you see where you might be spending more than you'd like – whether it be buying certain prepared foods you could make at home or grabbing a gourmet item each time.
I have also learned how to shop around at different stores and compare prices by keeping a few receipts from stores I frequent. Next time you do your regular shopping trip, hold onto that receipt. When you go into a different store with the same list, you can compare prices and begin to decide where you should buy your regular items.
—
My bonus tip: Many grocery stores have certain small sections of the store dedicated to discounted or discontinued grocery items and extra-ripe produce, or have certain sale days. Be sure to check in with customer service for those types of details!
Hope this list helps you continue to grow into a budget-friendly shopper beyond Back to Basics January!
Marisa