Today, I'm sharing my February Seasonal Produce List!
Every month this year, I will be sharing a seasonal produce list so that you all can have a handy dandy printable to save on your phones, or reference when making a grocery list. In addition, my website is organized so that you can look at my Ingredient Index for a specific ingredient, and find recipes based on what you might have in the fridge.
I hope this gives you inspiration to eat with the season this month – and perhaps get creative in the kitchen with a new vegetable. I picked up some winter turnips and rutabagas at the farmers' market this past weekend, and loaded up on fresh sweet citrus for a bright note.
What's in season in February?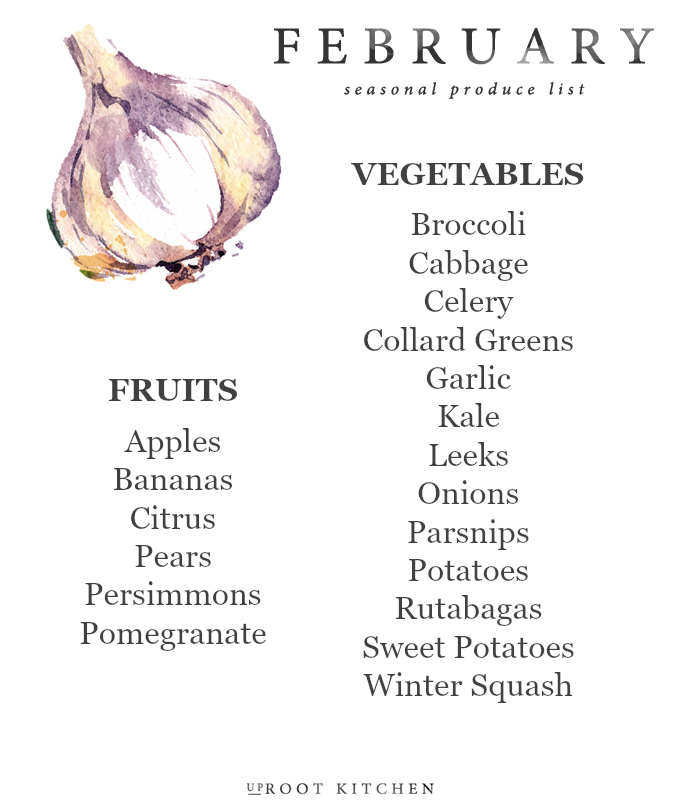 >> Download the February Seasonal Produce List Here <<
Looking for ideas of how to meal plan this month?
Check out the linked fruits and vegetables below for recipe ideas!
FRUITS
VEGETABLES
A FEW FAVORITE RECIPES
Tell me- do you try to eat with the seasons?
Anything you've made lately with these ingredients that you loved?
Marisa