This Mexican Stuffed Butternut Squash dish is packed with pinto beans, diced tomatoes, and wilted greens for a dish that's sweet, spicy, and full of bold vegetarian flavor.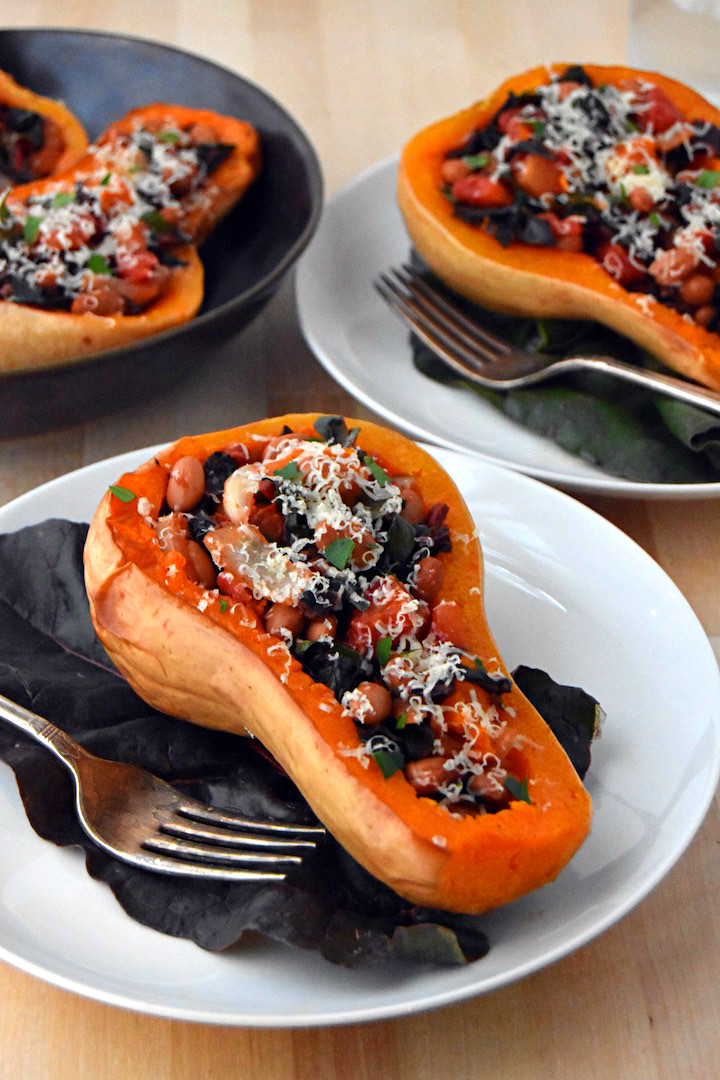 Disclaimer: This post is sponsored by USA Pulses + Pulse Canada. I was compensated for my time, and all opinions are my own.
Dry beans, lentils, chickpeas, and dry peas – these are a few of my favorite things! – fall into a category of food called "pulses," or grain legumes. They're all high-protein, sustainable meal ingredients, and the United Nations has named 2016 the International Year of the Pulses to raise awareness of the role of these ingredients play in feeding people around the world.
If you take a peek into my ingredient index, you know you've got lots of pulse recipe options to choose from: I've done everything from simple soups to beany chocolate cupcakes to lentil nachos. For me, these ingredients are not only satisfying, but they can take on so many different flavors while letting me stick to my budget.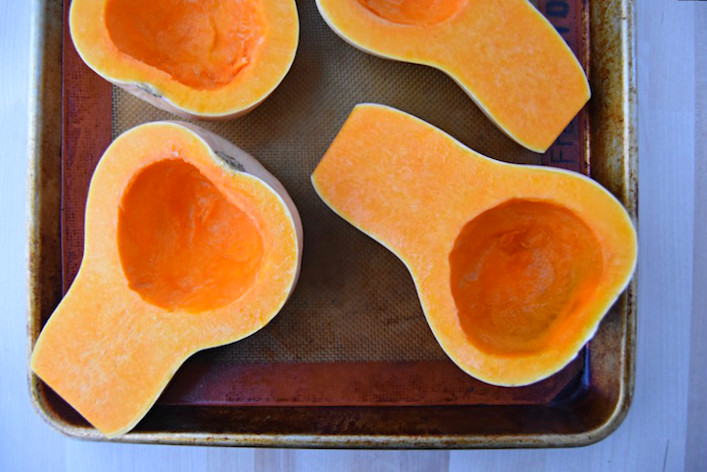 Today, this Mexican Stuffed Butternut Squash is packed with home-cooked pinto beans. Sweet creamy squash meets bold-flavored filling for a satisfying and healthy dinner.
I've talked about cooking dry beans from scratch before, but let's recap the benefits:
Cheaper than cans: 25 cents per cup versus more than double for canned
Easy to freeze: I measure out 1.5-2 cup portions and stick them in the freezer
Better tasting: whether you add in chopped onion, bay leaves, or chili powder
Lower sodium: you get the opportunity to control how much salt you ingest
Eco-friendly: No need to recycle a can for every meal, and there's no waste at all if you buy your beans in bulk!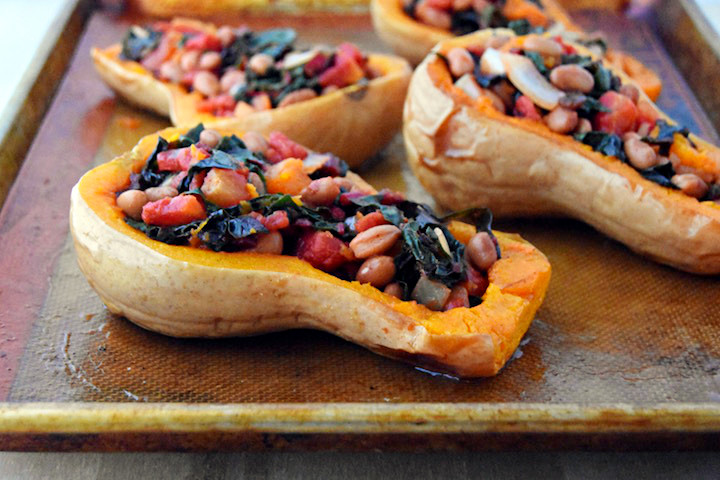 Mexican Stuffed Butternut Squash
Author:
Marisa | Uproot Kitchen
Ingredients
Pinto Beans Cooked from Scratch
1 pound dry pinto beans
1 bay leaf
1 teaspoon salt at the end of cooking
Mexican Stuffed Butternut Squash
2 small butternut squashes
2 tablespoons olive oil, divided
1 small yellow onion
1 teaspoon chili powder
½ teaspoon ground cumin
⅛ teaspoon ground cayenne pepper
1 small bunch Swiss chard (2 cups)
1.5 cups cooked pinto beans
1 15-ounce can diced tomatoes, drained
Optional toppings: salsa, avocado, grated cheese
Instructions
Cooking Beans from Scratch
Soak dry pinto beans covered in water the night before, and then drain (this reduces cooking time) and refrigerate until ready to use.
Cover the soaked beans with water and add the bay leaf. Bring the pot to a boil over medium-high heat, and then reduce to a low simmer and cook for 1 and ½ to 3 hours. Be sure the beans are constantly covered in water.
Beans are ready when you can mash one with a fork. Drain beans, add salt to taste (~1 teaspoon) and freeze them in 1.5-2 cup portions (the equivalent of 1 15-ounce can), and set aside 1.5 cups of beans for the recipe.
Mexican Stuffed Butternut Squash
Preheat the oven to 400 degrees.
Cut off the tops of the butternut squash and use a large knife to carefully slice the squash in half lengthwise. Use a spoon to scoop out the seeds and create a cavity. Rub squash with 1 tablespoon of the olive oil and set it face down on a lined baking sheet, using a knife to make some pin pricks in the skin for steam to escape.
Bake the squash for 25-30 minutes, until a knife easily penetrates through the flesh (this depends on squash size).
Dice the onion and begin to sauté it in a pan over medium heat with the remaining oil. When the onion begins to soften and become translucent, add in the spices (chili powder, cumin, and cayenne) and reduce the heat to medium-low.
Chop the Swiss chard into ribbons after removing any thick stems, and add them to the pan to begin to wilt.
Add in cooked beans and drained diced tomatoes and allow the mixture to cook together for 5-7 minutes, stirring occasionally on medium-low heat.
Once the squash is removed from the oven and cooled a bit, flip them over and scoop some of the flesh out of the neck of the squash and set aside for another purpose (or add to the filling for additional filling).
Spoon the filling into the squash, heaping it on top. Serve each ½ squash alongside toppings.
Notes
If you aren't cooking beans from scratch, you can use one 15-ounce can of pinto beans (drained and rinsed) and add them during step 6 as noted.
Now that we've learned a bit about pulses and their versatility, I wanted to bring the
Pulse Pledge
to your attention, a challenge to eat pulses once a week for 10 weeks. Knowing that many of you rely on vegetarian main dishes most of the week, like I do, you're likely already doing this – so take the pledge
here
!
Marisa