This Mediterranean Salad with Crispy Chickpeas is a mouthful of flavors – from crispy garlic chickpeas, crisp greens and veggies, quinoa, crunchy pita chips and a light and creamy Meyer lemon hummus dressing.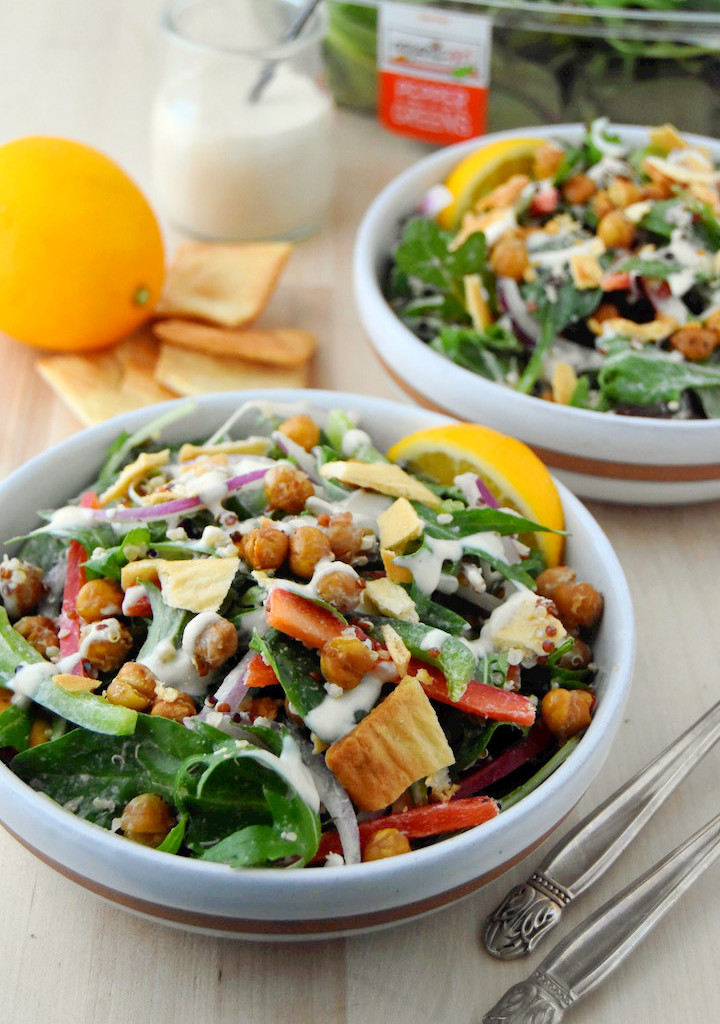 Disclaimer: This post is sponsored by organicgirl as part of an ongoing partnership. I was compensated for my time, and all opinions are my own.
I have found the crispy chickpea dark side. Yes, it's true – nothing can be bad with you cover it in olive oil, salt, and garlic powder and roast it – but chickpeas have a magical way of adopting a crispy, crunchy exterior while keeping their soft, creamy interior.
In today's salad recipe, these crispy crunchy garlic chickpeas pair up with pita chips (take the bag away from me!) on a bed of greens, sliced veggies, and nutty quinoa.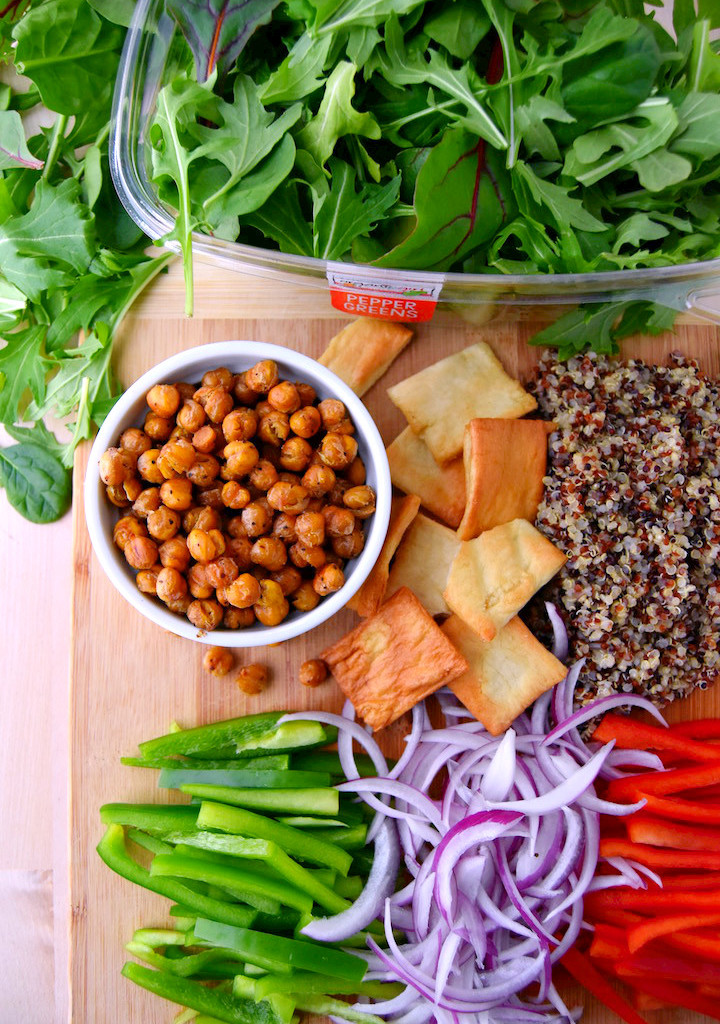 organicgirl's PEPPERGREENS salad greens are what I used for this recipe, a mix of bold flavors: baby leaves of arugula, mustard, bok choy, chard, and other peppery Asian greens. They're a great match for the creamy and light Meyer lemon hummus dressing.
I've made many a salad dressing out of premade hummus – either dolloped straight onto greens or thinned with a bit of water (and meyer lemon juice, in today's recipe!). I know I always have it in the fridge and it's great when I can leverage that to eat my greens, since thinning it allows each lettuce leaf to be lightly coated in that creamy, bright dressing.

Mediterranean Salad with Crispy Garlic Chickpeas
Author:
Marisa | Uproot Kitchen
Ingredients
Crispy Garlic Chickpeas
1 15-ounce can chickpeas, drained and rinsed
1 tablespoon olive oil
½ teaspoon salt
¼ teaspoon garlic powder
Mediterranean Salad
1 cup cooked quinoa
1 cup thinly sliced red onion
1 cup thinly sliced red pepper
1 cup thinly sliced green pepper
6 cups (4 ounces) organicgirl PEPPERGREENS salad greens
¼ cup premade hummus
1 tablespoon Meyer lemon juice
1 tablespoon water
½ cup crumbled pita chips
Instructions
Crispy Garlic Chickpeas
Preheat the oven to 400 degrees.
Drain and rinse chickpeas, and dry them off using a kitchen dishcloth. Spread them out on a lined baking sheet.
Drizzle chickpeas with olive oil, salt and garlic powder. Toss to combine.
Roast for 25 minutes, shaking the pan occasionally. Set aside for topping the salads.
Mediterranean Salad
Cook quinoa per package instructions (about ¼-1/3 cup dry quinoa makes 1 cup cooked).
Thinly slice red onion, red pepper, green pepper.
Toss together sliced veggies, quinoa, and salad greens.
In a small bowl, combine hummus, Meyer lemon juice, and water to make a dressing. Drizzle it over the greens and toss everything together until coated.
Serve salad topped with crispy roasted garlic chickpeas and crumbled pita chips.
Notes
This salad keeps very well in the fridge for a few days, even dressed. I recommend storing the crispy chickpeas separately in an airtight container once they are fully cool, and topping the salad with the crispy chickpeas and pita chips right before serving.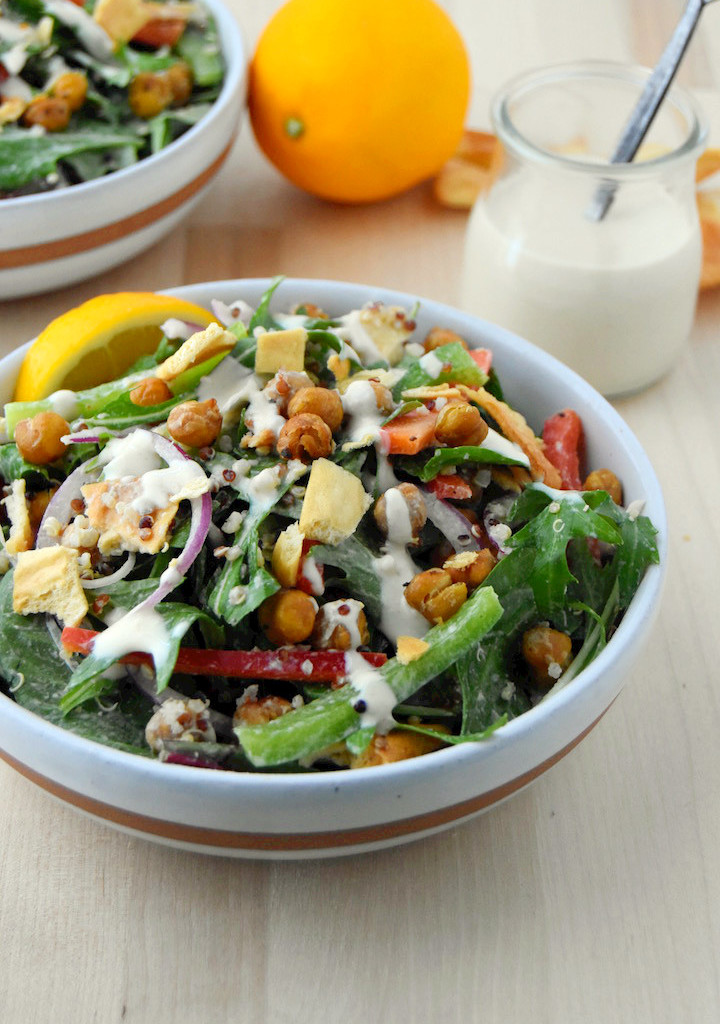 I had a hard time naming this recipe just because of all the moving parts I wanted to highlight, but I hope "Mediterranean" evokes the flavors of crisp red onion, lettuce, a sprinkling of quinoa, sweet peppers and lemony hummus dressing. Feel free to change it up and add your own favorites – perhaps roasted red pepper slices or artichoke hearts!
Whatever you do, don't skip the roasted garlic chickpeas.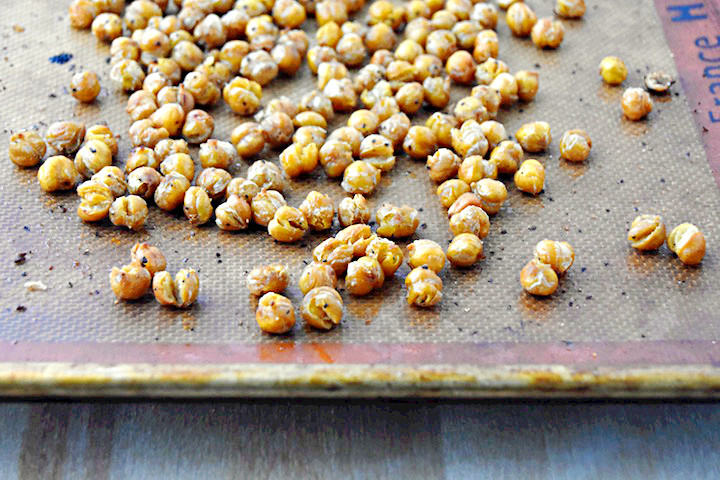 Finally, if you're looking to take it 1 step further and make your own hummus, try my Meyer Lemon Hummus and just thin it with water for this dressing. This salad keeps very well in the fridge for a few days, as I tested bringing it for lunch already dressed and topped. Store the crispy chickpeas and pita chips separately and add them to the top before serving to keep their crunch!
Do you bring salads to work during the winter, or am I just deceived by California's sunny weather this week? Have you tried making a salad dressing from hummus before?
Marisa