These 4 ingredient Crispy Garlic Smashed Potatoes are a simple side you won't be able to stop eating – each crispy, garlic-infused bite will get you hooked on this recipe.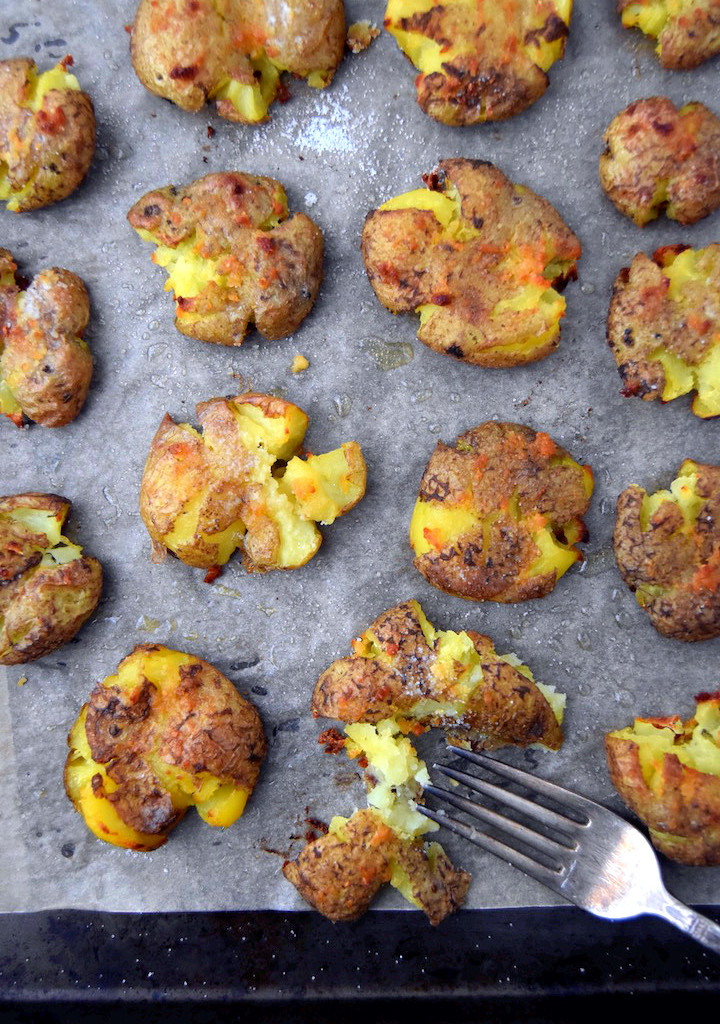 Hey, you guys! Happy Wednesday. I hope you all enjoyed the extra day we got to enjoy thanks to the long weekend.
My sister was in town and we explored San Francisco, ate well and cooked a fancy dinner, hiked in the sunshine, and caught up. It was a nice change of pace and I almost forgot I was in grad school and had work to do ( ..oops).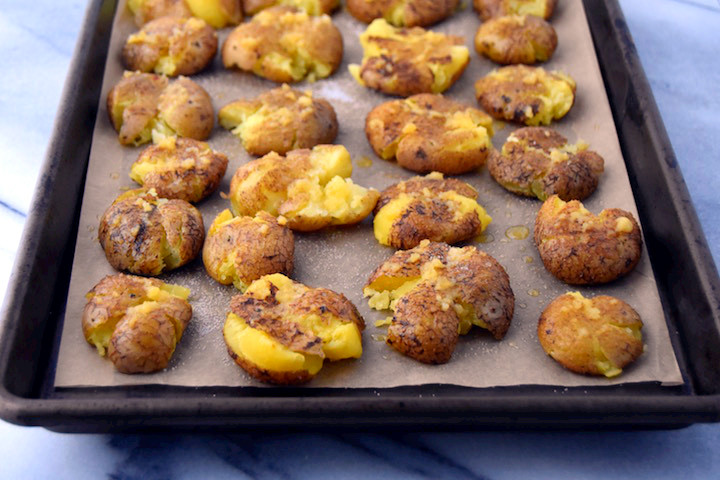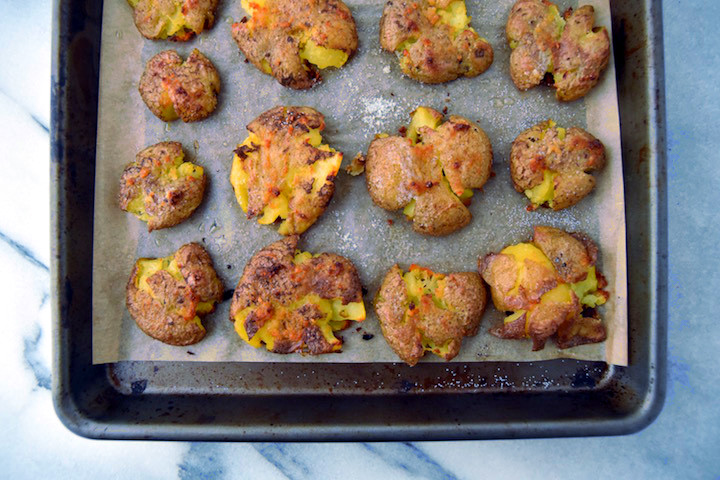 Though the traditional "meat and potatoes" type of dinners happen rarely in my house, I realized when cooking with her that I don't eat potatoes enough. I LOVE POTATOES, whether white or sweet, and I'm sure you all do too (how could you not?).
These little potatoes I grabbed from the farmers' market were begging to be roasted, and I dressed them in a simple garlic, olive oil, and salt paste. So simple yet the result is somewhere in between wedge potato slices/garlic fries/heaven.
I knew I had to share this Crispy Garlic Smashed Potatoes recipe as soon as I could, because you all can get on board with a creamy, doughy middle and crispy outer potato skin covered in garlic… with just a few minutes of prep time.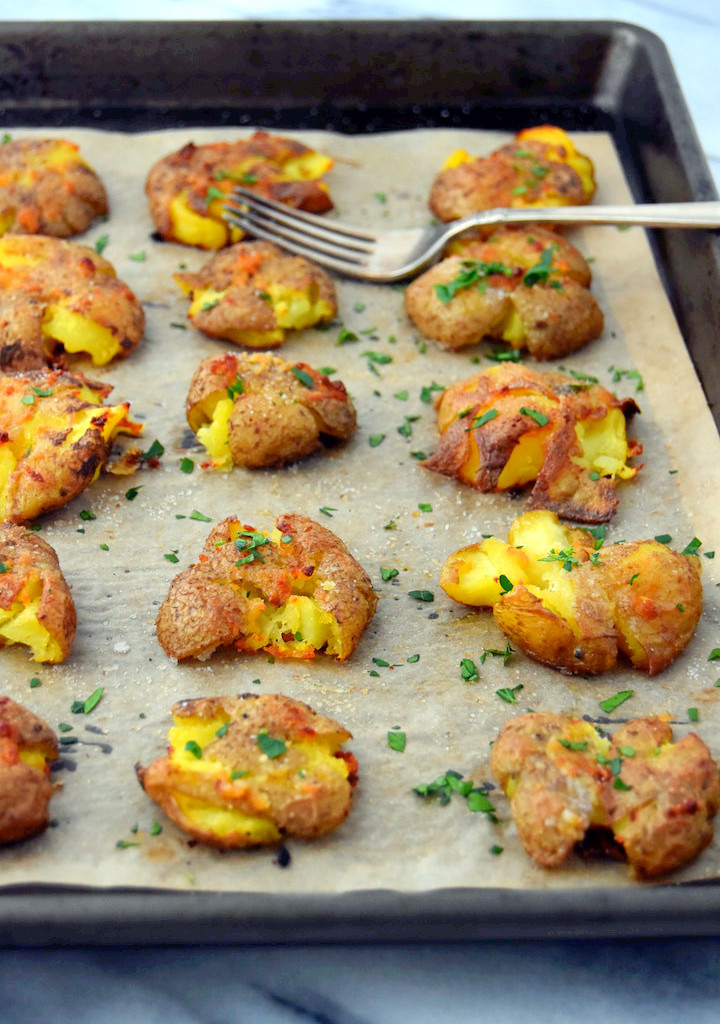 Crispy Garlic Smashed Potatoes
Author:
Marisa | Uproot Kitchen
Ingredients
4 heaping cups baby red or yellow potatoes
2 tablespoons olive oil
¾ tablespoon garlic paste
½ teaspoon salt
Instructions
Preheat the oven to 400 degrees, and line a baking sheet with parchment paper.
Clean potatoes by using a scrub brush or damp kitchen towel.
Add potatoes to a pot and cover them with water. Bring potatoes to a boil, and boil 10 minutes until tender. Drain the potatoes.
Place the potatoes on the lined baking sheet, and cover the heel of your palm with a kitchen towel. Slowly apply firm pressure to the potatoes, allowing them to flatten and smash under your palm. Do your best to keep each potato in one piece by not pressing all the way down to the pan.
In a bowl, combine olive oil, garlic paste, and salt to form a paste. If you're using raw garlic, simply mince it very small and smash it with the side of your knife until you have more of a paste.
Drizzle the mixture over the potatoes and bake for 25-30 minutes, or until crisp and browned. Serve immediately.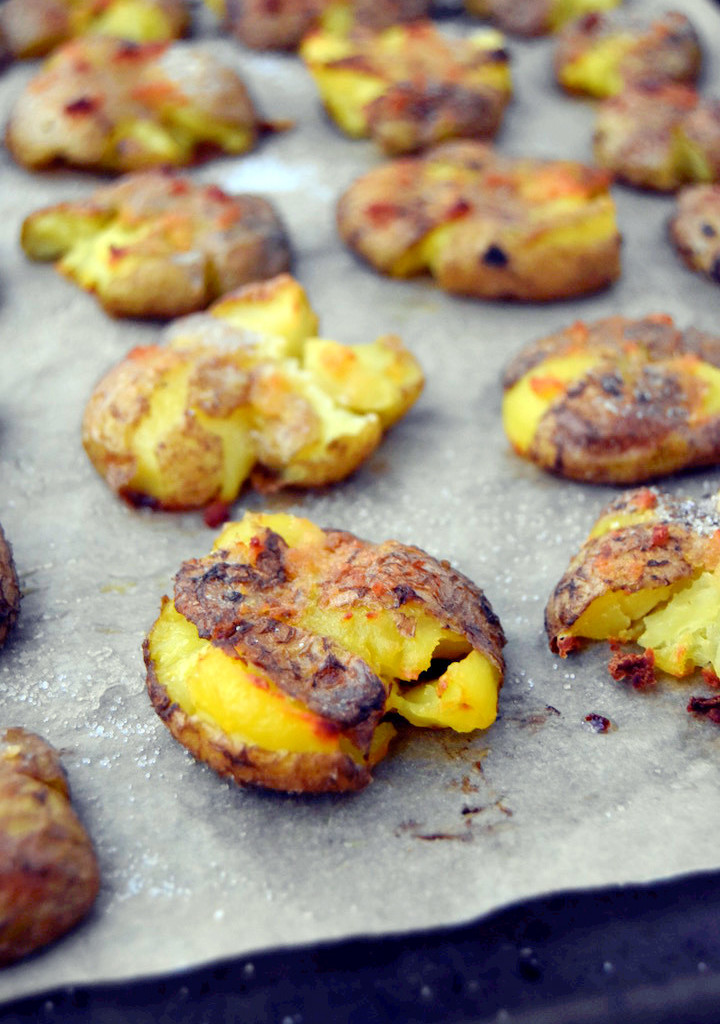 Did you enjoy the long weekend and make a meal with someone?
I hope these Crispy Garlic Smashed Potatoes make their way onto your dinner plate sometime soon!
Marisa