Also known as Salade Lyonnaise, this Frisée Breakfast Salad with Bacon and Eggs is a simple brunch idea for the weekend, or breakfast for dinner meal.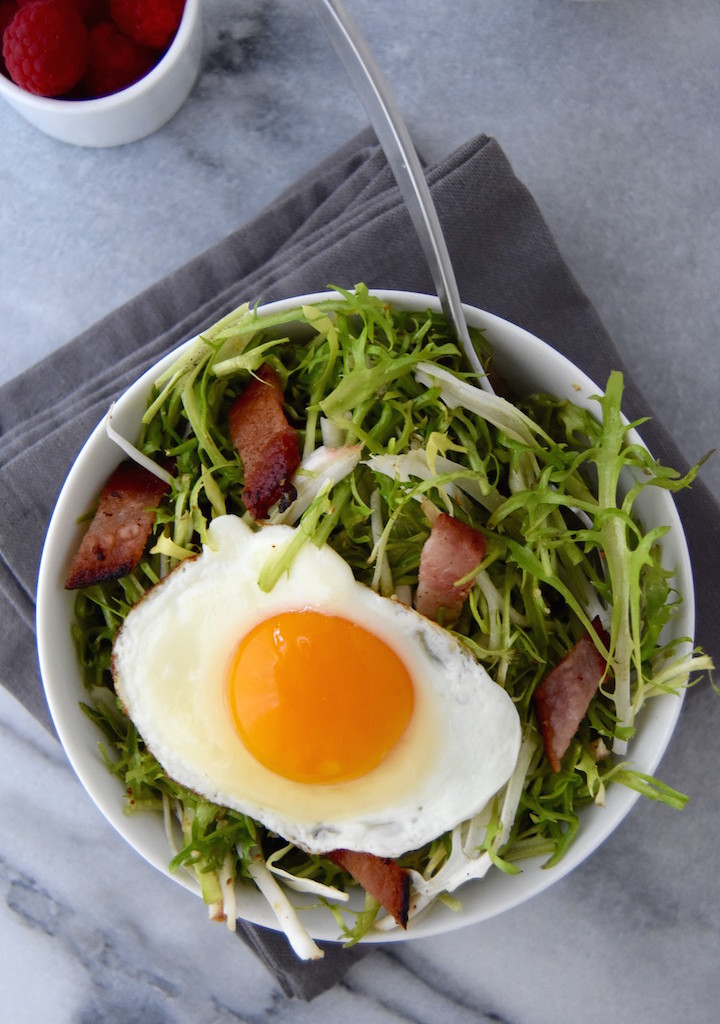 It's Monday. Let's talk bacon. Thick cut bacon, to be precise. A far departure from my normal grocery purchase of turkey bacon every once in awhile.
I've been checking out the meat vendor at the farmers' market, trying a new item every few weeks. After frying up a piece of thick-cut bacon for the first time, I've bought it a few more times than I meant to… in the name of recipe testing, right?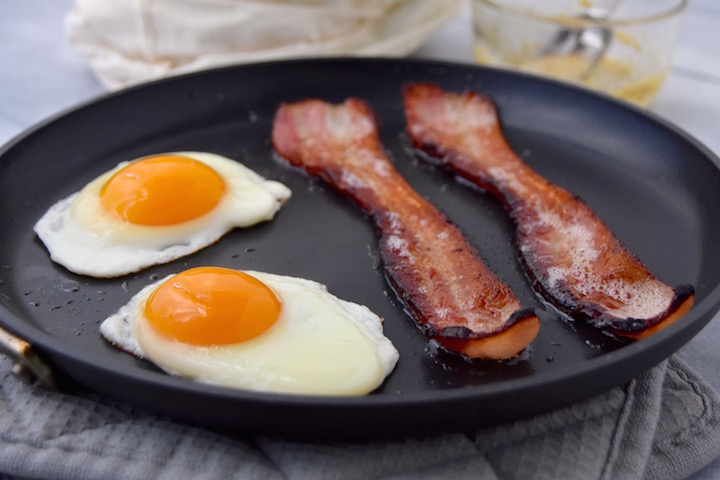 Instead of just bacon and eggs for breakfast, I paired my fried eggs (look at those yolks!) and pan-fried bacon with frisée, a  bitter, frizzy lettuce that is very sturdy and holds up next to warm, flavor-packed ingredients.
Inspired by the French salad, I made a simple 2-ingredient mustard dressing to warm up and toss with the greens.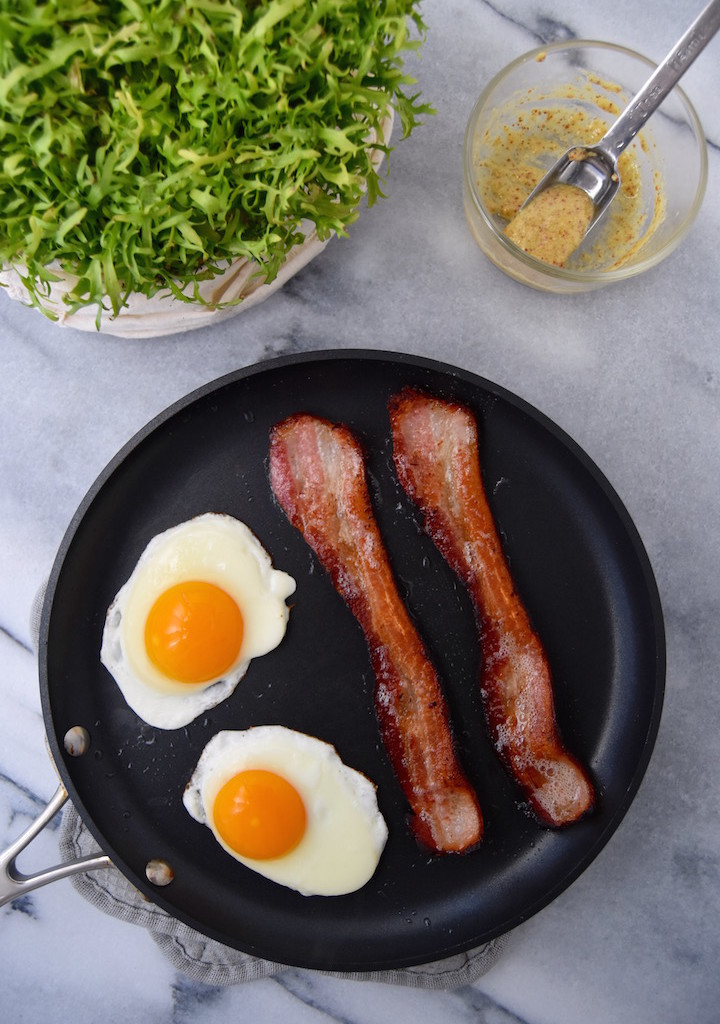 Frisée Breakfast Salad with Bacon and Eggs
Author:
Marisa | Uproot Kitchen
Ingredients
1 small head frisée lettuce
½ tablespoon stoneground mustard
½ tablespoon extra virgin olive oil
2 slices thick cut bacon
2 large eggs
Instructions
Wash the frisée lettuce by slicing off the tough stem, separating the leaves and rinsing the greens in a bowl of lukewarm water (this will take off the chill from the fridge). Use a salad spinner or a dish towel to dry the leaves completely. Set aside to dry.
Whisk together mustard and olive oil, and warm it in the microwave for 10 seconds. Set aside.
In a fry pan, cook bacon until beginning to crisp. Remove it from the pan and set it on paper towels to remove excess grease. Use a paper towel to sop up some of the grease from the pan.
In the pan you cooked your bacon in, fry your eggs in until over medium.
Chop the bacon into small pieces, and toss it with the frisée lettuce and warmed mustard dressing in a large bowl.
Separate the salad into 2 servings and top with a fried egg. Serve immediately.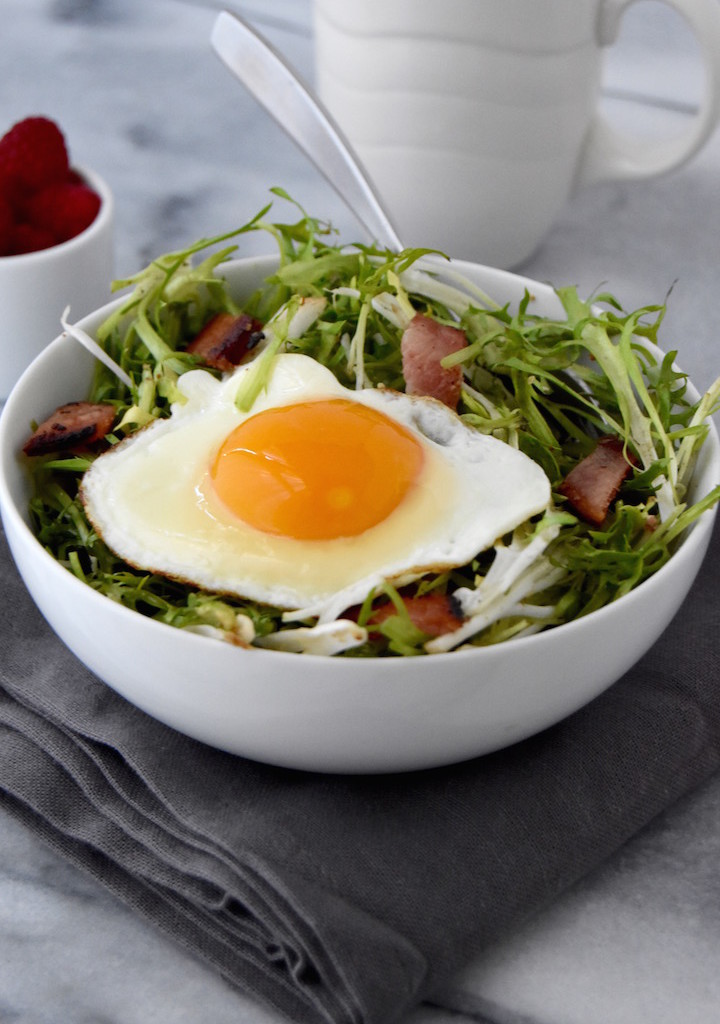 If you're making this Frisée Breakfast Salad with Bacon and Eggs for a crowd, simply scale up the dressing and lettuce and cook the bacon in the oven (
here's a great technique
from the Kitchn), leaving you to just fry eggs on the stove. It's a simple, no fuss breakfast that you will want to make over and over!
If you have any trouble locating frisée lettuce, you can substitute it with arugula – which is more peppery and less bitter, but another sturdy and flavorful green that would go great with these flavors.
Tell me – do you buy thick-cut bacon?
Marisa