This Whole Wheat Yogurt Quick Bread is a 7 ingredient, one-bowl loaf you can throw together quickly for the week.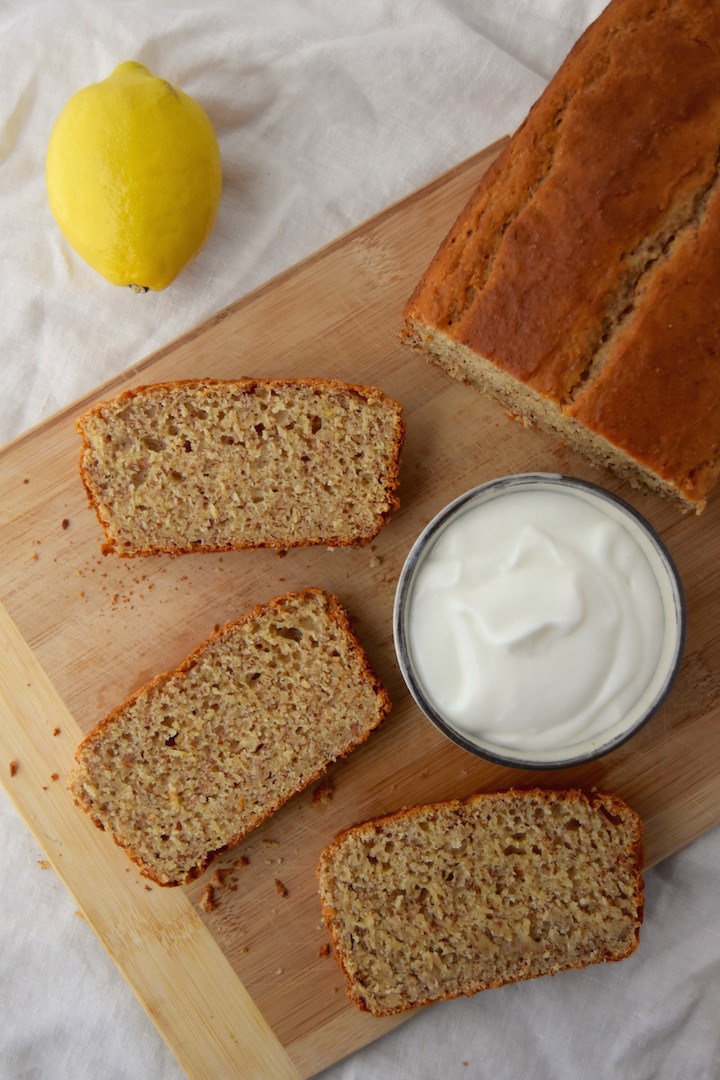 Disclaimer: This post is sponsored by Nancy's Yogurt. I was compensated for my time, and all opinions are my own.
It's been awhile since I made a good loaf of bread, and this Whole Wheat Yogurt Quick Bread fits the ticket for a simple one-bowl snack bread. With a blend of whole wheat pastry flour and almond flour, it's packed with good for you ingredients too.
For this quick bread, the only wet ingredient is plain unsweetened yogurt. How neat is that? I tested both lowfat yogurt and whole milk yogurt, so that you can use whichever big container you normally buy in your household. I added lemon zest for a bit of intrigue and a note of additional brightness to complement the acidity of the yogurt.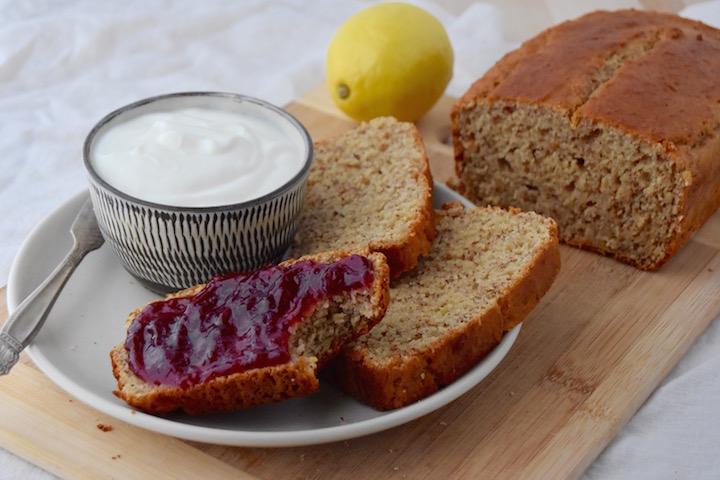 With a perfect crumb and a bit of spring flavor thanks to the added lemon zest, you can eat this Whole Wheat Yogurt Quick Bread plain, or toast it and top it with your favorite jam or nut butter. The protein from the yogurt also helps to keep you full longer than a normal slice of bread or pastry.

Whole Wheat Yogurt Quick Bread
Author:
Marisa | Uproot Kitchen
Ingredients
2 cups whole wheat pastry flour
1 cup raw almond flour
⅓ cup granulated sugar
1 teaspoon baking soda
1 teaspoon salt
2 cups plain yogurt (low fat or whole milk)
Optional: Zest of 1 lemon (~1 teaspoon), preferably organic
Instructions
Preheat the oven to 325 degrees, and prepare a loaf pan by coating it in cooking spray or lining it with parchment paper.
In a bowl, combine whole wheat pastry flour, almond flour, sugar, baking soda, and salt.
Dollop yogurt on top of the dry ingredients and add the zest of the lemon, if using. Stir together until ingredients are just incorporated.
Move the dough into the loaf pan and spread it down flat.
Bake the quick bread for 50-55 minutes, until a knife comes out clean and the crust is firm to the touch and golden.
Move the loaf out of the pan and allow it to cool on a wire rack for 20-30 minutes before slicing.
Notes
Inspired by Food 52's Yogurt Bread with Molasses.
The bread slices will stay good on the counter wrapped in plastic wrap for up to 3 days, or in the fridge up to 7 days. Alternatively, freeze the bread in individual slices for up to 3 months.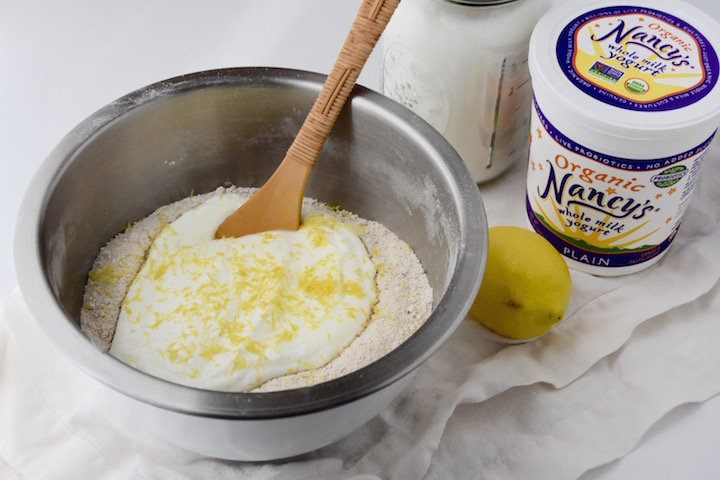 The inspiration behind this recipe comes from my new recipe partnership for 2016 with Nancy's Yogurt, a family owned and operated company based out of Oregon. Their vanilla and maple flavored yogurts are what I remember picking out at our co-op grocery store to eat as a kid growing up in Portland.
Full circle, right? I wanted to put them to the test in baking, since I am such a big fan of incorporating yogurt into baked goods (see these muffins or these brownies).
This bread is a new staple around here, and my multiple test loaves are sliced and hanging out in the freezer for quick breakfasts and snacks.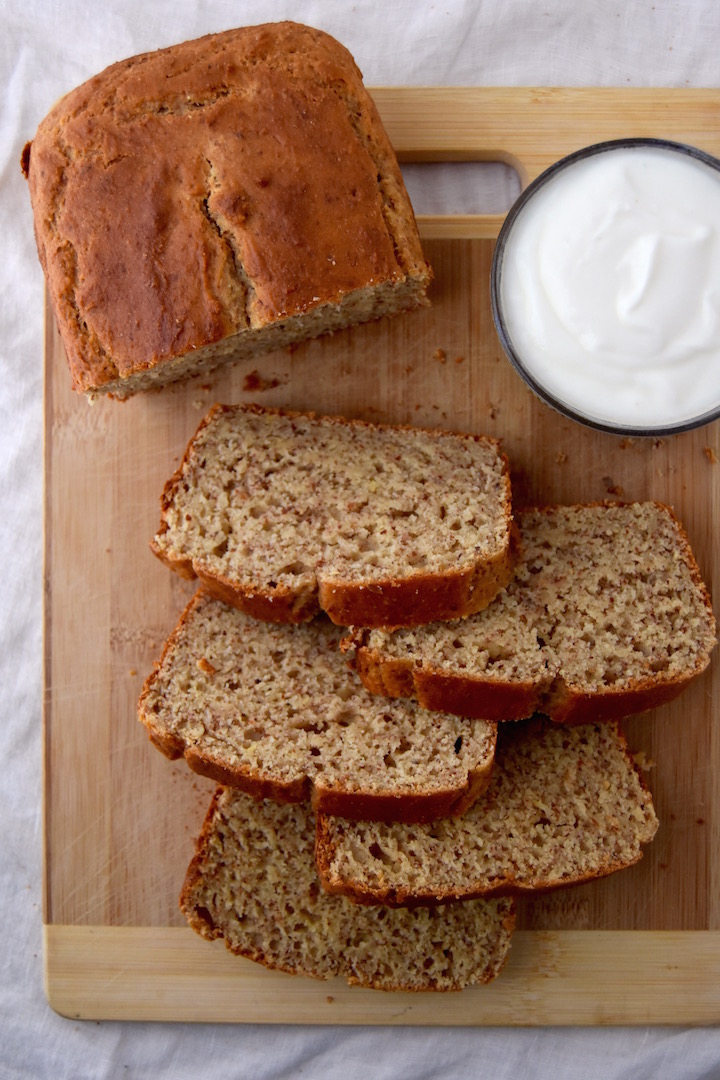 Let me know if you try this quick bread recipe!
Marisa