These simple Sunflower-Oat Thumbprint Cookies with Meyer Lemon Curd are a wholesome treat you can fill with your favorite curd or jam.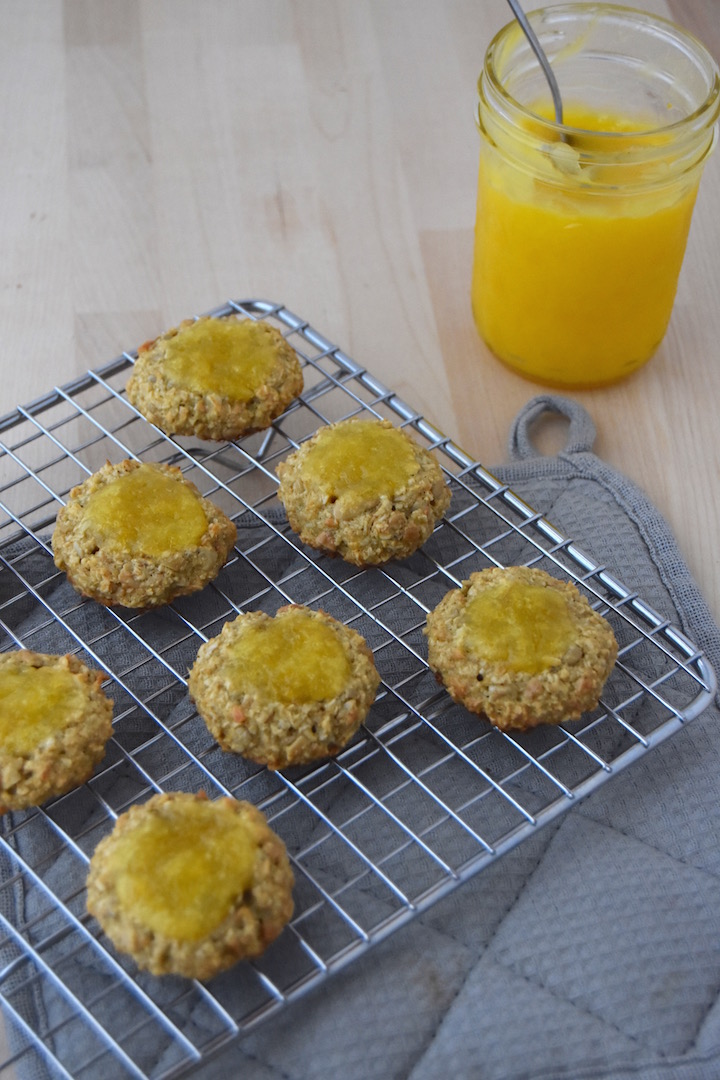 Spring is here! Okay, I know I'm jumping the gun by a week (the equinox is this coming Sunday), but I'm already heavy into my rotation of spring produce and I can't get enough.
If you follow me on Instagram or Snapchat, you know I made a batch of homemade Meyer lemon curd two weeks ago. I followed a recipe from my new canning cookbook from Food in Jars (similar recipe here). The bright, rich yellow color comes from using farmers' market eggs for the recipe.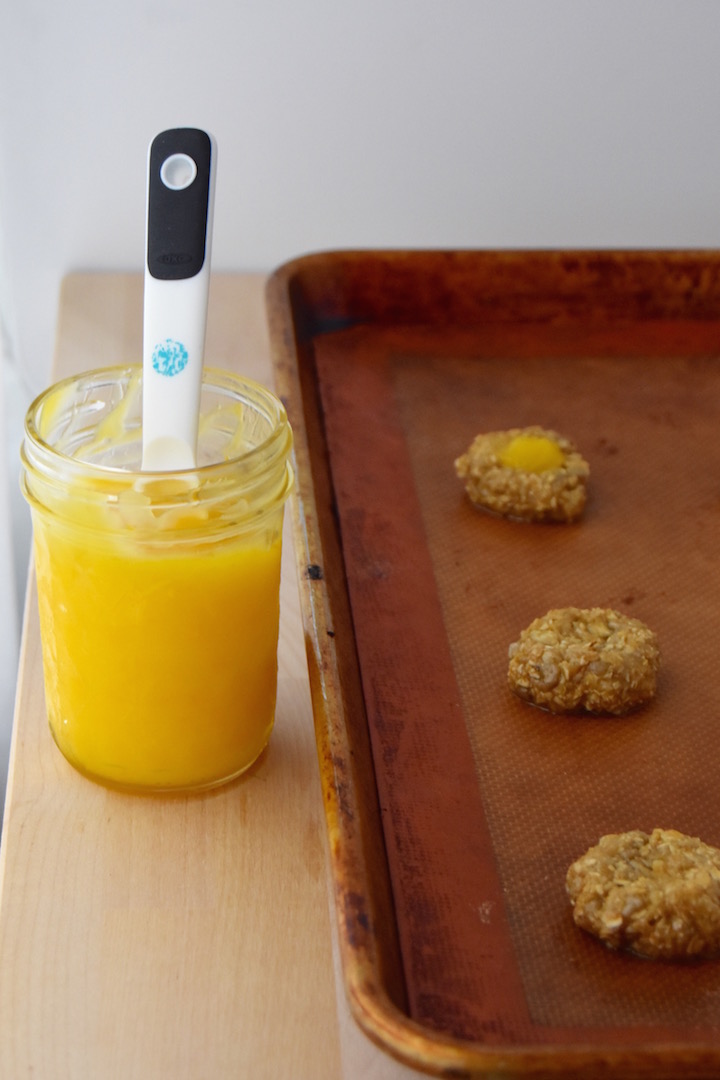 The curd recipe made more than I anticipated, so I've had a delightful amount of lemon curd around for topping oatmeal, stirring into yogurt, and dolloping onto these wholesome Sunflower-Oat Thumbprint Cookies (before baking, pictured above). I also had a lot of spoonfuls straight from the jar.
But enough about lemon curd, and onto these cookies. I've had this combination for a basic snack cookie made with granola ingredients floating in my head for awhile, and I recommend baking these as normal cookies if you aren't a fan of jam because their flavor alone is wonderful.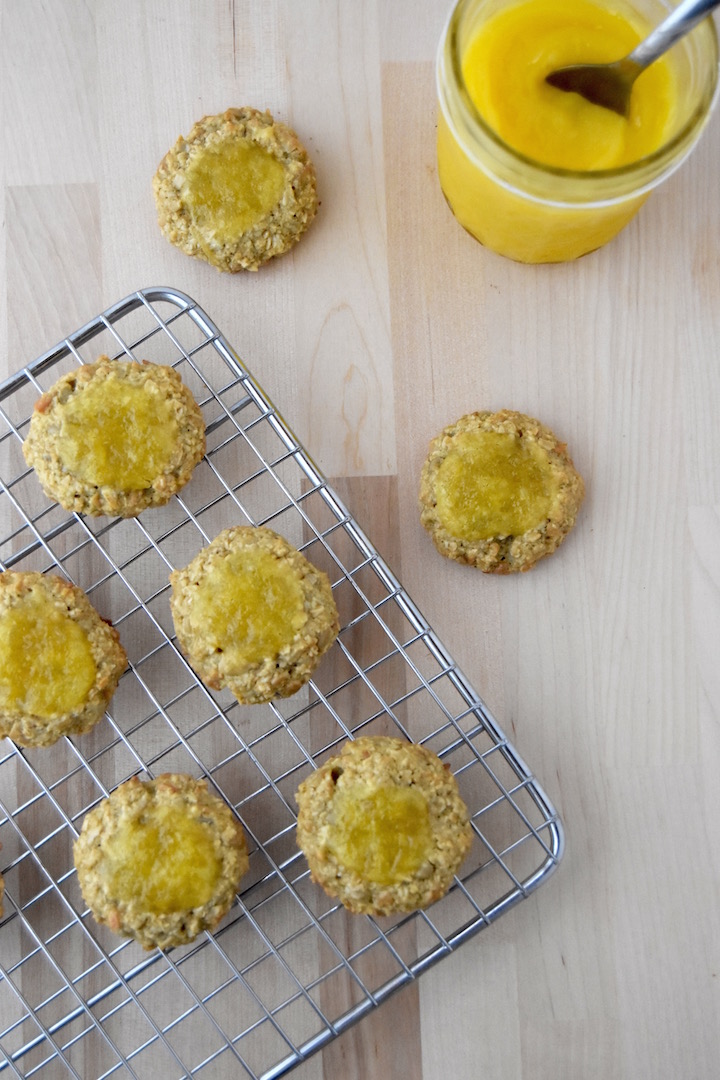 The main ingredients are oats, sunflower seeds, coconut oil, maple syrup, and an egg. They're nutty, lightly sweetened, and chewy – accidentally gluten-free, nut-free and dairy-free (if using jam instead of curd), in case that's important to you!
Because there is no flour in this recipe, it's important that you use a food processor or high-powered blender to break up the seeds and oats well enough. Letting the mixture sit for 10 minutes before shaping and baking is your best bet for nice circular thumbprints – a batch I made without sitting is pictured below as more rustic looking. Up to you and the cookie shape you're going for!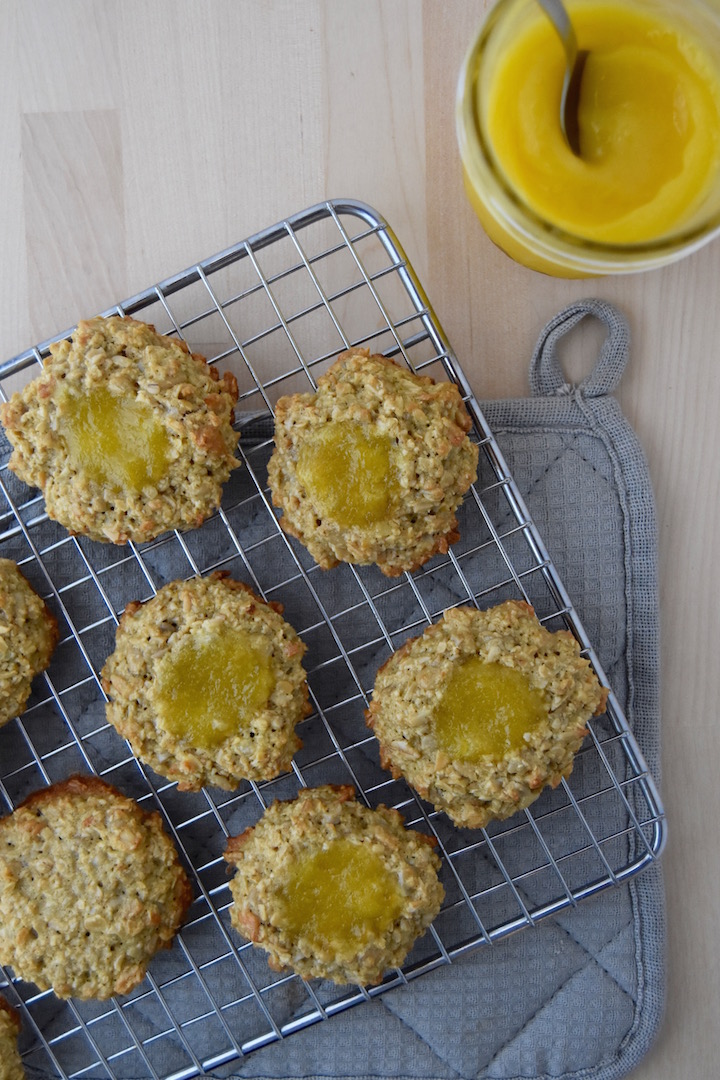 Sunflower-Oat Thumbprint Cookies with Lemon Curd
Author:
Marisa | Uproot Kitchen
Ingredients
2 cups old fashioned oats
1 cup raw sunflower seeds
⅛ teaspoon salt
½ cup coconut oil, melted
½ cup maple syrup
1 large egg
¼ cup Meyer lemon curd (or other jam)
Instructions
Preheat the oven to 350 degrees.
In a food processor, combine oats, sunflower seeds and salt. Pulse together until oats have largely broken up (about 30 pulses).
In a glass ramekin, microwave coconut oil until liquid. Add it to the food processor along with the maple syrup and pulse together until a sticky dough has formed (about 20 pulses).
Remove the blade and stir in the egg to the dough. Let the mixture sit for 10 minutes (oats will absorb any excess liquid at this point).
Prepare 2 baking sheets by covering them in parchment paper or a silicone baking mat. Form dough into small 1 and ½ tablespoon-sized balls, and press them down a bit on the baking sheet to flatten.
Use a ½ teaspoon measure to make indents for the lemon curd (or other jam). Add in ¼ to ½ teaspoon per cookie.
Bake cookies for 12-14 minutes, until golden on the bottom and the edges. Allow cookies to cool on a wire rack.
P.S. The cookie dough tastes incredible. Try it before adding in the egg!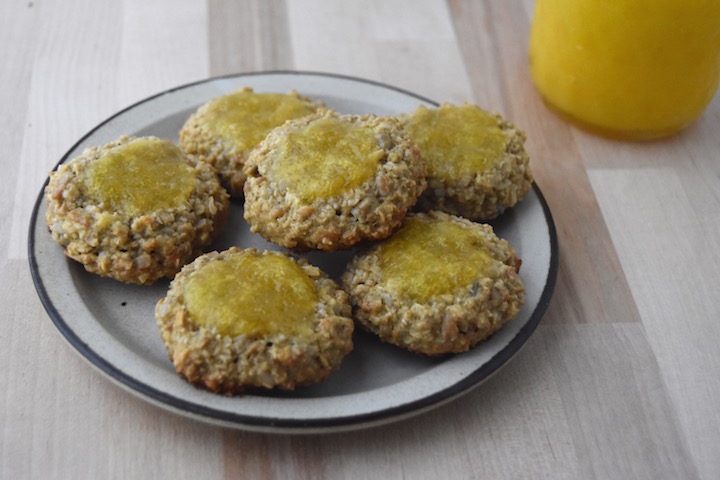 I hope these 
Sunflower-Oat Thumbprint Cookies with Meyer Lemon Curd
 helps you get in the spring time baking mood. I'm thinking another version of my
favorite carrot cake
is in my future.
Marisa