This Potato and Chickpea Curry is a great starter recipe if you're looking to make Indian curry at home. It's a filling and hearty plant-based dinner option (vegan and gluten-free).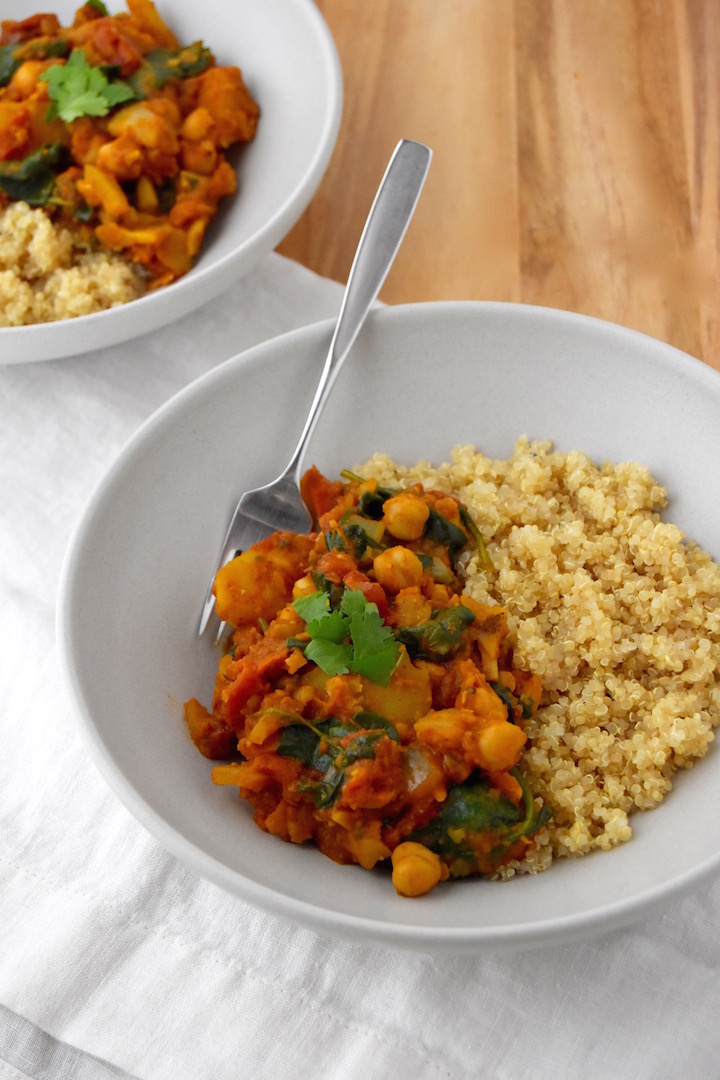 Disclaimer: This post is sponsored by organicgirl as part of an ongoing partnership. I was compensated for my time, and all opinions are my own.
I am still new to the land of homemade curry.
It might be my last experience using too much chili powder in my Spiced Indian Eggplant Curry, or the fact that it's one of my favorite foods to get as take-out.
And yet, I had this idea in my head for a simpler and healthier curry recipe – one we could all turn to and rely on for dinner that didn't have a laundry list of ingredients. One that would make awesome leftovers, too, which is why this recipe serves 6 (I promise, you'll fight over the last portion).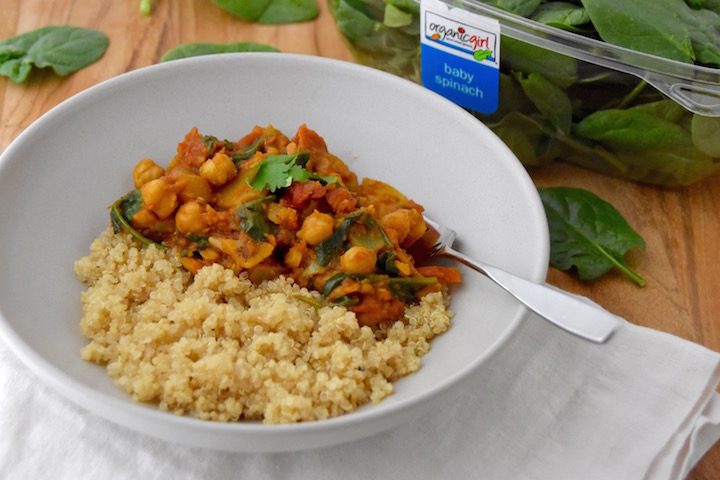 This Potato and Chickpea Curry dish accomplishes many things in comparison to a traditional curry recipe-
REDUCES OIL: Using less oil is not particularly noticeable in the end result, because of the creamy potatoes and chickpeas.
SKIPS THE SPICE LIST: By using a concentrated curry paste, we can skip over finding a blend of spices, which is usually what makes it hard to create awesome Indian curries at home (I use this curry paste).
SKIPS THE LIQUIDS: All you need is water! Once the curry is cooked, we mash a third of the soft chickpeas and potatoes to get a consistency similar to a stew. This gives the sauce a velvety thick texture, without coconut milk or other thickeners.
ADDS IN VEGGIES: I also added in an entire box of organicgirl baby spinach to this curry. Because spinach wilts down so quickly, it's a great way to get a boost of nutrients in this comforting curry. It's my go-to green for any recipe I want to bulk up with greens. You could also add chopped cauliflower or red pepper towards the beginning of the recipe!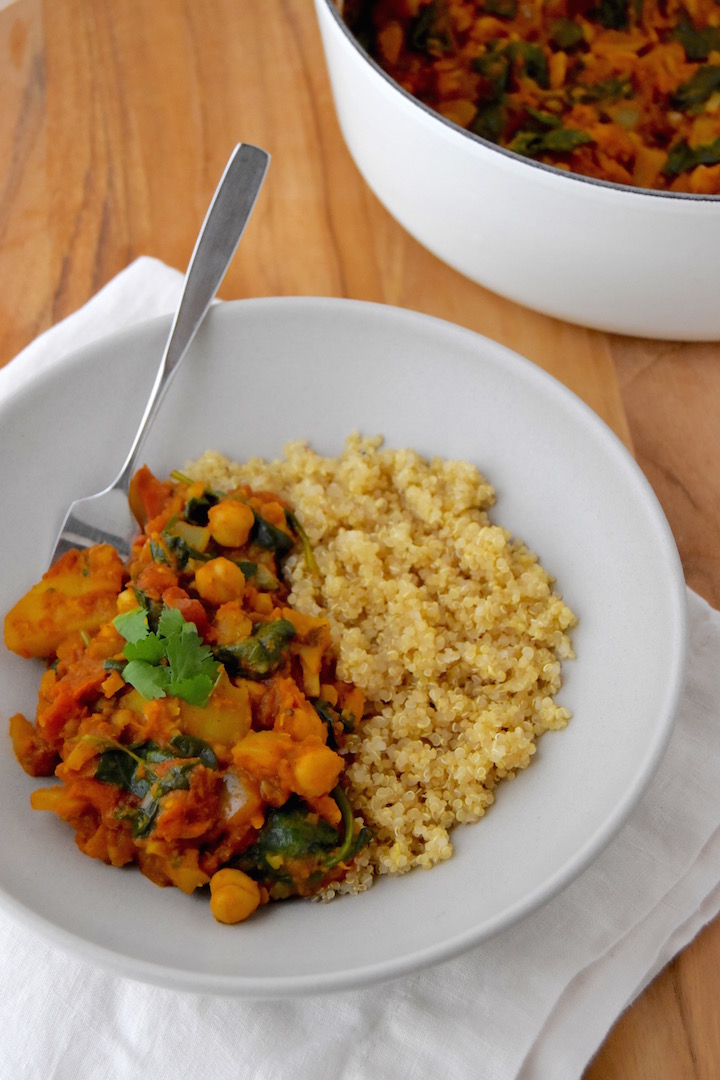 One last thing to note: If you like a saucier curry, simply add an extra cup of water to the recipe when you cook the potatoes. I love the thickness of the recipe as written, but adjust to your taste and experiment!

Potato and Chickpea Curry (Aloo Chole)
Author:
Marisa | Uproot Kitchen
Ingredients
2 tablespoons oil of choice
1 medium onion, diced
2 medium russet potatoes, peeled and diced into chunks
3-4 tablespoons mild Indian curry paste
2 cups water
15 ounces chickpeas, drained and rinsed
15 ounces diced fire roasted tomatoes
6 cups organicgirl baby spinach
Instructions
Add oil to the bottom of a large pot, and turn on to medium heat. Add in diced onion and sauté for 3-4 minutes.
Add in the peeled and diced potatoes, curry paste, and water. Turn the heat up to medium-high and cook for 10 minutes, stirring occasionally until the potatoes are about halfway cooked.
Add in the chickpeas (drained) and fire roasted tomatoes (and their liquid), and reduce the heat to medium-low. Cover the pot and cook for 25 minutes, or until potatoes are cooked through. Check the curry occasionally to stir it, and turn down the heat if the curry is threatening to bubble over.
Once the potato chunks are tender, turn off the heat and use a fork to mash about a third of the mixture in the pot to thicken the curry.
Stir in the baby spinach. It should take a minute or two to wilt with the residual heat of the pot.
Serve over rice, quinoa, or additional greens.
Notes
Use a concentrated curry paste for this recipe - it should have coriander and cumin listed prominently in the ingredients. If you are using a premade curry sauce, reduce the water in the recipe by the amount of sauce you use.
So tell me: Are you intimidated when thinking about making curry at home? Is India on your travel bucket list? (
Read about my trip there!
).
Marisa