This African Peanut and Vegetable Soup is made by combining a rich vegetable broth with a variety of vegetables, filling brown rice, and rich peanut butter. For you peanut butter fans, you'll love this spicy, savory take on peanut butter.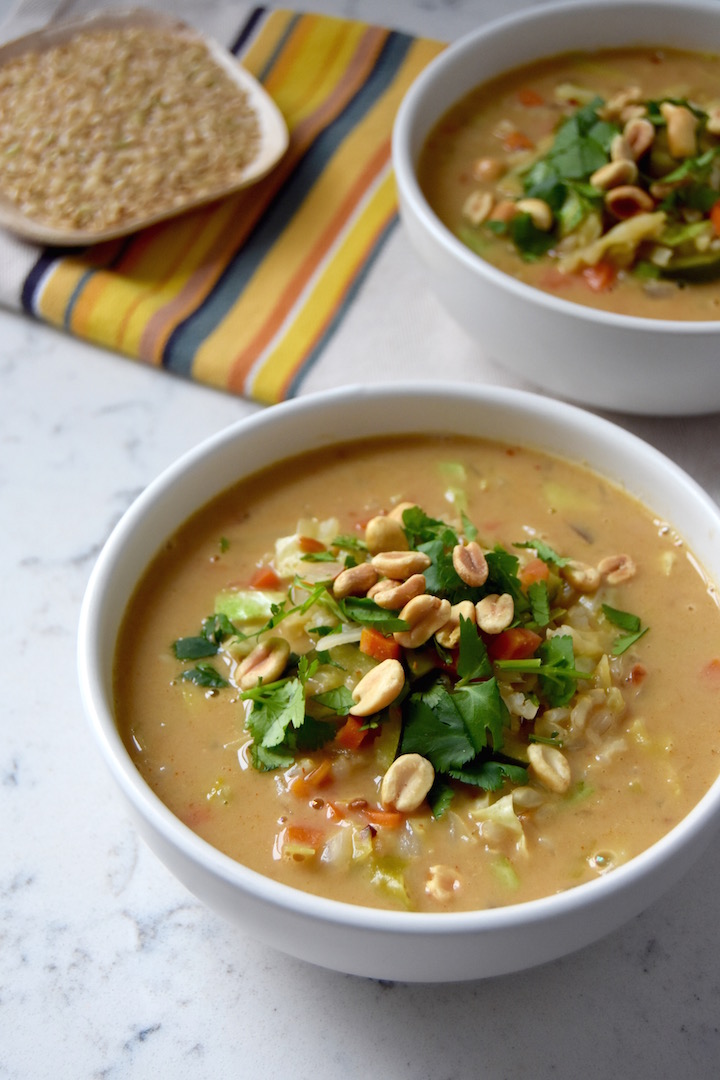 Disclosure: This post is sponsored by USA Rice and the Healthy Aperture Blogger Network, as part of the #ThinkRice campaign. I was compensated for my time, and all opinions are my own.
Let me first make the disclaimer that this soup is inspired by a traditional West African Peanut Soup. I added a ton of vegetables and stirred in short-grain brown rice to make a creamy, warming, and veggie-packed African Peanut and Vegetable Soup, albeit not traditional.
March is National Nutrition Month, and I've teamed up with other bloggers and dietitians from the Healthy Aperture Blogger Network to help inspire you to cook U.S.-grown rice. U.S.-grown rice provides more than 15 (!) essential vitamins and minerals, such as folic acid, B vitamins, potassium, magnesium, selenium, fiber, iron and zinc.
When paired up with veggies and a flavorful, protein-packed broth, this meal is an simple and unique dinnertime winner. The red pepper flakes add some much needed heat and spice.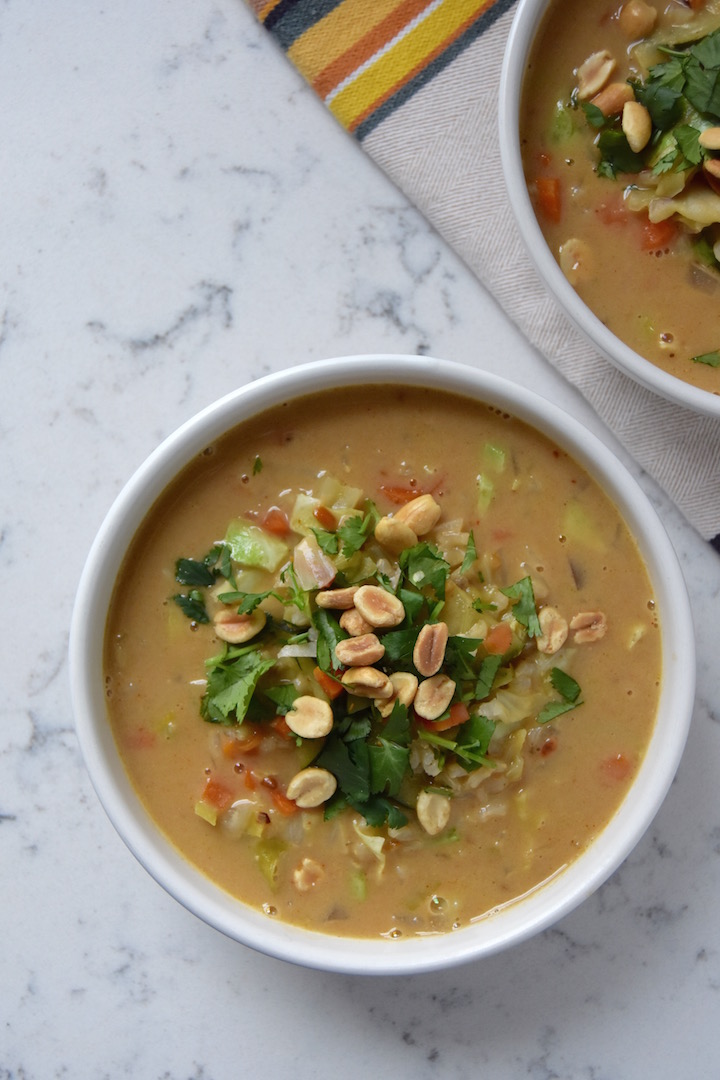 So: Short-grain versus long-grain? You guys know I'm a big fan of rice, whether brown or white, as a side for meals or as part of dishes. It's so easy to make (you can see my favorite rice recipes here), and I use short-grain rice when a dish needs a creamier edge. Long-grain rice, in comparison, is what you want to reach for when you're making a salad or stir-fry.

African Peanut and Vegetable Soup
Author:
Marisa | Uproot Kitchen
Ingredients
¾ cup dry U.S.-grown short grain brown rice
2 tablespoons oil
1 cup diced red onion (~1/2 a large red onion)
1 cup diced carrot (~2 large carrots)
1 teaspoon ground ginger
4 cloves garlic, minced
1 teaspoon salt
4 cups vegetable broth
2 cups water
½ medium cabbage, core removed and thinly sliced
2 cups zucchini, sliced into half moons
¾ cup unsalted peanut butter
1 tablespoon tomato paste
1 teaspoon red pepper flakes
Garnish with dry-roasted peanuts and chopped cilantro
Instructions
About 20 minutes before starting the soup, begin cooking the rice in a rice cooker or separate pot per package instructions. This method allows for really fluffy rice, which will thicken the soup, without extending the cooking time for the soup.
In a soup pot, add in oil and diced onion and carrot. Sauté for 5 minutes on medium heat.
Add in ginger, garlic, and salt, and sauté for 1 minutes until fragrant.
Add in vegetable broth and water, and bring the pot to a simmer. Prepare the cabbage and zucchini while waiting.
Add in thinly sliced cabbage and zucchini slices. Continue cooking on medium-high heat for 10 minutes until cabbage is soft, stirring occasionally.
Stir in the cooked short-grain brown rice, peanut butter, tomato paste, red pepper flakes. Once everything is incorporated and hot, taste test and adjust salt and spice if necessary.
Serve hot soup garnished with peanuts and cilantro.
Notes
If using salted peanut butter, omit the salt added earlier on in the recipe and adjust to taste before serving.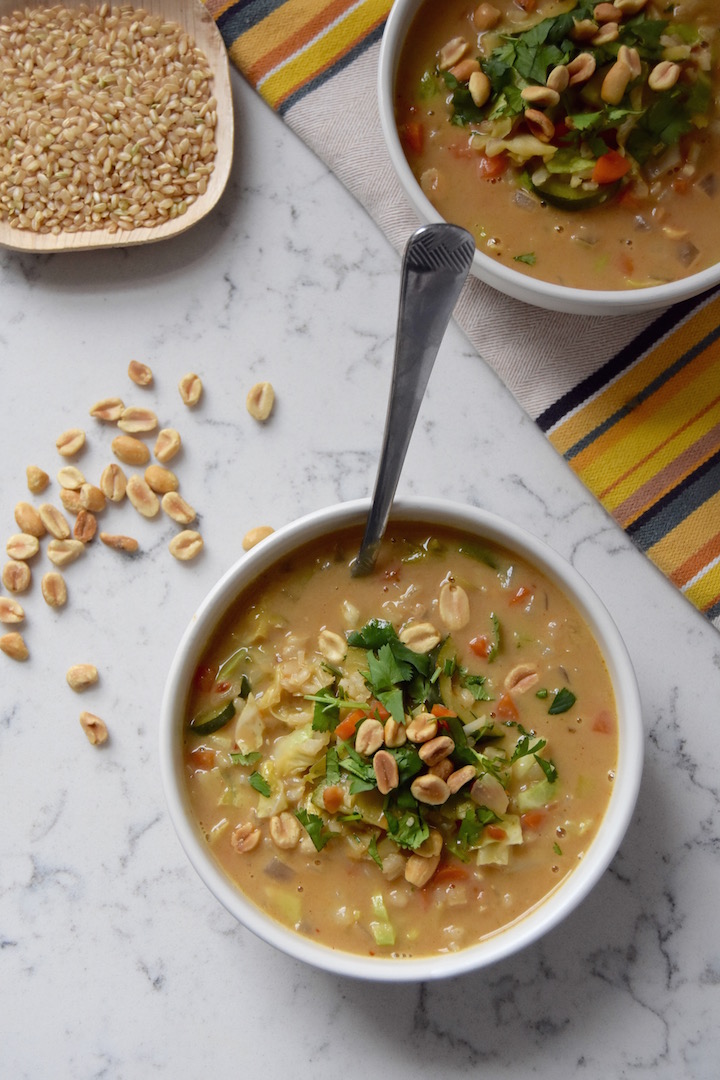 Basically,
consider this soup my continued love letter to the versatility of peanut butter.
I'm sure you already use it to slather on toast or bananas, so add this soup (oh, and
these snack squares
 +
these peanut noodles
) to the list too.
Working on this campaign had me inspecting rice packaging at the grocery store, curious about how many brands were importing product from abroad. I didn't realize how many options there were for U.S.-grown rice! You can look for the "Grown in the USA Rice" logo on packages of domestically-grown rice in grocery stores, a small change you can make in your grocery list with big environmental impact.
Tell me: How do you feel about taking peanut butter savory in a soup? I hope you try it out for a fun change on a chilly evening!
Marisa