You'll love this tasty bowl of Maple Vanilla Oatmeal with Roasted Strawberries, a delicious take on a breakfast staple.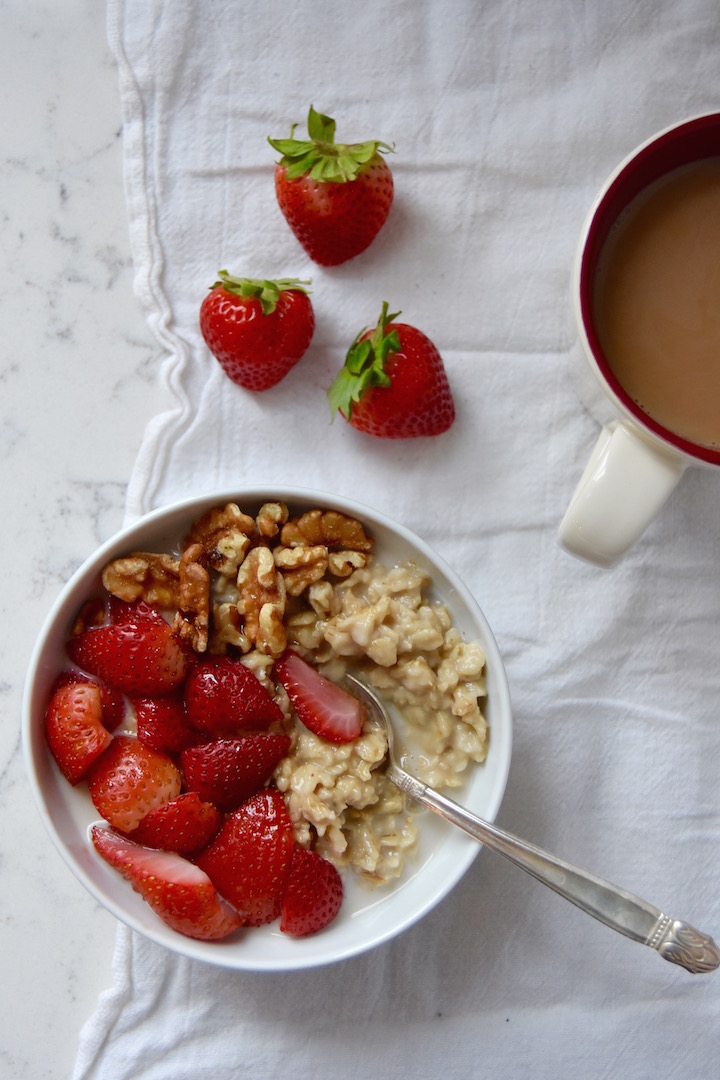 Hello from the other side (… of spring break)! I must say, being in school again does have its perks. I got to spend a relaxing week in Denver with friends, playing in my own kitchen, watching Michael Pollan's new Netflix series, and brainstorming for the backyard garden of 2016.
Noah and I popped into the grocery store to stock up on groceries for the week, and picked out a ruby red package of organic strawberries. While we had pretty much forgotten what strawberries taste like and were eager to bite into them, they were somewhat lackluster compared to the juice-dripping, red-stained summer fruit I hoped for.
So: I roasted them. Holy flavor.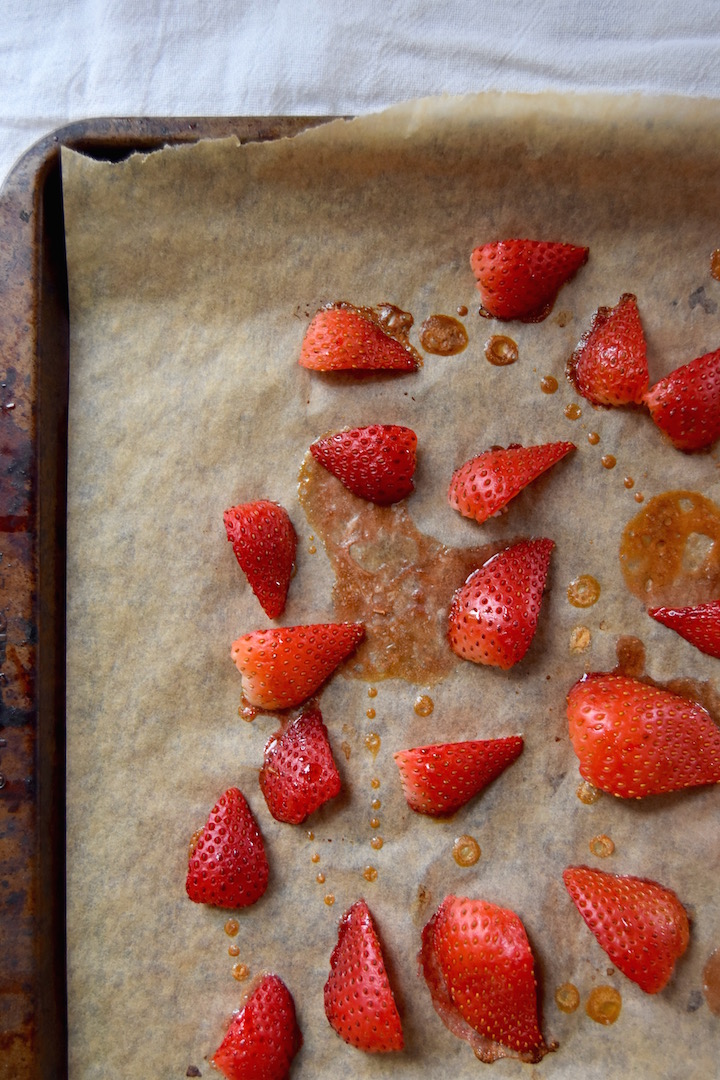 Today, I'm sharing my new take on oats, swirled with maple syrup and vanilla extract and topped with these roasted strawberries – a perfect way to heighten the flavor of these early season berries.
Because there's nothing maple syrup and vanilla extract can't do. Just like me after a second cup of coffee.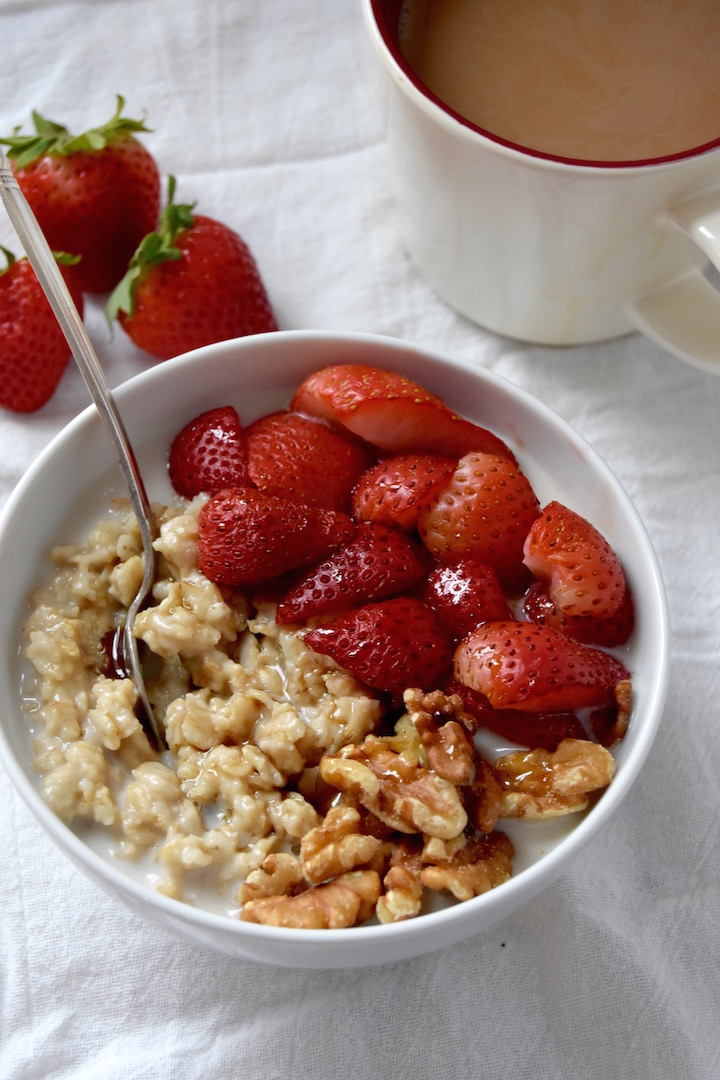 Maple Vanilla Oatmeal with Roasted Strawberries
Author:
Marisa | Uproot Kitchen
Ingredients
Roasted Strawberries
8 large strawberries, hulled and quartered
½ teaspoon maple syrup
¼ teaspoon vanilla extract
Maple Vanilla Oatmeal
1 cup old fashioned oats
1 cup water
¾ cup milk of choice
2 teaspoons vanilla extract
1 generous tablespoon maple syrup
Pinch of salt
Walnuts for garnish
Instructions
Roasted Strawberries
Preheat the oven to 400 degrees.
On a lined baking sheet, toss together quartered strawberries, maple syrup, and vanilla extract.
Roast strawberries for 12-15 minutes until juicy. Set aside to cool.
Maple Vanilla Oatmeal
In a hot pan, toast oats on medium heat for 3-5 minutes until fragrant.
Add in water, almond milk, and vanilla extract. Cook on medium heat for 6-8 minutes until the oats are plump and the liquid is absorbed.
Stir in maple syrup and salt, and thin the oatmeal to taste with additional milk.
Serve oatmeal topped with roasted strawberries and walnuts, additional maple syrup and milk to taste.
Notes
If using unsweetened vanilla-flavored nut milk, reduce the vanilla in the oatmeal to ½ of a teaspoon.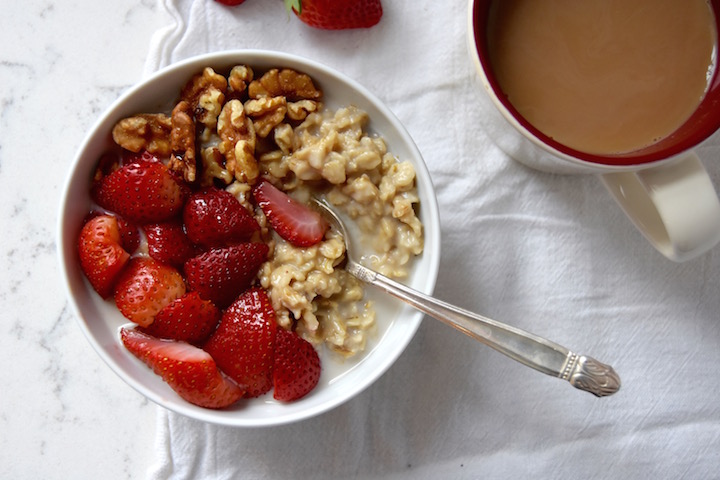 Old fashioned oats are still one of my favorite
pantry
ingredients – perfect for
oatmeal
,
cookies
,
smoothies
, and more. But I think we can all admit a love-hate relationship with oatmeal, thanks to boring oatmeal packets and hurried bowls.
Hopefully this Maple Vanilla Oatmeal with Roasted Strawberries gives you a new idea to rekindle your love, as it did for me. An extra maple drizzle goes a long way for my morning happiness.
Marisa