This simple dish of Roasted Asparagus with Parmesan is a great way to highlight spring flavors, served as a side or over polenta as a meal.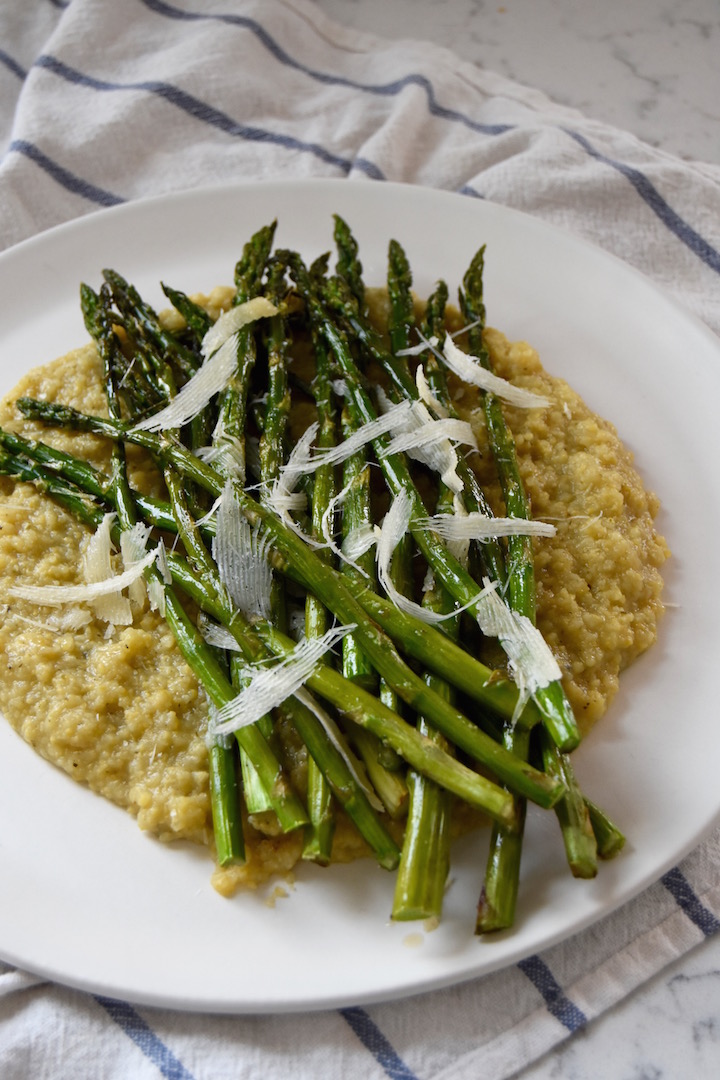 We talk a lot about food here in this space, and I want to share my perspective on an article I read recently today. Skip to the recipe below if you are quickly looking for a tasty way to dress up spring asparagus!
After reading this article,  Millenials Have The Power To Change Our Food System- Why Aren't We?, I've been thinking a lot lately about how my/our generation talks about food. Millennials are considered the foodie generation, and I love how much our focus is returning to the kitchen – whether it be meals with friends, brunch cocktails, food emojis, or Instagrammed photos of farmers market produce (full disclosure: I do this weekly).
That said, to what point does our generation take action on food? When, amidst the restaurant openings and sushi-making classes and kombucha samples in the grocery store, do we step up and ask for food systems change?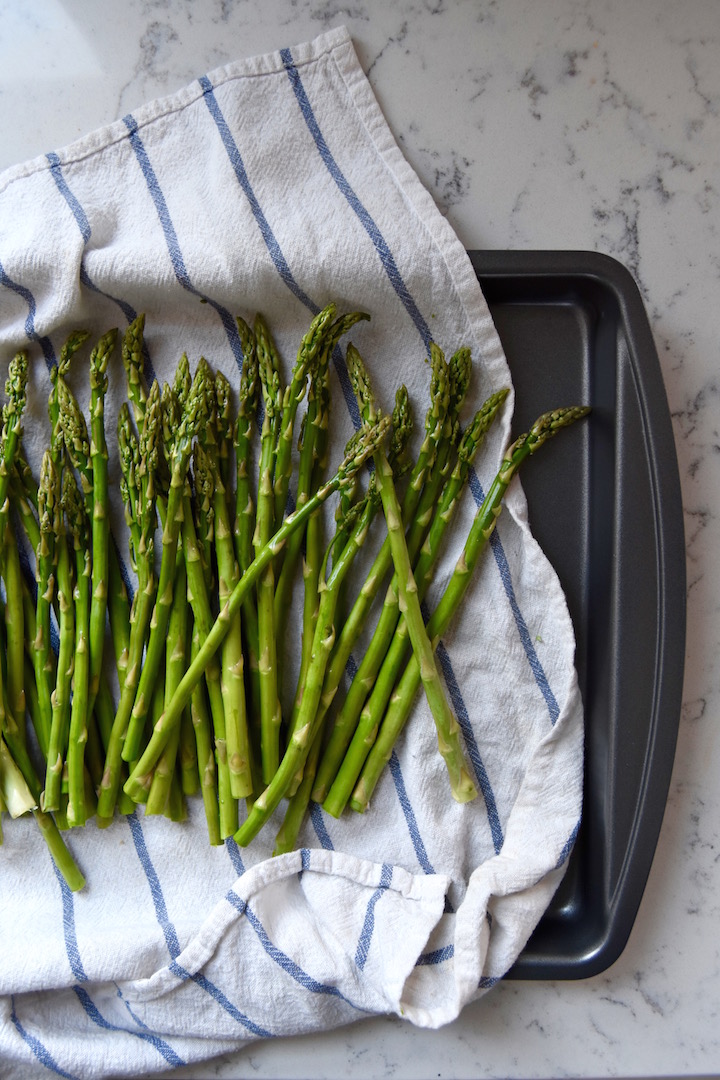 The article argues we don't have enough conversations about things that matter, and I want to push back on that. Perhaps it's the space I'm in now – an academic environment focused around public health – but I truly do think that my generation is thinking about issues around access, food justice, agriculture, healthcare and the environment.
From my classroom discussions, to dinners with friends, to meeting people out in the community, I am constantly in awe of my generation – how much we are already engaged in pushing for change in our food systems.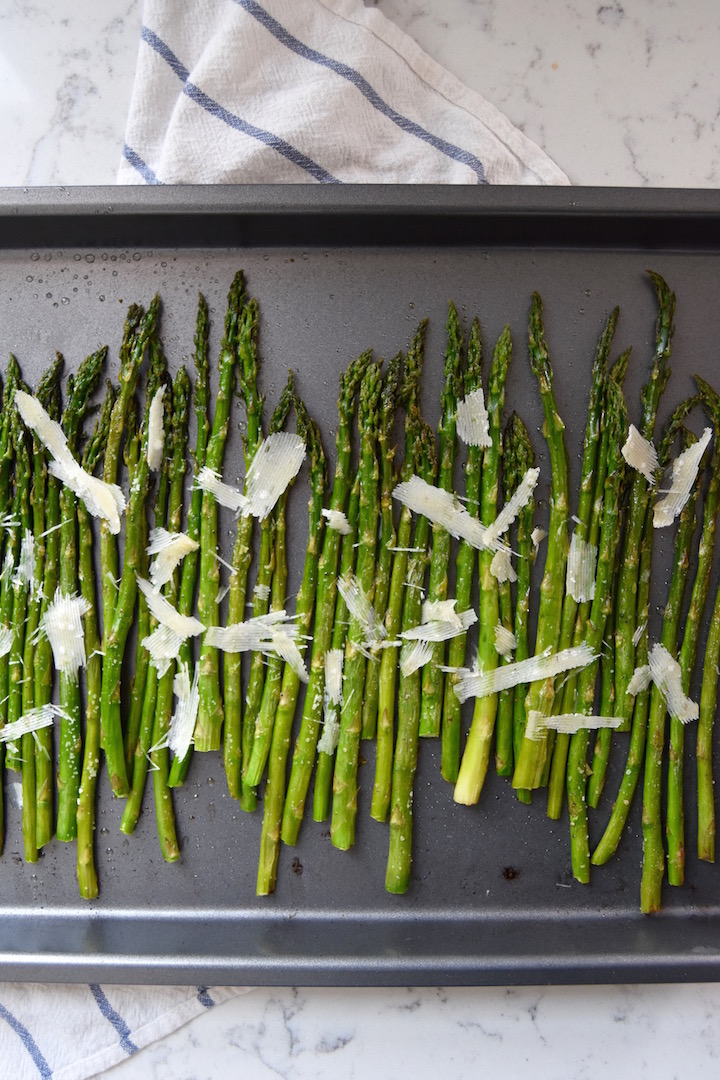 I know many of you are engaged in these topics and care about more than where your food comes from. Have these conversations with friends, your families, your coworkers, so we can all learn from one another and push for change together for a healthier, more just food environment. We should all be engaged in the politics of food, eating 3 meals a day (and of course, snacks too).
Now, I know you didn't come here to hear me just rant this morning. I have a recipe too! This lovely, thin spring asparagus has been showing up in the farmers' market and grocery stores, and I wanted to share my favorite simple roasting technique.
Fresh parmesan cheese brings a fruity, nutty edge to the bright, earthy flavors of asparagus. I like serving it as a side dish, or over polenta for a simple meal. Feel free to fry an egg to put on top and make this breakfast!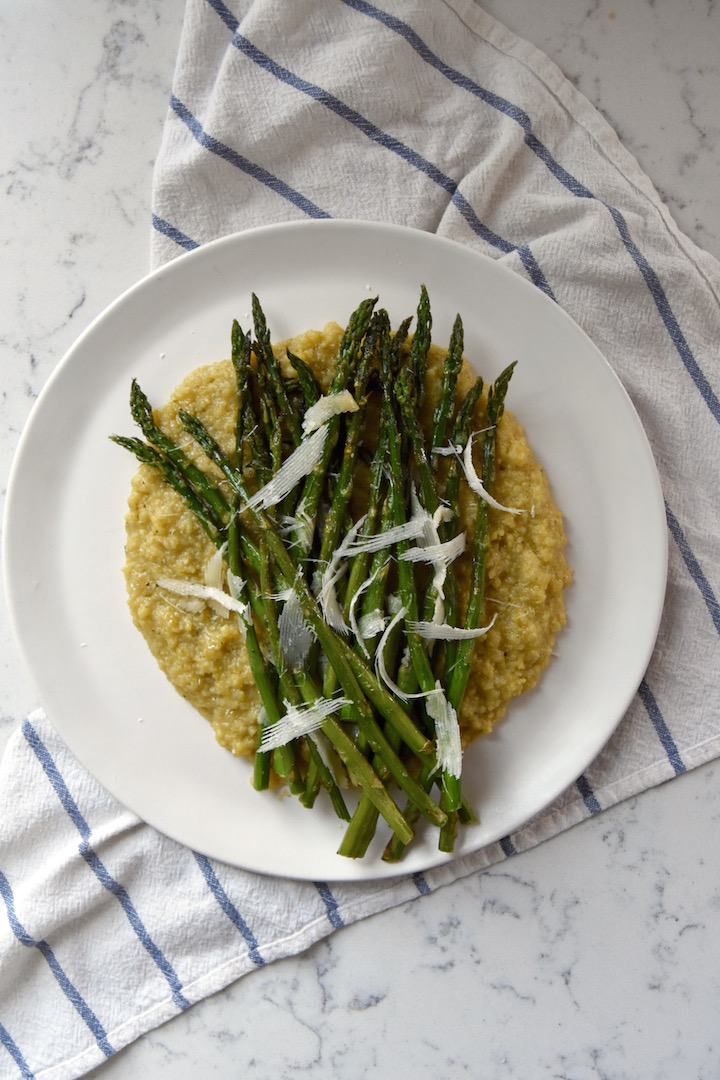 Roasted Asparagus with Parmesan
Author:
Marisa | Uproot Kitchen
Ingredients
1 bunch fresh asparagus, ideally thin spears
1 tablespoon olive oil
⅛ teaspoon salt
Fresh ground pepper
¼ cup fresh shaved Parmesan cheese
Drizzle of olive oil
Optional: 17-ounce pre-cooked package of polenta (see notes)
Instructions
Preheat the oven to 400 degrees.
Rinse and dry your asparagus, and trim about 1" off the end to get rid of the tough stalks.
Toss asparagus with salt and pepper, and roast for 15-20 minutes in a preheated oven. Time depends on size - larger stalks will take a few more minutes. You want the tips to begin to brown and the stalks should be easily pierced by a fork.
In the meantime, shave Parmesan cheese using a vegetable peeler or cheese grater.
When the asparagus is done, remove it from the oven and sprinkle the Parmesan cheese shavings overtop. Drizzle with olive oil if desired.
Serve hot as a side dish, or over polenta for a meal.
Notes
The pictured recipe includes a package of pre-cooked (heat and serve) polenta, simmered on the stove while the asparagus was roasting.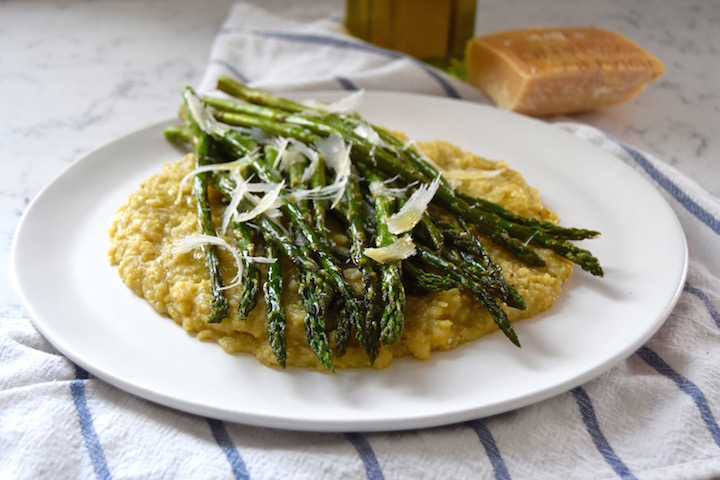 What's your favorite way to eat asparagus?
I'd love to hear your thoughts about the article in the comments!
Marisa