This Lentil Minestrone Soup is full of Italian flavor, plant-based protein and hearty vegetables. It's a perfect soup to prep for the week or freeze for leftovers.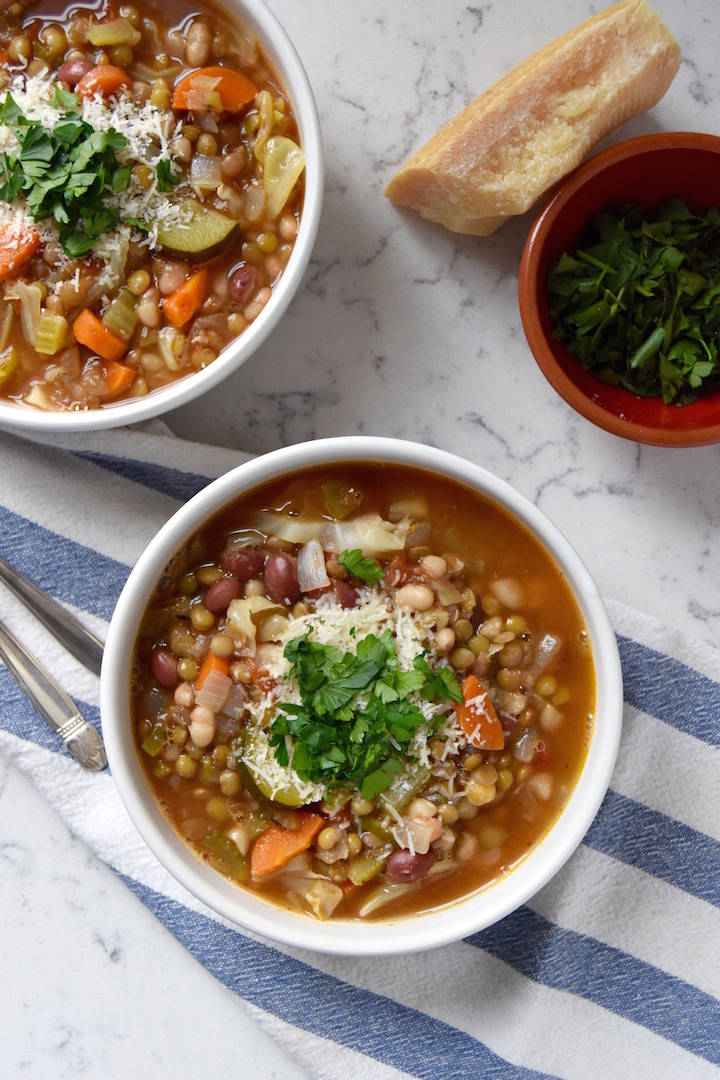 So it may feel like summer here already in Berkeley, but it's technically still spring, there's still a chill in the evenings, and it's snowing at my house in Denver.
Soup is still a favorite dinner option for a cozy, veggie packed, flavorful meal. I love the combination of onion, carrots, and celery as a base for this minestrone.
I try to make big batches of meals for the week, and this is no exception – the big batch of soup freezes perfectly or gives you filling soup bowls all week.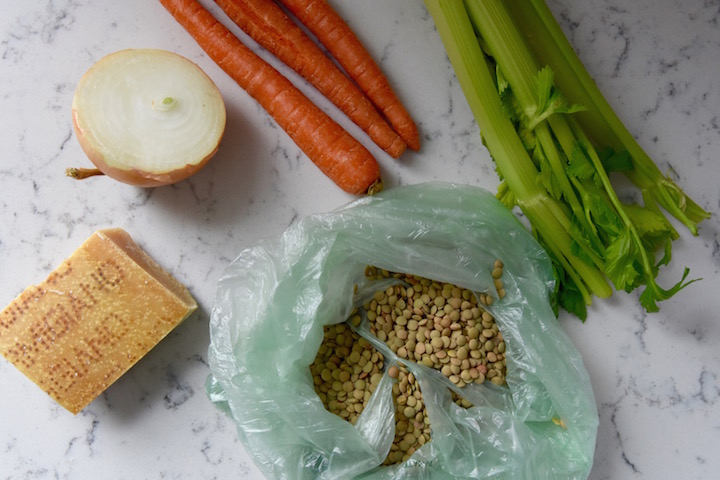 You can assemble this soup with some humble vegetables – onion, carrot, celery, and cabbage. Green lentils, diced tomatoes, and beans add heft to the flavorful rich broth.
Grated Parmesan and herbs take everything over the top!
This is a great base recipe you can take and make your own, keeping the proportions similarly. Swap in your favorite seasonal vegetables, whether you'd prefer more carrot, add in leeks or substitute the zucchini with a bunch of fresh greens right at the end.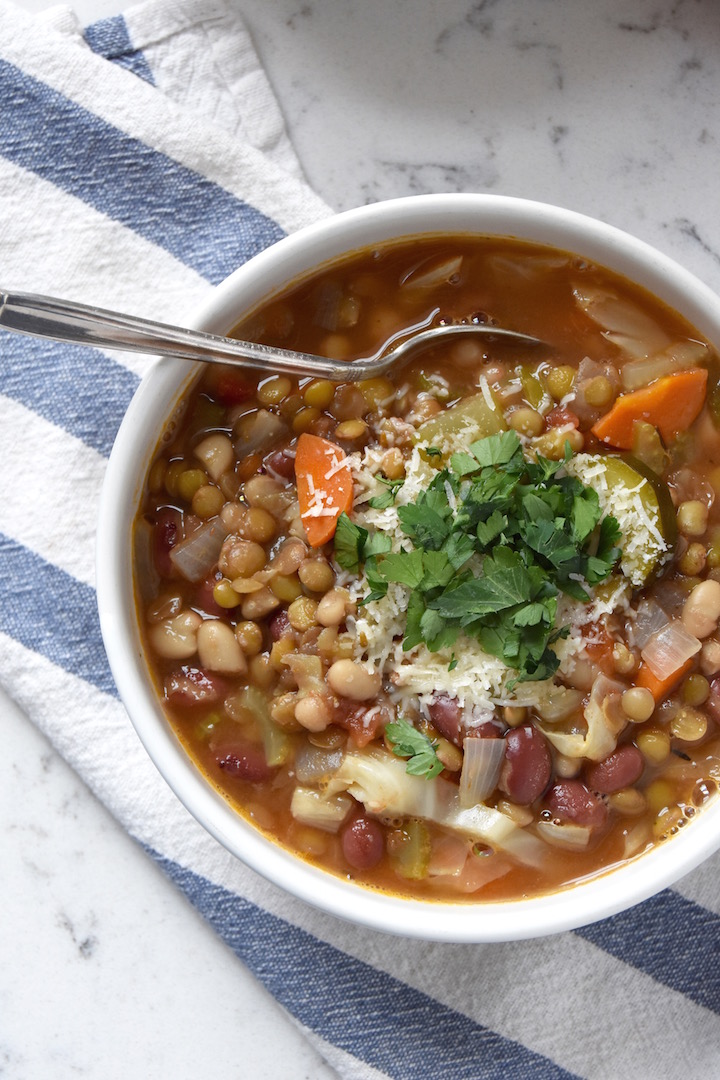 Lentil Minestrone Soup
Author:
Marisa | Uproot Kitchen
Ingredients
2 tablespoons olive oil
2 cups chopped white onion
2 cups chopped carrots
2 cups chopped celery
3 large cloves garlic, minced
4 cups vegetable broth
4 cups water
1 cup dry green lentils, rinsed
28-ounce can diced tomatoes
2 15-ounce cans navy beans, drained and rinsed
15-ounce can red beans, drained and rinsed
½ small green cabbage, shredded (3-4 cups)
2 small zucchini, sliced into half moons
1 teaspoon salt
½ teaspoon dried thyme
½ teaspoon dried rosemary
½ teaspoon dried oregano
Garnish with grated Parmesan and chopped Italian parsley
Instructions
In a large soup pot, warm up the oil and begin sautéing the chopped onion, carrots, and celery.
Once softened (about 5 minutes), add in the minced garlic and sauté for a minute and then add in the vegetable broth, water, and lentils.
Cook everything together for 20-30 minutes on low heat, covered, until the lentils are almost fully cooked.
Add in the diced tomatoes, drained and rinsed beans, shredded cabbage, sliced zucchini, salt, and herbs. Let the soup simmer for 10 minutes, uncovered, until the cabbage is soft.
Taste the soup and adjust seasonings to taste. Garnish the soup with fresh grated Parmesan and chopped parsley.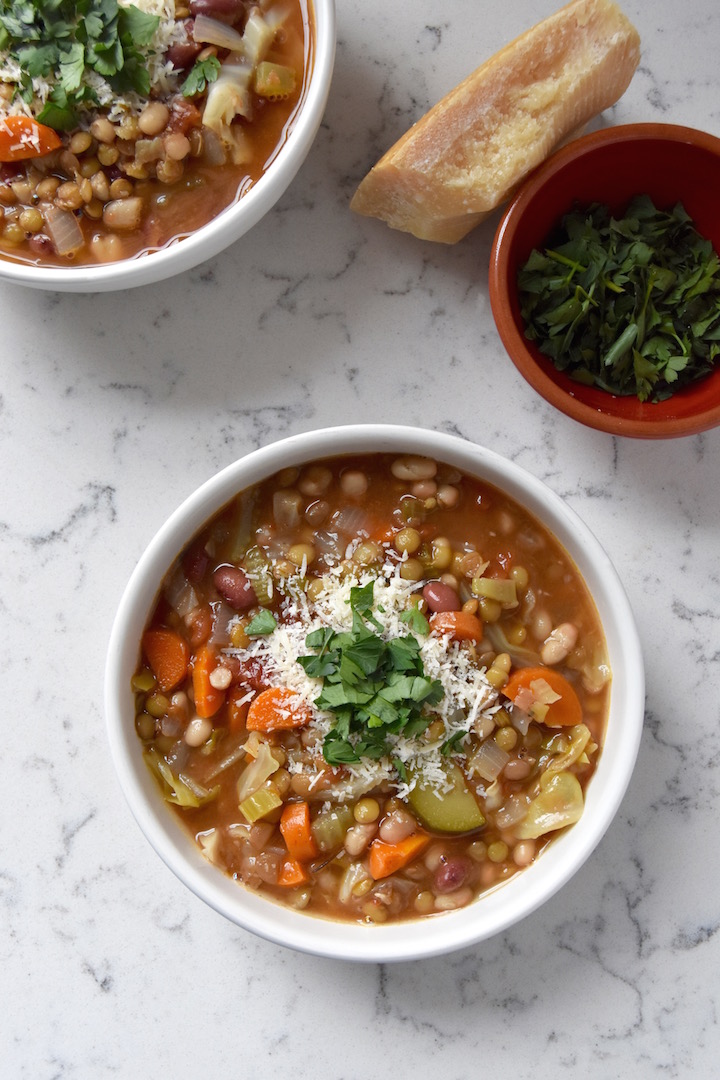 I served this soup to a hungry bunch, and we devoured it alongside extra Parmesan and baguette bread. It hit the spot and left everyone with full and warm bellies.
Hope you enjoy this soup on a chilly evening soon. It's one of my new favorites, and that says a lot when it comes to soup – since I'm a soup fanatic!
Enjoy!
Marisa