This Leaf Lettuce Salad with Black Rice, Snap Peas and Avocado is full of fresh spring produce, and is a great vegan lunch salad packed with veggies, whole grains, and satisfying fats.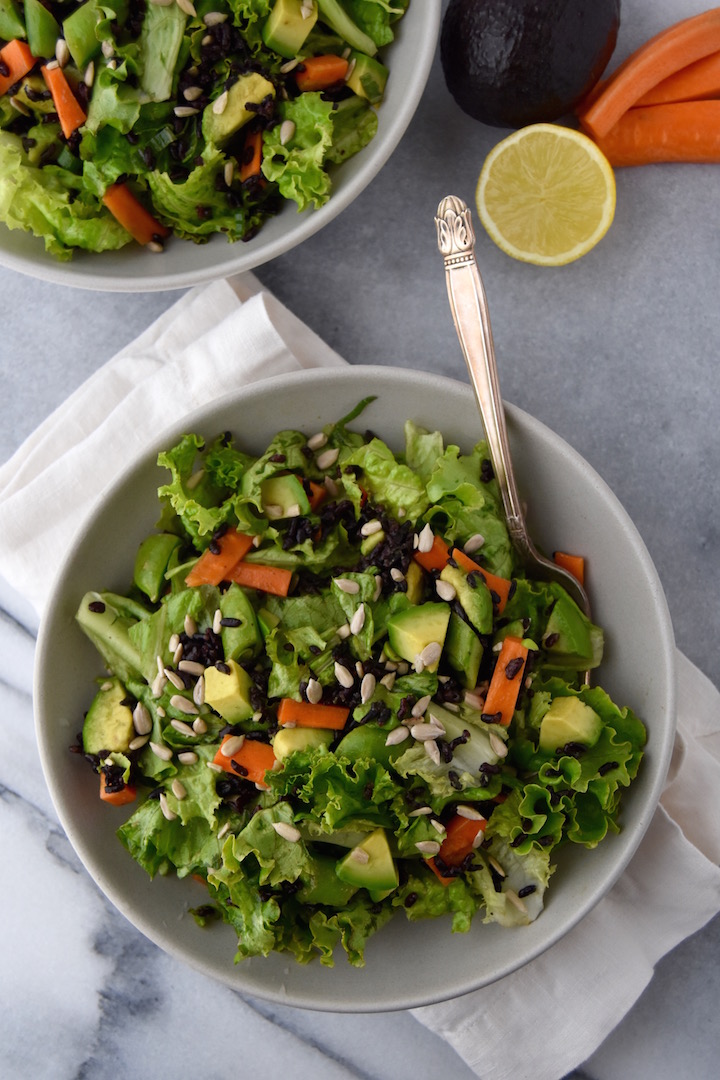 Let's celebrate that it's May and officially Salad Month.
What? You didn't know about salad month? Well, neither did I, but spring greens are at their peak so I understand why everyone's all of a sudden on board with more salad. I'm not complaining!
This salad was inspired by a recent farmers' market haul packed to the brim with this beautiful lettuce, crisp and sweet snap peas, and the green shoots of my spring onions.
I made a big batch of this salad that I ate from all week, and then Noah visited and I recreated it for him too. The verdict? A vibrant salad packed with plant-based protein that we can't stop craving!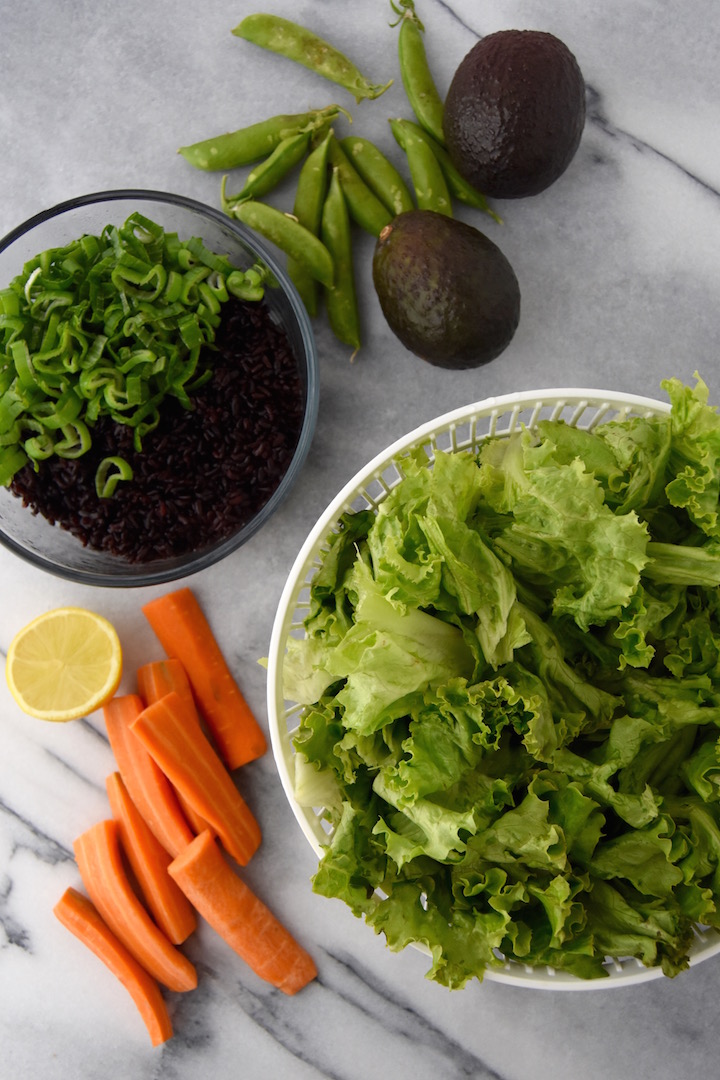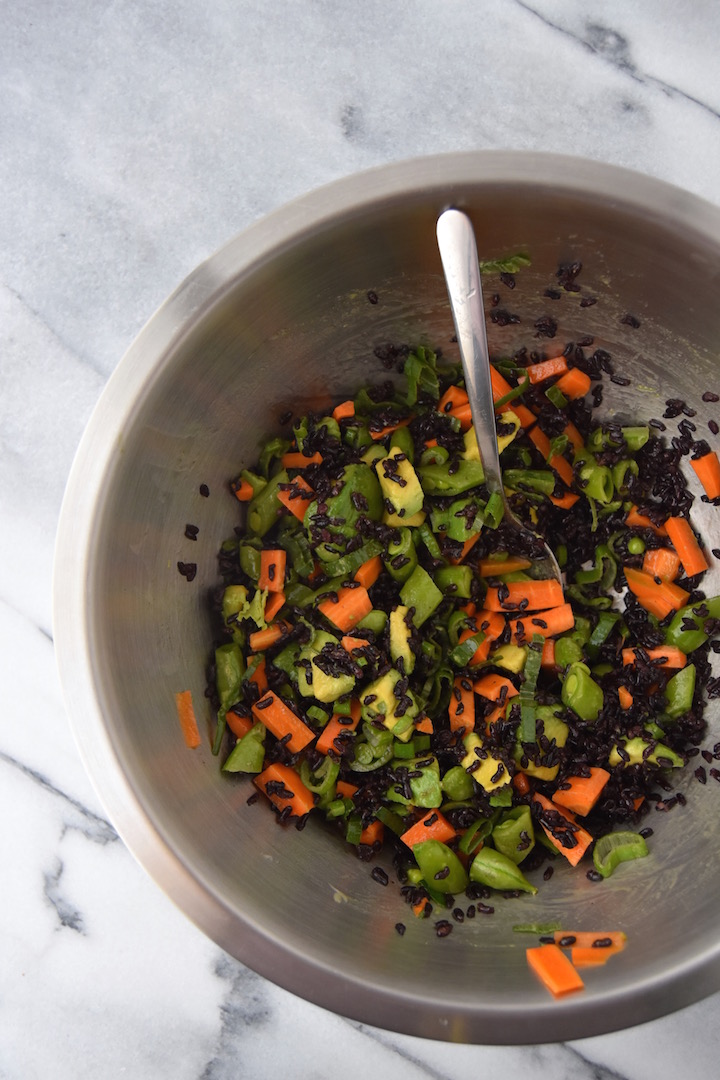 How about some ingredient 101? I just learned the name of this lettuce!
Pictured in this salad is leaf lettuce, popular at the farmers' market during the spring. Leaf lettuce comes in both green and red tipped varieties. I love it's sweet, mild flavor- making it versatile for this salad among others.
I also love the tender greens contrasting with the bright carrots and black rice, also known as forbidden rice. It's a wild rice, with a nutty flavor and chewy texture, and like all colored rices, it contains plant pigments called anthocyanins (linked to positive health effects). Read more about it in this NPR article!
Finally, instead of green onions, I used the green shoots of my spring onions in this salad. Spring onions look similar to green onions or scallions, but have onion bulbs at the base. They're basically a more mature version with a stronger onion flavor. Either works for this recipe, and with the spring onion, you get the bonus of using the baby onion in addition to the tops.
Ok – session dismissed. Let's dig in!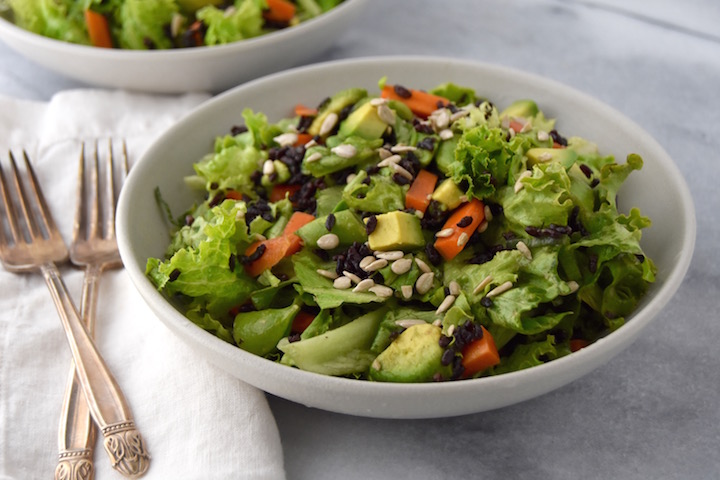 Leaf Lettuce Salad with Black Rice, Snap Peas and Avocado
Author:
Marisa | Uproot Kitchen
Ingredients
2 cups cooked black rice
1 large carrot, chopped (1 cup)
1 cup chopped sugar snap peas
1 medium Hass avocado, cubed
⅓ cup chopped green onion or tops of spring onions
¼ cup sunflower seeds
½ lemon, juiced
2 tablespoons avocado oil
Scant ¼ teaspoon salt
1 large head of leaf lettuce, about 6 cups packed
Instructions
Prepare black rice (also known as forbidden rice) according to package instructions. About ¾ cup dry rice will yield 2 cups cooked.
Chop up carrots, sugar snap peas, avocado, and green onion, and place them in a bowl. Add in cooked black rice and sunflower seeds.
Toss the mixture together with lemon juice, oil, and salt.
Rinse and dry lettuce, and rip or chop the lettuce into bitesize pieces. Add the lettuce to the bowl and toss well before serving.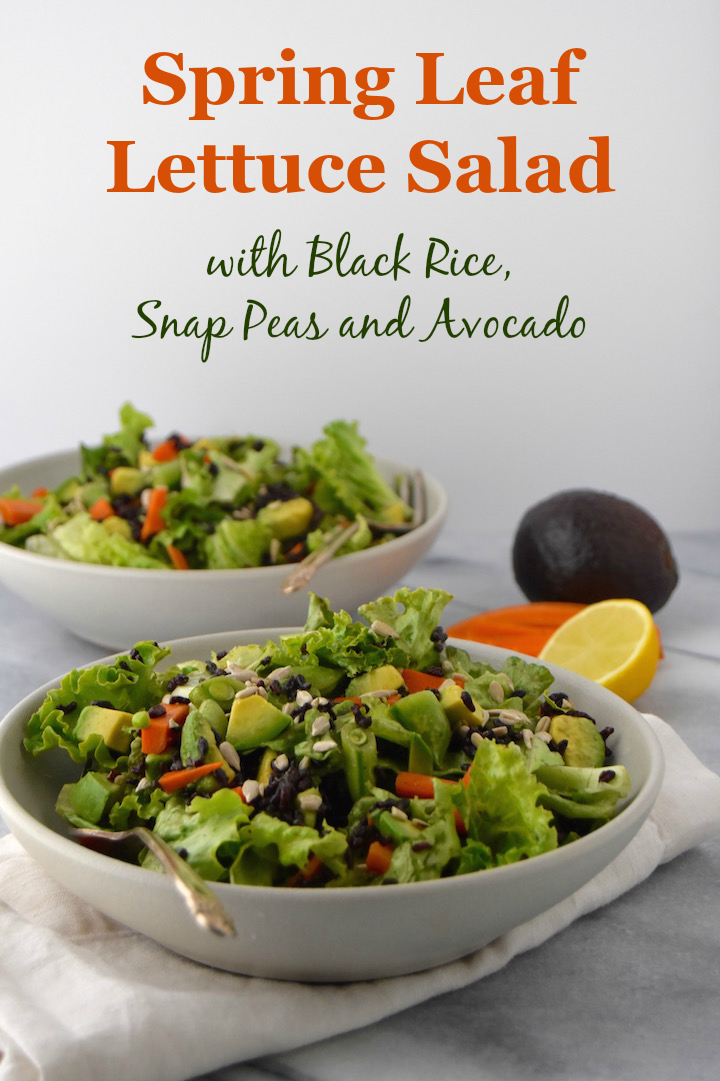 I hope you try this simple combination for lunch soon – let me how you enjoy it!
Marisa