This Berry Thyme Cornbread is the perfect summer side dish for barbecues, picnics, and dinners on the patio. With bursting sweet berries and savory earthiness from the thyme, it pairs with a variety of other dishes.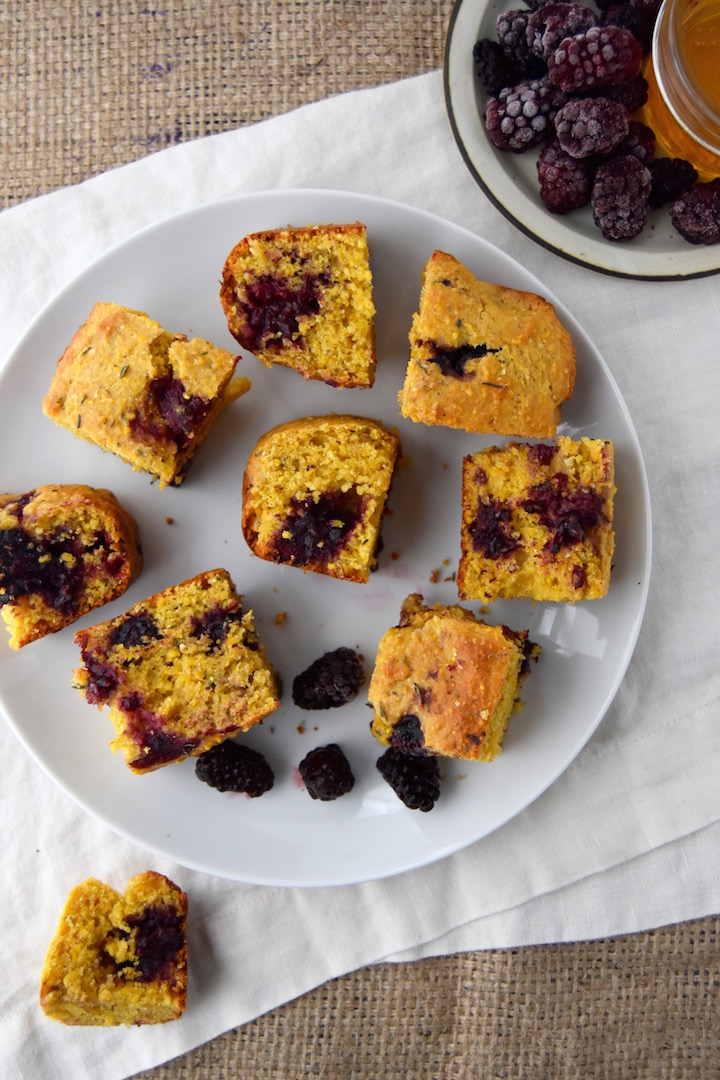 Disclaimer: This post is sponsored by the Oregon Raspberry and Blackberry Commission. I was compensated for my time, and all opinions are my own. You can find frozen Oregon berries at Whole Foods or Natural Grocers – look for brands like Stahlbrush Island Farms (pictured below – love their packaging artwork!).
Is it just me or are we all ready to jump on the summer food bandwagon? I've been enjoying salads, smoothie bowls, and now – cornbread. Bring out the BBQ chicken and a big fresh salad and I'm happy.
This recipe takes your typical cornbread for a little loop, lowering the sugar content while adding in sweet, bursting marionberries and some earthy thyme. The trick to baking with berries is to use frozen berries without thawing them – what I use for all my baked goods – and toss them in a bit of flour to prevent them from all sinking to the bottom.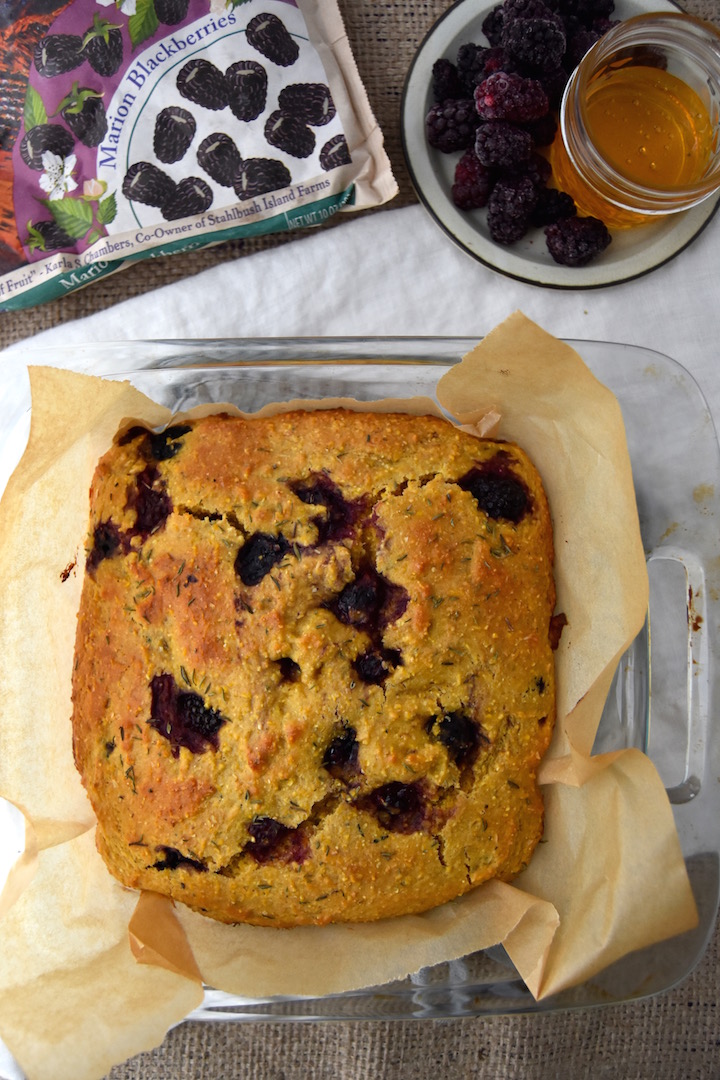 The final product is a savory Berry Thyme Cornbread recipe, perfect for your dinner plate or part of your picnic spread. Frozen berries are great to have on hand for smoothies and sweet baked goods, but their explosive fruit flavor shines in this savory cornbread.
The best part of frozen berries? You can get your fix any time of the year. Meaning I don't have to wait for berry season – score! I do miss summer berry picking, though, if anyone knows of any good places around the Bay Area. I used to get my fix of marionberries + other berries at Sauvie Island just outside of Portland – but I love that I can still find my favorite Oregon marion blackberries in the freezer section of the grocery store, picked at their peak.
Don't miss another of my favorite marionberry recipes,Greek Yogurt Marion Blackberry Muffins with Honey Oat Streusel. And Whole Wheat Marionberry Thumbprint Cookies.
You'd rather have raspberry thyme cornbread? Do it! You can substitute in your favorite frozen summer berry to mix up this recipe.

Berry Thyme Cornbread
Author:
Marisa | Uproot Kitchen
Ingredients
1 cup white whole wheat flour
1 cup medium grind cornmeal
1 tablespoon baking powder
¾ teaspoon dried thyme
¾ teaspoon salt
½ cup water or milk
¼ cup avocado oil or other neutral oil
¼ cup honey
2 large eggs
1 cup frozen marionberries (do not thaw)
Instructions
Preheat the oven to 400 degrees.
Combine flour, cornmeal, baking powder, thyme, and salt in a bowl. Stir well.
Add all the liquids to the same bowl: water or milk, oil, honey, and eggs. Mix until just combined and let sit for 10 minutes.
Toss frozen berries with a bit of flour and stir into the cornbread mixture.
Line an 8x8 pan with parchment paper and spread cornbread into pan.
Bake for 24-28 minutes, until a knife comes out clean from the middle of the cornbread and the top is well browned. Allow the cornbread to rest for 10-15 minutes before slicing.
Notes
Cornbread is best the day-of. Store extra slices in an airtight container on the counter for up to 3 days once cool, or freeze individually wrapped portions for up to 1 month.
I use medium-grind cornmeal for this recipe for extra texture, but feel free and substitute regular cornmeal.
If you're substituting in fresh thyme, use 2 tablespoons of the chopped fresh herb.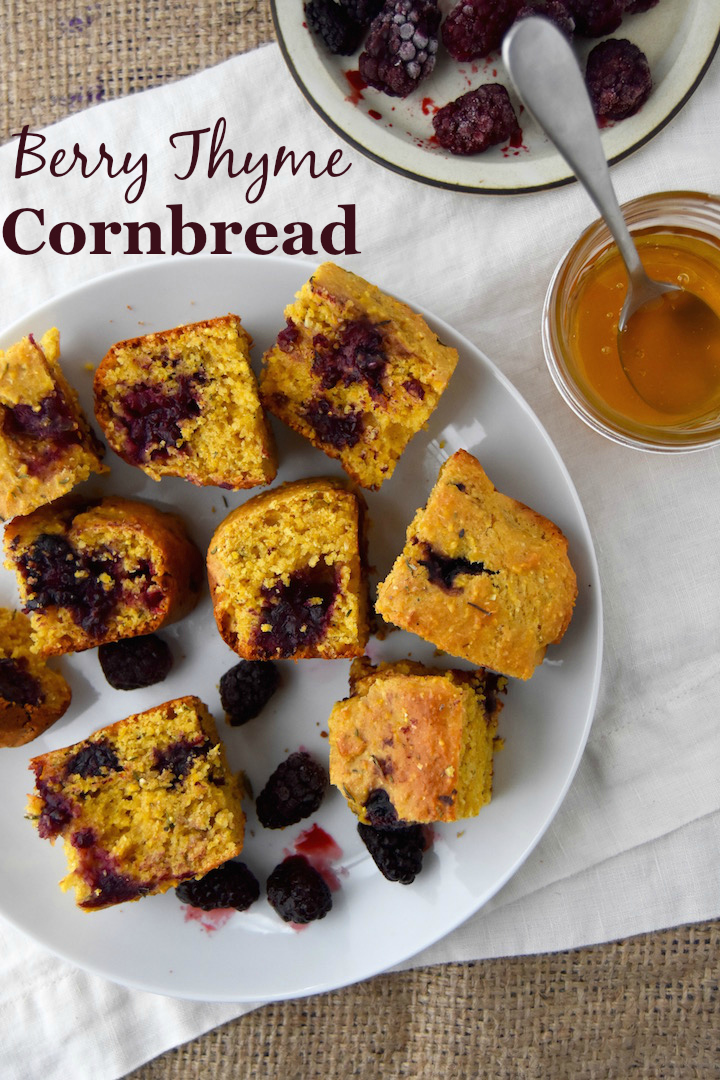 I just love that crispy bottom crust that forms, golden brown from the honey.
Dig in!
Marisa