This Rhubarb Oat Smoothie is a simple way to enjoy the season's special stalk. A simple rhubarb compote is blended with frozen banana, Greek yogurt, and old fashioned oats for a sweet and tart treat.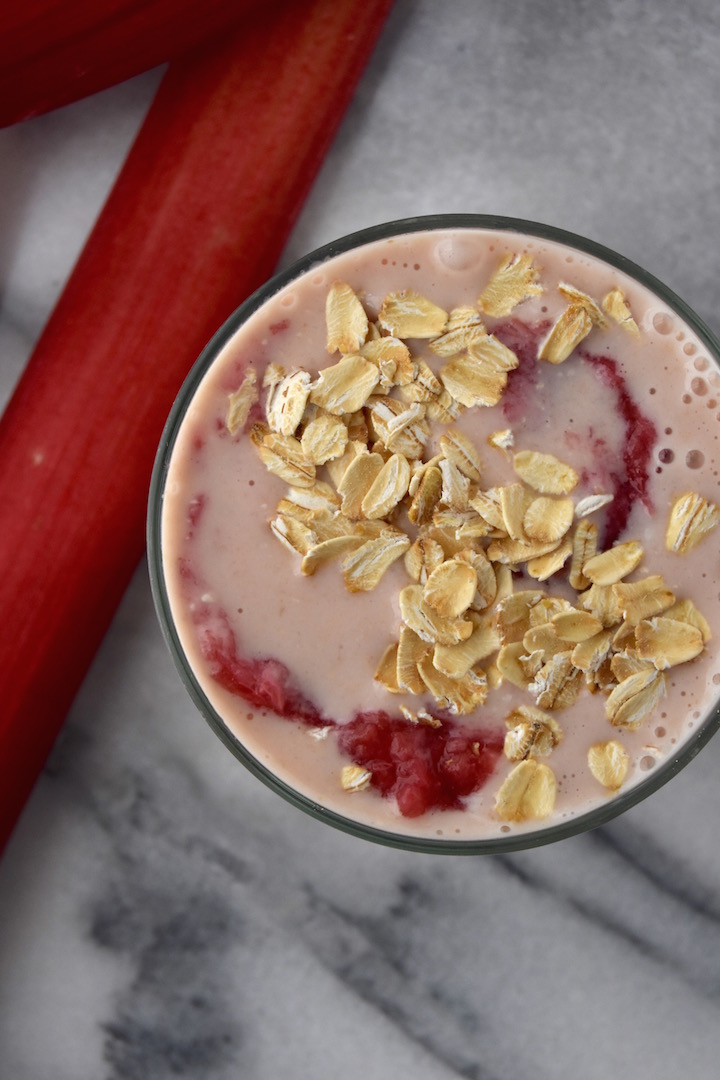 The rhubarb compote is an easy way to cook down rhubarb to use for a week or two. It cooks down into about a cup, perfect for trying this rhubarb oat smoothie, topping oatmeal or overnight oats, and spreading on toast for the week with sliced strawberries or almond butter.
Use this simple recipe for the compote even if you don't have smoothie plans!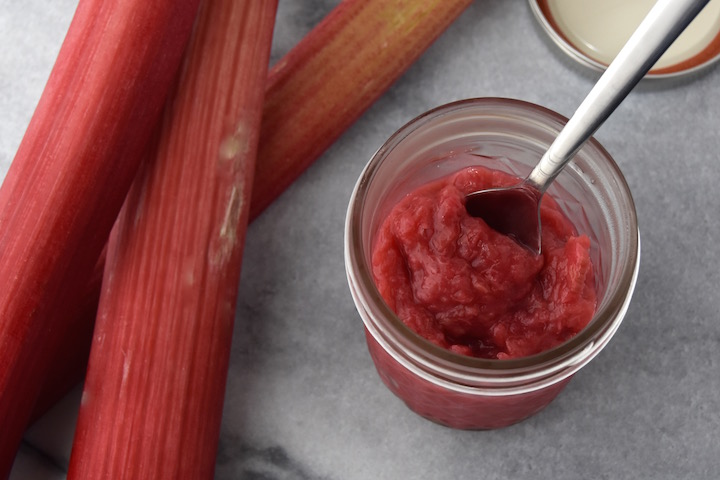 But, I insist, smoothie lovers – try this tart smoothie.
We take a big scoop of the compote and add in ice, frozen banana, almond milk, oats, and Greek yogurt. Blend it up and pour into a glass, layering with some extra old fashioned oats and a few dollops extra of the rhubarb compote. The texture the additional oats and rhubarb add are delicious.
Fun fact: Rhubarb is technically a vegetable!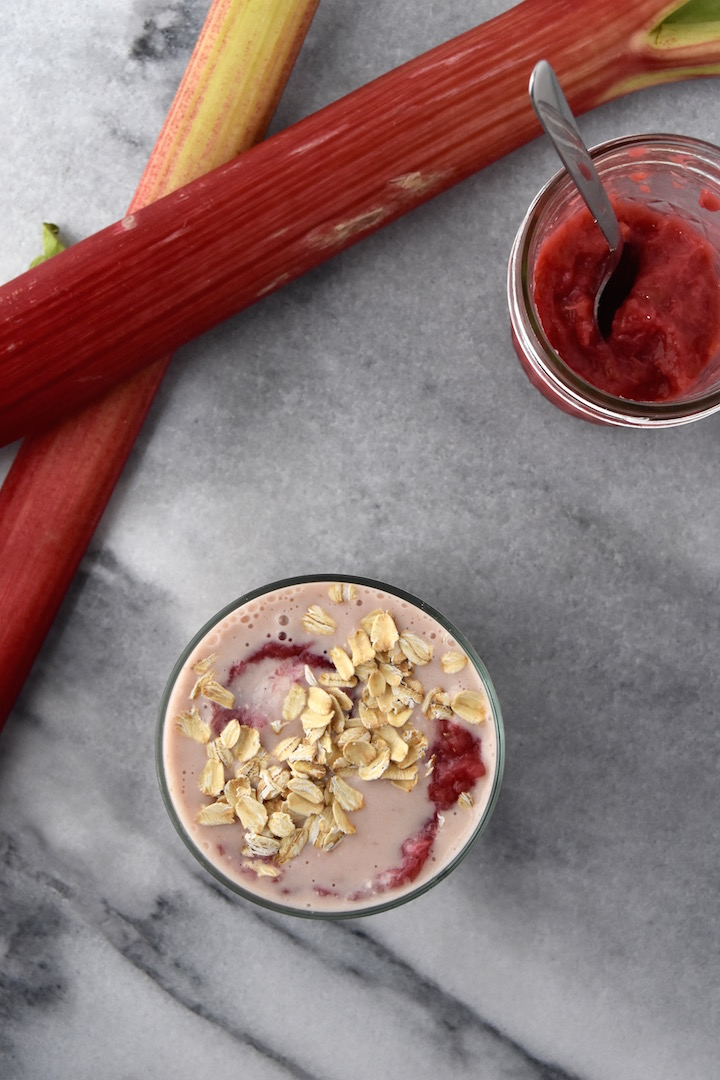 Rhubarb Oat Smoothie
Author:
Marisa | Uproot Kitchen
Ingredients
Rhubarb Compote
1 and ½ cups chopped rhubarb
¼ cup water
2 tablespoons maple syrup
Rhubarb Oat Smoothie
1 frozen banana, chopped
½ cup almond milk
¼ cup old fashioned oatmeal
¼ cup plain Greek yogurt
2-3 tablespoons rhubarb compote
2 ice cubes
Additional oats and compote to top
Instructions
Rhubarb Compote
Combine chopped rhubarb, water, and maple syrup in a small pot on the stove. Cook it on medium high, stirring frequently, until cooked down - about 5 minutes.
Allow it to cool before proceeding with the recipe.
Rhubarb Oat Smoothie
Combine all ingredients in a blender and blend until smooth.
Layer the smoothie, extra oats, and dollops of rhubarb compote in a glass and enjoy.
Notes
Leftover rhubarb compote can be used like jam - stirred into oatmeal or spread on toast.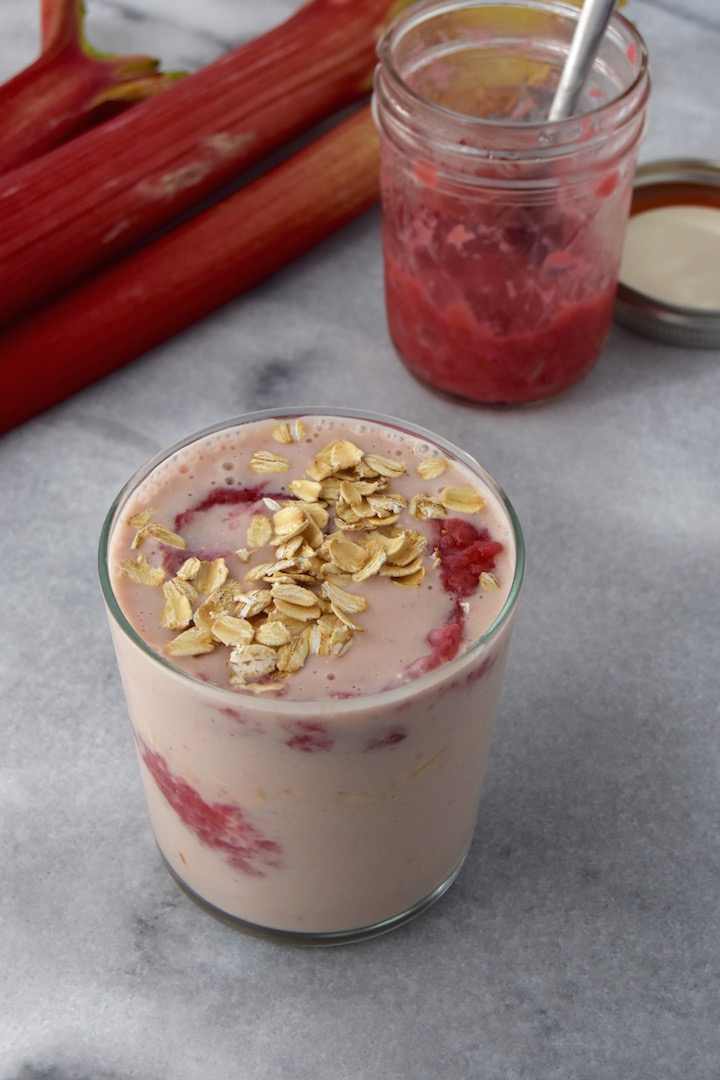 Cheers to the transition from spring to summer!
Leftover rhubarb compote can be used like jam – stirred into oatmeal or spread on toast. Or stirred into a cocktail (I recommend substituting it for my cranberry sauce + bourbon cocktail!).
Marisa