These Almond Fudge Brownie Energy Bites combine chocolate and almond flavors in a nutrient-dense, sweet bite. Stash them in your bag for travel this summer or everyday treats.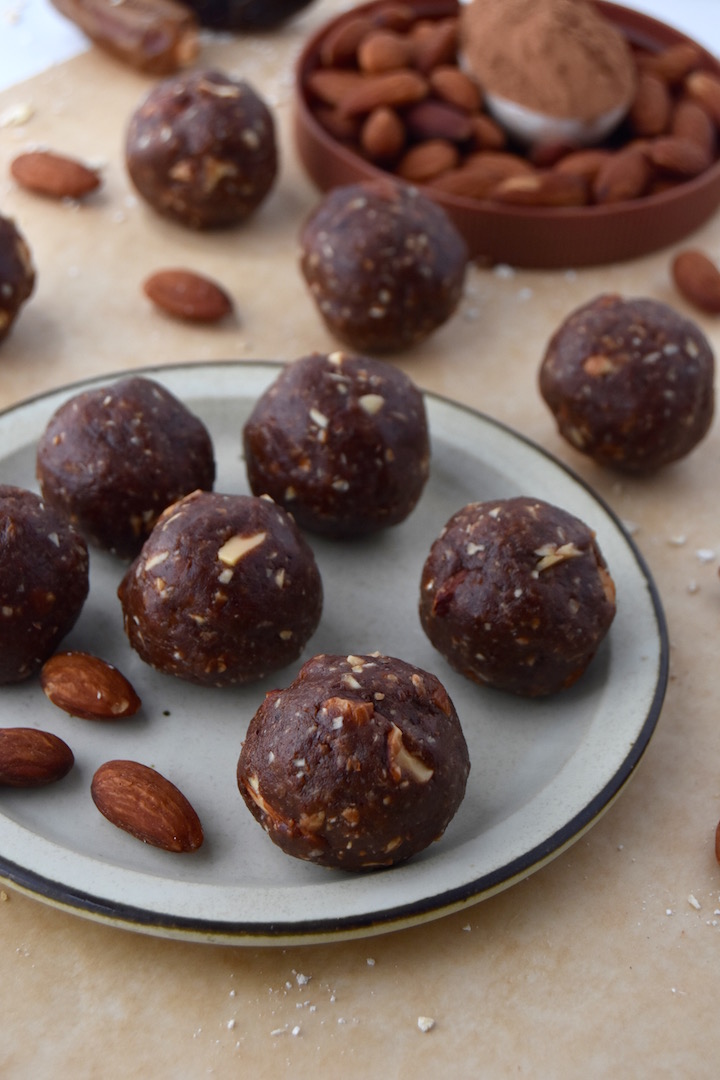 Disclaimer: This post is sponsored by Blue Diamond Almonds. I was compensated for my time, and all opinions are my own.
As you all know, I am a huge fan of the energy bite for an on the go snack in the form of energy bite. Especially now that I'm back in 9-5 work mode for my summer internship, there's nothing better than remembering I packed two of these for an afternoon pick me up!
These bites should be savored beyond the desk chair, and are the perfect portable snack to bring to summer picnics, potlucks, or a day trip in the car for a sweet end to the meal.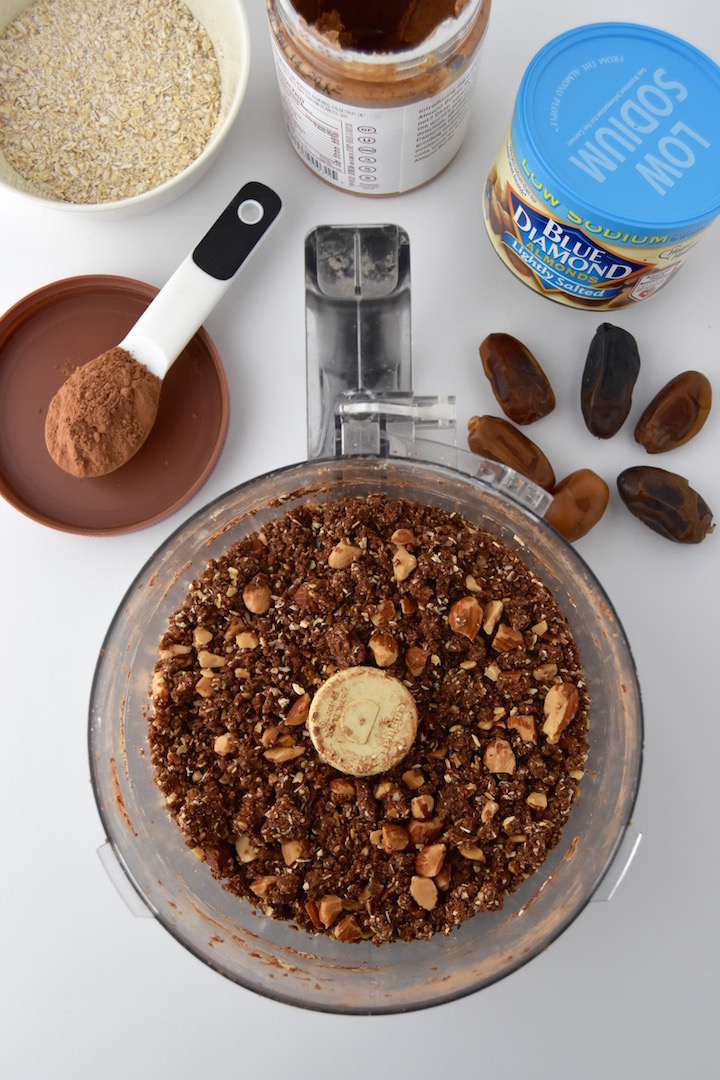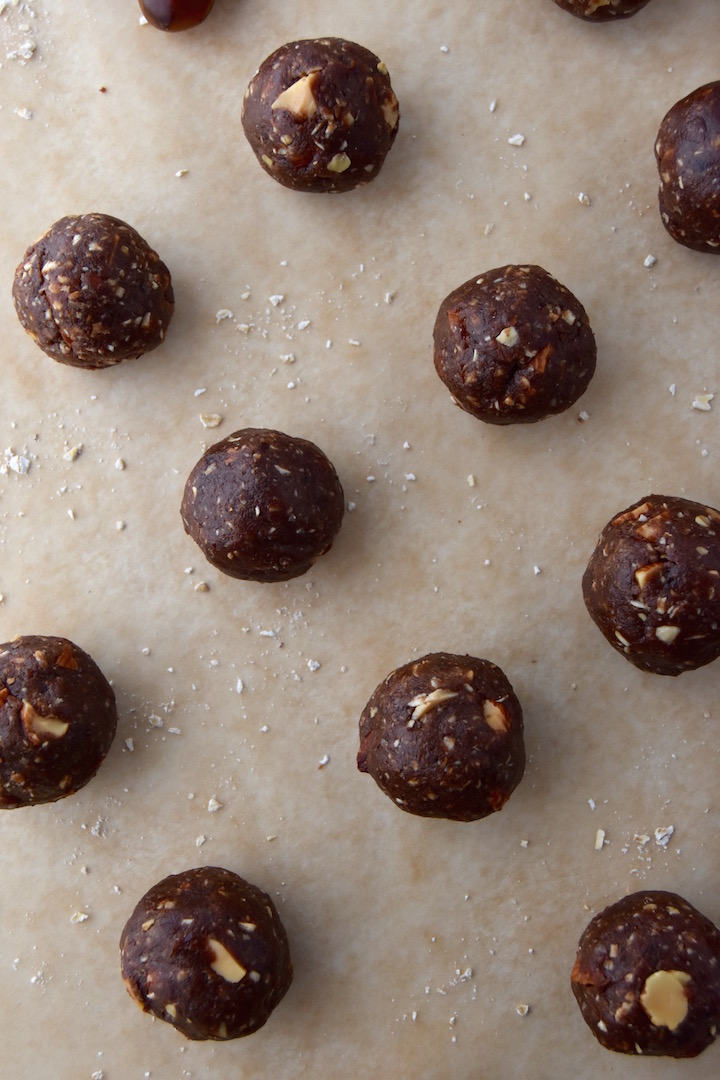 So – gather your ingredients for these Almond Fudge Brownie Energy Bites and your food processor!
You'll need Medjool dates, creamy almond butter, cocoa powder, vanilla extract, salt, oats, and chopped lightly salted almonds. Hopefully all of these things are pantry staples by now, because they're some of my most versatile ingredients.
Tip: Medjool dates can be substituted with other dates if they're cheaper, but note that they won't break down as well. Soak dates in hot water and then drain them before starting the recipe if you're using dry or other varieties of dates!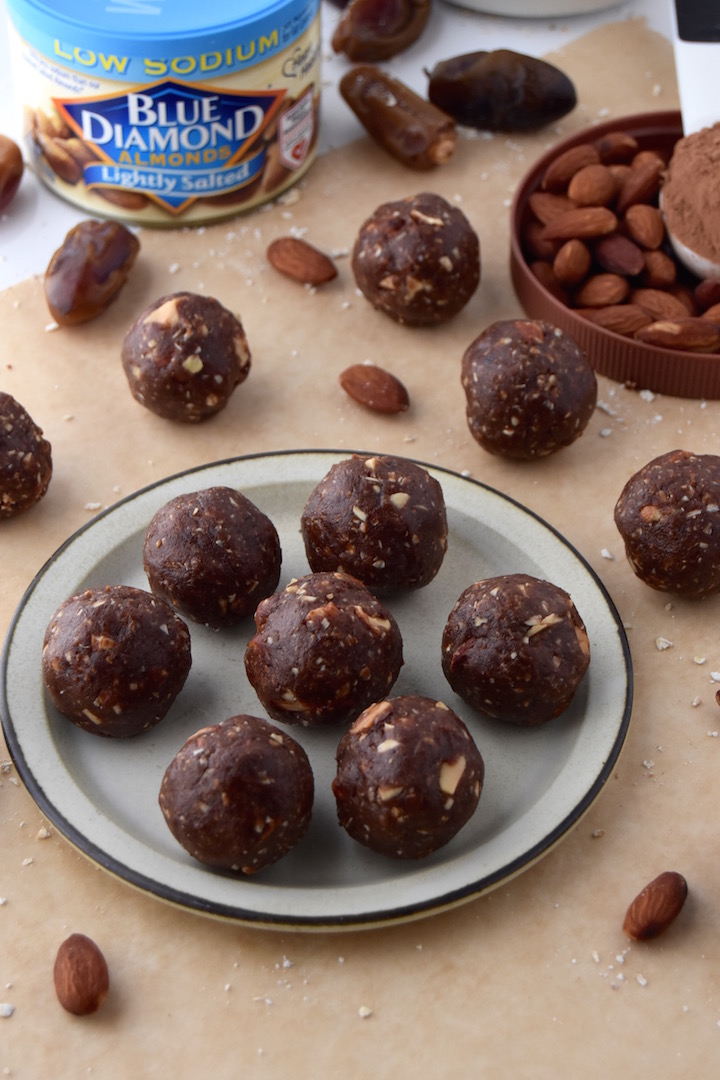 Almond Fudge Brownie Energy Bites
Author:
Marisa | Uproot Kitchen
Ingredients
½ cup packed Medjool dates, pitted
½ cup almond butter
2 tablespoons cocoa powder
1 teaspoon vanilla extract
¼ teaspoon salt
½ cup oat flour (see notes)
½ cup Lightly Salted Blue Diamond Almonds
Instructions
In a food processor, combine dates and almond butter. Turn on the food processor and blend until mostly combined (some small date pieces is fine).
Add in cocoa powder, vanilla, and salt and blend until smooth.
Measure out almonds and lightly chop them into pieces.
Add oat flour and chopped almonds to the food processor. Pulse until combined. If the mixture is too crumbly to roll into balls, add 1 teaspoon of water and pulse.
Roll the mixture into 16 balls using your hands.
Store in the fridge. Enjoy cold or at room temperature.
Notes
If you don't have oat flour, you can pulse old fashioned oats or quick oats in your food processor until fine.
Store in the fridge for up to 2 weeks or in the freezer for up to 2 months.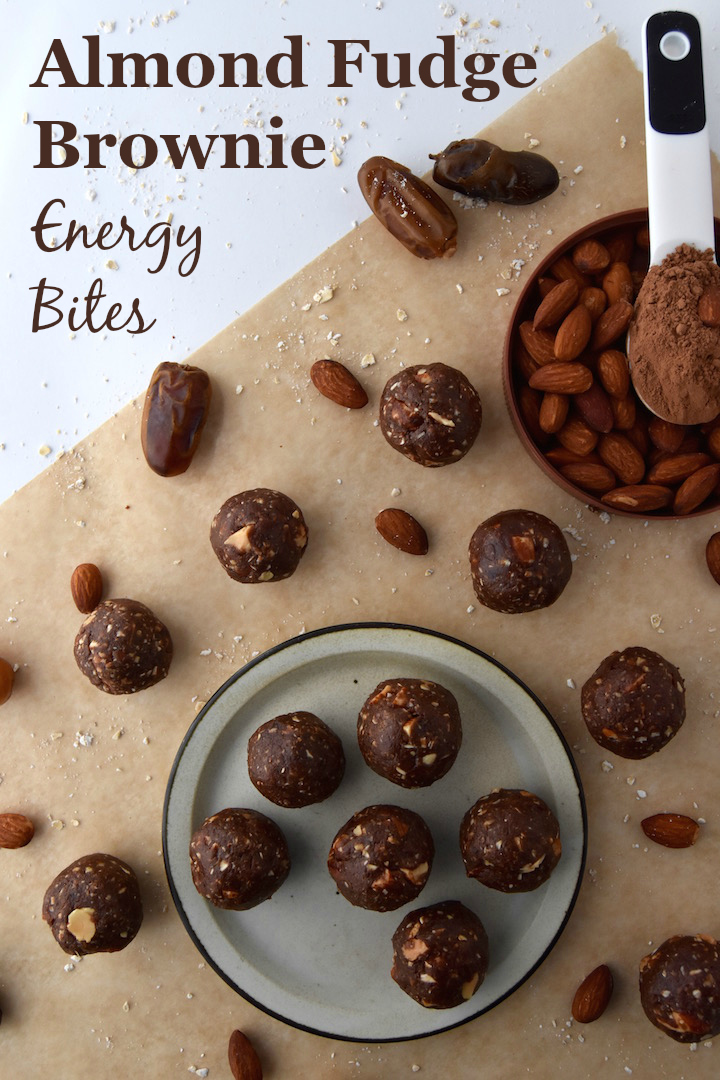 Tell me: What else do you enjoy as a portable and stable work snack or picnic basket treat? I'll be over here savoring these sweet chocolate bites studded with salty almond pieces.
Marisa