These Green Chile Bean and Rice Bowls are a quick batch meal to make for the week or for family dinner. With chewy brown rice flavored with green chiles, beans, crunchy romaine lettuce and all the toppings, you'll look forward to enjoying these bowls.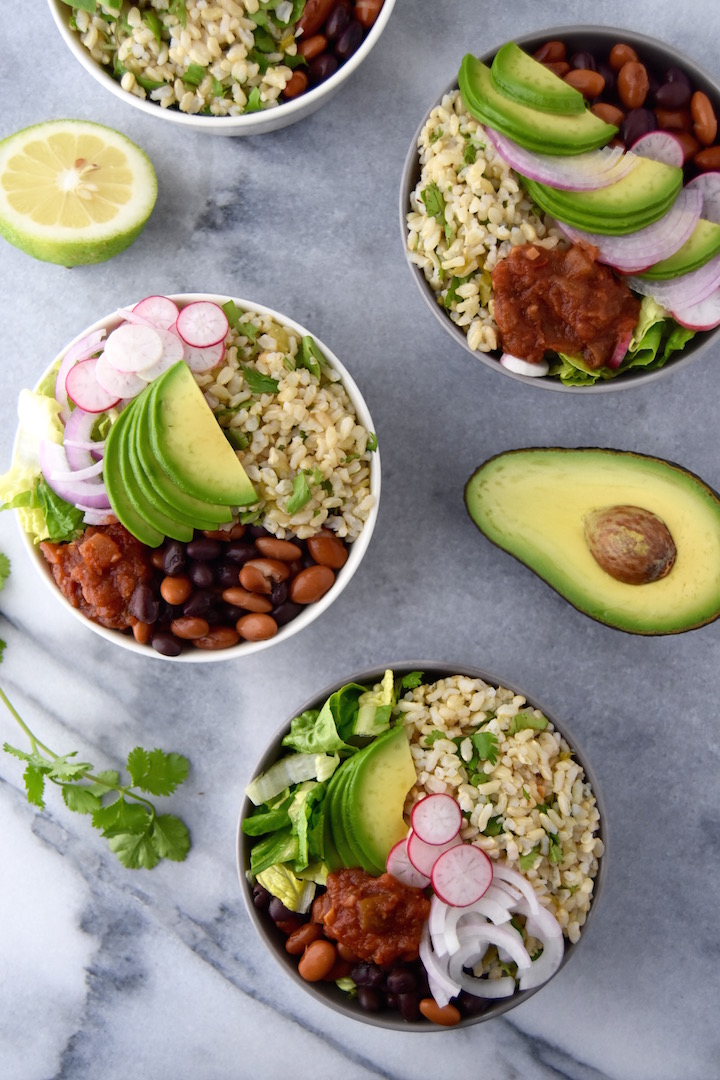 I hope everyone is enjoying the long weekend. It's been nice to regroup after two weeks of work, have a break to garden and be outside, and prepare for a shorter week.
When my to-do list gets longer than I'd like, I force myself to slow down and do the things that help me stay on top of it – meal prep my breakfasts and lunches, do laundry, and go for some walks outside listening to podcasts.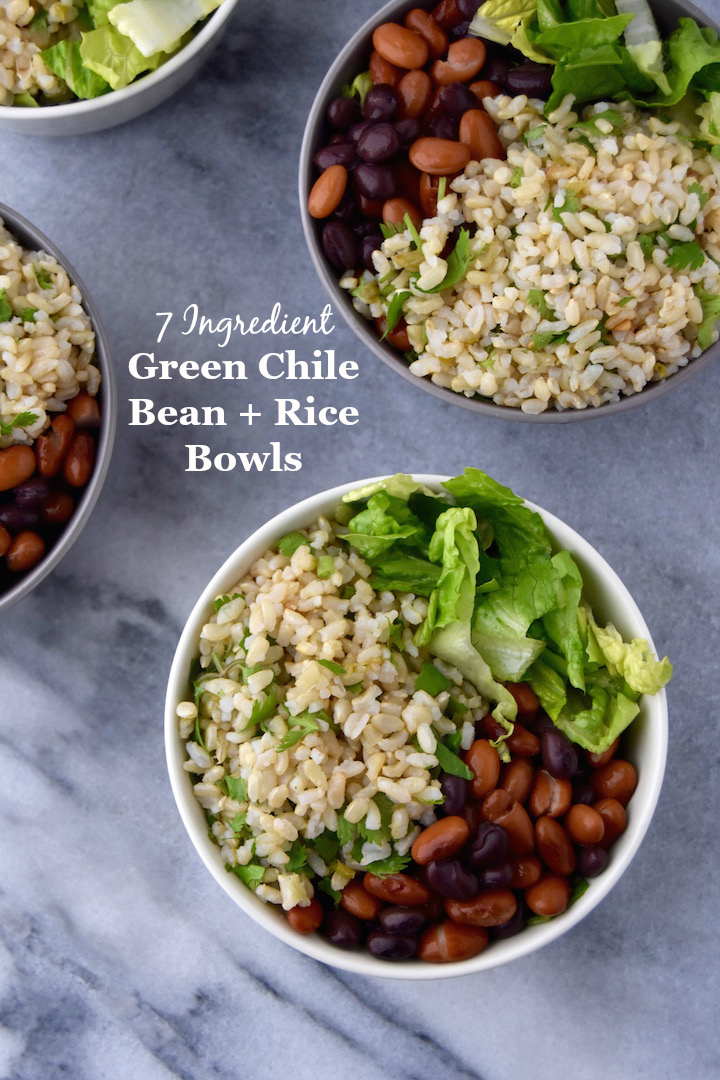 These bowls are a surprisingly delicious outcome of some meal prep for my internship lunch break. Not only are these Green Chile Bean and Rice Bowls a delicious meal you can prep in 15 minutes and walk away while the rice cooks, they are also a great batch cooking meal.
I have made these for myself for a week of lunches, but you can also freeze the bean and rice mixture in single portions. It's simple to bring in a lunch bag the same week they're made, or heat up a portion without the lettuce (2 minutes in the microwave, stopping to stir) for an easy dinner a week later.
With just 7 main ingredients, I know I'm going to keep coming back to the base of these Green Chile Bean and Rice Bowls for lots of different variations!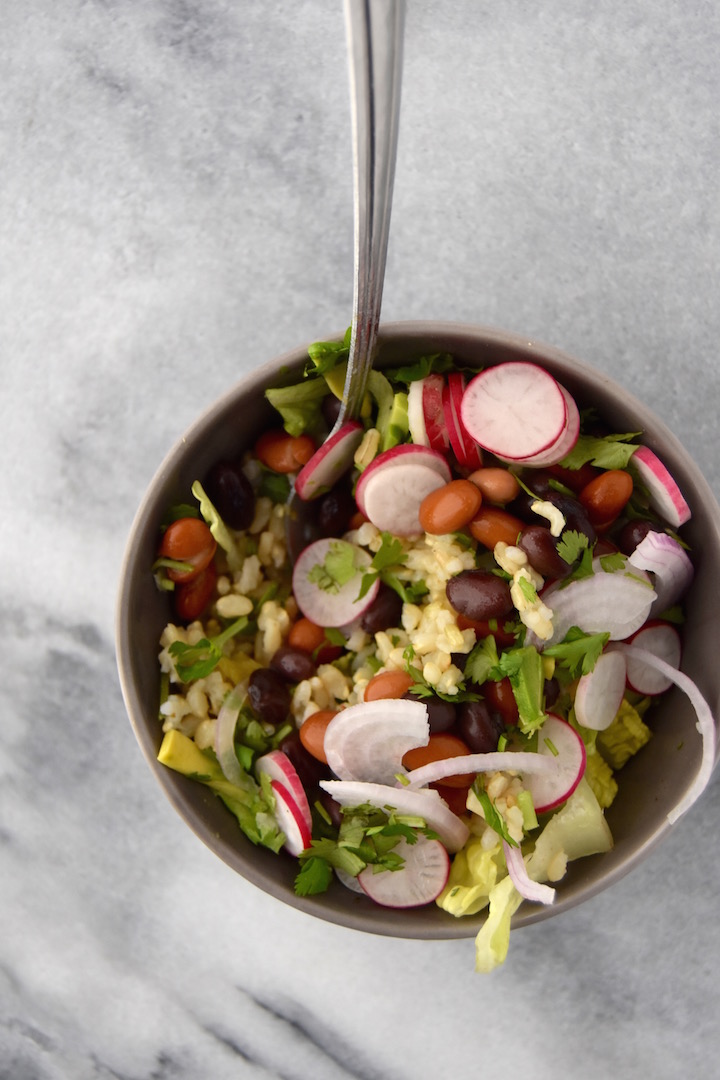 Green Chile Bean and Rice Bowl
Author:
Marisa | Uproot Kitchen
Ingredients
1.5 cups dry brown rice
1 4-ounce can of diced green chiles
½ teaspoon salt
1 12-ounce package of romaine hearts (3 hearts, or ~12 cups chopped)
1 tablespoon lime juice
1 14-ounce can of black beans
1 14-ounce can of pinto beans
Garnishes
Optional ½ cup packed cilantro
1 cup sliced red onion
1-2 sliced avocados
1 cup medium salsa
3 small radishes
Instructions
In a rice cooker or on the stove, combine dry rice, green chiles, and salt. Add liquid per package instructions and cook until all liquid is absorbed and rice is fluffy and chewy.
Prep the rest of the ingredients by chopping up the romaine hearts and sprinkling some lime juice overtop the greens, draining and rinsing the cans of beans together, and slicing the cilantro, onion, avocado, and radish for garnish.
If desired, stir some of the cilantro into the rice. Heat the beans in the microwave for a minute if you'd like them warm.
Make bowls by layering ½ a heart of romaine lettuce, a big scoop of rice, and a scoop of the beans. Top the bowls with any desired garnishes (cilantro, red onion, avocado, salsa, radishes, or other toppings).
Notes
Store extra portions in glass containers in the fridge, layering the chopped lettuce on top for the longest life. Enjoy for up to 5 days.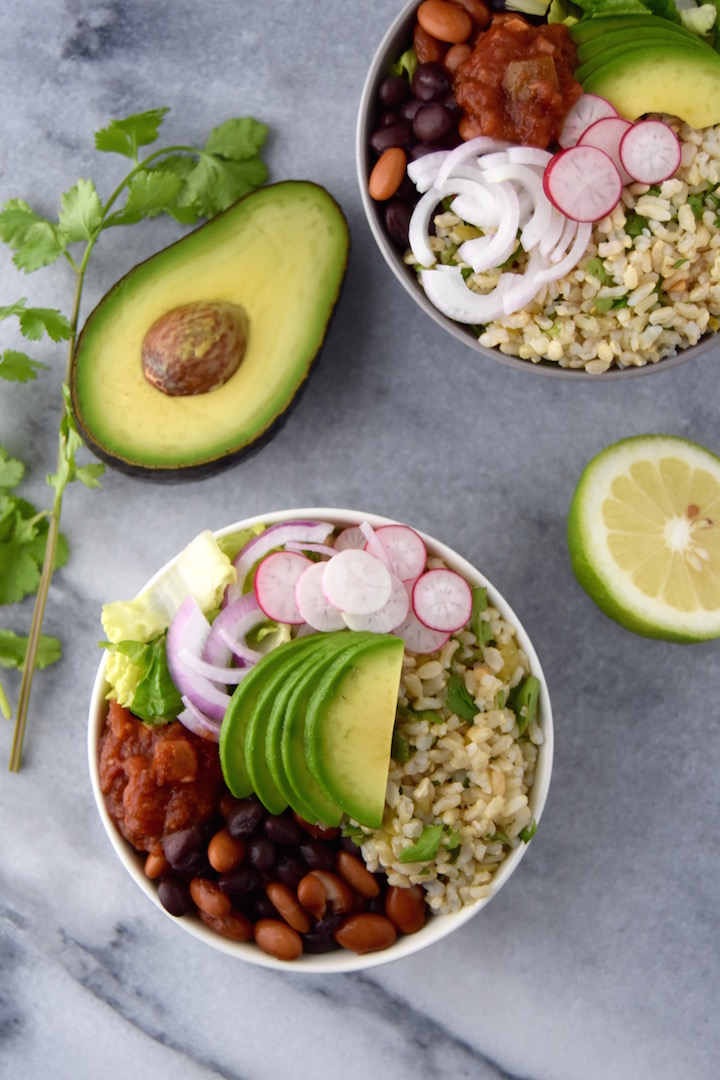 Let me know if you make these Green Chile Bean and Rice Bowls for the week by sharing on social media with the hashtag #uprootkitchen or shooting me an email.
If you're a big fan of green chiles just like I am, check out my Green Chile Black Bean Burgers, Lentil + Green Chile Nachos, or my New Mexican Green Chile Egg Bake
P.S. If you're enjoying this for dinner, as I usually do the day I prep lunches for the week, my favorite version is to put a fried egg on top!
Marisa