These simple 3 Ingredient Banana Oat Cookies taste like banana bread. They are perfect for a wholesome snack to power you through the afternoon or satisfy your sweet tooth.

Disclosure: This post is sponsored by Blue Diamond Almonds, the Official Snack Nut of USA Swimming. I was compensated for my time and all opinions are my own, as always.
Raise your hand if you love cookies. Keep em raised if you like the flavor of banana bread.


I would assume no one lowered their hands, so let me introduce you to the cookie snack I rely on when I have some browning bananas and am looking for a hearty snack to prep.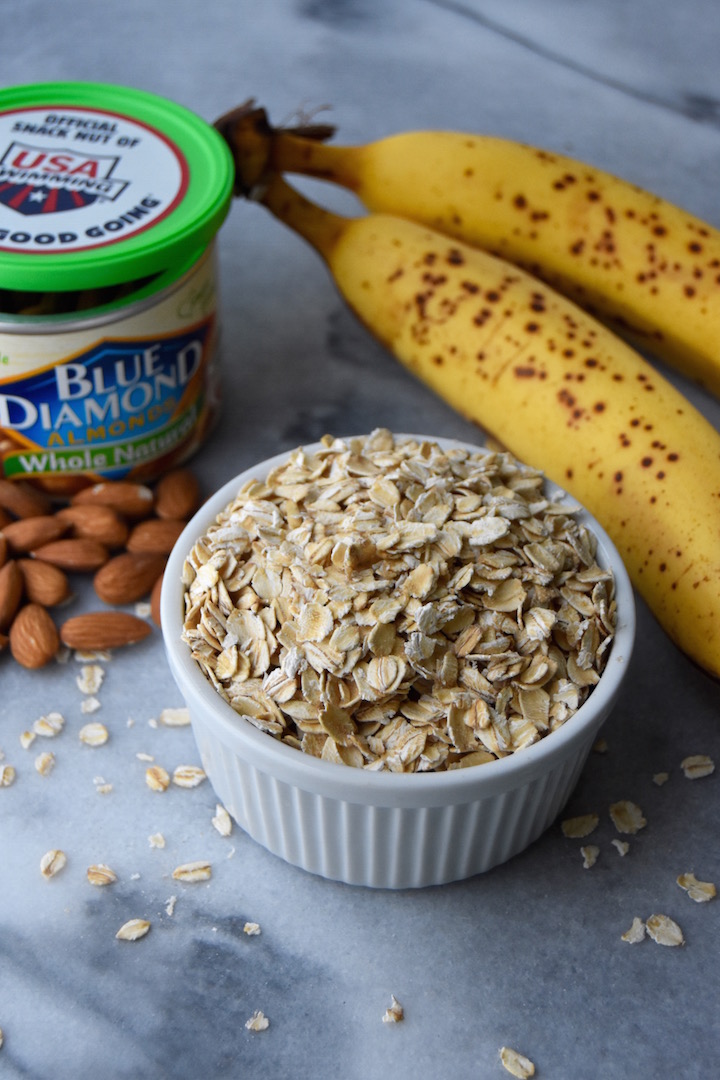 Oats and mashed, ripe banana are a killer combination of carbohydrates, and adding in Blue Diamond Whole Natural Almonds to the mix increases the staying power of these cookies. Yep, that's it – just 3 ingredients (well, a pinch of salt if you feel so inclined).
The natural sweetness from the bananas is perfect and I love the crunch from the almonds. Feel free to add in additional mix-ins, staying at just around 1/3 cup total.
Did I mention that these are banana bread in cookie form?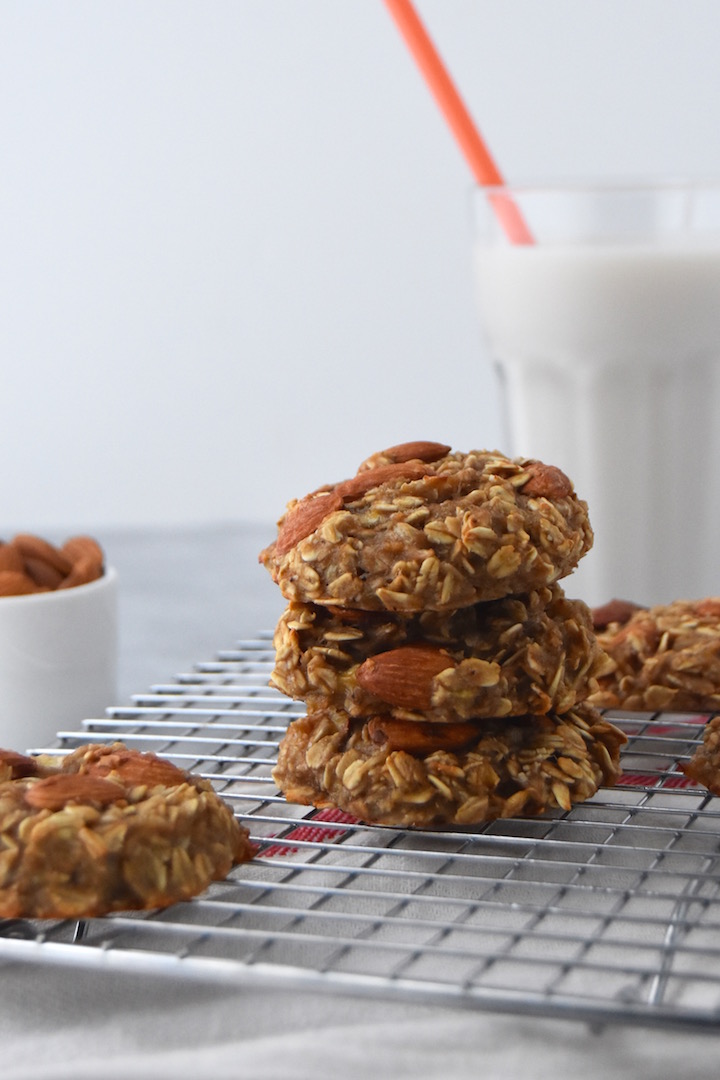 I am constantly inspired by professional athletes… think of how many snacks they have to have on hand to stay fueled through multiple practices each day.
Bars can be full of unnecessary fillers, and it can get quite boring to eat more than one plain banana a day (when I used to swim in high school, I would get the worst leg cramps, so I would snack on bananas to try to help avoid them!).
Whether it's a pre-workout snack for a competitive swimmer or an afternoon pick-me-up for me at the office, these cookies are a satisfying way to grab a bite and load up on potassium, fiber, and easily digestible carbohydrates.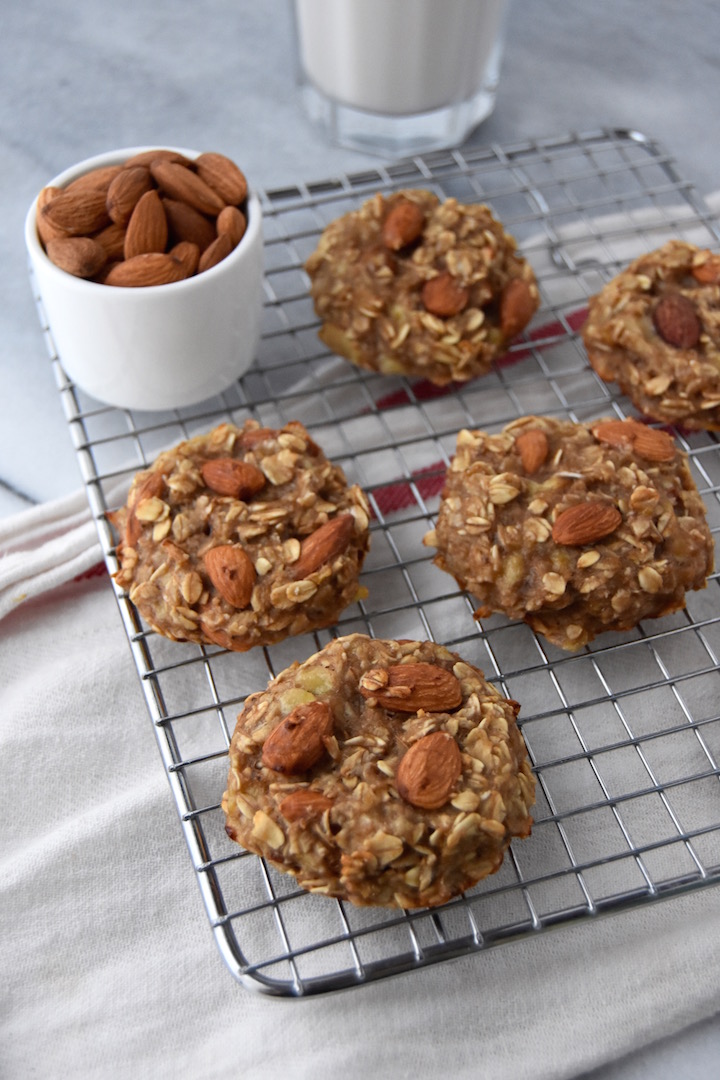 3 Ingredient Banana Oat Cookies
Author:
Marisa | Uproot Kitchen
Ingredients
2 ripe bananas, mashed (~1 cup)
1 cup old fashioned oats
⅓ cup Blue Diamond Whole Natural Almonds
Optional pinch of salt
Instructions
Preheat the oven to 350.
Peel ripe bananas (they should have some brown spots), and mash bananas with a fork into a bowl until puréed.
Stir in oats, almonds and salt.
Line a baking sheet with parchment paper and use a ¼ cup measure to form 6 cookies. Flatten them a bit with your hand into cookie shape.
Bake cookies for 15 minutes until lightly browned and firm. Allow them to cool before removing from the parchment paper.
Store in an airtight container in the fridge for up to one week.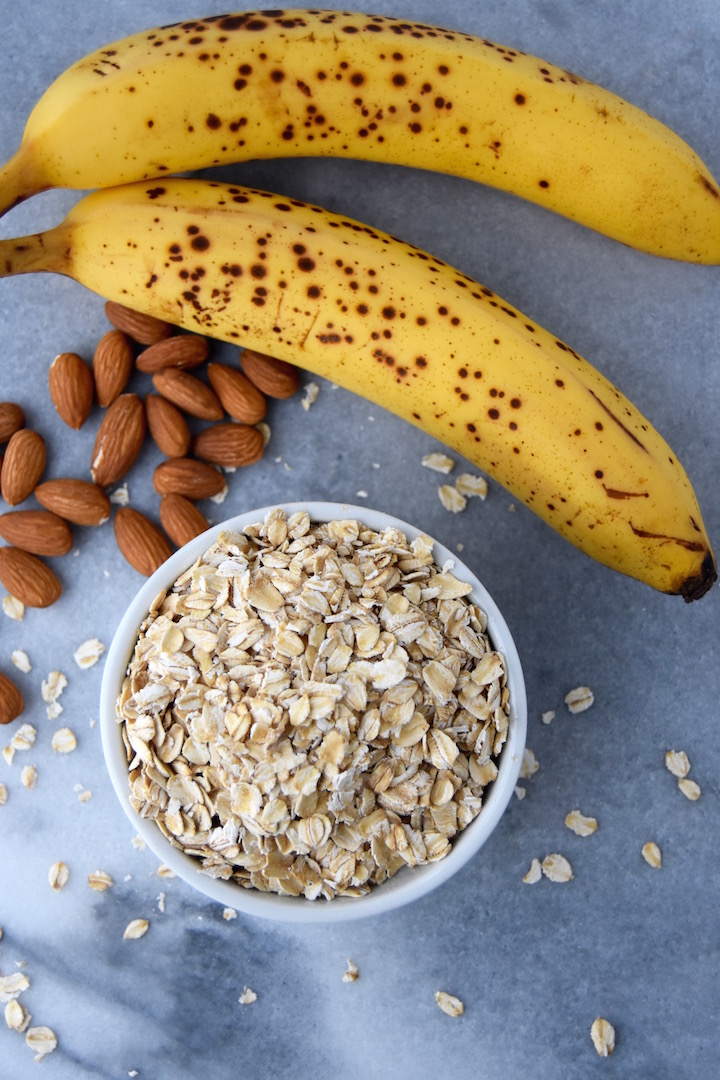 Be well,
Marisa