This mayo-free Potato Salad with Mustard Dressing is a simple combination of fingerling potatoes, parsley, red onion, and a tangy mustard dressing. Serve it as a dinner side or make 2 batches to bring to a picnic.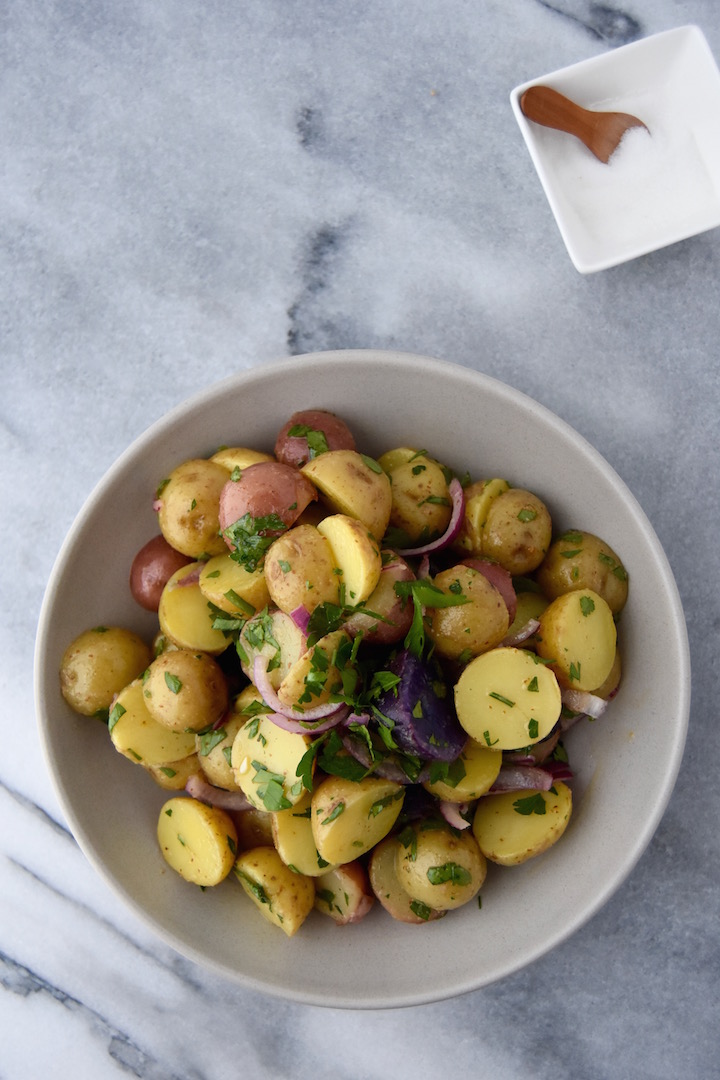 Can you guys tell I'm in a mood where I all I want is picnic food? (Popsicles and pasta salad so far). Alllll the summer food is coming your way.
This Potato Salad is the simplest to pull together, but your picnic party will be wow'ed with the combination of creamy, waxy potatoes and vinegar/mustard bite of the dressing. I have never been a fan of mayonnaise-based potato salads, and instead turn to this creamy mustard, vinegar and oil blend.
How fun are these colored fingerling potatoes?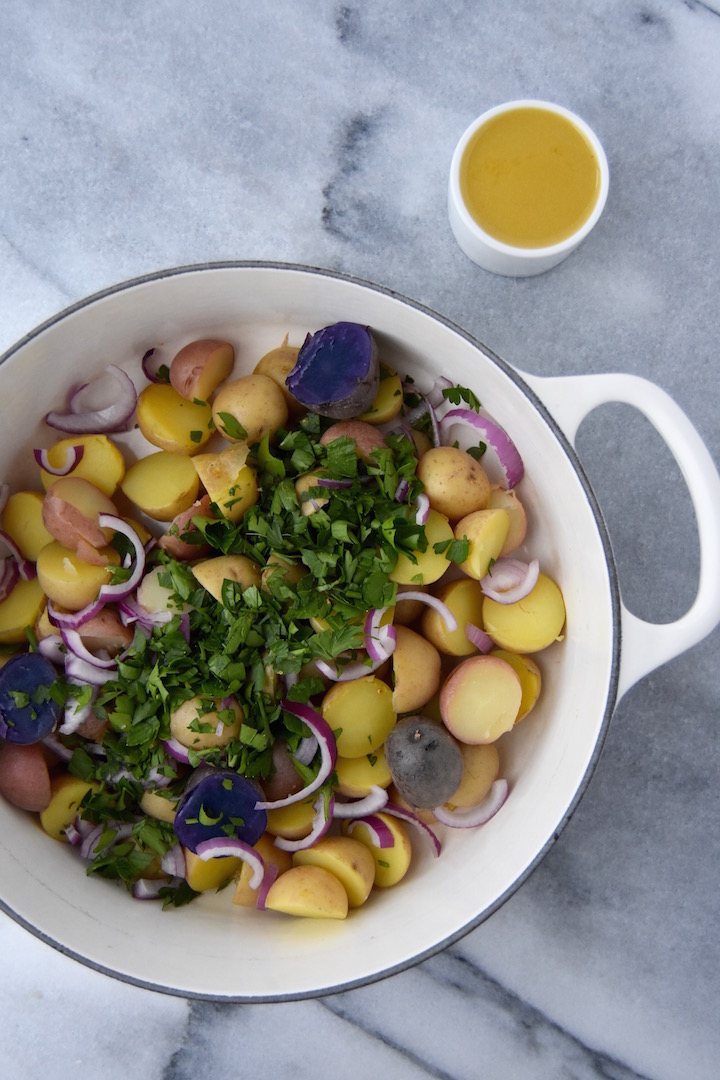 I brought this dish to a small Memorial Day get-together, and it was devoured quickly. Take note and double the batch if you're sharing with a crowd (or want to keep some leftovers for yourself!).
In addition, be sure to note the recipe step where the potato salad sits for a few minutes. This is important as it allows the vinegary dressing to be absorbed into the creamy potatoes. Otherwise, the salad has a strong bite to it right away. Trust that the amount of vinegar is correct and you just want to let it sit for 10-20 minutes before digging in!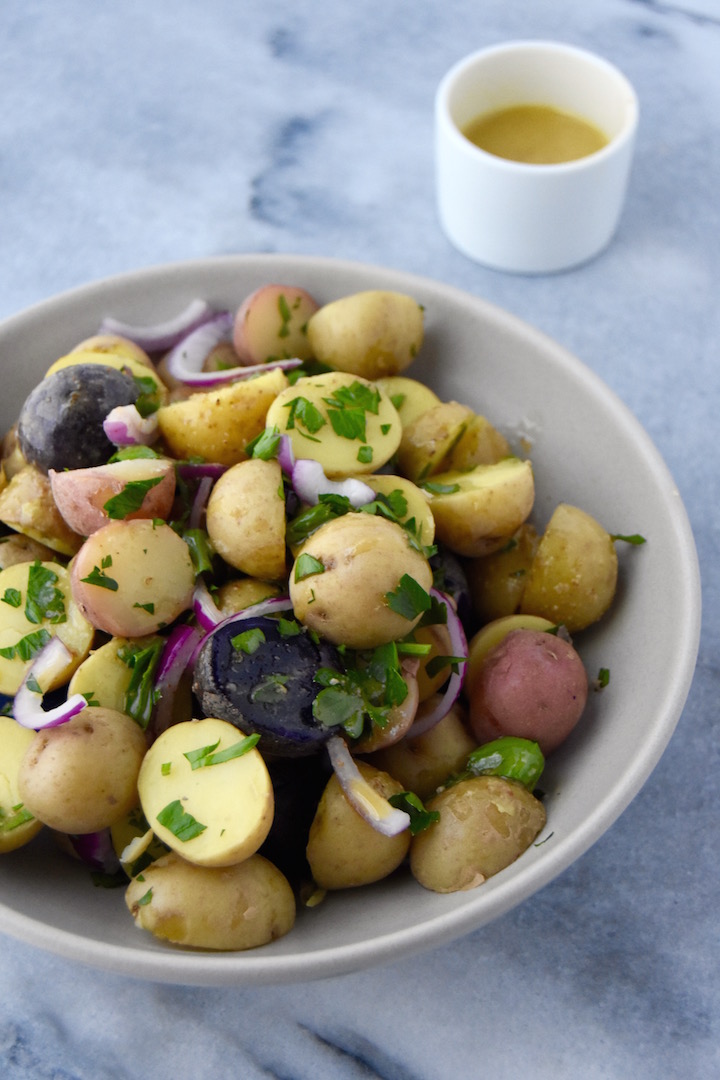 Potato Salad with Mustard Dressing
Author:
Marisa | Uproot Kitchen
Ingredients
1 lb fingerling potatoes
¼ cup olive oil
2 tablespoons white wine vinegar
1 tablespoon stoneground mustard
½ teaspoon honey
¼ cup fresh parsley
¼ cup red onion
Instructions
In a large pot, cover potatoes with water and bring to a boil. Once boiling, boil for 10 minutes or so until potatoes can be easily stuck with a fork. Drain and rinse potatoes.
Using a whisk or a blender, mix together olive oil, vinegar, mustard and honey.
Dice potatoes in half or quarters, depending on size, so that they are bitesize.
Finely chop parsley and thinly slice red onion.
Toss together the diced potatoes, mustard dressing, parsley and red onion until well combined. Allow the potato salad to sit for 10 minutes before serving so the potatoes can absorb some of the dressing.
Serve at room temperature.
Notes
Recipe adapted from Mark Bittman's Best (and Simplest) Potato Salad.
Recipe can be prepped and refrigerated up to 6 hours before serving. Allow it to come to room temperature before enjoying.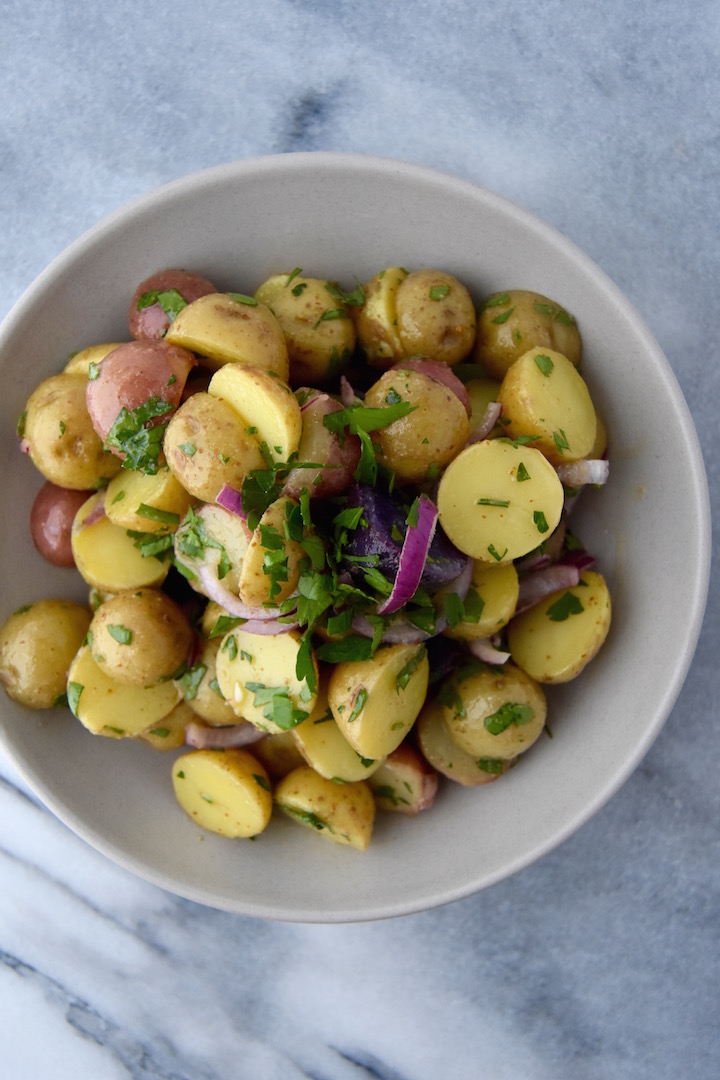 Let me know if you make this tasty potato salad as a side dish this summer!
Marisa