Bake up a batch of these Baked Plantain Chips for midday snacks or for a side for taco night with guacamole.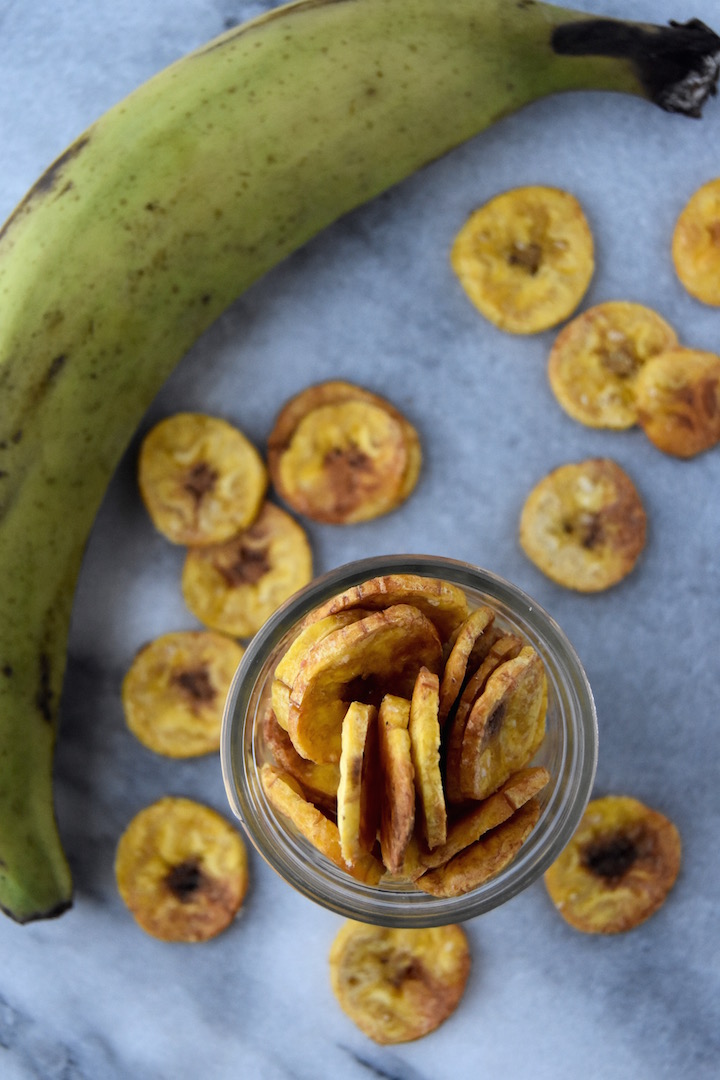 Disclaimer: This post is sponsored by NOW Foods as part of an ongoing partnership. I was compensated for my time, and all opinions are my own.
Have you guys ever had plantain chips? There is one brand that I love and always pick up at Berkeley Bowl when I'm looking for a satisfying crunch and salty snack. Until recreating my own for this recipe, I didn't realize they were fried and just assumed they were a healthier snack.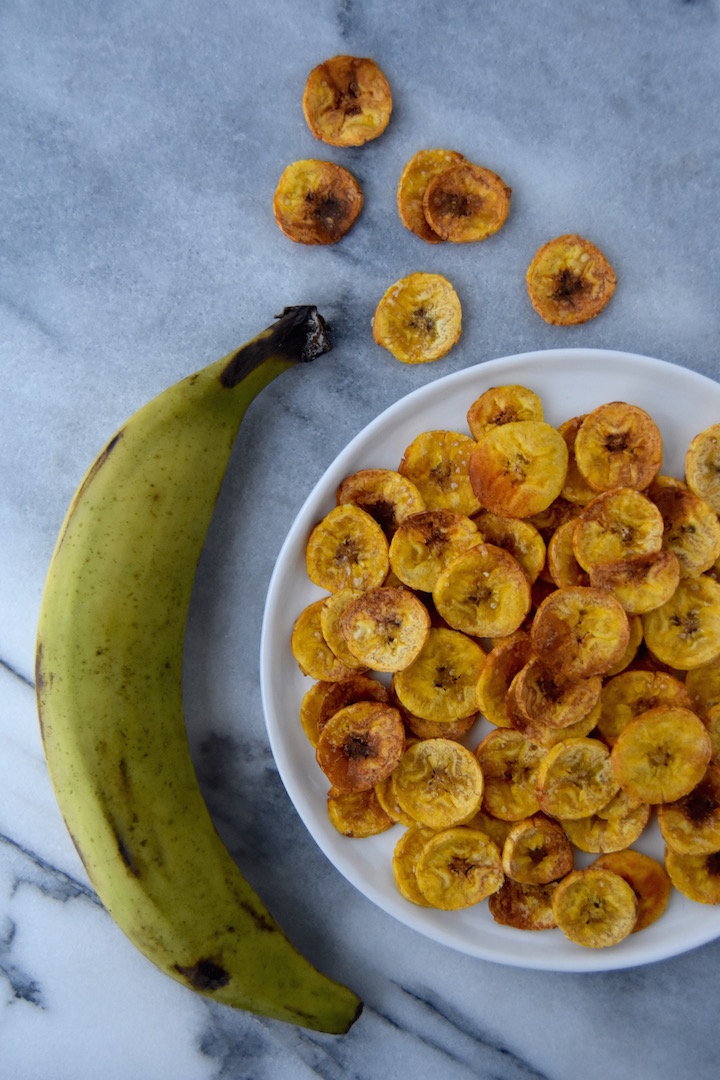 Thanks to my roommate Emily who has a newfound obsession with plantains, I've realized that the grocery stores I shop at carry the actual fruit. Hello, new obsession to buying them everytime I go to the grocery store. Green plantains are highly starchy, a mix between the texture of a banana and a potato, and a blank slate for flavor.
P.S. Have you ever realized you were totally blind to something at the grocery store until someone else points it out to you? I felt that way about these! They're usually right next to the bananas, and are a much larger fruit. For this recipe, you'll want to grab the ones with green skin (as pictured), which are unripe plantains. They have to be cooked before you can eat them.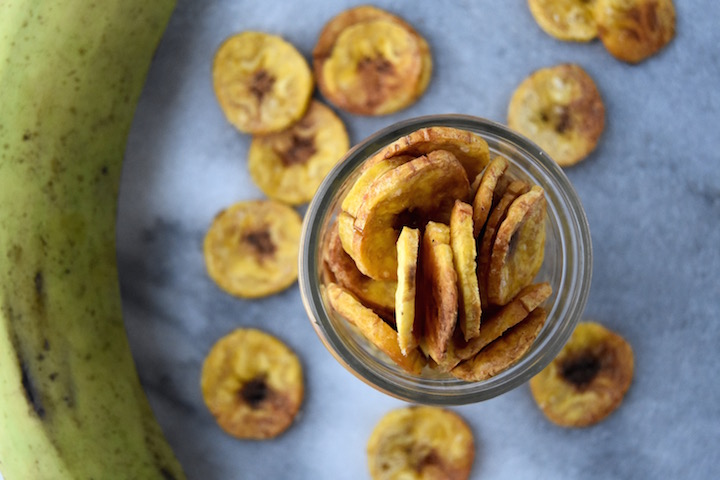 I set off to conquer making my own favorite crunchy snack, Baked Plantain Chips, and the results were super successful! Perfectly salted to my tastes, and plenty crunchy without an excess of oil. I use neutral tasting Ellyndale® Naturals rice bran oil from NOW Foods for this recipe, since it has a high smoke point and doesn't detract from the flavor of the plantains like olive oil does.
The chips will stay good for up to 5 days in an airtight container (I doubt they'll last that long).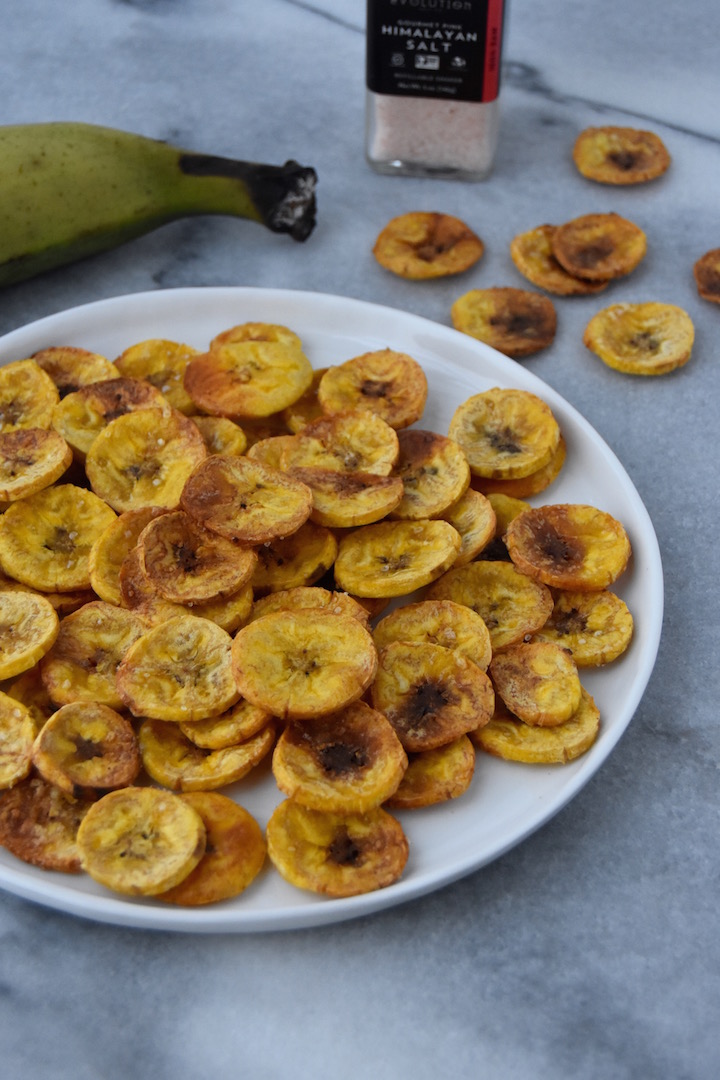 Baked Plantain Chips
Author:
Marisa | Uproot Kitchen
Ingredients
2 green (unripe) plantains
3-4 tablespoons rice bran oil
1 teaspoon salt
Instructions
Preheat the oven to 350 degrees. Prepare a baking sheet with parchment paper or a silicone baking mat, and grease the top of the paper or baking mat with a tablespoon of rice bran oil.
Slice the ends off the green plantains and use a knife to cut slits down the sides of the peel. This will allow you to pull off the skin (it is hard to remove).
Slice the plantains into ⅛" rounds (thinner slices will yield crispier chips). Place them on the prepared baking sheet, crowding them close but not overlapping.
Drizzle the additional oil over the plantain slices, and sprinkle salt overtop.
Bake the plantain chips for 23-25 minutes, or until browned and dry.
Allow the plantain chips to cool for 20 minutes before enjoying them.
Notes
These chips will lose their crispiness if you seal them in an airtight container before they are fully cool. Let the extra chips cool for 1 hour from baking before moving them into an airtight container at room temperature. Chips last 5-6 days.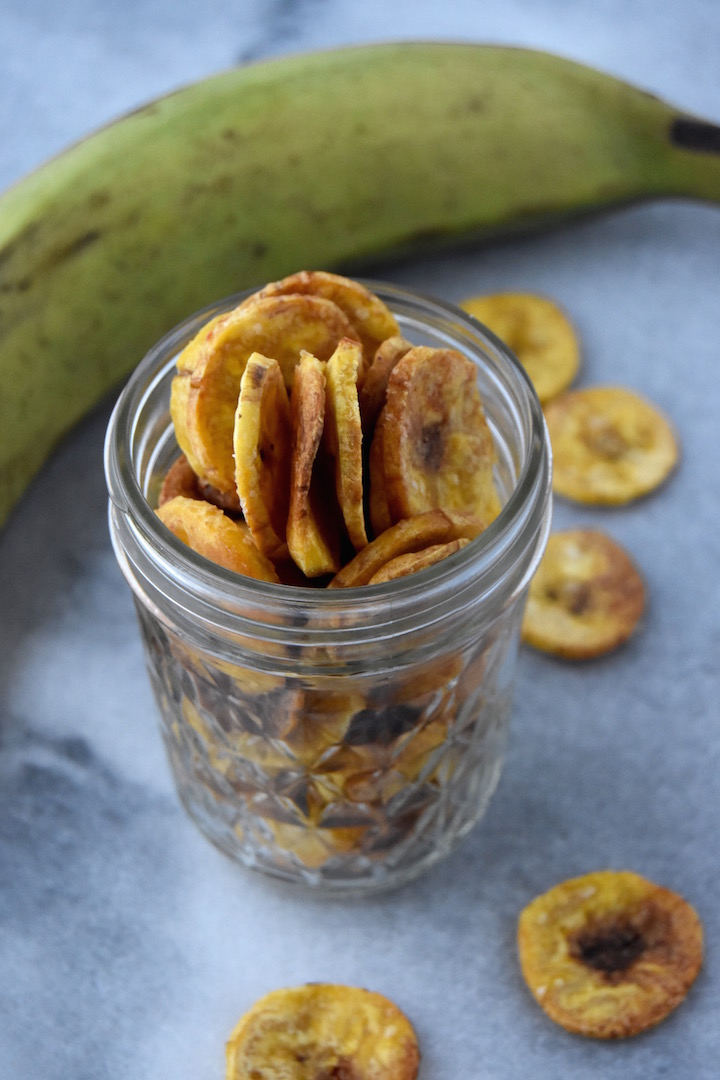 Take this as a base recipe to try – I hope you find them as addicting as I do! – and then adjust the salt, or add additional seasonings, to your liking. Let me know if you try rice bran oil as well, as I've found it replacing a lot of my oil uses at home in dishes that can be distracting with olive oil.
The options for these chips are endless… I think a chili powder version would add some zip for dipping into a bowl of guacamole, or garlic powder for complimenting a bowl of rice and beans.
Marisa