This simple combination of whipped dill cream cheese, crisps, fresh summer vegetables and flaky salt is a wonderful snack plate idea for summer get-togethers.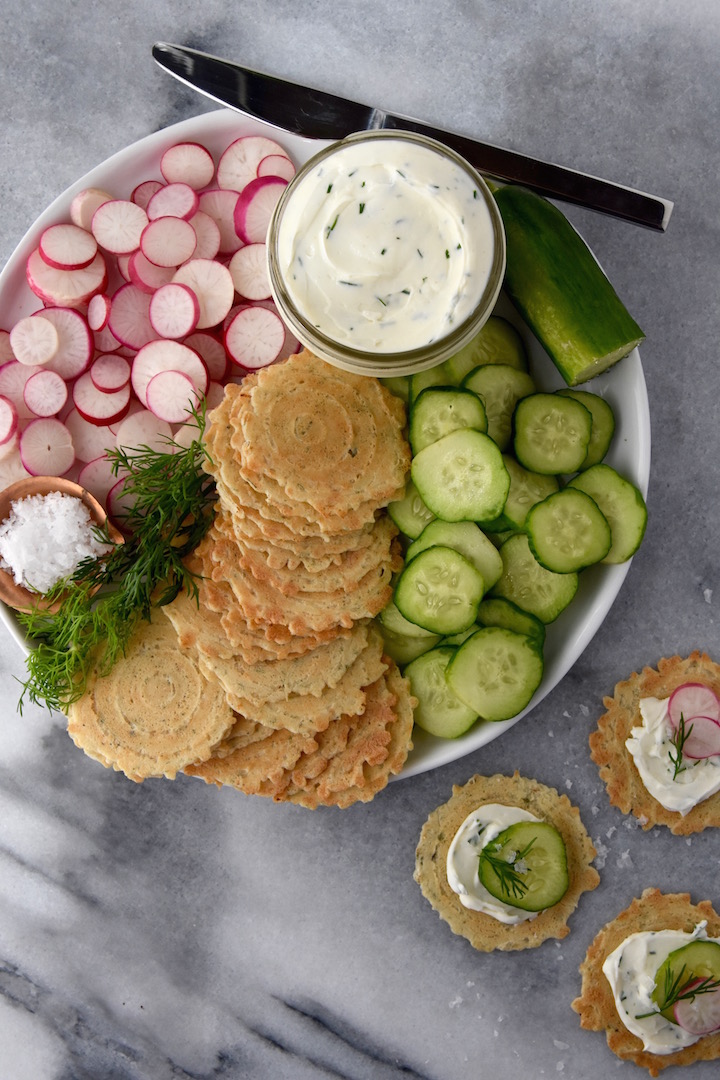 Disclaimer: This post is sponsored by 34 Degrees as part of an ongoing partnership to encourage you to pair and share. I was compensated for my time, and all opinions are my own.
I'm back with another summer appetizer idea! I've been dreaming of these get-togethers since last summer ended, so I'm thankful to grab your attention this summer with more fresh and simple pairing ideas in partnership with 34 Degrees Crisps (if you missed the last one, I shared a Stone Fruit and Ricotta Picnic Plate!).
This time around, we're taking Neufchâtel cheese and whipping it with fresh dill for a creamy herb spread to pair with crisp cucumbers, spicy radishes, cracked pepper crisps and flaky salt.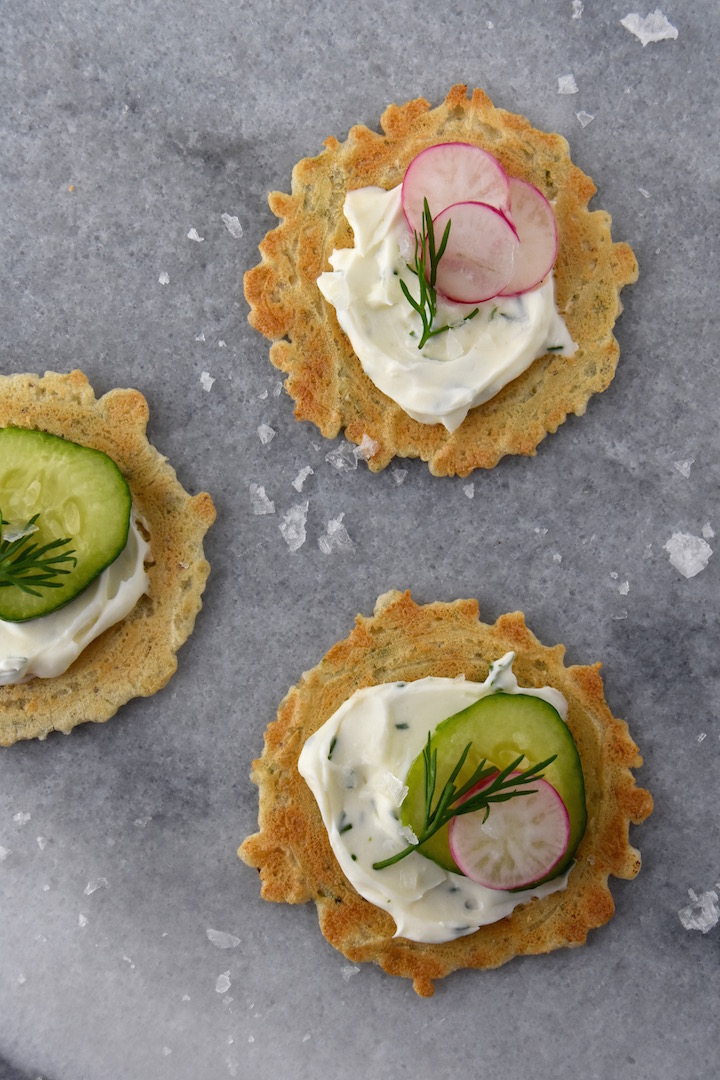 Hold up: What is this fancy French cheese?
Neufchâtel cheese is a close relative to familiar cream cheese that you can find next to cream cheese at the grocery store. It originates from Normandy, France, using milk and cream to create a soft cheese (instead of just cream, which makes regular cream cheese).
This results in a slightly lighter soft cheese with less milk fat and more moisture. Interesting, right? If you prefer, or already have it on hand, feel free to substitute regular cream cheese in this recipe.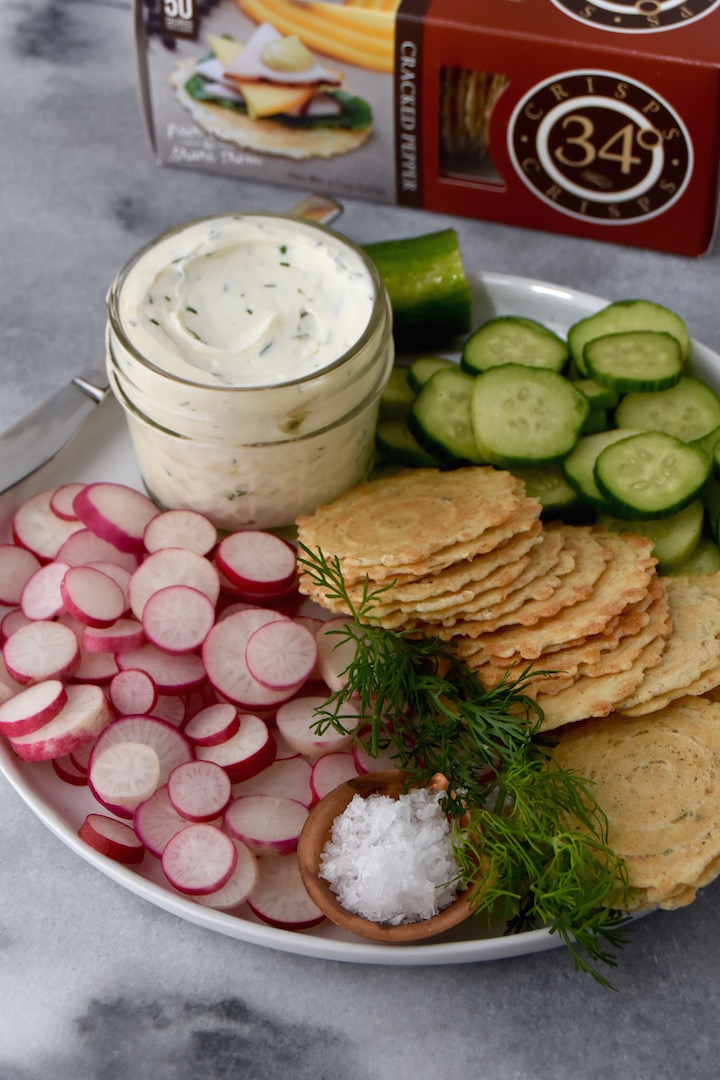 My friends and I have been enjoying these types of snack plates this summer when we're looking for a simpler get together, without spending on dinner out.
Everyone commits to bringing something – dividing up the snack plate components, bringing fruit, chocolate or a bottle of wine – and it's immediately something to look forward to after work as a way to enjoy these warmer evenings. This creamy herb spread with the cracked pepper crisps is a winner with a cold glass of white wine.
I hope you have the chance to relax and connect over snacks with your friends and family soon!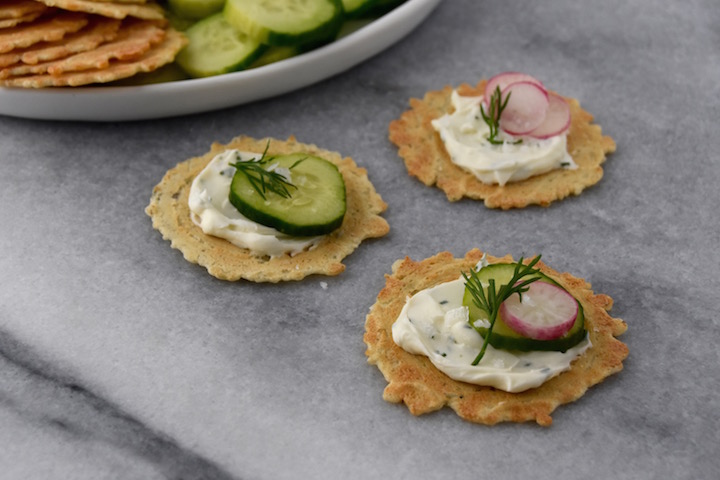 Whipped Dill Cream Cheese Snack Plate
Author:
Marisa | Uproot Kitchen
Ingredients
Whipped Dill Cream Cheese
8-ounce package Neufchâtel cheese (or cream cheese) at room temperature
1 tablespoon fresh dill, minced
Pinch of salt
Optional: 1-2 tablespoons milk
Snack Plate
3 small Persian cucumbers, sliced
1 small bunch radishes, sliced
34 Degrees Cracked Pepper Crisps
Maldon sea salt flakes, or other finishing sea salt
Additional fresh dill
Instructions
Allow cheese to come to room temperature 30 minutes before preparing the snack plate. You should be able to easily indent the package of cheese with a finger when it's ready.
Using a stand mixer, hand mixer, or a whisk, whip the Neufchâtel cheese for 2-3 minutes to add air into the cheese and break up the block. Once the cheese is easily spreadable, add in fresh minced dill and a pinch of salt and whip to combine. If desired, you can thin this further by whipping it with 1 tablespoon of milk at a time.
Slice up cucumbers, radishes, and any other snack vegetables as desired.
Place the whipped dill cream cheese, vegetables, crisps, sea salt flakes and additional dill out on a plate. Urge your friends to assemble crisps with a swipe of the whipped spread, vegetable slices, a sprig of dill and a sprinkle of sea salt.
Notes
Substitute regular cream cheese and other herbs you may have on hand if desired for an easy variation on this recipe.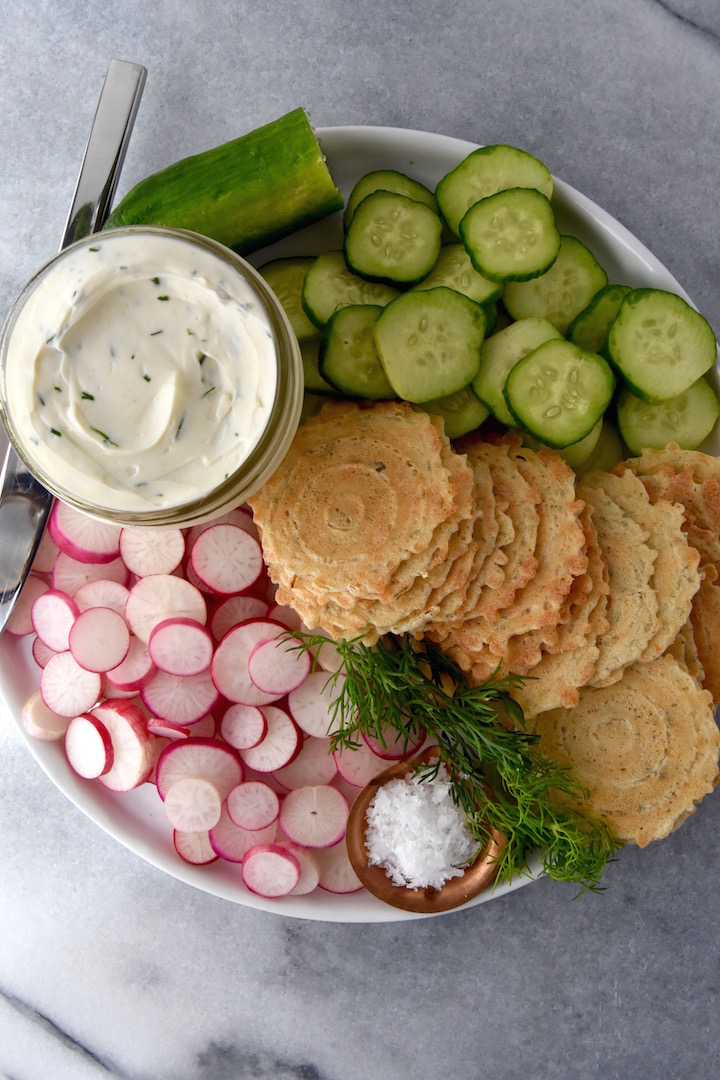 The more you pair, the more they share! 34 Degrees donates 1% of all the crackers they bake to causes that fight hunger. Use their store locator to find some crisps near you. For more recipes and entertaining tips, find them on  Facebook, Pinterest, Twitter, and Instagram.
Tell me- do you love a good snack plate? Any summer get-togethers planned with friends?
Marisa