These Froyo Dessert Bites are a simple mix of Greek yogurt, frozen berries, natural almonds and chocolate chips. Freeze them in a muffin tin and pop them out for a sweet treat anytime!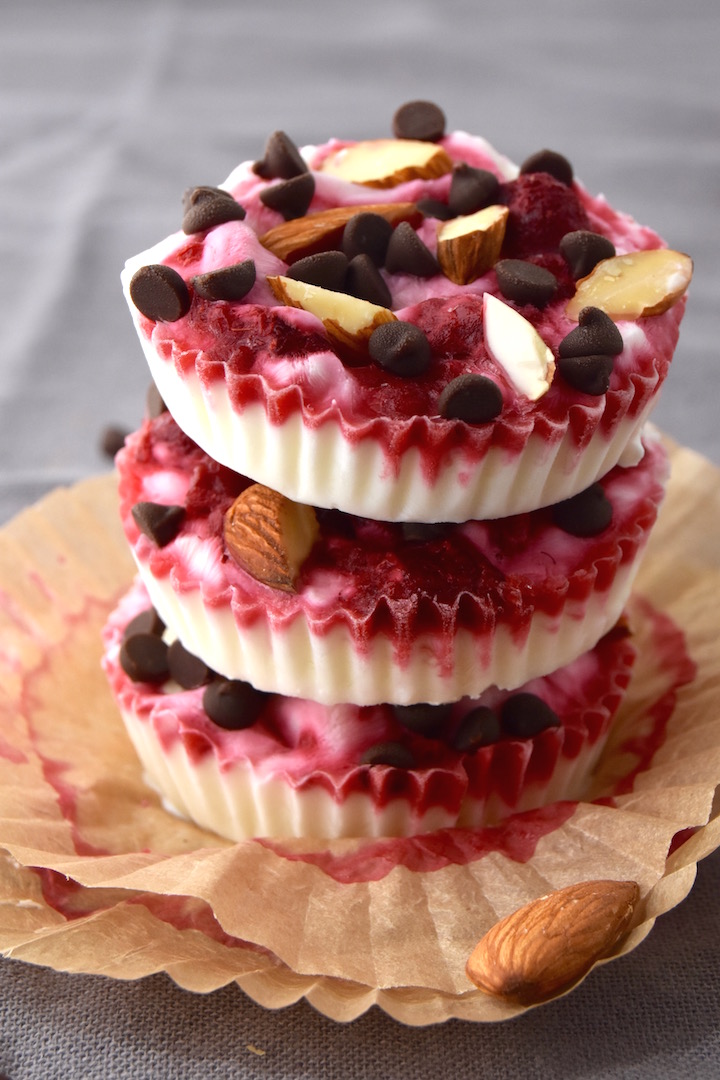 Disclosure: This post is sponsored by Blue Diamond Almonds, the Official Snack Nut of USA Swimming. I was compensated for my time and all opinions are my own, as always.
I love the flavor of plain frozen yogurt. You know, the tart tangy version you can swirl into your own cup at frozen yogurt shops and then trash up with candy? Yep. My weakness.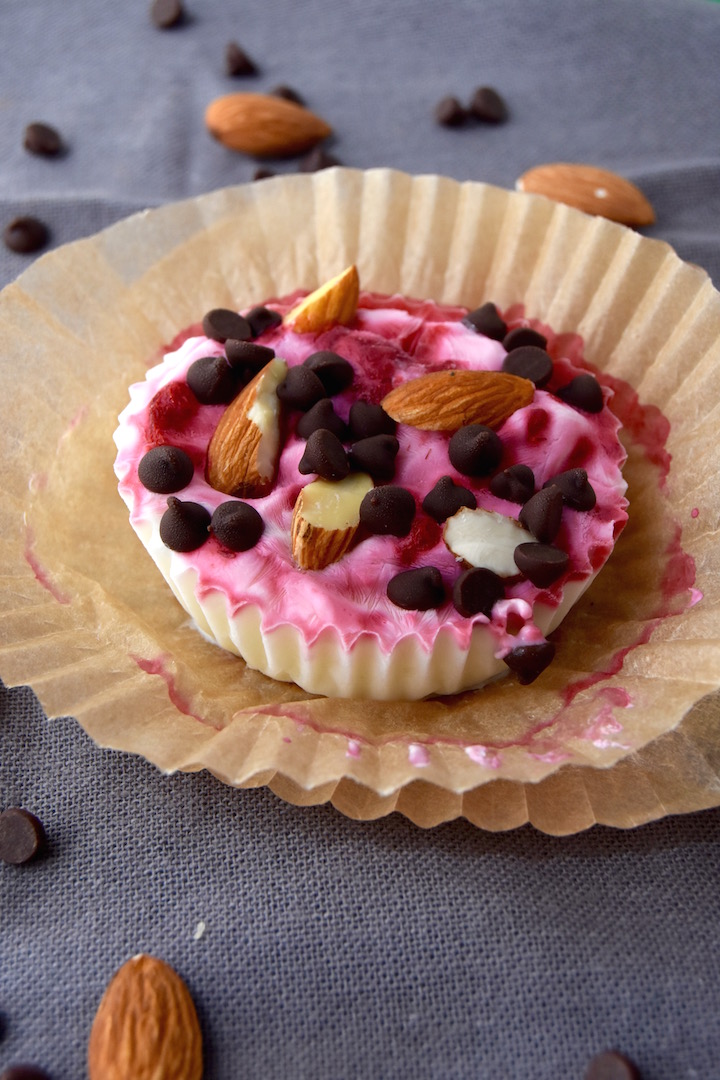 We're bringing the frozen yogurt shop to you today, and I can't tell you guys how much I love having these little tart froyo dessert bites on hand to satisfy my sweet tooth.
With a base of whole milk Greek yogurt, we swirl in some raspberries, chopped Blue Diamond Whole Natural Almonds, and mini chocolate chips for a delicious treat. Basically, a retrofitted, wholesome version you can enjoy every night – are you also one of those people who has to end the night with a sweet bite?
I recommend that these are so wonderful, they actually could substitute as breakfast. A great hit of protein + fat from the yogurt, with some sweet toppings – it's basically a frozen yogurt parfait!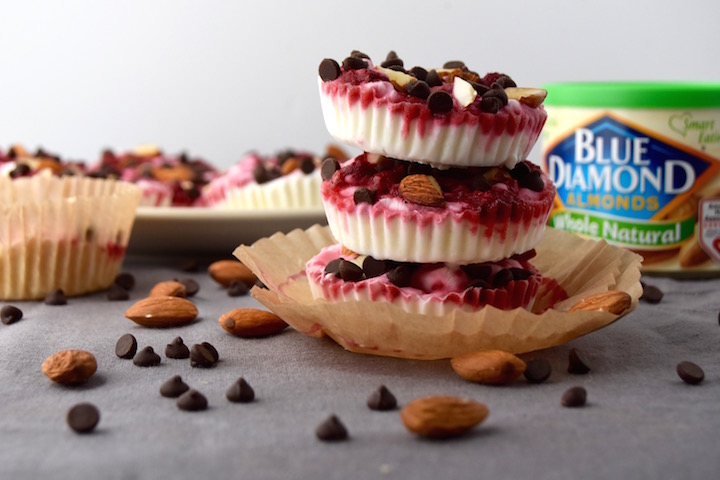 Tart Froyo Bites
Author:
Marisa | Uproot Kitchen
Ingredients
16 ounces whole milk Greek yogurt
½ teaspoon vanilla bean powder (see note for substitution)
¾ cup frozen raspberries
¼ cup chopped Blue Diamond Whole Natural Almonds
¼ cup mini chocolate chips
Instructions
In the container or a mixing bowl, stir together Greek yogurt and vanilla bean powder or vanilla extract. Set aside.
In a small ramekin, microwave frozen raspberries for 30 seconds to allow them to become juicy and soft. Mash up a bit with a fork. Set aside.
Line a muffin tin with paper or silicone liners. Dollop ¼ cup of the yogurt into each liner and smooth it down a bit. Swirl in ½ teaspoon of the raspberry puree, and then sprinkle chopped almonds and mini chocolate chips on top. Press down slightly to ensure the toppings hold in the yogurt.
Place the muffin tin in the freezer for a minimum of 2 hours.
When you're ready to enjoy the frozen yogurt bites, remove the muffin tin from the freezer and allow the pan to sit for 2-3 minutes on the counter. Pull on the muffin liners to release the bites (use the warmth of your hand under each cup if they're hard to pull out).
Store extra bites in an airtight bag in the freezer for up to 2 months.
Notes
Vanilla bean powder is preferred for this recipe, but you can substitute this specialty ingredient with 1 teaspoon vanilla extract. You can also omit it completely for a plain yogurt base.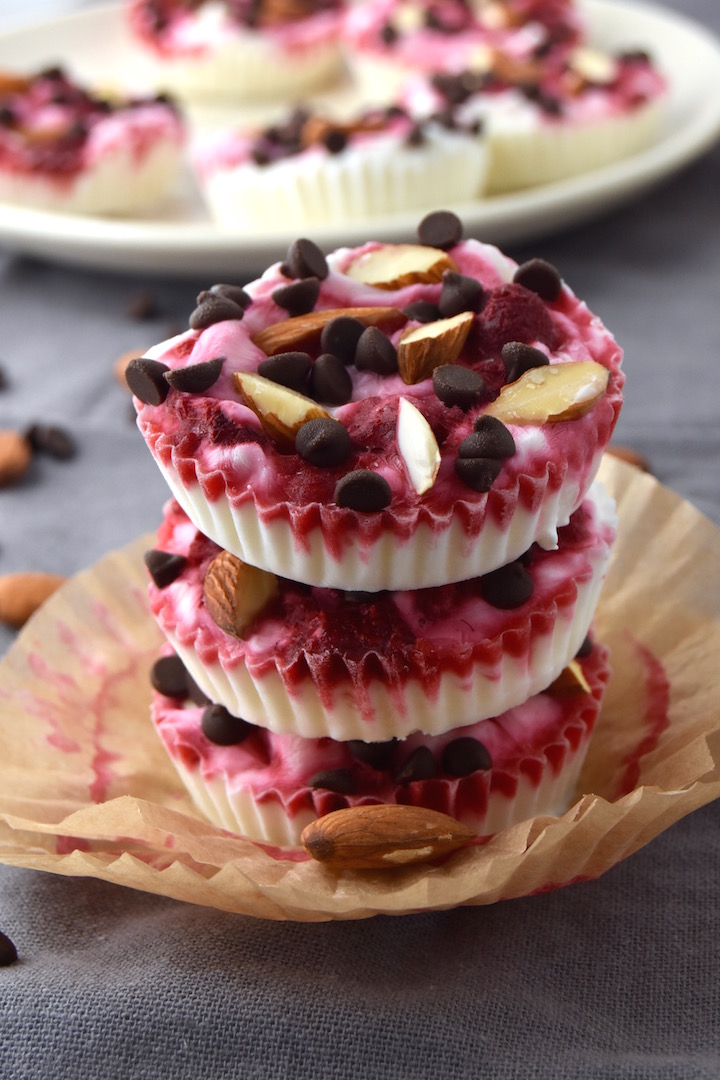 These are obviously customizable to your favorite toppings.
Try this version once, and then feel free to mix it up – swirl in cocoa powder to the base yogurt, top with your favorite candy pieces or a different frozen fruit puree. Use a mini muffin tin and mini liners to make these bites tinier for small hands too!