Today, I'm sharing my August Seasonal Produce List!
Every month this year, I will be sharing a seasonal produce list so that you all can have a handy dandy printable to save on your phones, or reference when making a grocery list. In addition, my website is organized so that you can look at my Ingredient Index for a specific ingredient, and find recipes based on what you might have in the fridge.
August is here, everybody – can you believe it? This summer has flown by, and we are finally in the busy month of summer, trying to cram all the wonderful outdoor fun in: hiking, berry picking, sitting on the beach, brunching outside, and farmers' markets packed with produce. Challenge yourself to do something crazy with summer produce this month – buy a box of "seconds" peaches at the farmers' market (the bruised ones are cheaper – ask for em!) and make a crisp for all your friends to enjoy, go berry picking and freeze the berries for smoothies, or try making jam for the first time (I just canned some strawberry thyme jam!). Get my favorite August recipes at the bottom of this post!
I hope this list gives you inspiration to eat with the season this month – and perhaps get creative in the kitchen with a new ingredient.
WHAT'S IN SEASON IN AUGUST?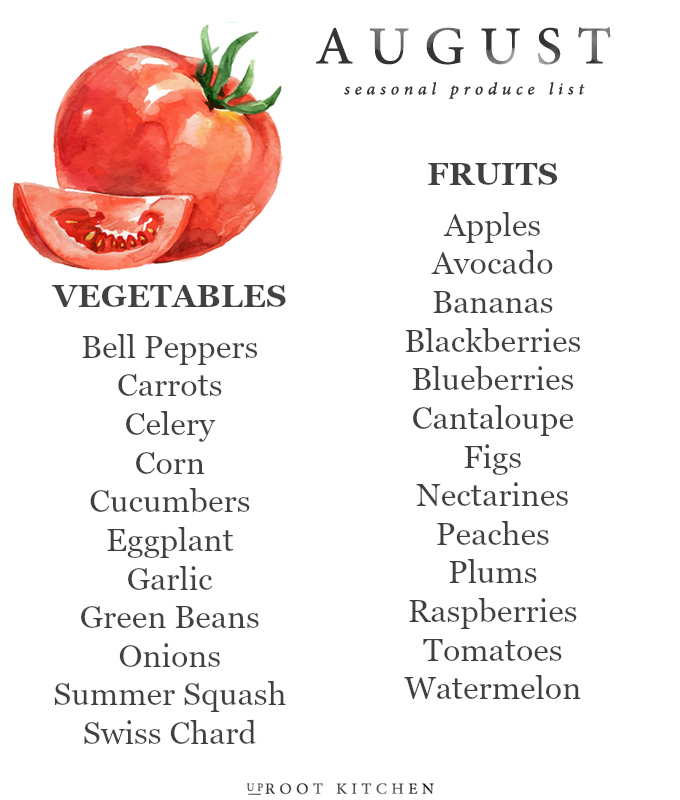 >> Download the August Seasonal Produce List Here <<
[Sources: 1, 2, 3]
LOOKING FOR IDEAS OF HOW TO MEAL PLAN THIS MONTH?
Check out the linked fruits and vegetables below for recipe ideas!
FRUITS
VEGETABLES
A FEW FAVORITE RECIPES
Tell me- do you try to eat with the seasons?
Anything you've made lately with these ingredients that you loved?
Marisa