These Horchata Ice Pops are a creamy treat made from a base of cashews and rice milk. Blended with vanilla, cinnamon and honey, they're reminiscent of my favorite Mexican horchata drink.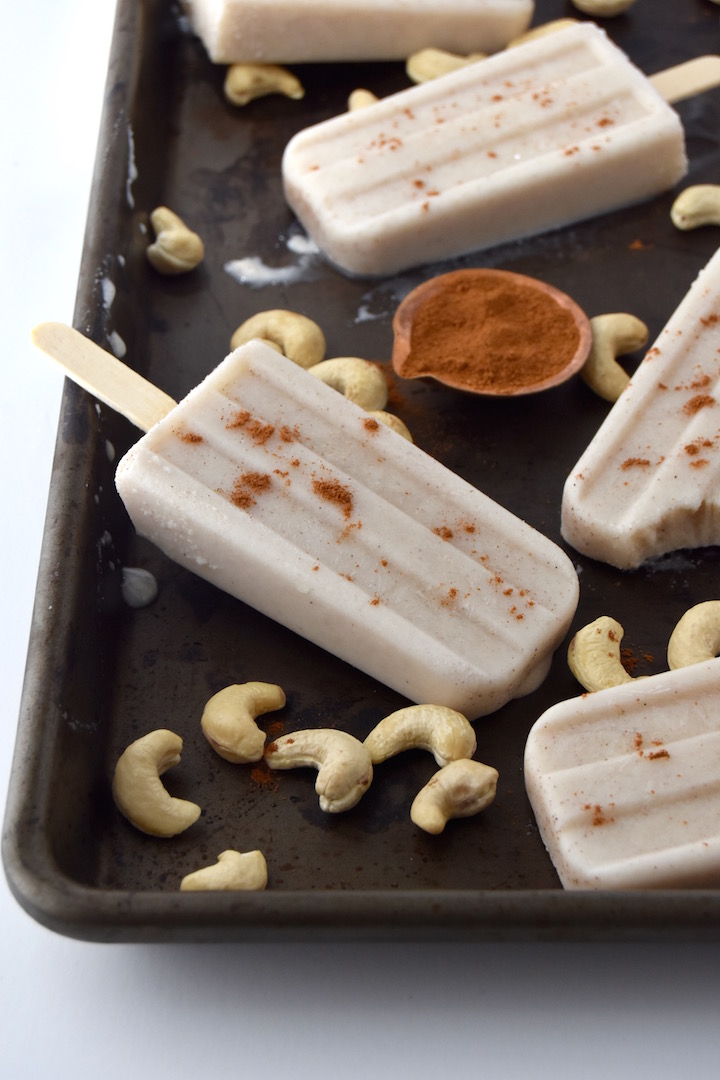 Growing up, my family had a favorite Mexican spot down the street from our house. I loved everything about it – they were quick to assemble a plate of my favorites, had beautiful bright tile and a back patio.
My sister and I would frequently convince our parents to bring us there, or we'd meet friends there for burritos and horchata. Their horchata is something I still dream of (though, I don't think I could tolerate the sweetness of it now!). The thick rice milk beverage was reminiscent of a thin milkshake spiked with cinnamon and vanilla.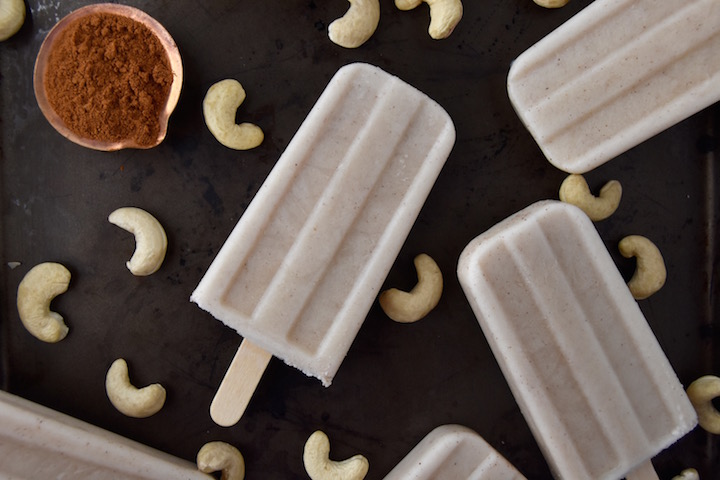 Every once and awhile, I buy rice milk to mix up my smoothies, and decided to try my hand at a horchata ice pop recipe as tribute to our old spot in Portland.
For this recipe, we are soaking cashews in advance of blending the ice pop liquid. This helps create the thick, creamy consistency we're going for – simply freezing rice milk would be quite icy (though also refreshing if you're looking for a different twist).
Once that step is complete, we drain the cashews and combine them in a blender with rice milk, vanilla, cinnamon and honey. Blend, pour into molds, and wait until set to serve.

Horchata Ice Pops
Author:
Marisa | Uproot Kitchen
Ingredients
1 cup raw unsalted cashews, soaked
2 cups unsweetened rice milk
½ teaspoon vanilla bean paste or vanilla extract
½ teaspoon ground cinnamon
3 tablespoons honey
Instructions
hours ahead of time, cover cashews in hot water and set aside on the counter to soften. Alternatively, cover the cashews in cold water and place in the fridge overnight to soften.
Drain and rinse the cashews, and combine all ingredients in a blender and blend until smooth.
Pour the mixture into an ice pop mold. I had a total volume of 3 cups and made 8 pops.
Freeze for 8 hours or longer. Run warm water over the mold to release the pops and store extras in a freezer bag.
Note: I own this ice pop mold (affiliate link). If you don't own one, you can also pour the mixture into paper cups or ice cube trays and stick them with wooden sticks. Let the mixture freeze for 30 minutes before inserting the sticks if you're not using a mold to be sure that they stay straight.

Enjoy!
Marisa