This recipe is my go-to Chickpea Tuna Salad, perfect for packing lunches. The mashed chickpeas stretches the can of tuna into a few more meals, that you can use in a wrap or to top a salad.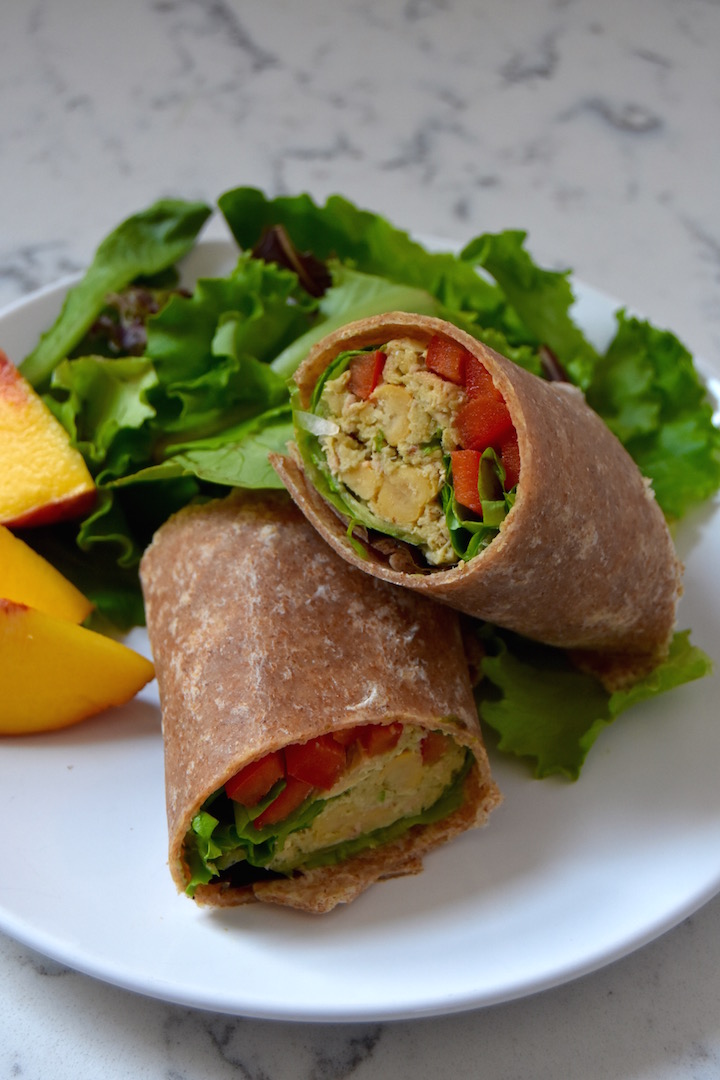 Things have been quiet around here lately as I start my second year of my Masters' program, trying to once again find balance between school – work – blog – sleep – exercise – cooking – etc.
I wish I could tell you I've been doing a great job packing lunches and snacks full of inspiration, but lately, I've been feeling uninspired – thanks to a combination of not getting to the grocery store, not having a lot of time to prep meals last weekend, and travel.
I figured it was time to share the simple pantry meal I whip together when I'm stuck with nothing else – my go-to Chickpea Tuna Salad – in the hopes you can use the recipe for a similarly busy week of yours.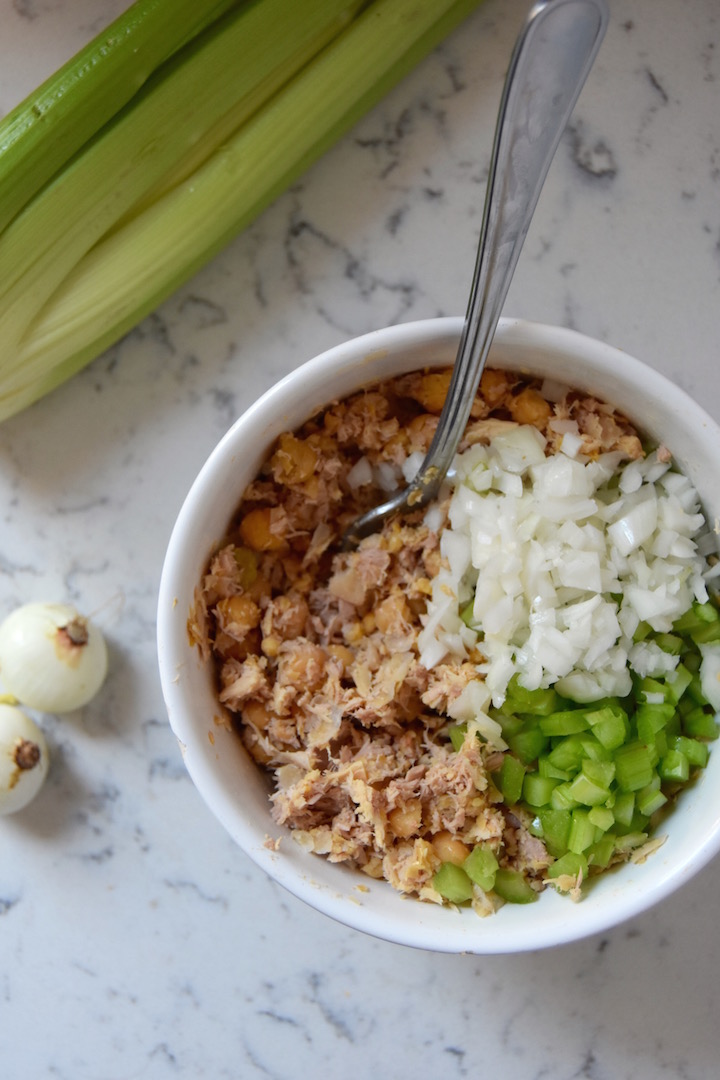 It wasn't until last fall that I started enjoying tuna again, when I really started to appreciate the convenience of protein in a can. I now make my Supergreen Tuna Salad with Sesame Peanut Dressing, and this recipe, on repeat for busy weeks.
I owe it all to buying tuna that actually tastes good – this wild albacore tuna  – so now I truly enjoy and look forward to it (affiliate link, not sponsored).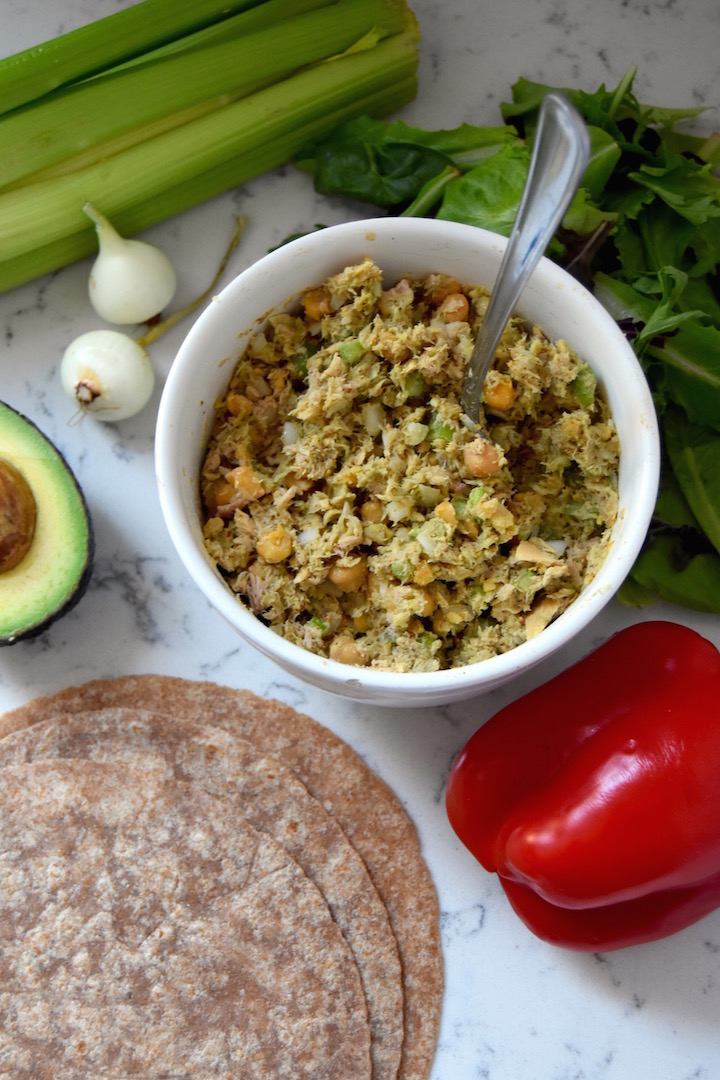 This recipe is a simple one I make so frequently – whether it be with mayonnaise or mashed avocado, depending on what I have on hand.
It's a bulk recipe for lunches for the week, wrapped in a tortilla with lettuce and red pepper, served on top of a green salad, or eaten some alongside crackers and sliced veggies.
It can also be dinner on toast with melted cheddar.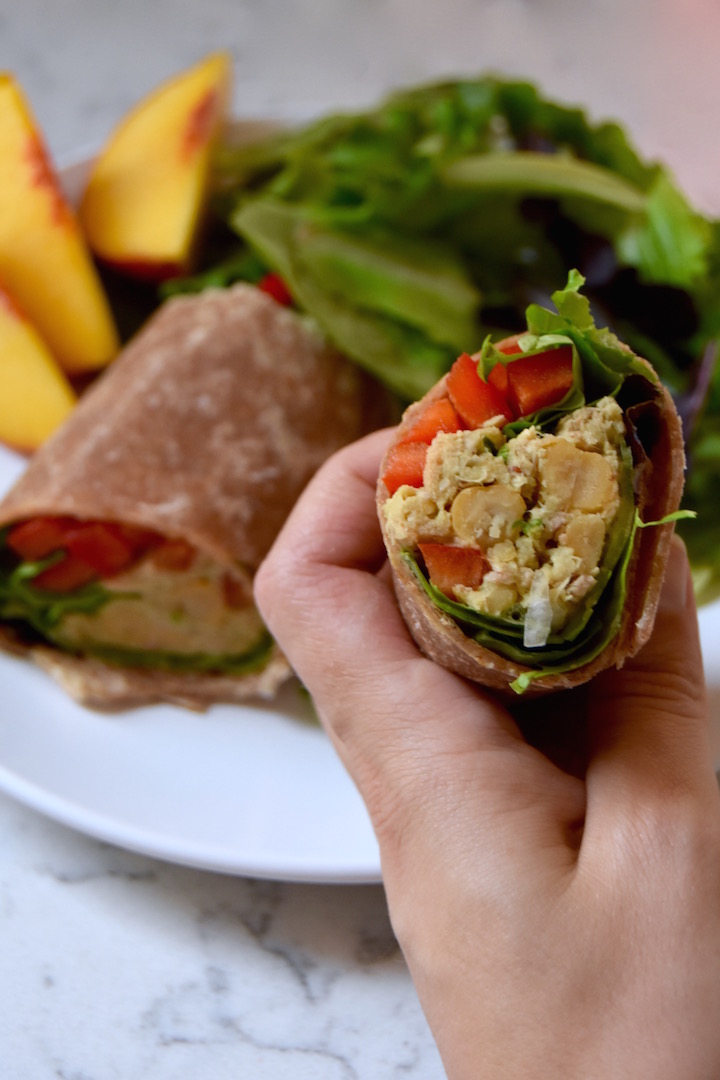 My Go-To Chickpea Tuna Salad
Author:
Marisa | Uproot Kitchen
Ingredients
2 cans albacore chunk tuna in water, drained
1 can chickpeas, drained
⅓ cup minced celery
¼ cup minced onion
⅓ cup mashed avocado or mayonnaise
1 and ½ tablespoons whole-grain mustard
¼ teaspoon salt, or to taste
Fresh ground pepper to taste
Optional 1 tablespoon lemon juice
Instructions
In a mixing bowl, add drained cans of tuna and drained chickpeas. Mash them together about halfway with a fork.
Finely mince celery and onion. Stir into the mixture.
Stir in mashed avocado or mayonnaise, as well as the mustard. Mash to desired consistency.
Add salt and pepper to taste, and lemon juice if desired (see note).
To serve, wrap it in a tortilla with lettuce and red pepper, serve it on top of a green salad, or grab some alongside crackers for a simple lunch.
Notes
If using mashed avocado, leftovers will brown quickly. I like to use a dash of lemon juice to help preserve the color of the mixture, as well as a note of brightness. Feel free to omit if you don't have lemon on hand or if you used mayonnaise.
I hope you enjoy it as much as I do!
Marisa