This Cinnamon Roasted Cashew Butter is a simple nut butter full of warming flavors. Perfect for snacks, topping breakfasts or drizzling over ice cream, be sure to whip some up this fall.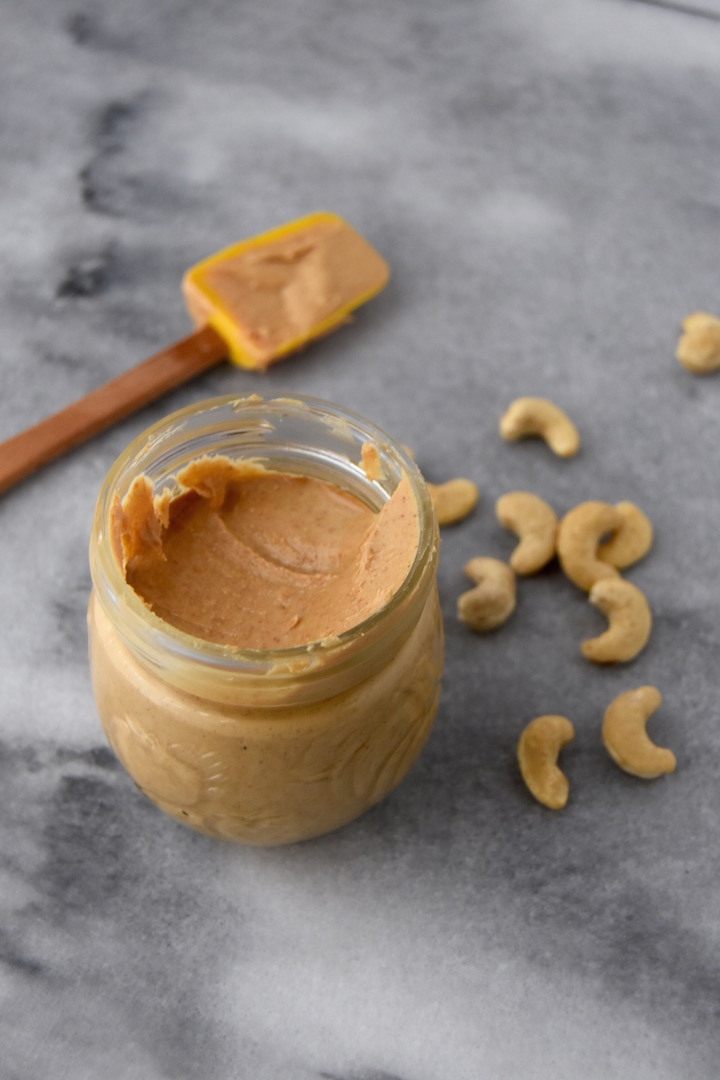 Disclosure: This post is sponsored by NOW Foods. I was compensated for my time, and all opinions are my own.
I know you all appreciate nut butters – they're great at adding protein and fat to a snack of apples or celery, or sandwiching with some jam for a sandwich on the go.
Today, I'm sharing a simple recipe for Cinnamon Roasted Cashew Butter that you can make in a food processor – or a blender, if you have a high quality one.
Don't skip the cashew roasting. I love the extra toasty flavor it brings to the sweet, creamy nut butter.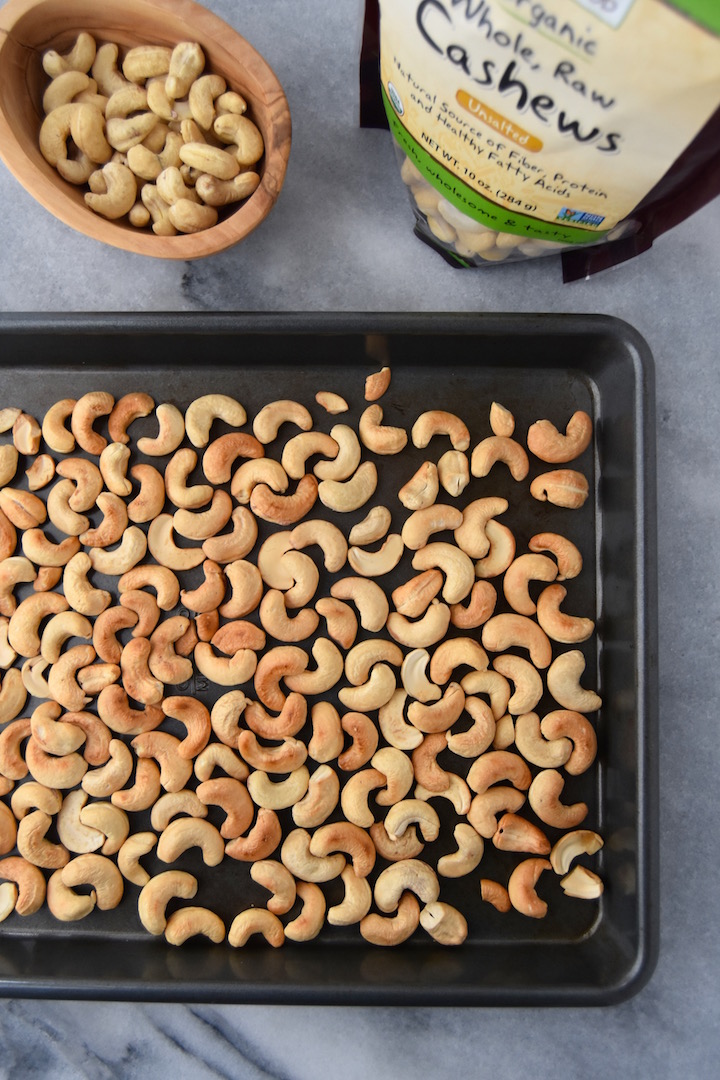 I never used to buy or eat cashews frequently, until this summer, when I tried a low-allergen diet for 6 weeks. I have dealt with eczema and skin sensitivities since my early teens, and a flare up led me to try some drastic measures. Remember when I shared the papaya smoothie with you all? While the diet itself didn't bring me to any new conclusions, thanks to some changes in my skin regimen, I am doing much better now.
During those 6 weeks, I was limited in which nuts I could eat, but cashews were allowed. I've grown to love them plain as a great snack, but also blended with cinnamon as a delicious spread for toast or a drizzle over oatmeal and ice cream.
I know I've raved to you all before about how much I love my food processor (affiliate link) since I got it in 2013, but this recipe took our love to the next level.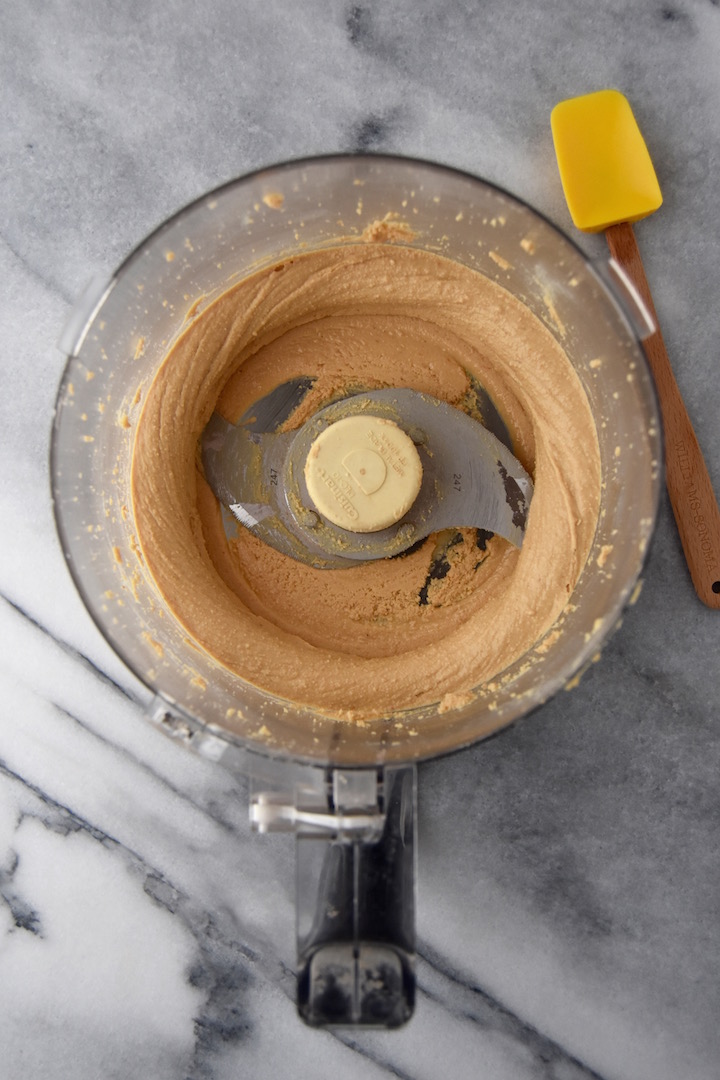 My arms are wide open to incorporating cinnamon into breakfasts, treats, and even main dishes as fall begins, and the warmth it brings in this recipe compliments the roasted cashew flavor.
Why make nut butter at home?
I rarely buy fancy nut butters because of the expense. When I'm in the mood for a treat, I find that buying the raw nuts is a much more cost-effective way to enjoy special nut butters. In this recipe, I used NOW Foods whole raw cashews, but you can also check your local bulk bins for deals on cashew pieces.
By making your own nut butter, you can control the salt and sugar levels.
You get to flavor it however you want! Add cocoa powder, espresso powder, pumpkin purée, maple syrup, or whatever you can dream up!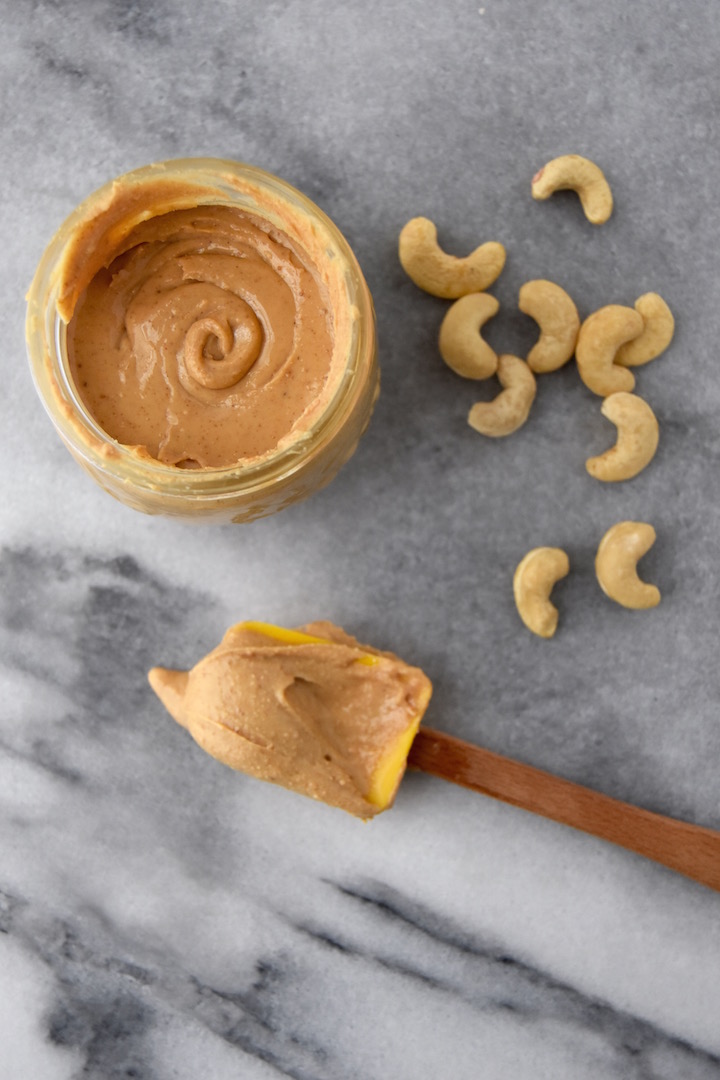 Cinnamon Roasted Cashew Butter
Author:
Marisa | Uproot Kitchen
Ingredients
2 cups raw unsalted cashews
2 teaspoons sugar of choice (granulated sugar, coconut sugar, etc.)
Heaping ½ teaspoon cinnamon
¼ teaspoon vanilla extract
⅛ teaspoon salt
Instructions
Preheat the oven to 325 degrees.
Spread out cashews in a single layer on a baking sheet, and toast them in the warm oven for 10 minutes, stirring frequently.
Remove the cashews from the oven and allow them for cool for 5 minutes.
Empty the cashews into the food processor, and turn it on. Scrape down the sides as needed and allow the food processor to run for around 5-6 minutes. The cashews will turn to flour, and then begin to release their oils and turn into a ball, and then relax into creamy cashew butter.
Once the cashew butter is smooth and warm, add sugar, cinnamon, vanilla and salt to the food processor. Process until combined and taste and adjust flavors as desired.
Store cashew butter in a jar in the pantry for up to one month.
Notes
I use a 9-cup food processor for this recipe. Do not double this recipe - instead, process nuts in separate batches.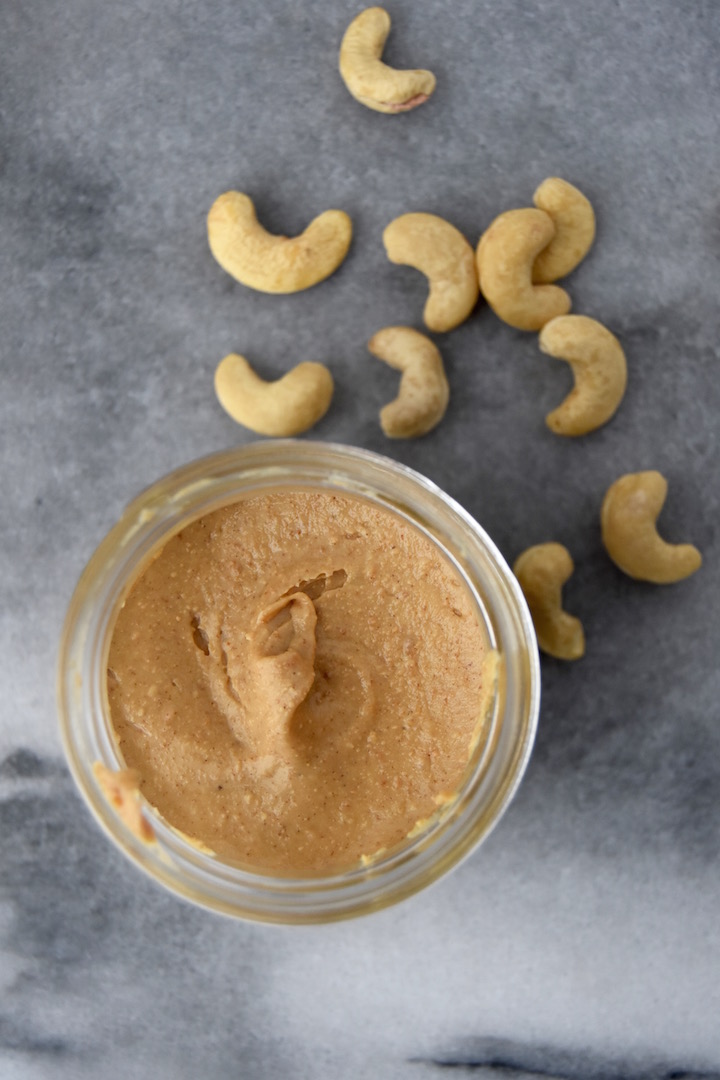 For additional step by step photos to see the ball stage of processing nut butter, check out my post on making
almond butter
. If you're looking for other nut butter flavors, I've previously shared these on the blog:
P.S. Use your homemade cashew butter to make my No Bake Cranberry Cashew Bars!
Marisa