This recipe for Pumpkin Overnight Oats with Sweet Seed Brittle is fall in a jar – prep it and take it to work, on your commute, or as an afternoon snack.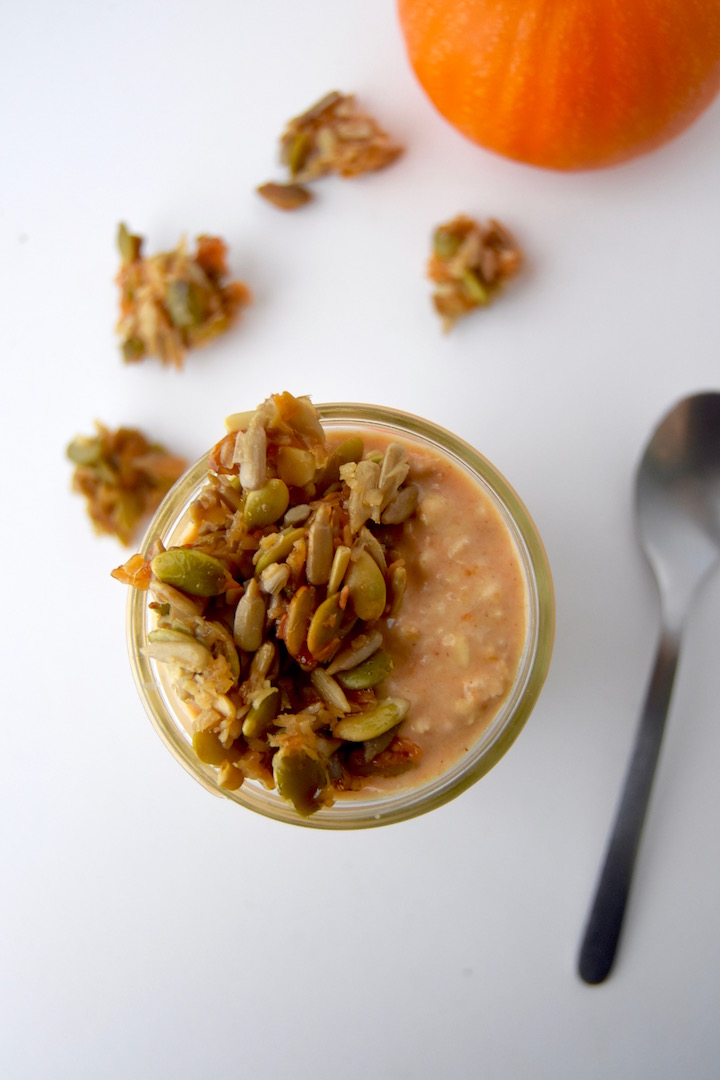 Disclaimer: This post is sponsored by Nancy's Yogurt. I was compensated for my time, and all opinions are my own.
This recipe is coming to you from my messy kitchen today, blasting nostalgic 90s alternative music on Pandora, as I take a study break from my Masters homework. I'm baking up another batch of this sticky seed brittle to top overnight oats for the week. Meal prep is my favorite form of procrastination!
There is something so fulfilling about jumping into another fall season. If you took a peek at my seasonal produce list this month, I hope you got excited thinking about roasted veggies, fall spices and everything pumpkin. I am all for moderating my pumpkin consumption with apple crisps, stuffed squash and pecan pie bites, but I can't get enough of that beautiful orange hue.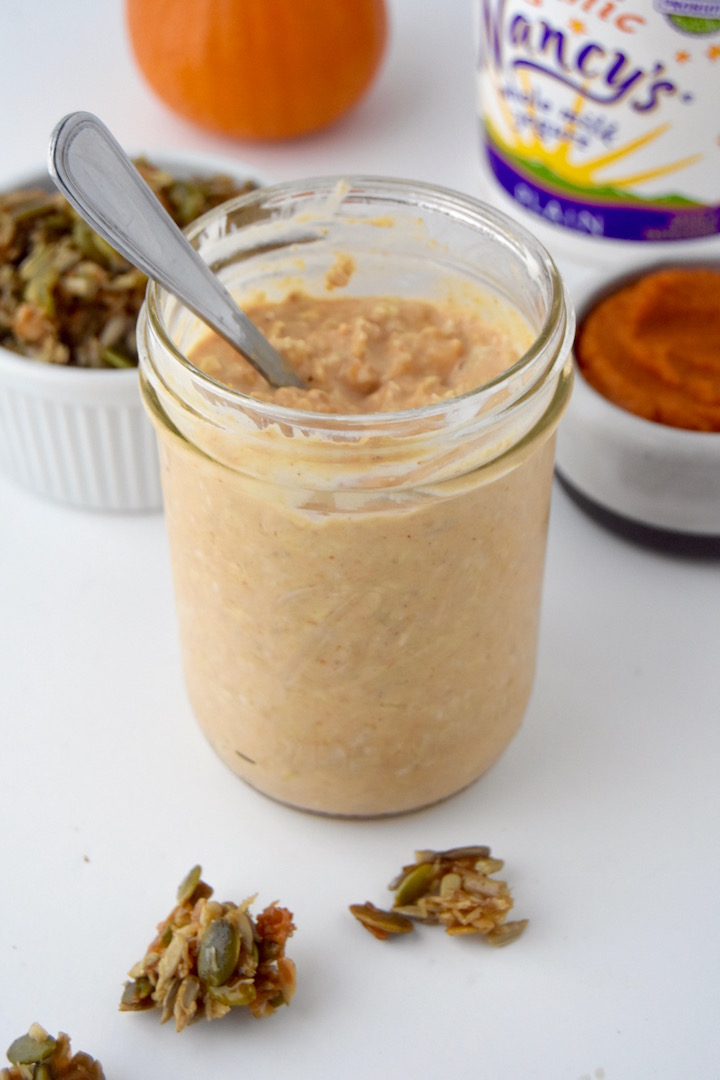 Today's recipe combines a favorite simple breakfast of mine – overnight oats – with a crunchy topping for necessary texture. Overnight oats on their own – this version made with old fashioned oats, pumpkin puree, milk and whole milk yogurt – are delicious, but lack texture without toppings.
You might be upset with how much you love this sweet seed brittle, a simple recipe to whip up reminiscent of granola. With the overnight oat base of rich pumpkin flavor and a sticky-sweet pumpkin seed and sunflower seed topping, you'll love the combination of creamy and crunchy!
Prep a pan of the topping to top your jars of these oats for the week ahead. Try to avoid eating all the clusters before you eat breakfast. It's addictive over plain Nancy's yogurt too!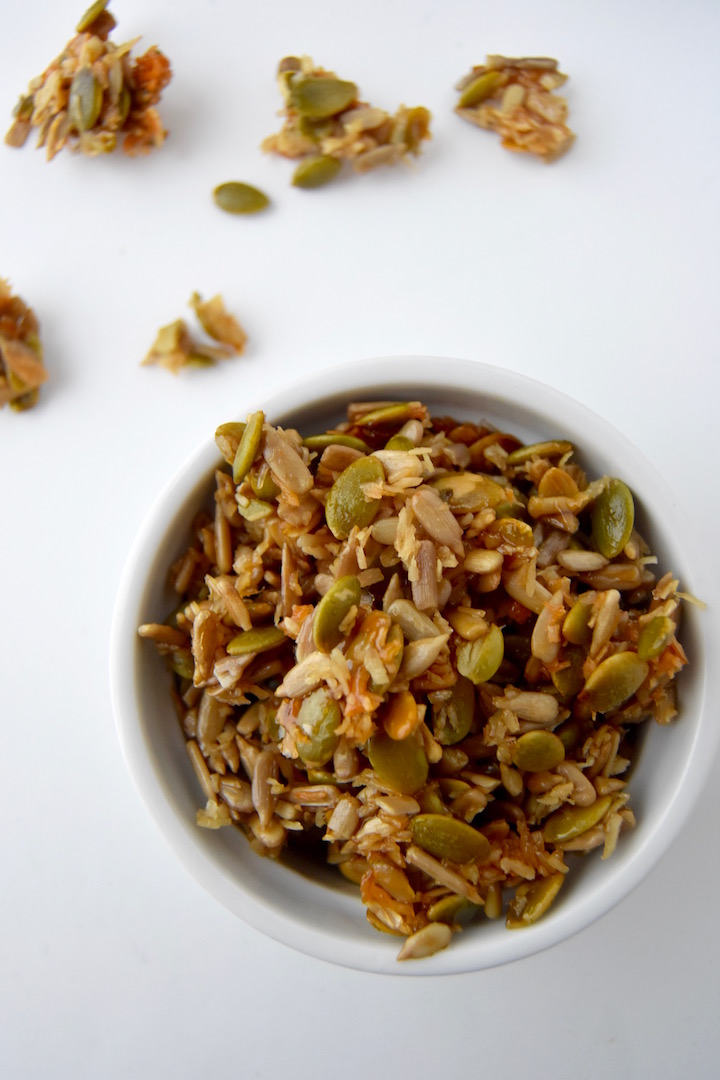 Pumpkin Overnight Oats with Sweet Seed Brittle
Author:
Marisa | Uproot Kitchen
Ingredients
Pumpkin Overnight Oats
½ cup old fashioned oats
¼ cup pumpkin puree
⅓ cup milk of choice
2 tablespoons unsweetened whole milk yogurt
¾ teaspoon maple syrup
⅛ teaspoon ground cinnamon
Pinch of ground ginger
Pinch of salt
Sweet Seed Brittle
1 cup raw pumpkin seeds
1 cup raw sunflower seeds
½ cup unsweetened shredded coconut
⅓ cup maple syrup
2 tablespoons liquid oil of choice
½ teaspoon salt
Instructions
Pumpkin Overnight Oats
In a jar, combine all ingredients for the overnight oatmeal. Give it a good stir and refrigerate for at least 4 hours or until morning.
Top with a handful of sticky seed brittle (recipe below) before enjoying.
Sweet Seed Brittle
Preheat the oven to 300 degrees.
Stir together all ingredients in a bowl and transfer the mixture to a parchment-lined baking sheet. Spread the mixture out on the baking sheet in a thin layer.
Bake for 15-18 minutes, watching closely at the end to avoid burning. Remove the pan from the oven when the shredded coconut is browned and the mixture is bubbly underneath.
Allow it to cool completely before removing from the parchment. It will peel up in sticky clusters.
Notes
Store the brittle in an airtight container on the counter for up to 5 days, or in the fridge or freezer for up to 3 weeks. The brittle recipe makes 2 and ½ cups.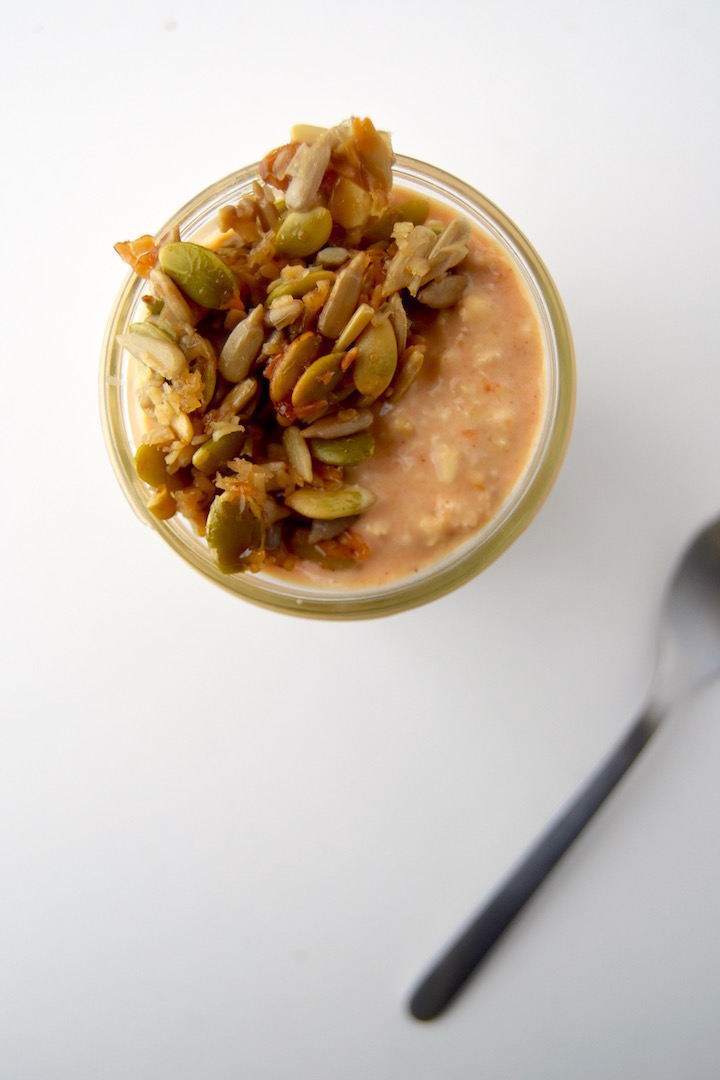 I hope you enjoy this creamy breakfast full of fall flavors!
Be well,
Marisa