This Whole Wheat Apple Cake is made in one-bowl, and its lightly sweet fall flavor is perfect for afternoon snacking.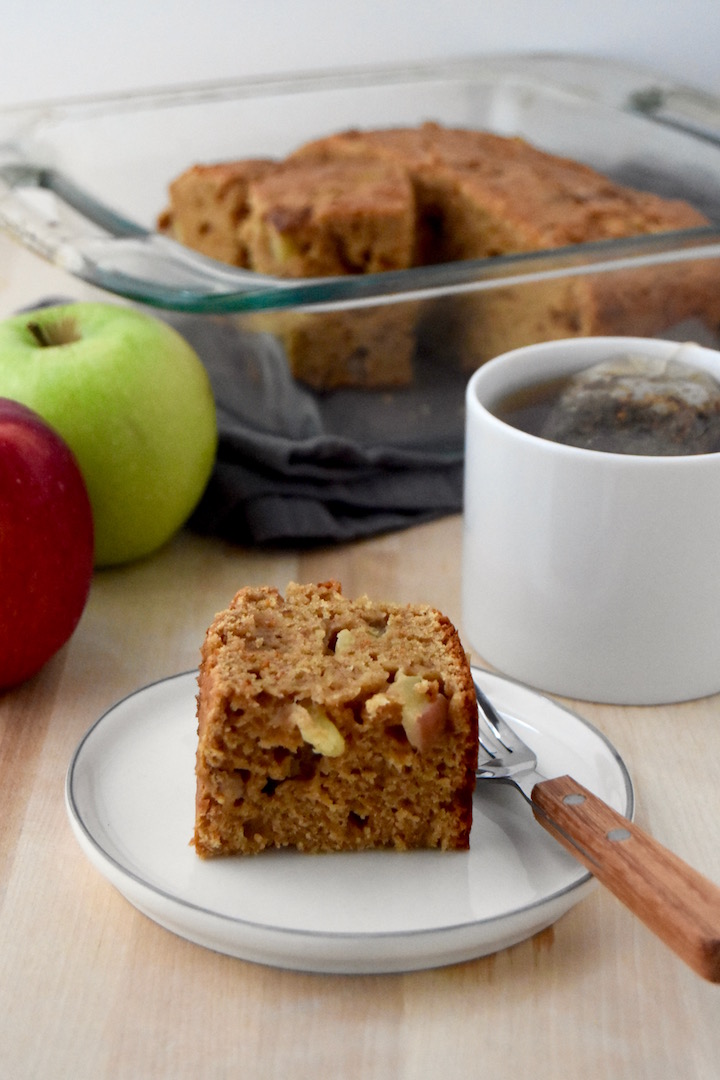 Disclaimer: This post is sponsored by Nancy's Yogurt. I was compensated for my time, and all opinions are my own.
Hey hey, it's the end of our radio silence over here! Fall is in full swing and I've been cooking up a storm, finally inspired again by what's at the farmers' market and in the grocery store.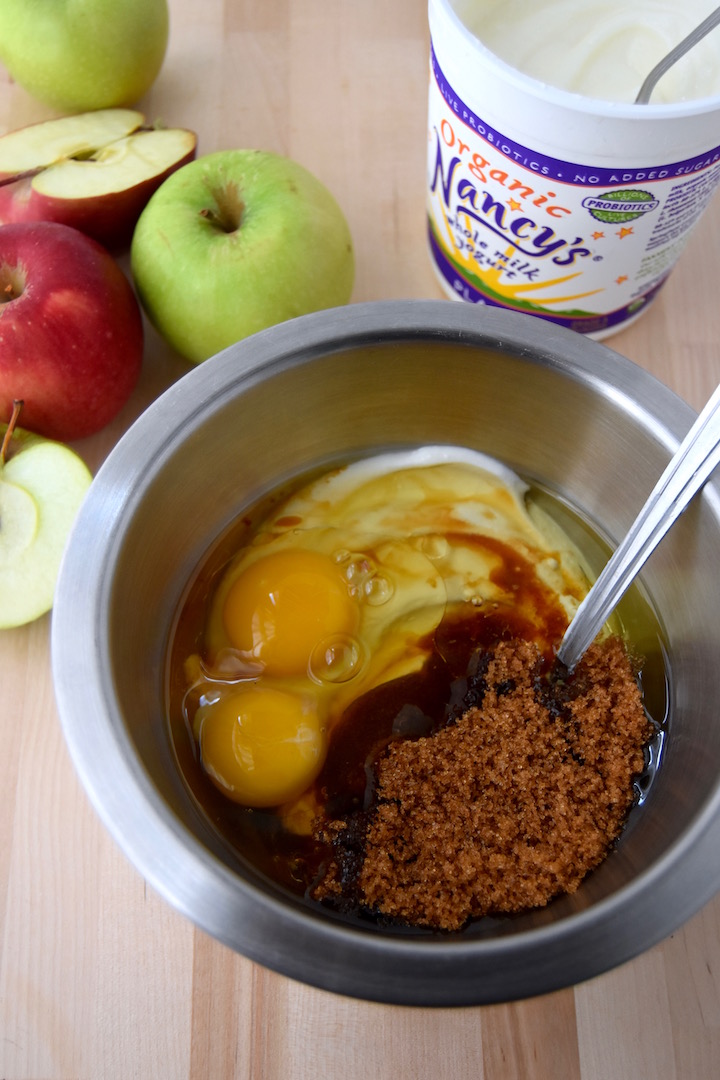 Cooking (and baking) is quite meditative for me, and I've been realizing that I turn to it as a way to unwind from the day.
A few weeks' back, I started experimenting with what turned into today's recipe – a simple snack cake packed with apple chunks, Nancy's whole milk yogurt, and whole wheat flour. Digging straight into it, I knew the basic concept was a winner from the start – fluffy, moist and fall-scented.


As I was traveling back to Denver for a conference last weekend, I thought to bring along a big chunk of the cake to share with Noah. Since he doesn't have the ability to be my taste tester right now, I thought it would be a fun treat. He has a serious sweet tooth and I wanted to be sure I didn't make this snack cake too wholesome – it can be dessert, after all.
I wrapped it tightly in parchment paper and into a plastic bag, and placed it in my carry-on. Before boarding my flight, I tucked it into my messenger bag in the hopes that it wouldn't get smushed (and, truth: I was little hungry). When I reached back into my bag once on the plane, it was no where to be found. The sad saga of the apple cake that never reached Noah, and instead was likely disposed of in the Oakland airport after slipping out of my bag.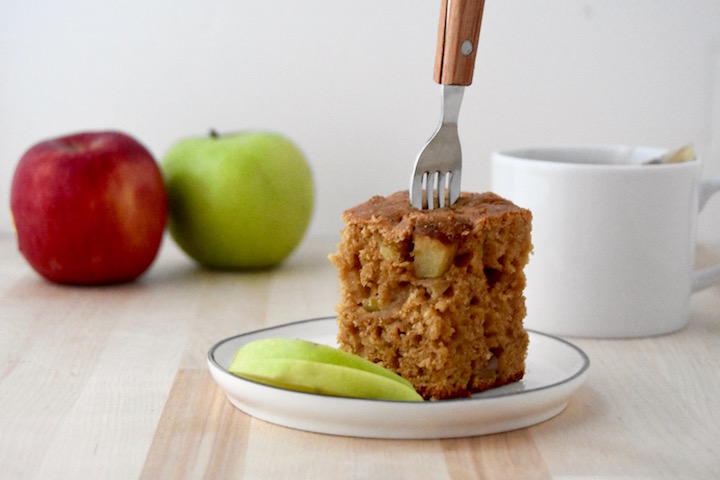 Whole Wheat Apple Cake
Author:
Marisa | Uproot Kitchen
Ingredients
1 cup plain whole milk yogurt
⅓ cup neutral-flavored oil
½ cup light brown sugar
2 large eggs
1 teaspoon vanilla extract
2 cups whole wheat flour
2 teaspoons ground cinnamon
1 teaspoon baking powder
½ teaspoon baking soda
½ teaspoon salt
1 large apple (~1 and ¼ cups chopped)
For topping: 1 tablespoon light brown sugar
Instructions
Preheat the oven to 350 degrees and line an 8x8 pan with parchment paper.
In a bowl, combine yogurt, oil, brown sugar, eggs, and vanilla. Stir until well combined.
Add flour, cinnamon, baking powder, baking soda, and salt to the bowl. Stir until just combined.
Finely chop your apple, avoiding the core but leaving on the skin. Stir the apple pieces into the batter, which will be very thick.
Transfer the batter to the lined baking pan and smooth down the batter. Sprinkle 1 tablespoon of light brown sugar over the top before placing in the oven.
Bake the cake for 45-50 minutes, until a knife comes out clean when inserted into the middle.
Allow the cake to cool for 10 minutes before slicing into squares and serving.
Notes
Leftovers can be stored in an airtight container on the counter for 1 day, or in the fridge for up to 5 days.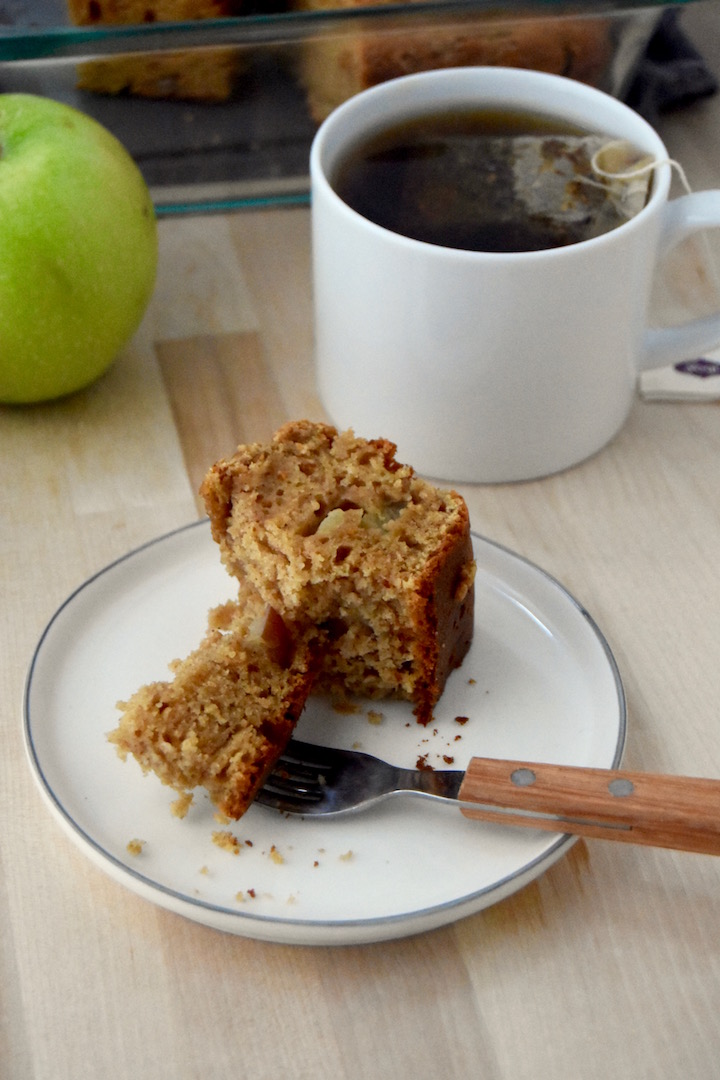 Since that fateful day, I've remade this cake for snacks and desserts alike. It's not too sweet, if you want it in the morning with tea, but can also be a wholesome treat after dinner. Bonus is that it's easy to make, and everyone will love cutting off a square to snack on over the next few days (if it lasts that long!).
I hope you enjoy this simple, unfussy whole wheat apple cake, and that you get some fall weather this week to enjoy it with a hot cup of tea.
Be well,
Marisa