Today, I'm sharing my December Seasonal Produce List!
Every month this year, I've shared a seasonal produce list so that you all can have a handy dandy printable to save on your phones, or reference when making a grocery list. In addition, my website is organized so that you can look at my Ingredient Index for a specific ingredient, and find recipes based on what you might have in the fridge.
Somehow, we've made it to December – the last month of the year! I have really enjoyed sharing these monthly posts with you, looking at seasonal food calendars and brainstorming some of my favorite recipes to share. I hope that it helped you all come to a greater awareness about seasonal food, just like it did for me.
Now that we are back in the winter months, citrus is back in season and I've been eating all the clementines to keep winter colds at bay and roasting tons of veggies. I hope you all enjoy the holiday season and stay warm, happy and well-fed. If you've having friends or family over for the holidays, I've shared some recipes at the bottom of this post for inspiration.
WHAT'S IN SEASON IN DECEMBER?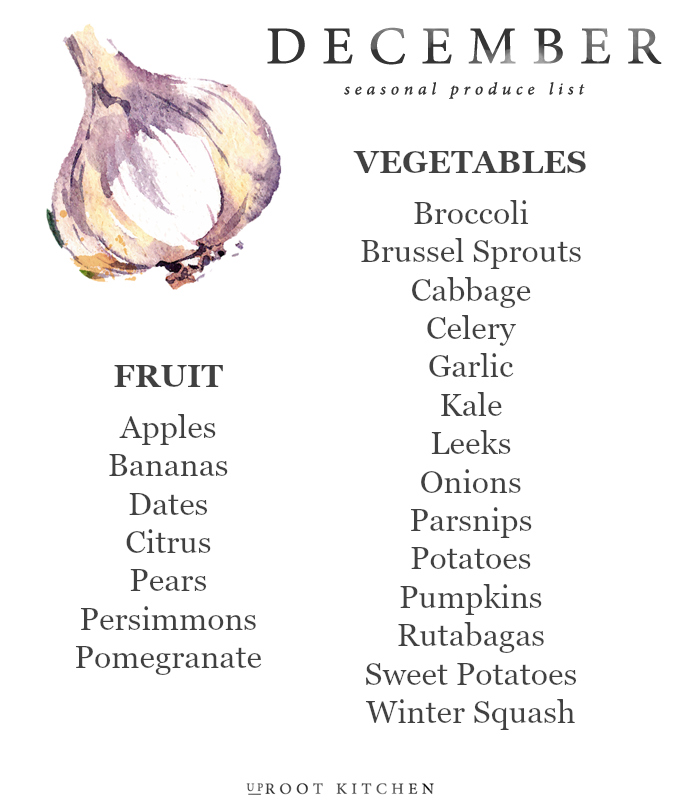 >> Download the December Seasonal Produce List Here <<
[Sources: 1, 2, 3]
LOOKING FOR IDEAS OF HOW TO MEAL PLAN THIS MONTH?
Check out the linked fruits and vegetables below for recipe ideas!
FRUITS
VEGETABLES
A FEW FAVORITE RECIPES
Anything you've made lately with these ingredients that you loved? Any celebrations coming up this month that you can make these seasonal recipes for?
Marisa