These Rustic Whole Wheat Biscuits are a wonderful breakfast or snack, served with jam or butter.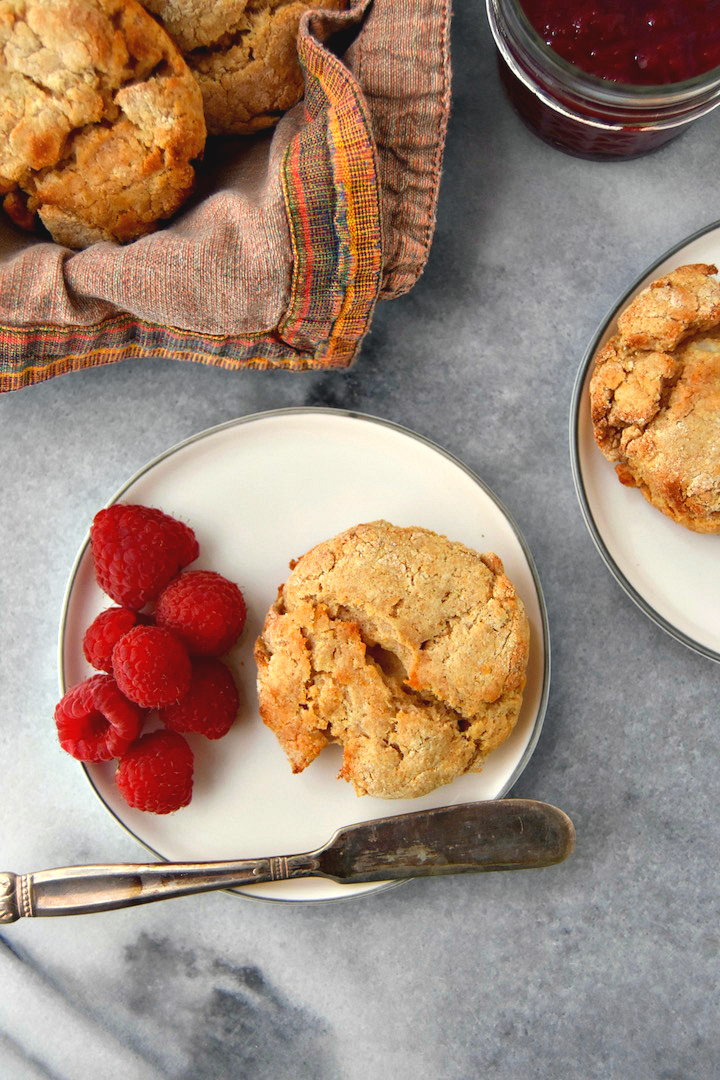 Disclaimer: This post is sponsored by Nancy's Yogurt. I was compensated for my time, and all opinions are my own.
I didn't think I was a biscuit person until working on developing this recipe. They are way easier to make than I imagined! Now, biscuits are my new favorite quick bread for brunches with friends and leisurely weekend mornings.
I can't wait to share the magic of whole wheat biscuits with you all, made with a mix of butter and tangy plain whole milk yogurt.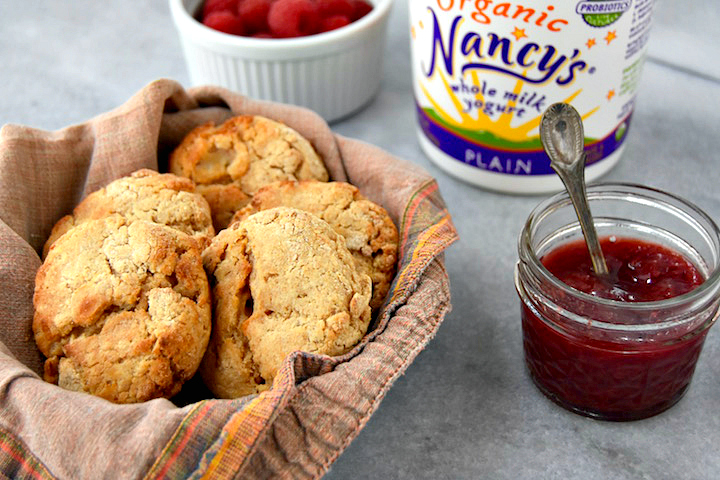 Cheers to leisurely morning breakfasts we all dream about happening more often. Take some time soon to make these quick rustic whole wheat biscuits and sip on a big mug of coffee for me, okay?
Invite me, and I'll bring a jar of my favorite strawberry jam with thyme I still have leftover from summer's best strawberries. SO GOOD.
With a fluffy, warm interior and crisp edges, these rustic biscuits are perfect for eating warm from the oven with a schmear of butter or enjoying with an egg and jam.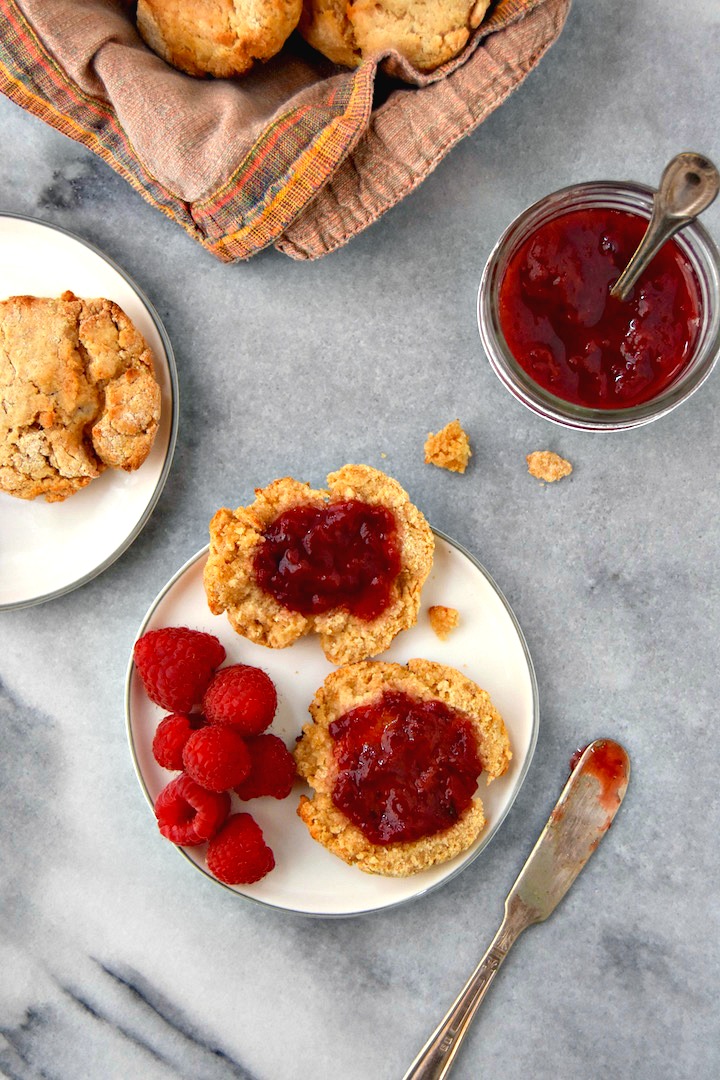 With just a few minutes to spare, and some pantry staples and a bit of butter and yogurt, you can whip up these rustic whole wheat biscuits and either drop them on a cookie sheet or form into biscuit shapes – as long as you're careful not to over-handle the dough.
Can't you just see how these little biscuits are begging to be pulled open to reveal their buttery layers?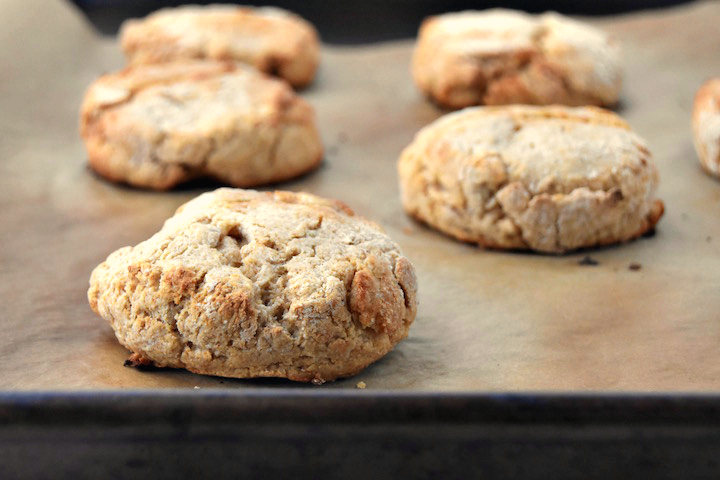 Rustic Whole Wheat Biscuits
Author:
Marisa | Uproot Kitchen
Ingredients
2 and ½ cups white whole wheat flour
1 tablespoon baking powder
1 teaspoon baking soda
½ teaspoon salt
¼ cup butter, cold, cut into small pieces
1 cup plain whole milk yogurt
1 tablespoon honey
Instructions
Preheat the oven to 450 degrees and line a baking sheet with parchment paper.
In a mixing bowl, combine flour, baking powder, baking soda and salt.
Add in the butter, yogurt and honey, and use your fingers to break up the pieces of butter further into the dough. Be careful not to overwork the dough and mix only until all ingredients are combined.
Scoop up ¼-cup amounts of dough and form them gently into biscuits on the parchment.
Bake for 6-7 minutes on a parchment lined baking sheet, until the bottoms are browned. Allow to cool for 2-3 minutes before enjoying warm.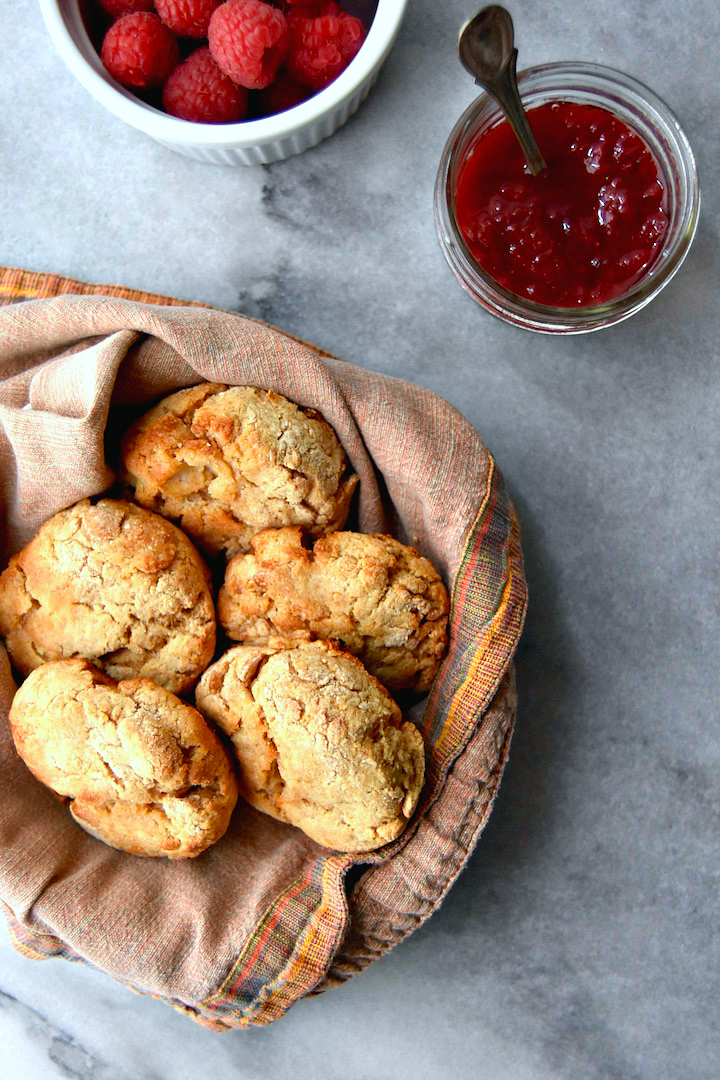 One quick tip if you're making these at home: I make these on the smaller side – about 1/4 cup of dough per biscuit – in order to keep them from being doughy on the inside. Plus, more biscuits = more jam.
If you plan to make them larger, you may need to adjust the oven temperature and time a bit (try 425 degrees for a few minutes longer) to avoid the bottoms browning too much before the insides are fully cooked. Baking is frustrating because ovens are also so variable in heat, but I tested a few batches this way (larger and longer bake time), and found I preferred the smaller size.
Be well,
Marisa