This spiced pear simple syrup pairs wonderfully in warm hot toddys, as part of Spiced Pear Old Fashioned, or with sparkling water for a delightful winter sipper.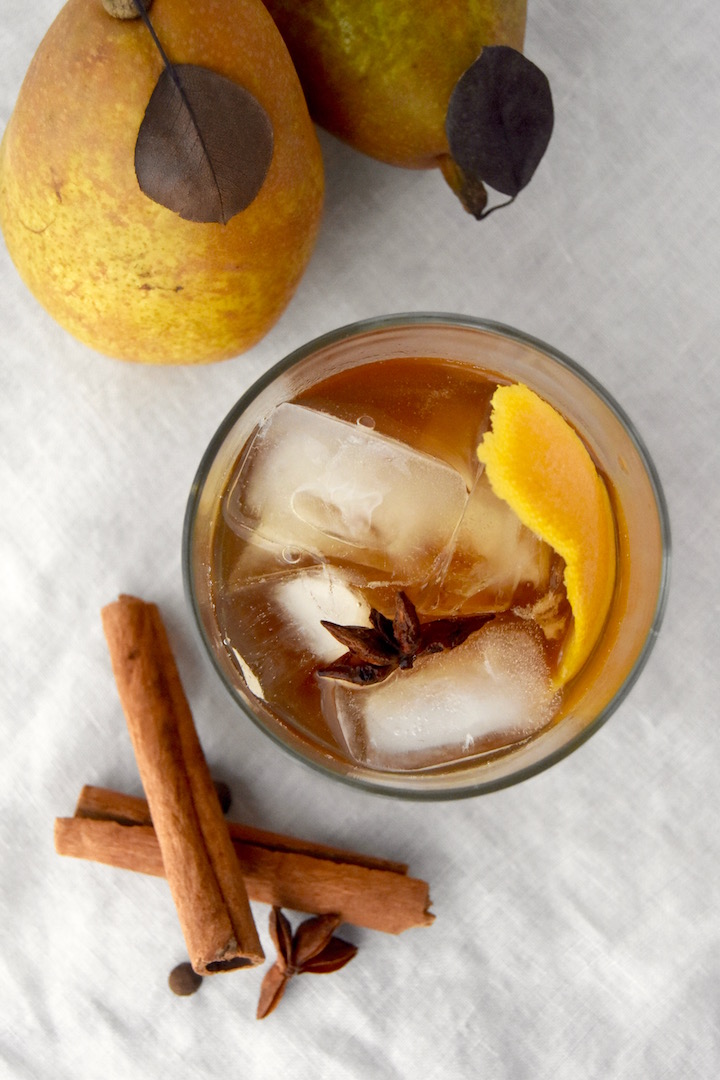 I've been working on my perspective a lot lately. I wrote these words down on a walk in the drizzly rain this week, reminding myself to not forget about the little things:
A mug of coffee
A walk alone to think, with no destination
The feel of rain on your face
A true belly laugh that makes your eyes crinkle closed
Our dreams and aspirations are important, but sometimes these bigger goals can distract us from the everyday beauty we are a part of. Even the daily stresses and fullness of life can distract us. What am I doing, and what are you doing, to focus on the little things? How are we reflecting on the beauty of today?
It's the little things that make me smile and be grateful for being alive. I'm still working on this goal, this perspective shift; I can't be alone.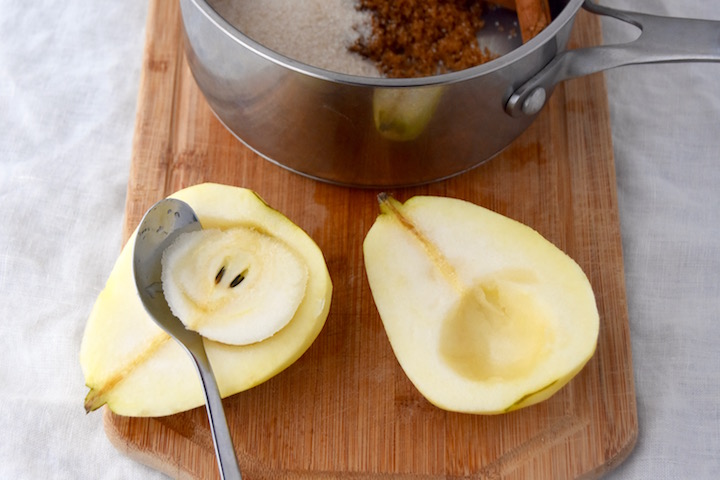 I know that February is the end of pear season, and I'm not doing my best at consistency around here with new recipes. But, this is life. I made a delicious drink and I want to share it with you.
This season of my life has felt really full in a wonderful way, with the long vacation I took in January and finishing up my graduate work this spring. I've had this recipe in my drafts folder since early December and I don't want to wait until next year to share it with you. It's the perfect winter warmer. The weather in late winter can be especially gloomy when we're all getting antsy for spring, but can you all help me work on embracing the perspective that cozy days are valuable – it's usually the cozy winter days where I savor the little things more.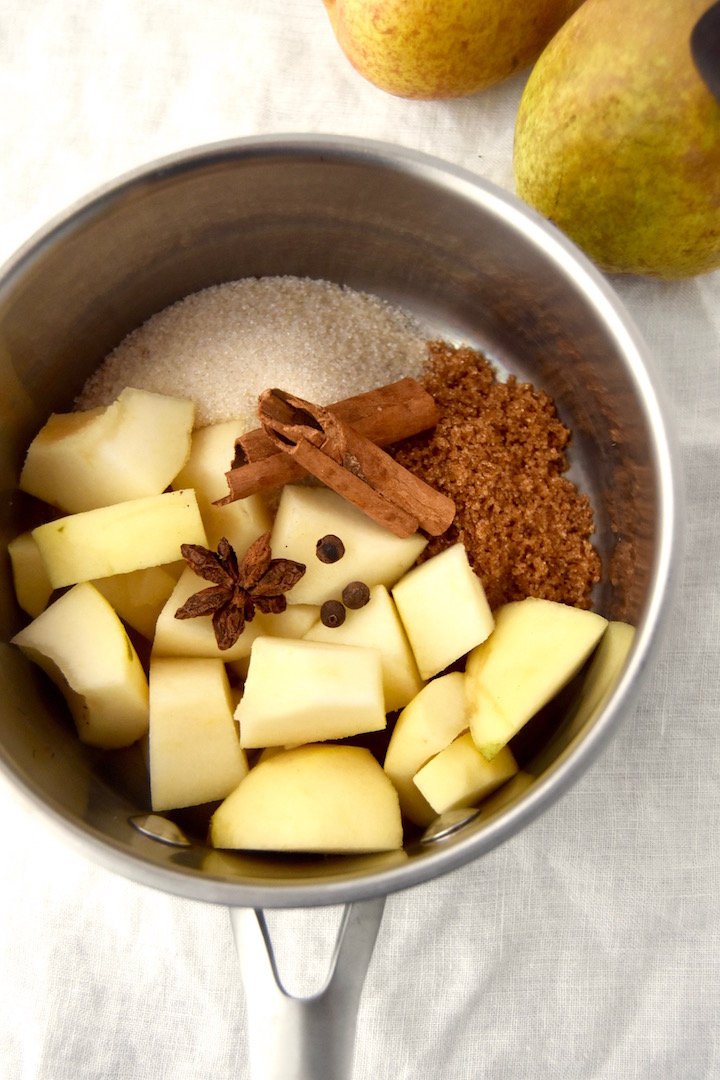 Spiced Pear Old Fashioned
Author:
Marisa | Uproot Kitchen
Ingredients
For Syrup
1 cup water
¼ cup light brown sugar
¼ cup white sugar
1 large pear, ripe, peeled and cored
1 cinnamon stick
1 star anise pod
2-3 allspice berries
For Drinks
Orange peel
Bourbon
Sparkling water (for non-alcoholic)
Instructions
Combine all ingredients for the syrup into a pot, chopping up the pear and smashing the cinnamon, star anise, and allspice with the side of a knife against a cutting board.
Heat to medium heat until a few bubbles begin to come up, and reduce the heat to low. Allow the mixture to simmer, stirring occasionally, for 10 minutes.
Allow it to cool fully before straining out the spices and any additional chunks of pear. Press down firmly to get any additional juice out of the pear.
For Spiced Pear Old Fashioned
Combine 1-2 ounces of the syrup with desired amount of bourbon in a glass with ice cubes. Dilute with a splash of sparkling water if desired. Top with orange peel.
For Spiced Pear Spritzer (Non-Alcoholic)
Combine 1-2 ounces of the syrup with sparkling water in a glass with ice cubes. Top with orange peel.
Notes
The strained pear pulp can be saved and used to top oatmeal or blended into smoothies.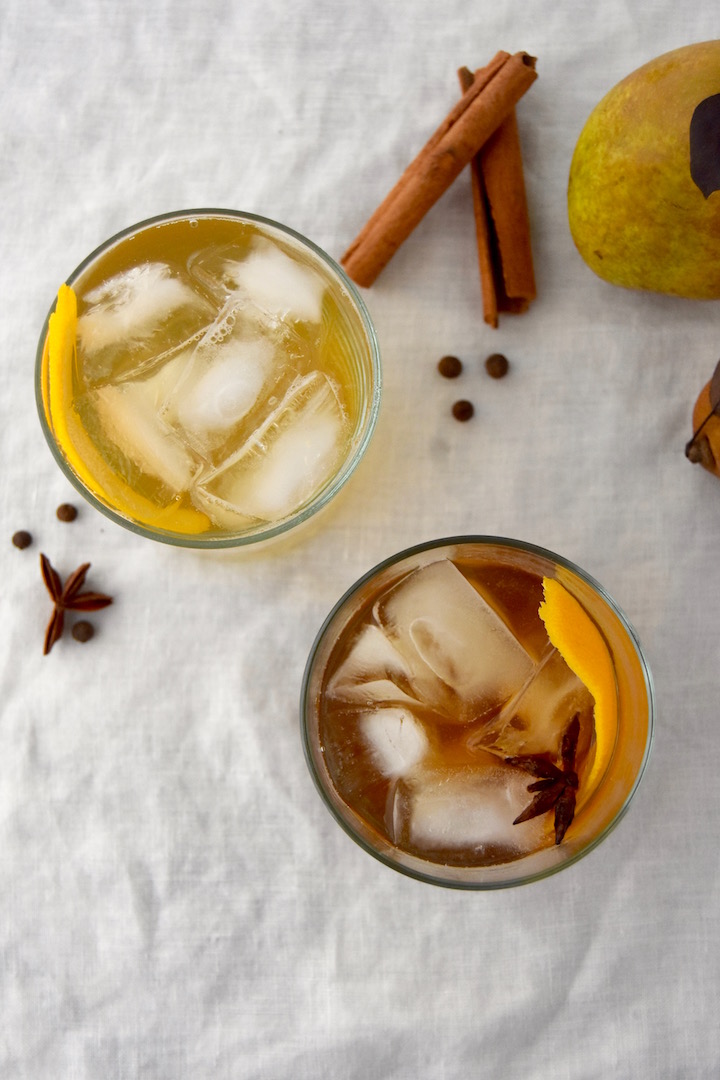 Be well,
Marisa